Backup Android Data Now
Backup and restore Android data to your computer easily.
Leading Methods to Fix Android Camera Error with Easy Guide
Do you ever get a message like "Android Camera error. Please restart camera." on your phone? If yes, that means an issue causes your Android device to malfunction. In the later part of this article, we will learn more about that. For now, why do you need the camera in the first place? This question can be simply answered by a lot of things. Android cameras play an important role in keeping memories of your loved ones and the special moments in your life. It documents events at work, school, family gatherings, etc. In addition, they are also a great help in documenting research or projects.

The camera on your Android phone may not be as high quality as digital cameras, but they are advantageous in people's lives. However, not all the time can prevent unfortunate things from happening. Sometimes, issues on the Android camera occur out of nowhere. Several factors affect it, but no worries, as there are also multiple ways to solve the camera error on Android. For starters, you can do something as simple as rebooting your device. You may also try clearing the app data or recharging your phone. Because sometimes, it may only be very low in battery, you need to charge it first before using the camera again.
Those are only the simplest things you can try to fix your device. However you may have already done them, but the Android camera is still not working. If that is the case, you probably need a professional method to solve the problem. Hence, this article will provide you with information about the possible reasons why you are experiencing this issue at the moment. Furthermore, we also readied an excellent method with hassle-free steps to guide you through the repair process. Kindly proceed below to start repairing.
Part 1. Why Android Camera Error Occurs
Android Camera Error occurs due to many possible issues. And the most common because of low RAM or Random Access Memory. This memory bank can only handle so many apps running at the same time. So when you don't often close the apps you are done using, the camera and other newly opened ones might malfunction. Hence, you should not push your Android phone to its limit by using several apps at once. Consider the capacity of your device's RAM to avoid slowing down its performance.
If the camera you use is a third-party app you only installed from the Play Store or any website, compatibility may be the problem. It is possible that some features of the camera are not meant to work on your Android phone. Or the camera itself is not developed to work on any phone besides the device it's designed for. It's important to check the camera's compatibility with your phone before installation to avoid wasting time. Plus, you should at least check the app's permissions to allow it to work if it is compatible.
Another possible cause of why this problem transpires is due to technical glitches. A glitch is a minor, momentary error in a system that arises from unknown reasons. This type of issue may not feel significant at first but be warned that it can turn into something bigger. It has the ability to harm the system, which can cause further problems, including data loss, sudden interruption of service, and more. If this is the scenario, you might need more than just the most basic solutions. Keep reading below.
Part 2. How to Fix Android Camera Error with Broken Android Data Extraction
First, you should try to reboot your device as it will simply solve 99% of problems on your Android phone. If simple remedies like rebooting don't fix the problem of your Android camera, here is an outstanding tool to help you. Broken Android Data Extraction is a repair and recovery tool that can fix your device issues professionally. Whether the trouble you are experiencing is simple or complicated, this tool can fix it efficiently. But no matter how complex it is, Broken Android Data Extraction can make the repair process easy for you. You only need to follow a few simple steps; this tool will quickly resolve the issue with your camera. And aside from the camera error, it can also fix crashed, frozen, screen-locked, and black-screen Android systems. You can find out more about its capabilities once you install the software on your computer.
Act in accordance with the following directions below to gain an understanding of how to fix Android Camera Error with Broken Android Data Extraction:
Step 1Access FoneLab Broken Android Data Extraction's official site to save a copy of the software file. To do that, hit the Free Download button. Once done, begin the installation process after the Install window appears. It will take only a few seconds before you can launch the software on your computer.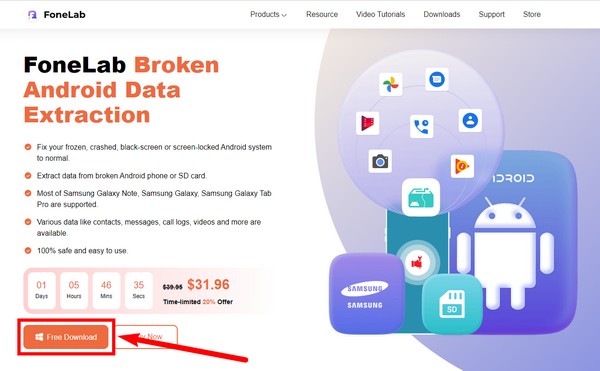 Step 2The FoneLab Broken Android Data Extraction has three key features on its primary interface. The upper-right box contains the Broken Android Data Extraction feature. Click it for the repair process.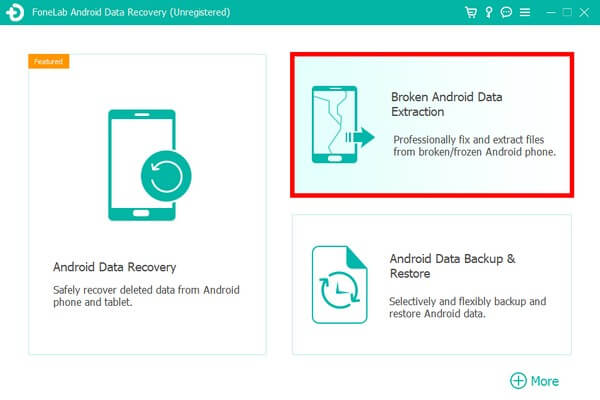 Step 3Hit the Start tab of the box that corresponds with the situation of your Android phone. This way, the program will know the appropriate process your device needs to repair the issue.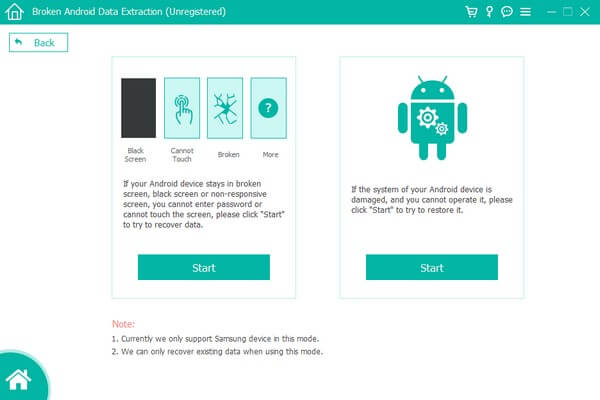 Step 4On the following interface, fill in the information about your Android phone. You can choose your Device Name and Model from the drop-down menus. If you don't see your device info, select No my device in the list to add yours. Make sure to match the info to avoid further damage. Then click Confirm.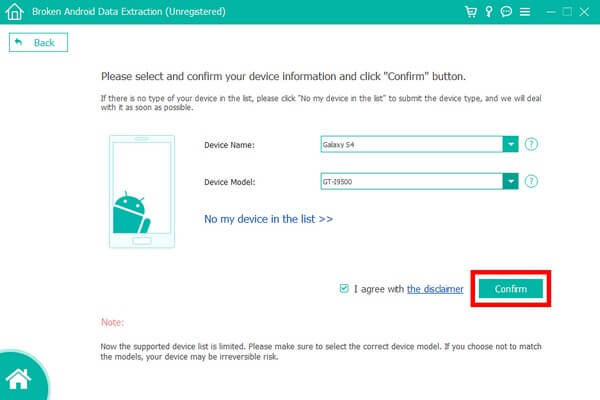 Step 5The next interface will show you an on-screen guide leading you to Download mode. Do the instructions attentively to enter it successfully. After that, the program will start downloading matching packages to repair the problem with your Android phone's camera.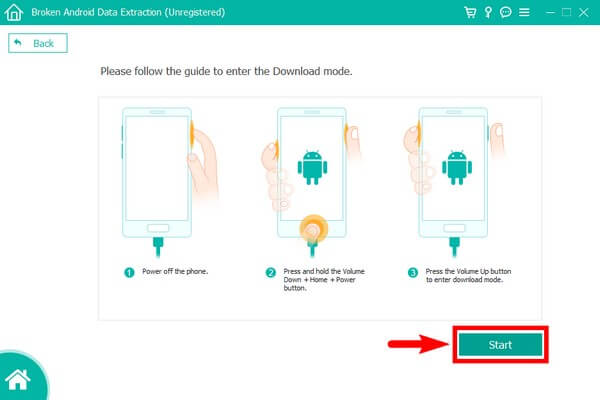 Part 3. FAQs about Fixing Android Camera Error
Thank you for going this far. We appreciate your effort in reading this article. If you are having more difficulty dealing with any of your devices, visit the official site of FoneLab to find more solutions.