Recover Android Data Now
Recover the lost/deleted iPhone data including photos, contacts, videos, files, call log and more data from your SD card or device.
Recover Deleted Facebook Messenger Messages on Android

Updated by
Boey Wong
/ August 10, 2022 09:15
Many people unintentionally delete significant Facebook chats or messages, eventually paying the price. You need to discover how to recover deleted Facebook messages on Android if you don't want to become like them. In addition, Deleted Facebook messages can be unpleasant, mainly if they include critical information for you. Perhaps those Messenger messages were something you never intended to lose, but regrettably, some memories have been lost on your end. There is nothing to worry about, and many people search for ways to retrieve deleted Facebook messages on Android daily.

Part 1. An Efficient Way to Retrieve Deleted Messages on Messenger Android via Downloading
Thankfully, Facebook is aware that anyone can unintentionally delete messages or data. Therefore, they provide a straightforward method for users to recover lost communications from their settings to begin reclaiming their conversation.
Steps on how to recover deleted Facebook messages on Android
Step 1Once you've logged in, go to Settings & Privacy on Facebook.
Step 2Next, go to the Your Facebook Information section from the left panel of General Account Settings and select the Download your information option.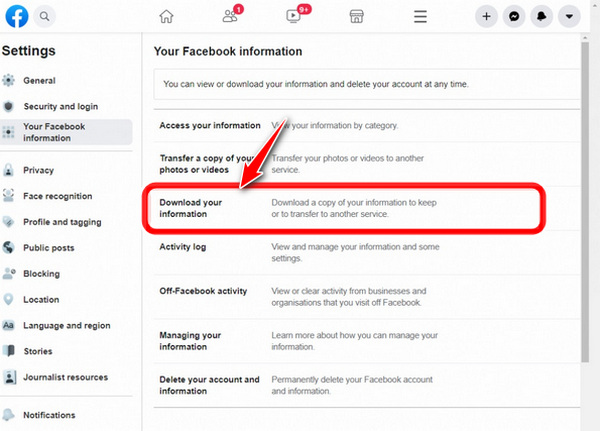 Step 3After that, you will be routed to the following page, where you can download all the data. Since you joined Facebook, it contains every action you've taken on your Account.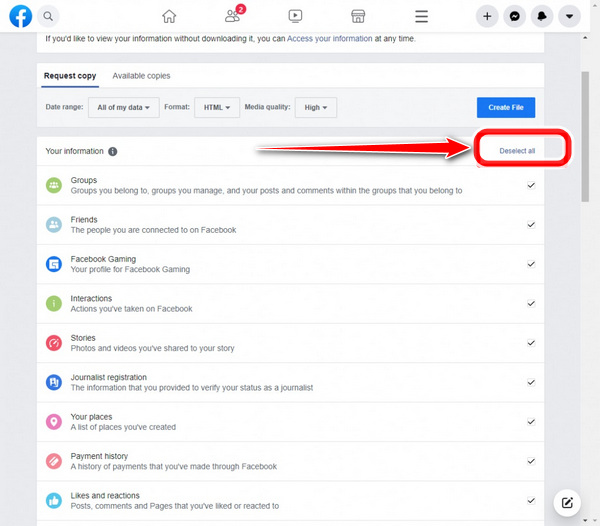 Here, you must first click on Deselect All to conserve storage space. Your data will be optimized as a result.
Step 4Then, what data do you want to download in this case? The Messages should be checked off and marked with a checkmark. Therefore, we scroll down and check the box next to Messages to choose it. Once finished, select Create File from the menu.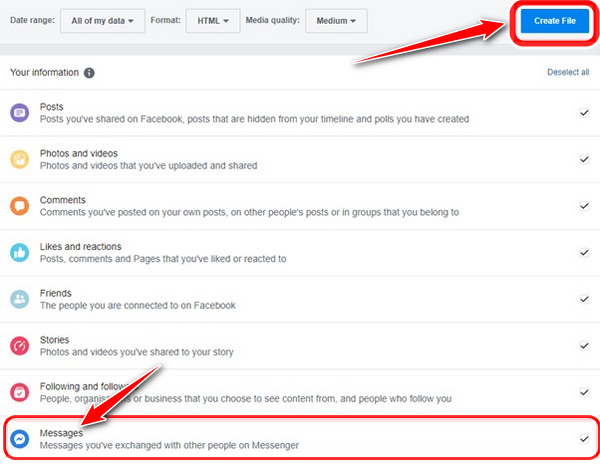 Step 5When you click the Create File button, a brief pop-up message notifies you that your files are being processed and that you will receive a Facebook notification when they are finished. Your linked email ID will receive a download link. You can access Facebook's Download Your Information Page by clicking the link in the email you received from the social network. To ensure your security, you'll be prompted to enter your password.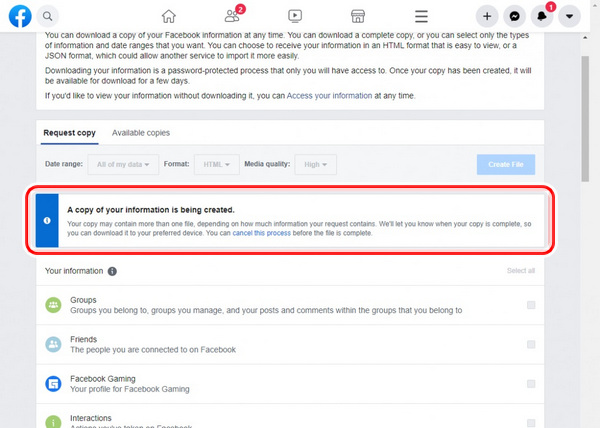 Step 6Click the Download button to carry on. Finally, You may view your deleted Facebook messages by selecting Messages in the Index file, located in the folder you unzipped earlier and containing all of your Facebook data. The second method for recovering deleted messages in Messenger is now complete.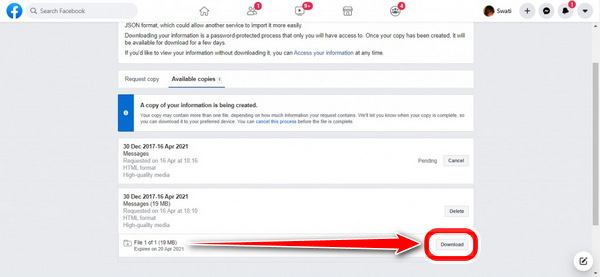 Part 2. Best Way to Retrieve Android Message with FoneLab for Android
Using the feature tool Android Data Recovery in FoneLab for Android, you can restore specific Android data. Additionally, you can find what you're seeking for easily and quickly with the help of this software. It also supports a wide range of data kinds, such as images, contacts, videos, documents, messages, and audio. It can also scan and retrieve the data files on your Samsung devices if the data is stored on the SD card, Sim card, and other storage devices of the phone. why use FoneLab? This allows users to recover their Android contacts, photos, movies, music, and more. Step 1: After downloading and installing FoneLab, start the application. You may recover deleted or lost files from your SD card or smartphone using FoneLab for Android, including pictures, contacts, movies, and more.

FoneLab for Android
With FoneLab for Android, you will recover the lost/deleted iPhone data including photos, contacts, videos, files, call log and more data from your SD card or device.
Recover photos, videos, contacts, WhatsApp, and more data with ease.
Preview data before recovery.
Android phone and SD card data are available.
These are the procedures for using FoneLab for Android to recover messages.
Step 1Install the software on your computer by simply downloading it. Launch it, after which attach the USB cable to the gadget and plug it into the computer. Select Android Data Recovery to start.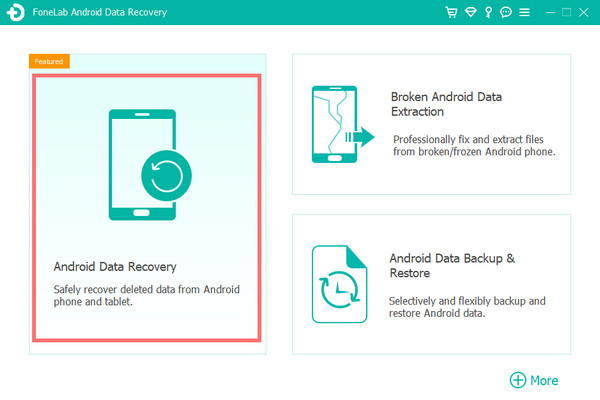 Step 2To enable debugging, follow the instructions that appear on the screen. To begin with, all you need to do is go to Settings - Applications - Development - USB debugging on an Android phone with an OS version of 2.3 or higher. To enable USB debugging on Android devices running OS 3.0 to 4.1, locate Settings - Developer settings. Finally, for Android phones running OS 4.2 and newer, go back to Settings - Developer options - USB debugging after entering Settings - About device - tap Build number seven times and waiting for the message You are under developer mode to appear.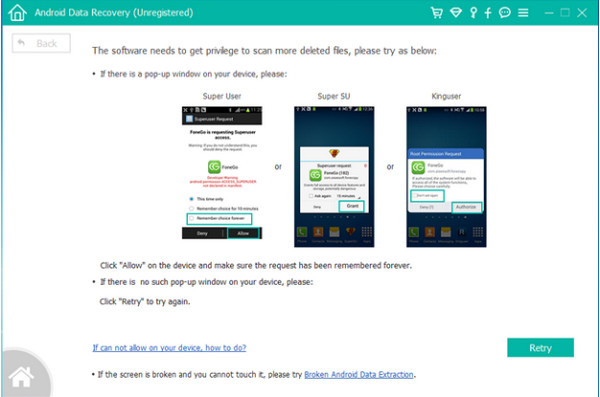 Step 3Click Start after selecting the data file types you want to scan.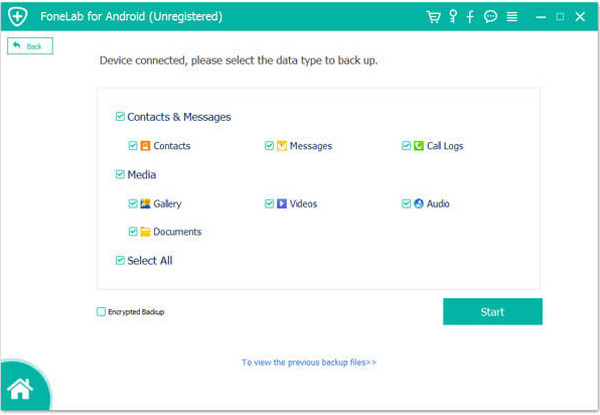 Step 4Following the scanning process' conclusion, a list of data files that can be recovered from your Samsung phone is discovered. Click the Data files tab, check the box next to the appropriate file to add it to the left panel, and then click Recover.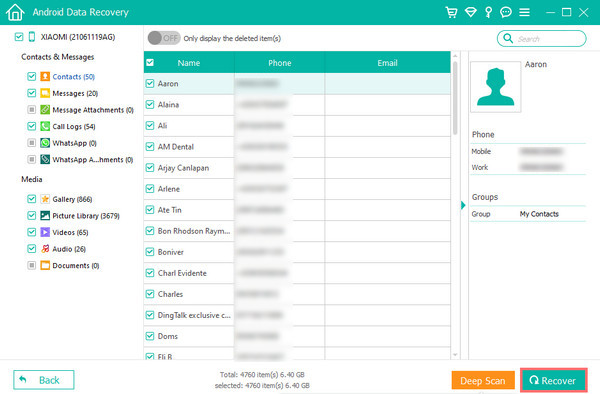 Part 3. FAQs About Retrieving Deleted Facebook Messages on Android
Can delete Facebook messages be recovered?
Facebook messages that have been deleted can be recovered by downloading them or looking through past email notifications. If you use Android, you can also find them by looking in the Messenger app's cache. You can also look over your old messages or request a copy from the person you were messaging.
Are messages on Messenger removed permanently?
Unfortunately, the official policy of Facebook Messenger states that it is permanently gone when you remove a message from the Facebook Messenger program. Fantastic for privacy, but it could cause issues if you unintentionally erase something important.
How long are deleted messages kept on Facebook?
Following a deletion, Facebook claims to retain backup copies for a reasonable amount of time, which could last up to three months. Additionally, it states that copies of specific content from terminated accounts may be kept, but personal identifiers are removed.
Does Facebook permanently archive messages?
Facebook automatically saves your chat messages, but you are not required to preserve them. You can permanently erase messages from the conversation history kept in Facebook Messages.
What occurs when a Facebook discussion is deleted?
From the drop-down menu, select Delete. If you choose to delete the message, your copy of the conversation is also permanently deleted once you are prompted to confirm your decision. The message may be unclear if it is later referred to because the recipient's copy is left intact.
What does Messenger's vanish mode do?
Vanish mode enables chat participants to send each other messages, photographs, videos, and other content that vanishes once the recipient leaves the conversation and all messages have been read. To enable or disable vanish mode for your chat: 1. Tap a discussion to launch it from Chats.
Social media's strength resides in facilitating simple communication through chat features. The easiest way to restore something you mistakenly lost after discussing something crucial with a friend on Facebook Messenger is to follow the instructions above. You can quickly locate and restore deleted messages on Facebook Messenger for Android by following these simple steps. Many of these recommendations call for leveraging third-party tools and built-in capabilities for quick outcomes. Please feel free to share any more efficient methods that have enabled you to retrieve deleted messages in the comments section below.

FoneLab for Android
With FoneLab for Android, you will recover the lost/deleted iPhone data including photos, contacts, videos, files, call log and more data from your SD card or device.
Recover photos, videos, contacts, WhatsApp, and more data with ease.
Preview data before recovery.
Android phone and SD card data are available.