Unlock iPhone Now
Unlock Apple ID, remove screen password, bypass screem time.
How to Solve When Apple ID is Locked for Security Reasons
Whether you forget the passcode for an iPhone, or can't answer the security questions too many times, you will get locked out of your Apple ID with the error message, Apple ID has been disabled for security reasons. If you cannot remember the passcode, what should you do? Just learn more about the 2 workable methods to get into the locked Apple ID from the article.

1. Tips about Apple ID is Locked for Security Reasons
How do I know if my Apple ID is locked for security reasons?
If your Apple ID got locked, one of these messages might appear on your Apple device:
You can't sign in because the account was deactivated for security reasons.
This Apple ID has been disabled for security reasons.
Your Apple ID has been disabled for security reasons.
Apple ID has been disabled for security reasons.
Why is my Apple ID locked for security reasons?
Apple would automatically lock any Apple ID that deems to be at risk of unauthorized access. It could be triggered by logging from an unfamiliar location or unusual user activity, and that's why Apple will disable your Apple ID for security reasons. Usually, it could be a precautious action to protect your account from identity theft.
How long does it take to unlock Apple ID?
If you are going through the official Apple process, it could take from a few hours up to a few days to unlock your disabled Apple ID, depends on the specific information tied to your case and verification of your identity process. However, with FoneLab iOS Unlocker, we could assist you to fix your "Apple ID has been disabled for security reasons" issue swiftly within a short period of time.
2. How to Fix Disabled Apple ID without a Password
If you do not remember your Apple ID password, to bypass the locked Apple ID, you will need to gain access to your Apple account since Apple confused you with a malicious hacker. Don't worry! Since we have an elegant solution to your issues with an instant fix, you don't need complex computing skills to remove your "Apple ID is disabled for security reasons" warning and access your iCloud data again!
Glad to introduce FoneLab iOS Unlocker as the ultimate tool to help you Apple decided to disable your Apple ID security reasons with an easy-to-use interface and straightforward instructions. FoneLab iOS Unlocker also supports:
Remove Apple ID from your disabled iPhone without a password.
Break into the locked iPhone and remove the passcode, Touch ID, or Face ID.
Bypass Screen Time restriction password without losing data.
Support the newest iOS system on the market, as well as the previous versions.
Step 1Download FoneLab iOS Unlocker from our website, double click the installer to complete the process. Once you open the App, an elegant and sufficient screen will be shown to you featuring the major functionalities such as removing your disabled Apple ID from your iPhone. Simply click on the Remove Apple ID Option in the middle of the screen, and attach your iPhone to your computer in the meantime.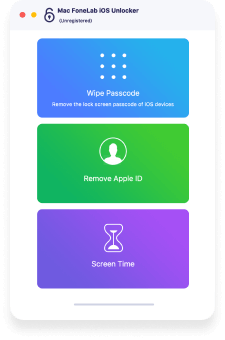 Step 2You need to slightly tap on the Trust button on the screen of your iPhone with your passcode before FoneLab iOS Unlocker could recognize your phone. A screen will pop up telling you what FoneLab iOS Unlocker would perform, click on the Start button and jump to the next step.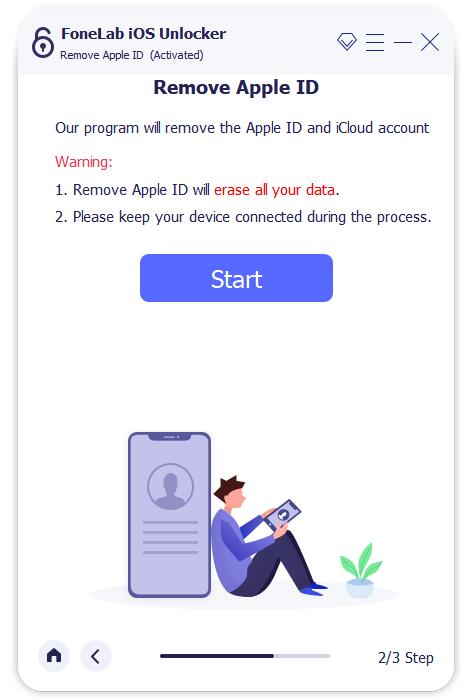 Step 3Next step, FoneLab iOS Unlocker will give you detailed instructions. Please follow these steps to proceed.
First, you need to go to Settings > General > Reset on your iPhone
Secondly, select Reset All Settings, and enter your passcode.
Finally, your iPhone will restart while FoneLab iOS Unlocker will take the rest of the work and remove your disabled Apple ID.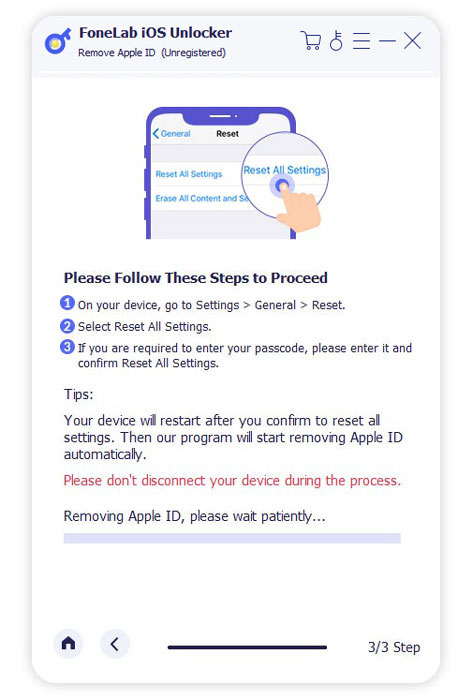 3. How to Fix Disabled Apple ID with a Password
If you still remember your Apple ID password, or some identification information related to your Apple ID, you may also utilize the official method via Apple iForgot, and fix the issue when your iPhone shows you to unlock your Apple ID due to security reasons. However, with the official method, you need to remember either your security questions, having your two-factor authorization enabled, or having kept a note of your Apple Recovery Key.
Step 1Visit the Apple ID webpage on any browser.
Step 2You could try to reset your Apple ID by choosing the Reset Password option. Apple will give you two choices, either get an email or answer security questions. If you still have access to your email inbox, choose the Get an Email option. If you still remember the security questions answers of your disabled Apple ID, choose the Answer Security Questions option.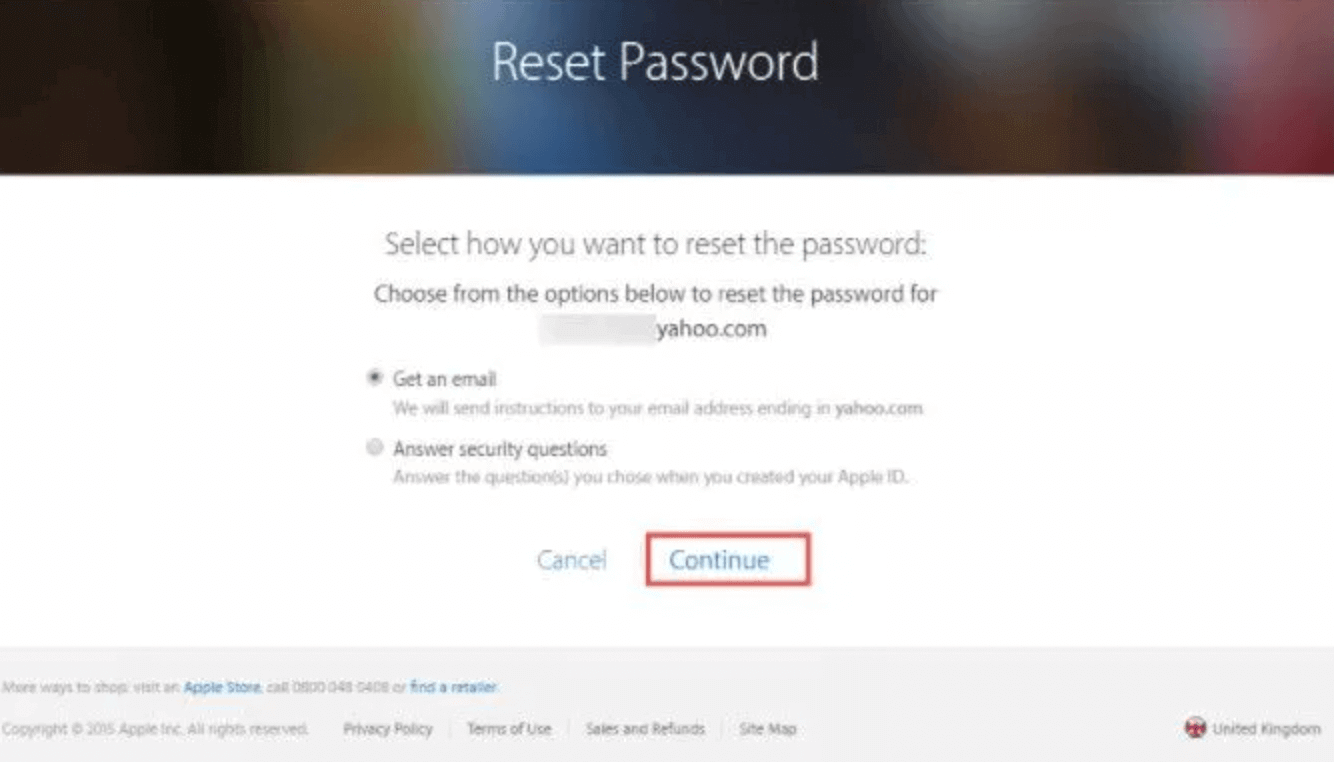 Step 3If you couldn't bypass either of the choices given, but had two-factor authorization enabled on your iPhone, this would be a realistic choice for you. Navigate to the Settings option on your iPhone screen, tap on your name and choose Password and Security tab. Tap on Change Password and your iPhone will guide you to use two-factor authorization to unlock your Apple ID which was disabled for security reasons.
Step 4If you also forget to set your iPhone up with two-factor authorization, you could also use a Recovery Key as an alternative option. You need to log onto the Apple iForgot website and enter your Apple ID. You would be asked for your Recovery Key, enter the 12 digits code and a verification process will complete so that you could choose a new password for your Apple ID. Use the new password the unlock your disabled Apple ID.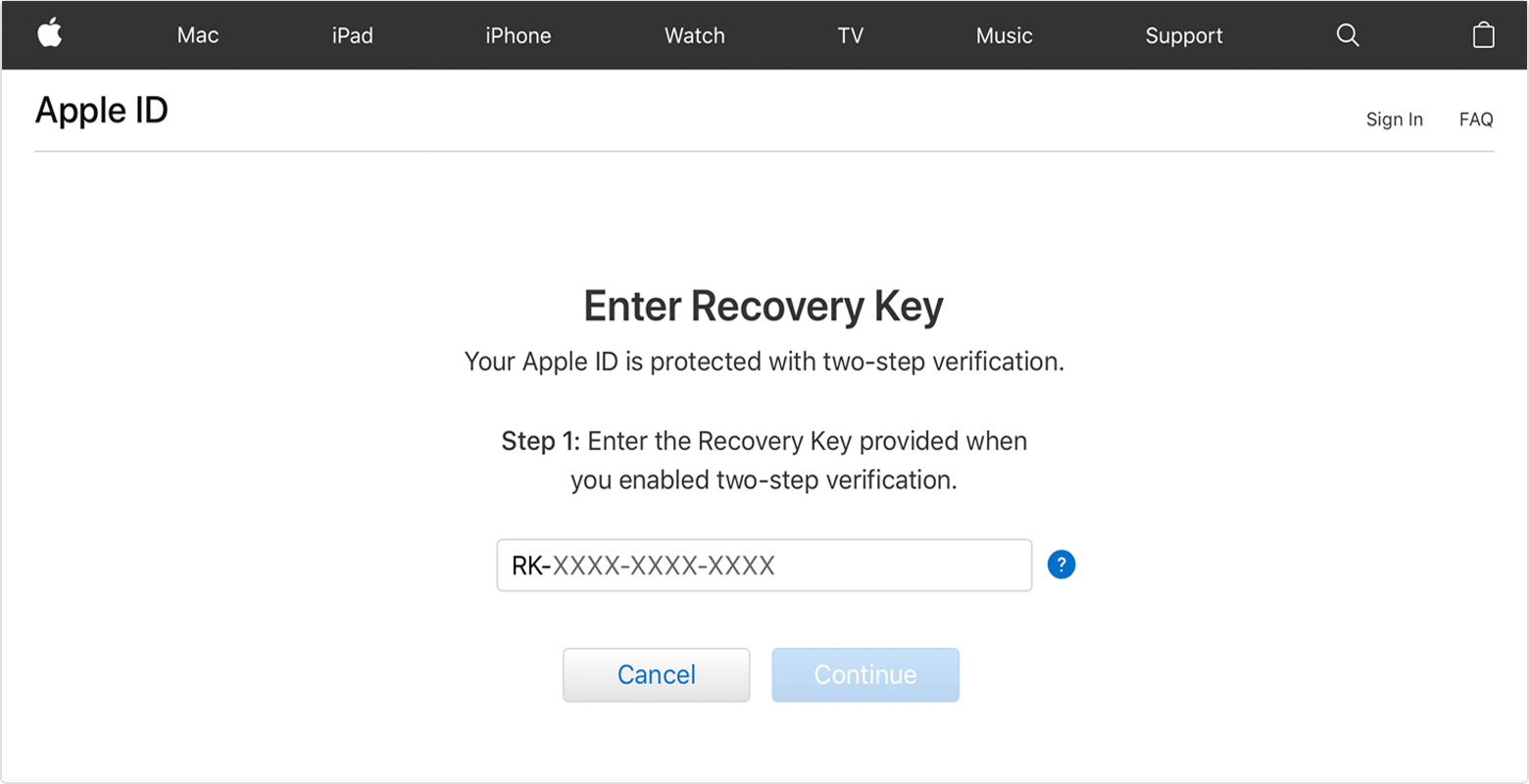 Conclusion
Try to reset your iCloud account could be proven puzzling when your iPhone shows "Your Apple ID is disabled for security reasons" since there might be no fault on your side. Besides zig-zagging through Apple's maze of the password reset and identification process, you could always utilize FoneLab iOS Unlocker to help you fix your disabled Apple ID within several clicks and taps.