Transfer iOS Data Now
Transfer your data from iPhone to computer easily.
Best Way to Transfer iPhone Photos to External Hard Drive

Posted by
Boey Wong
/ Jan 18, 2021 09:00
It's shocking how quickly my 64 GB iPhone fills up with just the photos. I need to clear up space for my phone already and I can't believe how frustrating it is when trying to figure this out! Please anyone tells me how do I get my photos off my iPhone and transfer them to my WD external hard drive?
With the awesome built-in camera of iPhone, users always take wonderful photos to record the unforgetable moment in their daily life, and they always find numerous pictures that they are interested in from the internet. However, as time pass by, the crowded photos can take up a huge storage space that may cause the phone can't work normally. At this moment, users are eager to get them off of their phones and transfer them to the computer or an external hard drive as a backup so as to free up space. Assuming that you plan to transfer photos from iPhone to computer at first, it spares your PC when you find accessible capacity is beginning to melt away.
Even better, by duplicating images from iPhone to external hard drive, you are able to watch these photos on any computer since it is extremely convenient to bring the external drive everywhere. Some people may suggest to connect iPhone with computer and get the photos onto it before putting them in an external hard drive.
I have to say that's a way to go, but it takes too much effort. Is there a better way to accomplish this task? Yes, there is. The best way to make it is applying a third party tool, FoneTrans for iOS, an iPhone photo transfer.
Let's take a look at what this software can do.
FoneTrans Can Do:
It enables you to transfer images from iPhone to external hard drive directly at ease. You are allowed to access the photos from Camera Roll, Photo Stream, Album and Photo Library.
The software also supports managing other iPhone data such as contacts, videos, ringtones, messages, books, etc.
You can add any photos from computer or external hard drive to your iPhone without a hassle.
How to Backup or Transfer iPhone Photos to External Hard Drive via FoneTrans
Now I am going to show you how to use the software to backup iPhone Photos to an external hard drive. You can move all your iPhone photos to it just with 3 steps. Well, let's get started.

FoneTrans for iOS
With FoneTrans for iOS, you will enjoy freedom to transfer your data from iPhone to computer. You can not only transfer iPhone text messages to computer, but also photos, videos and contacts can be moved to PC easily.
Transfer photos, videos, contacts, WhatsApp, and more data with ease.
Preview data before transferring.
iPhone, iPad and iPod touch are available.
Step 1 First of all, choose the right link above, then download and install the software on your computer. It will automatically open when the installation is finished. Plug your iPhone to the computer with a USB cable.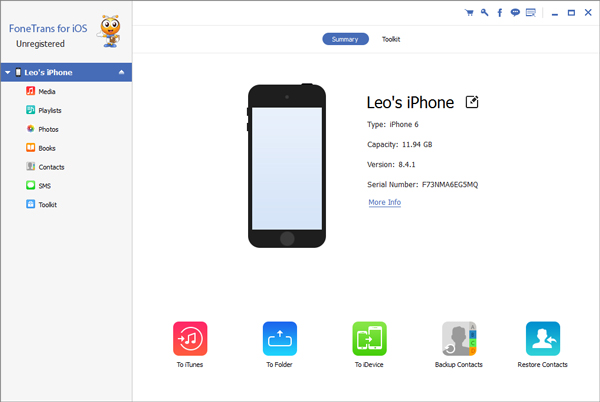 Step 2 You will see contents like Media, Playlists, Photos, Books, Contacts and SMS are listed in the left column of the interface. Click Photos and you will get all pictures stored on your iPhone. You can preview all kinds of photos from different albums including Photo Library, Camera Roll, and so on before transferring. You have the options for Add, Export to, or Delete images on the interface.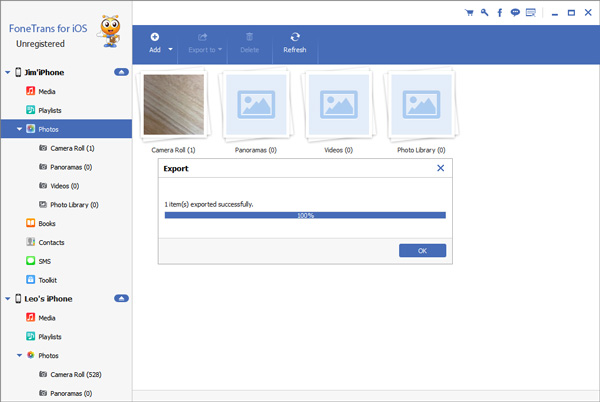 Step 3 Click Export to – Export to PC – select your external drive as the output destination in the next pop-up dialogue.
Ok, it's done. Do you fall in love with the way how FoneTrans manages iPhone files on your computer? Amazing, isn't it? You can use this software to add or delete videos, music, photos and so on on your phone too.