Transfer iOS Data Now
Transfer your data from iPhone to computer easily.
How to Transfer Pictures from iPhone to iPhone
I just upgraded to new iPhone 7 from an old iPhone and I want to transfer photos from the old one to the new one. Can anyone tell me how to transfer photos to new iPhone? Thanks in advance!
When you get a new iPhone, you may want to tranfer photos from old iPhone to the new one. Or you just want to share precious photos between your phone and your friends' or family members' iPhone. Apple provides several ways to transfer photos between iPhones and other iOS devices, such as iTunes, Photo Stream or AirDrop. iTunes involves tranfserring pictures to your computer from one iPhone and then syncing those pictures to the other device. This process seems to be a little bit tedious. Photo stream requires user to share a same Apple ID on both iPhones. So if you want to share photos with others who unlikely will use the same Apple account with yours, Photo Stream is helpless. AirDrop requires both two iOS devices have access to AirDrop app and running iOS 7 on the iPhone 5 or later or the iPad 4 or later.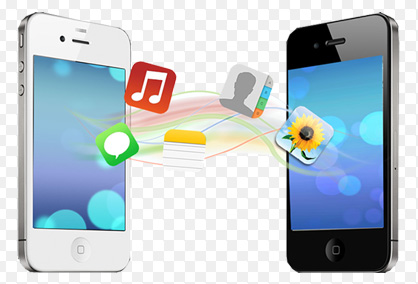 Due to the typical Apple methods introduced above have more or less restrictions, I would like to recommend a very useful and comprehensive iPhone transfer tool, FoneLab for iOS. This software is an all-in-one iOS management tool which can help you transfer data from iPhone to iPhone without any limitation. You can transfer a single photo or a bunch of pictures from one iPhone to another. Besides, the software also let you transfer files among any iOS devices, between computer and Apple devices. These transferable files includes music, contacts, messages, books, videos, movies, ringtones, iTunes U, Podcasts, and so on. Let's take a look at this software for more details.
More Features:
Backup or export your iPhone's contacts into a vCard, CSV file on your computer, Outlook or Windows Address Book.
Import contacts to iPhone from vCard files, CSV files, Outlook and Windows Address Book.
Add, delete, edit and group iPhone's contacts.
Save iPhone messages as a HTML, TXT or CSV file so that you are able to print out text messages if you want.
How to Transfer Photos from iPhone to iPhone with FoneTrans
Now let's get started to see how this software works.
Step 1To start with, choose the right link according to what operating system you are using (Mac or Windows) to download and install the software on your computer. When the installation is finished , it will automatically launch. Plug both two iPhones into the computer, then you will get a window as below once the program detected your devices.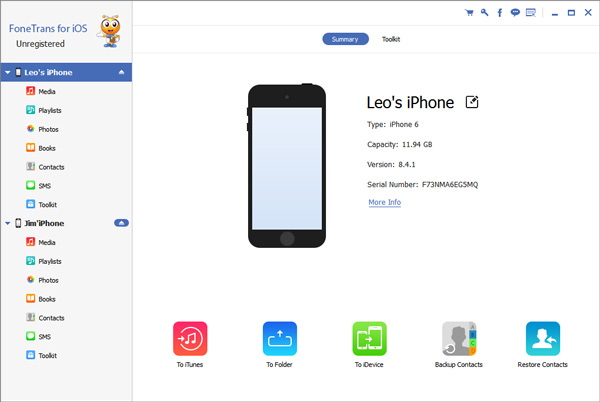 Step 2You will see contents like Media, Playlists, Photos, Books, Contacts and SMS for both iPhones are displaying in a column on the left-hand side. Click Photos from your old iPhone and now you can choose which photos you want to transfer to another iPhone. After that, click Export to to transfer them to the other iPhone.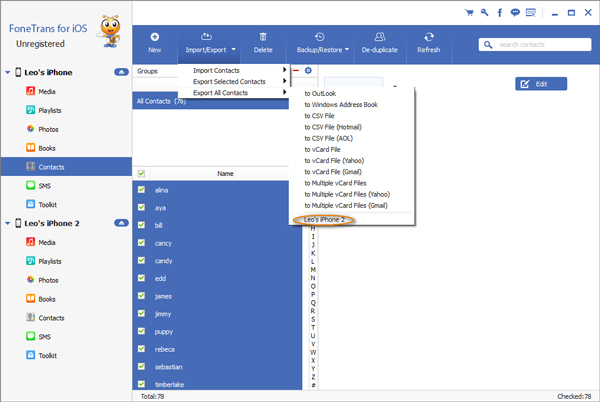 Moreover, if you want to know how to transfer contacts from one iPhone to another, you can also try it on computer.
This is the whole process of how to transfer photos from iPhone to iPhone. Very easy to use that every one can do it with the help of FoneTrans. Download the software and have a try yourself now.