How to Share Music on iPhone
"Hello everyone. My sister got a new iPhone and asked me to share the music from my iPhone with her. But the problem is we two don't know how to achieve this goal. Can anyone help? Thanks in advance."
Basically the only way to share music across iOS devices in the past is to log into each device with the same Apple account. But this is not unrealistic for most people. Now you can easily share music with friends and family through Apple Home Sharing and other ways that you can use. Let's now take a look at what these methods are.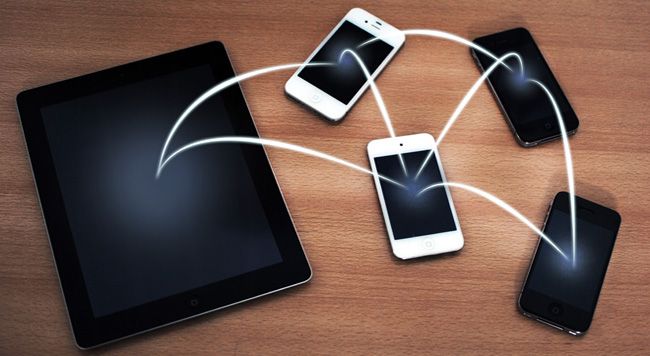 1. How to Use Home Sharing
Before we start to use Home Sharing to share music, photos, videos, apps, etc across devices, we should get to know what is Home Sharing first. Home sharing (also called Family Sharing) is a feature that allows family members get immediate access to each others' purchased music, movies, TV shows, books, and apps, and can download them to their own devices any time they like. But Family Sharing only works on devices with iOS 8 or later or OS X Yosemite or later. Check below steps to learn how to do it.
On your iPhone,

go to Settings

Tap iCloud, choose Set upand then select Family Sharing…– Get Started

Continue so that to enable Family Sharing. Then a credit or debit card is required.

You can add members to your group by tapping Add Family Member…. You are allowed to invite at most 5 members via email books which they will need to confirm.
As the Family organizer, you will invite family members and agree to pay for iTunes, iBooks, and App Store purchases they initiate.
If you want to download the music from one of the members, go to iTunes Store – More – Purchased and then select the family member you want to download music from.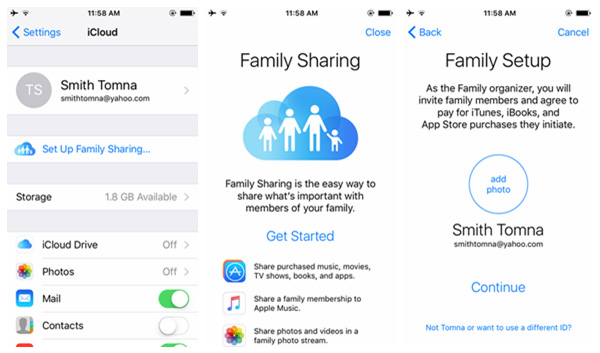 2. Share with Others via AirDrop Music
It is easy to share music with AirDrop, too. With Airdrop, you are freely share the single song with your friends without any hassle.
Turn on the Bluetooth and Wi-Fi.
Turn on AirDrop from the control center.
Now go to your Music app and tap on the New tab.
Navigate to the song you want to share. Select More option at the right-bottom of the device screen.
You will have five options to choose. Select Share Song…. Then you are allowed to share by Message, AirDrop, Facebook, etc. Tap on AriDrop. This method requires the people whom you share to to turn on AirDrop as well.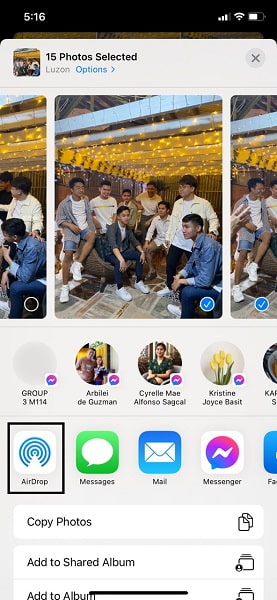 3. Share Music with FoneTrans for iOS
The most efficient way to share songs to others is using FoneTrans for iOS which is a professional iOS data management software. With it, you are able to transfer whatever files from one device to another device. Let's begin.
First of all, download and install the software with the below right link on your PC. When the installation is complete, it will automatically open. Connect the two devices that you want to share data across with the computer via a USB cable.
You will see contents like Media, Playlists, Photos, Books, Contacts and SMS are displaying respectively under the two phones in a column on the left-hand side. Click Media under your iPhone. Then you will see Music, Movies, TV shows, iTunes U, Audio books, Ringtones, etc on the top. Click Music – Check those songs you need – Select Import/Export – Choose the device that you want to share with from the drop-down menu.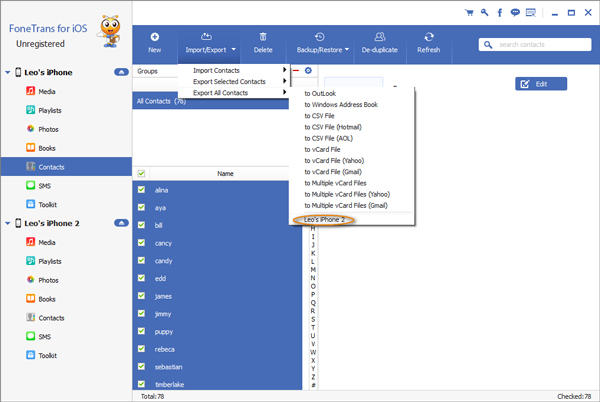 That's all! FoneTrans for iOS also supports iPad and iPod. The software helps users share music between iOS devices without any limitations. You can also use it to add iTunes U to iPad, remove music from iPod and so on.
Related Articles