How to Remove Music from iPod
"Hi, please help. How do I delete songs from my iPod? But I don't want to delete them from my iTunes Library in case I want to listen to these songs some day. Is it possible to only delete music from iPod without deleting them from my iTunes Library?"
Do you want to clear out some old songs that you don't listen to anymore so as to spare more space for new music? While it is easy to add music to iPod, how to get music off iPod can be a bit tricky.
This may vary slightly depending on what type of iPod you are using. If you have an iPod touch, then you are able to delete songs directly on your device without having to connect it to a computer. Otherwise, if you are using iPod Nano or iPod shuffle, you will need to delete the songs through iTunes by connecting your iPod to your computer.
Also, there is another option and I think it is the fastest and most straightforward way to fulfill it. Applying a third-party iOS management software, FoneTrans for iOS is your first choice.
I would like to introduce both iTunes way and the totally brand new way to remove songs from iPod.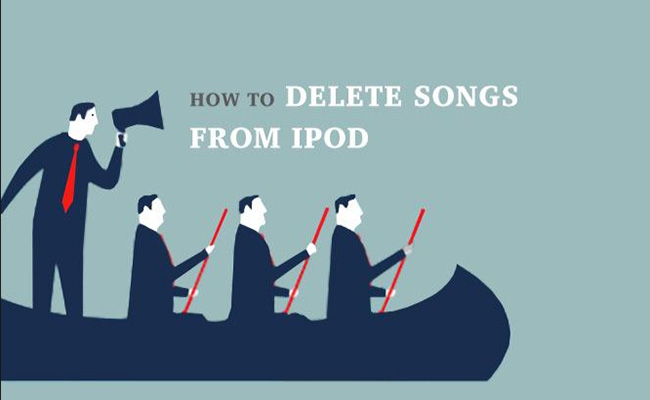 Method 1: How to Delete Music from iPod via iTunes
Connect your iPod to your computer and open iTunes if it does not automatically start.
Select your iPod's icon from the source list. Click on iPod Options and select Manually manage music and video. Skip this step if you have an iPod shuffle which is already set up to manually manage music.
Click on the triangle next to your iPod's icon to see the contents of the iPod and click on the Music tab.
You can hold Shift and select multiple tracks from the list you want to delete at once. And then hit the Delete key or right-click them and choose Delete. Any songs deleted from your iPod hard drive will still be in your iTunes Library folder.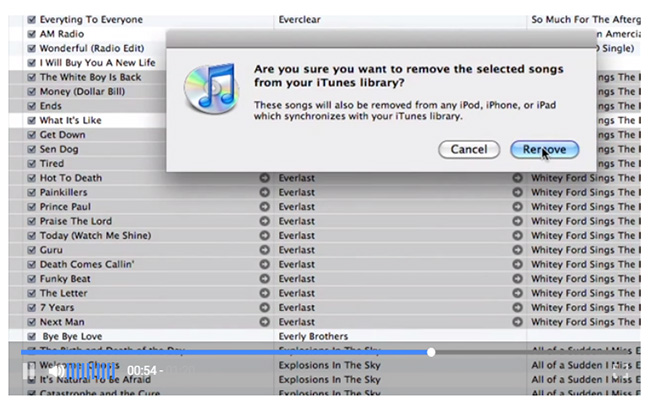 Method 2: How to Get Music off iPod using FoneTrans
Before you can manage your iPod music with the software, please download the software with above right link and install it on your computer first. It will automatically open when the installation is complete. Then plug your iPod into the computer with a USB cable.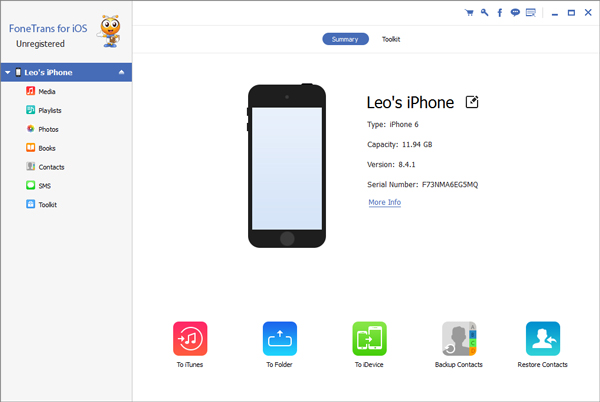 On the left pane of the interface, you will see all the contents listed in a column, such as Media, Playlists, Photos, Books, Contacts, and SMS. Click Media and find Music on the top.
Now all songs on your iPod are displaying in a list. You are allowed to add, export and delete the files you want through the interface. Choose those songs you don't want any more and click Delete.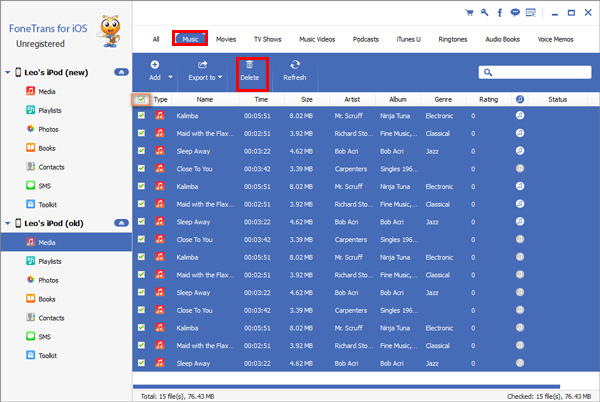 Ok, that's how to delete songs from iTunes and how to use FoneTrans for iOS to remove songs directly from iPod. Besides, you can also transfer your playlists to the computer/iTunes and no bother to take efforts to collect songs from the playlist.
Related Articles