Quick Way to Recover Pictures from Broken Android Tablets [2021 Updated]
My Samsung tablet screen broke after I dropped it on the ground, the touch screen broken and does not work but it still displays everything fine. I am going to bring it to fix broken phone screen. But before doing that, I want to back up the photos stored on the tablet. How to get pictures off of an unresponsive touch screen tablet? Thanks in advance!
It is very convenvient for Android device users to transfer media files between computer and the device.
You just need to plug it into the computer with USB cable and directly drag and drop files between them. However, a successful connection requires your phone or tablet to allow USB debugging. How can you do that on an unresponsive screen or when you couldn't unlock Android phone with broken screen?

Apparently you can't! But does this mean there is no way to access the data from that device anymore?
Of course not!
Here is an ideal solution for your reference on how to recover files from broken Android phone or tablet.
1. Recover Pictures from Broken Samsung Tablet with FoneLab
You need a broken Android data recovery program – FoneLab Broken Android Phone Data Extraction. Let's now take a good look at what can this software do for you:
1. Features of Android Data Recovery
Retrieve data from broken phone, like black screen, cracked screen, water damaged, virus infected Samsung phone and tablet.
Fix your abnormal Android operating system back to normal with a few clicks.
Support to recover photos, text messages, contacts, videos, music, WhatsApp messages and attachments and other documents, etc.
It works on Samsung Galaxy S6/S5/S4/S3, Samsung Galaxy Note 5/4/3 and Samsung Galaxy Tab.
You are allowed to preview files before recovery.
100% safe and easy to use. You will not leak your personal information at all.
2. How to Access Phone/Tablet with Broken Screen on PC with FoneLab
Most of the data recovery tools out there require your Android device to be rooted in order to access the data from it, but FoneLab Broken Android Phone Data Extraction doesn't, which saves you a lot of work.
You can follow the simple guide to get data from a broken screen Android tablet.
Step 1In the first place, download and install the software on your PC with above link. Then the program will automatically open when it is finished installed. Choose Broken Android Phone Data Extraction from the interface after that.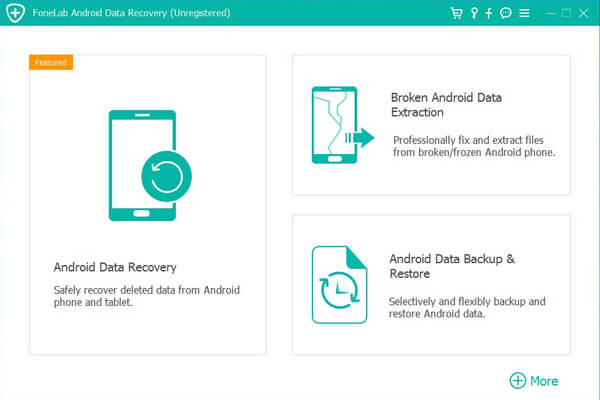 Step 2Connect your Samsung device to the computer using a USB cable. If your Android device stays in broken screen, black screen or non-responsive screen, or you can't enter password or touch the screen, click the left Start button. Otherwise, if the system of your Android device is damaged, and you can't operate it, click the right Start button.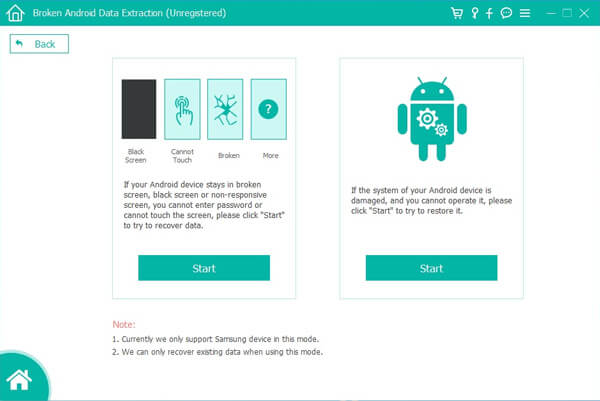 Step 3Make sure that you choose the correct information of your Samsung Galaxy phone or tablet including the device name and device model. Then click Confirm.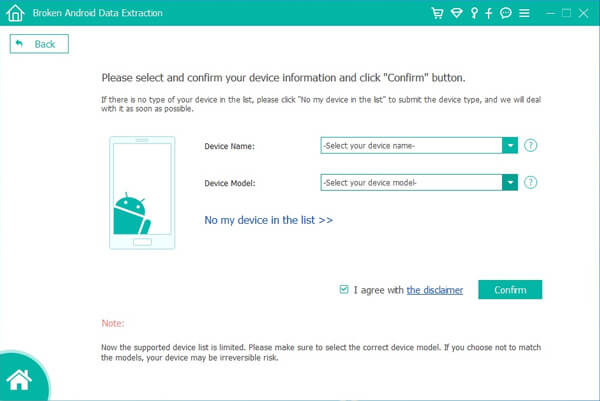 Step 4Click Start and then follow the on-screen guide to enter the Download mode.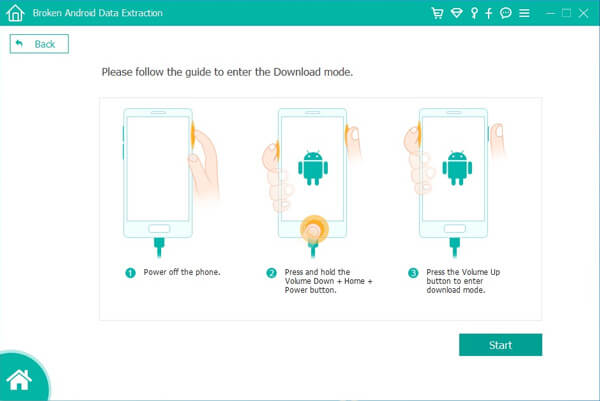 Step 5The program will start to download the matching recovery package to repair the broken Android system. Once it is done, you are able to access and extract your Android data.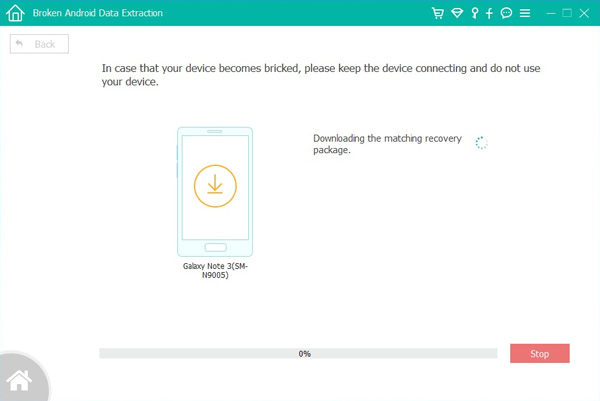 Better safe than sorry. You would never realize how important to make a copy of your Android data until you lose it.
So it's necessary to create backups of your Android tablet or phone. I recommend you should use FoneLab Android Data Backup & Restore to help you do that.
2. Recover Pictures from Broken Samsung Tablet
You have other choices to recover photos from Android tablets. For example, if you have backed up photos with Google Drive, OneDrive or other cloud services, you can easily get them back without a dveice in hand. What about you neither have a backup file, nor a touchable device. What can you do?
Below we will introduce workable ways for various situations. Please move on...
You have a backup file/Your device is unable to operate:
Under this situation, you can access data from back up file.
Log in the account you used to make a copy of photos you want, and then save them to the folder you want.

You don't have a backup file + Your device is available to operate:
For users, who don't have the custom to backup data, the only way to restore lost photos from Android tablet.
You can connect your Android tablet to the computer with USB cable, and then open the device folder on the computer. You can find them if they have not been overwritten, and then you can simply drag and drop them as you want.

You don't have a backup file + Your device is unable to operate:
It is difficult to recover lost data in this situation if you are not professional technology stuff. FoneLab Data Retriever will be a surprise for you.
It is a safe and simple tool to help you scan and recover data on the computer, hard drive, SD card, and more.
As you might know, an Android device can be used as a portable drive in daily life, so it might be the last way you can recover photos from Android tablet.
Therefore, if you have plug Android tablet to this computer before, then you can access the data without permission.
Step 1Download and install the program on your computer, and then it will be launched automatically. Both Windows and Mac are supported, so you can choose one according to your needs.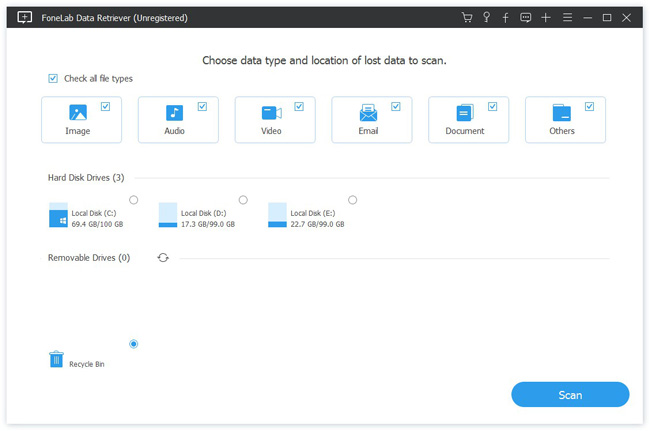 Step 2Connect your tablet to this computer, and then tick your device under Removable Drives and select the data type. You should choose the Image here. And then click the Scan button.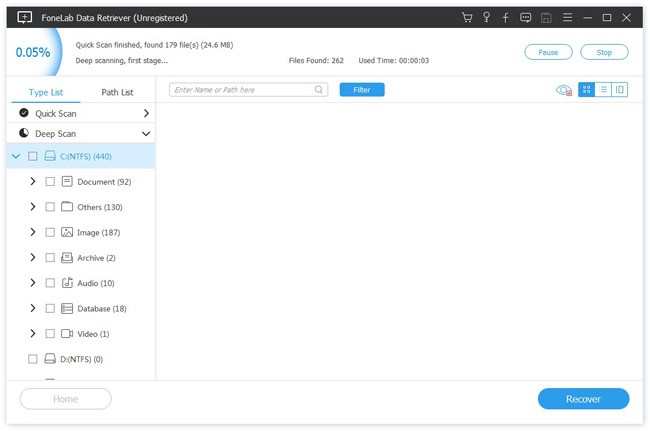 Step 3Preview the photos in the scanning results, and then choose items and click Recover.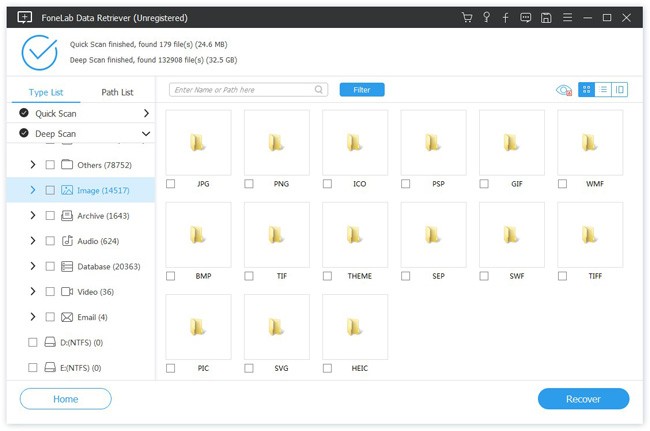 As you see, it is easy to use. And you can also easily restore data from hard drive, recover data after MacBook Pro shuts down randomly and more.
If you think this helps, please share with your friends and lets us know if you have any questions about it by leaving us a comment.