[Solved] How to Fix A Samsung Tablet with Black Screen

Posted by
Boey Wong
/ Dec 17, 2020 09:00
I went away on a trip and forgot my charger. So my Samsung Galaxy Tablet won't turn on. When I got home, I immediately charged it. After an overnight charge, the screen is black but the buttons can be pressed which light up and beep. Please help me out, thanks a lot!

A common issue affects Samsung based devices including tablets is the black screen of death which is so-called the BSOD (black screen of death).
When it occurs to your device, you are not able to see anything on the screen even the device is powered on. The display remains blank and doesn't respond to any touches.
In this case,
Try the following solutions to fix galaxy tab black screen of death problem. Check if the problem persists after each step.
1. How to Fix Samsung Tablet Black Screen via Charging
If might just run out of battery, connect Samsung tablet with charger, if you can see a charging signal on the screen, then just leave it alone for charging.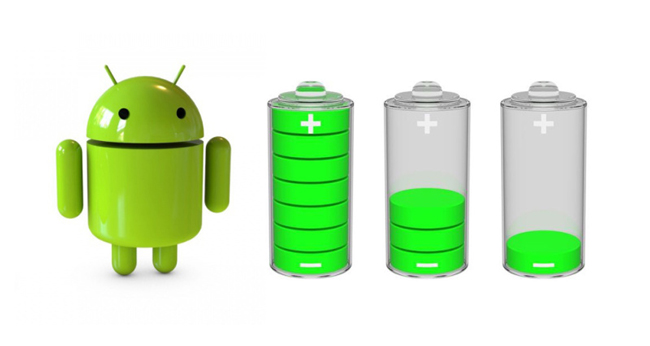 If nothing happends to your phone, please move to the second way.
2. How to Fix Samsung Tablet Black Screen by Soft Restart
Soft restart is a simple way to restart samsung tablet if you can't do anything for your device. Please check below detailed steps.
Step 1Make sure that your tablet is completely turned off.
Step 2Remove the back cover of Samsung tablet.
Step 3Take out the battery and put it back.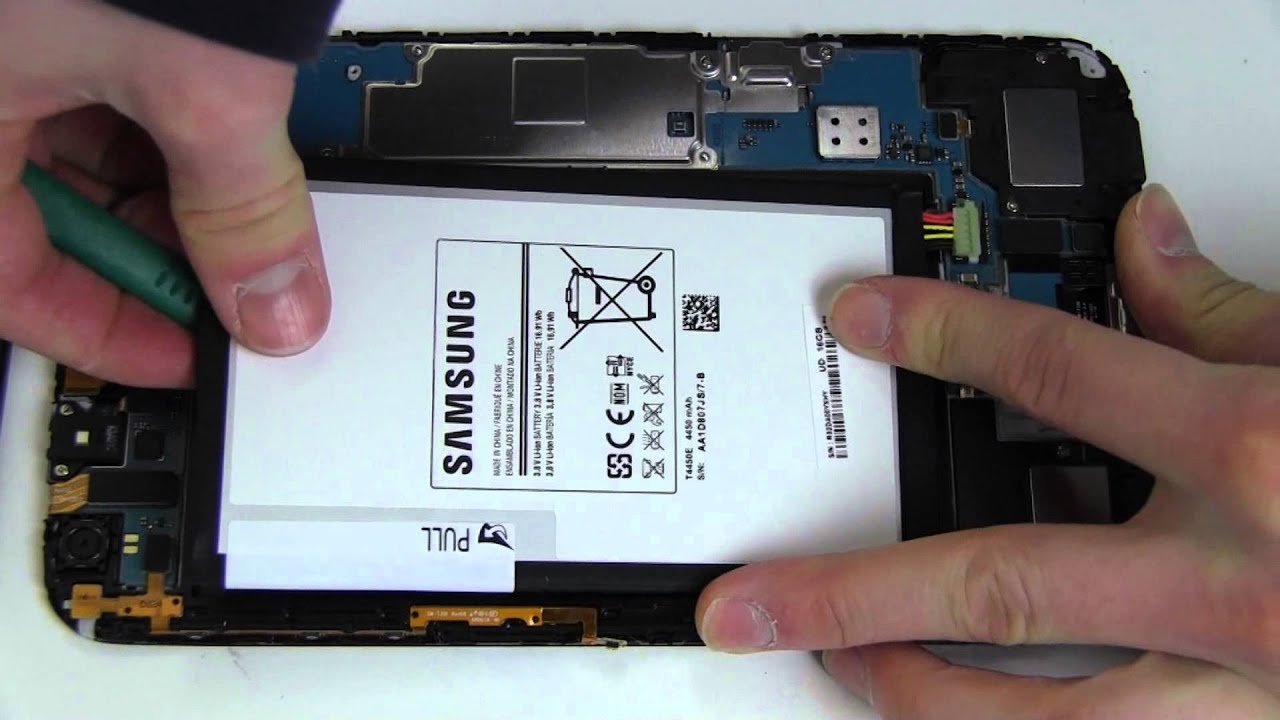 Step 4Notice a ribbon cable which is on the battery side with a picture of a dumpster. Check if this cable is loose. If yes,  slide it all the way back into its slot and clip the lever back in place.
3. How to Fix Samsung Tablet Black Screen by Factory Reset
If the below steps fail, the factory reset will be the last step to perform. This will erase all the on your Samsung tablet, but you will not be able to backup them because of the Black Screen Of Death.
Step 1Just put the tablet into charge to avoid any distraction in the factory reset process.
Step 2Boot the device into recovery mode by holding Home, Power and Volumn Up buttons at the same time for a few seconds.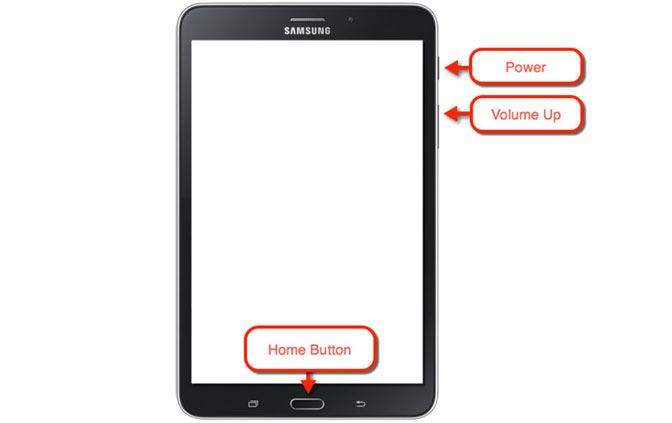 Step 3In the recovery mode, select Factory Reset using volume keys. If you don't want to remove all data on Samsung, then you can choose Reboot system now to try to fix it.
Step 4Press Power key to start the factory reset.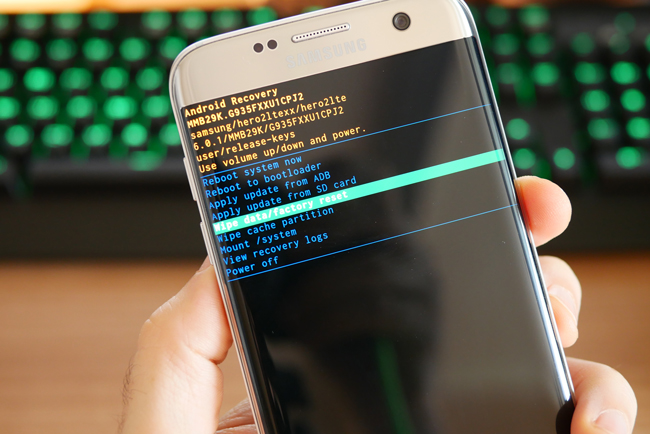 Then you can solve the issue manually.
That may be a bit difficult for most of you. So I would like to introduce the best and most workable solution on Samsung Galaxy tablet black screen fix. All you need is an Android system troubleshooting professor which is called FoneLab Broken Android Phone Data Extraction.
4. How to Fix Samsung Tablet Black Screen
It is an application that can fix various Android system issues including black screen issue, frozen tablet, bricked Android device and bring the device back to normal, and then extract data from broken Android phone.
Besides,

Fix your Android disabled problems and recover data from phone.
Extract Contacts, Messages, WhatsApp, Photos, etc. from broken android device or memory card.
Android phone and SD card data are available.
With it, users can also recover data from dead phone, cracked screen device, recover snapchat photos from broken android, unlock android with broken screen or recover data from virus infected android. The program also enables you to extract photos, contacts, call logs, videos, audio, SMS, WhatsApp, documents stored on the Android phone or tablet.
Now the free trial version of this software is available. You can download it on our official website or click the given link below.
Step 1Download and install the program on your PC with above link. Then the program will automatically open when it is successfully installed. Choose the Broken Android Phone Data Extraction section on the interface.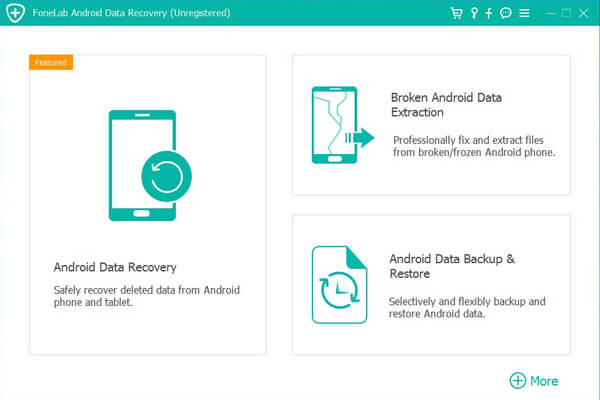 Step 2Plug your Samsung device into the computer using a USB cable. If your Android device stays in a broken screen, black screen or non-responsive screen, or you can't enter the password or touch the screen, click the left Start button. Otherwise, if the system of your Android device is damaged, and you can't operate it, click the right Start button.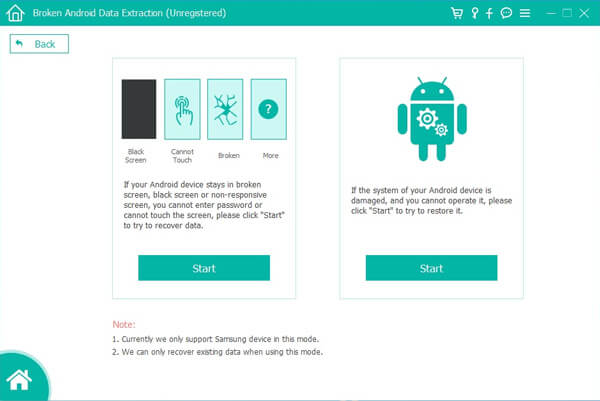 Step 3Select the device's name and model from the list. Make sure that you choose the correct information about your Samsung Galaxy phone or tablet. Then click Confirm to move on.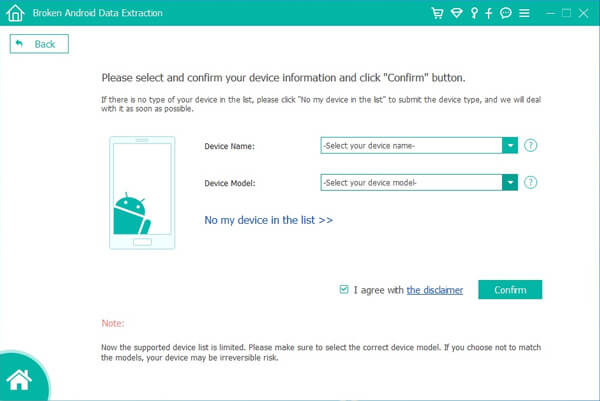 Step 4Follow the on-screen guide to enter the Download mode.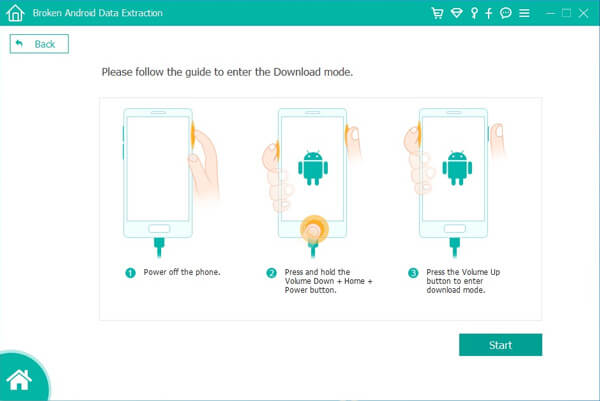 Step 5The program will start to download the matching recovery package to repair your broken Android system. Once it is done, you are able to access and recover your data.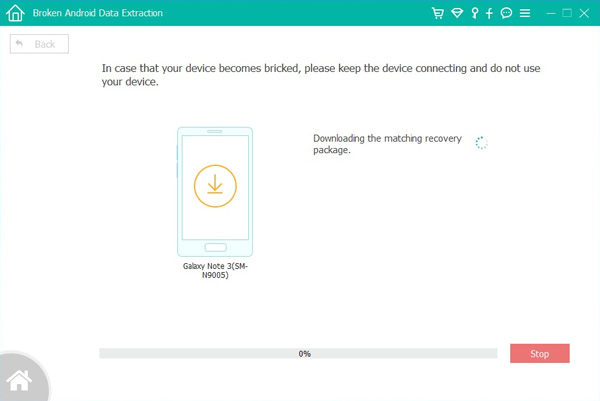 The software can also help you unlock android phone with broken screen, fix cracked android screen, bypass galaxy s4 lock screen and extract whatever files you want to computer.

Fix your Android disabled problems and recover data from phone.
Extract Contacts, Messages, WhatsApp, Photos, etc. from broken android device or memory card.
Android phone and SD card data are available.
The best bet to prevent data loss is to back up Android data regularly, so you can restore Android data from backup easily. FoneLab Android Data Backup & Restore is strongly recommended to you.