How to Fix A Samsung Galaxy Note 5 That Keeps Restarting [2021 Newest]
Hi guys, I need your help. My Galaxy Note 5 keeps restarting randomly while in the middle of various applications, or emails, or texts. So it doesn't seem to be isolated to a specific app. Why does my phone keep turning off and back on? Any help is appreciated thank you!
We have demonstrated how to fix the black screen of death issue of Android device in a previous post. Today we would like to keep troubleshooting one of the most common problems that Samsung user may encounter: the device stuck at boot loop or random reboot.

1. Reasons Why Samsung Device Keeps Restarting and Solutions
Below are some possible reasons that can cause the reboot issue and solutions against each problem.
Corrupted Caches/Data
There are files that get corrupted easily during updates, especially after a jump from Android Lollipop to Marshmallow update, it is more likely either the system cache or data when an issue like this occurs.
Third-party Applications
An incompatible third-party application can also cause the phone start to reboot on its own. Find out the app which triggers the random reboot and completely remove it.
Corrupted Firmware
If your device constantly restart itself after Mashmallow update or after flashing a new ROM, it could be that the firmware get corrupted. In this case, factory reset your Galaxy phone to fix it.
Hardware Problem
It could be the stuck Power button, or a defective battery that causes the phone turning itself off and back on again and again. You may have to get your phone examined and repaired by technicians.
Please remember that backing up your phone is the first thing you should do in advance before fixing the device, in order to avoid the important data being wiped by a factory reset or other operations.
2. How to Fix Samsung Device Keeps Restarting
In this post, we will introduce 2 proven ways to fix these issues for you.
Method 1. Put Samsung in Recovery Mode
Step 1Turn off your Note 5 completely, press and hold Home, Power and Volume Up buttons at the same time.
Step 2Release the Power key when Samsung Galaxy Note 5 appears and release the other bottons after you see Android System Recovery Screen.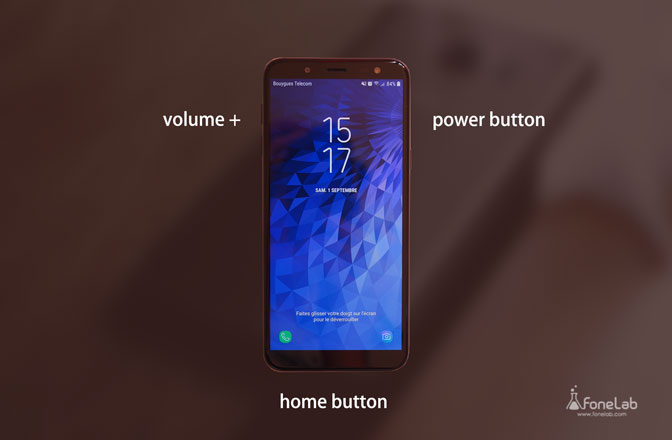 Step 3Use the Volume Down button to highlight the option wipe cache partition and select it using Power key.
Step 4Once the process is finished, select the option Reboot system now to reboot Note 4 and see if the problem solved.
Method 2. Factory Reset Samsung
Factory resetting is a solution to solve most common problems on Android phone, you can read below methods to reset Samsung tablet or phone.
Option 1. Performing a Factory Reset using buttons
Step 1Enter recovery mode as above.
Step 2Select Wipe data/factory reset.
Step 3After it is done, choose Reboot system now.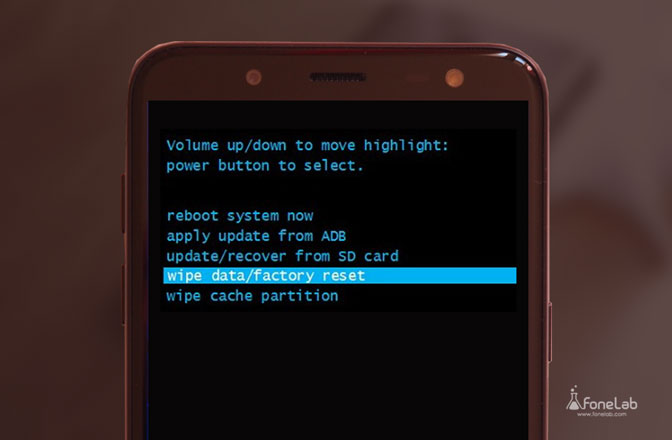 Option 2. Using Find My Mobile
Step 1On the Find My Mobile page click Erase data. Then click Erase.
Step 2Enter your Samsung account password.
Step 3Click OK to confirm the wipe. If the device is offline then the wipe will occur when the device next goes online.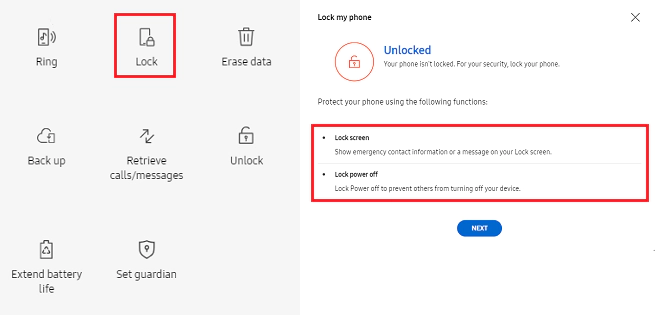 Your personal information cannot be recovered after using this feature. After using the Factory Data Reset option you will no longer be able to use the Find My Mobile service.
Option 3. Performing a Factory Reset via the Settings Menu
Tap on your Samsung phone as below depending on the model and OS of your device.
Settings > General Management > Reset > Factory data reset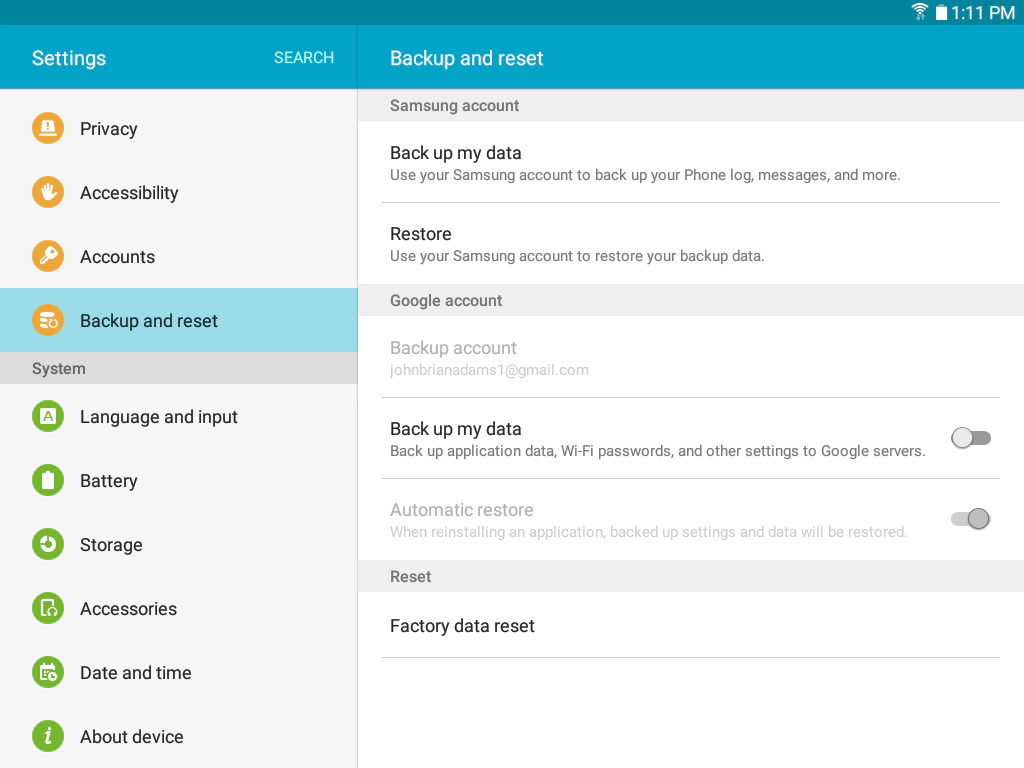 Settings > Backup and reset > Factory data reset
Settings > Privacy > Factory data reset
3. How to Get Data off from Restarting Samsung Phone
If you can't operate your Galaxy phone because of the nonstop reboot, then you will need a special way to extract data from the restarting device and save it to computer.
FoneLab Broken Android Phone Data Extraction is the one you are looking for. It is a program for PC that can help you get data off from a broken Samsung device no matter whether they are water damaged, stuck in black screen, bootloop, virus-infected, or frozen at any screen and unresponsive.
Besides, you are able to save photos, contacts, videos, music, SMS, Whatsapp messages and attachments, documents, call logs, from your problem Samsung device to the computer with the help of this software.
Step 1Download and install the program on your PC with above link. Then the program will automatically launch when it is done. Choose Broken Android Phone Data Extraction on the interface.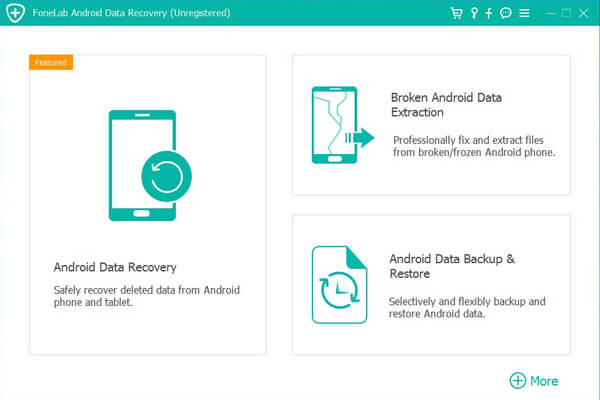 Step 2Plug your Samsung device into the computer using a USB cable. If your Android device stays in broken screen, black screen or non-responsive screen, or you can't enter password or touch the screen, click the left Start button. Otherwise, if the system of your Android device is damaged, and you can't operate it, click the right Start button.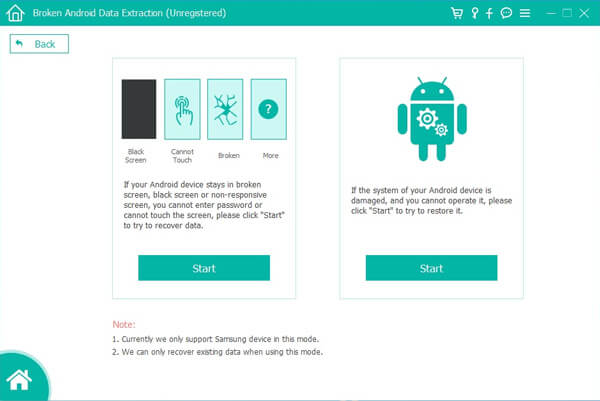 Step 3Select the device's name and model from the list. Make sure that you choose the correct information of your Samsung Galaxy phone or tablet. Then click Confirm to move on.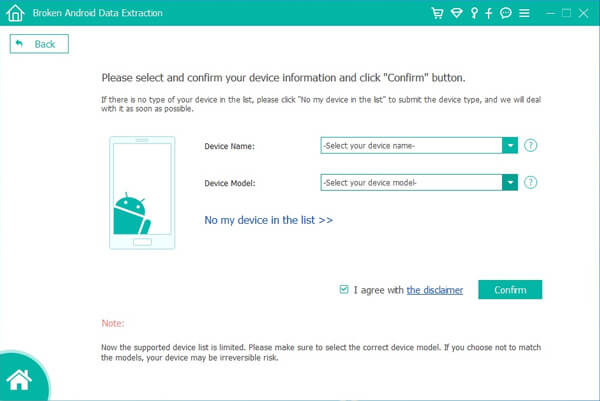 Step 4Follow the on-screen guide to enter the Download mode.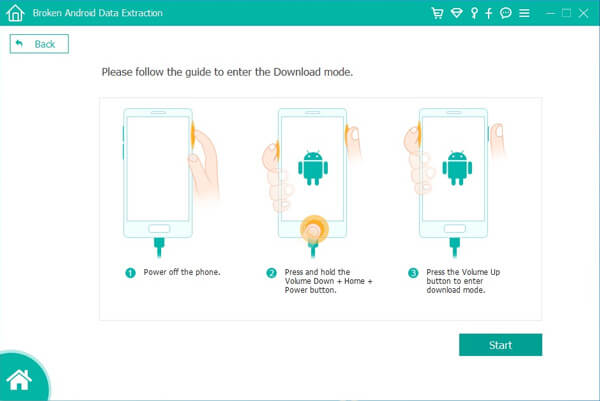 Step 5The program will start to download the matching recovery package to repair your broken Android system. Once it is done, you are able to access and recover your data.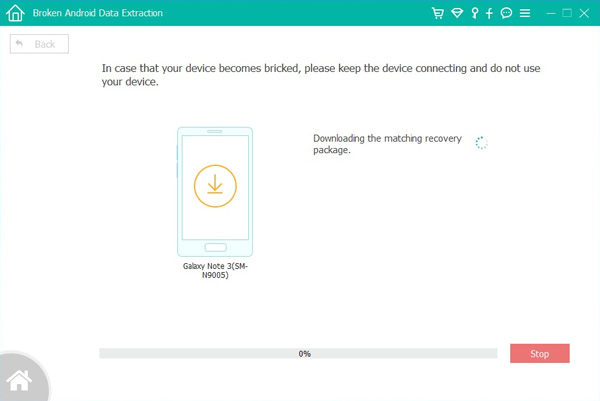 It also can be used to fix bricked Android, fix cracked android screen, bypass galaxy s4 lock screen.
That's all! Does this help you solve your problem? Please let us know if you have any question.