How to Recover Deleted WhatsApp Messages on iPhone
Nowadays WhatsApp is quite a popular instant message app for people. It is available on iPhone, Android phone and BlackBerry phone.
With gradually increasing popularity, it captures over 500 million monthly active users all over the world. Now more and more iPhone users prefer WhatsApp to chat with friends, classmates and of course families.

It not hard to imagine that people are generating lots of texts, voices and images to communicate with each other with WhatsApp. And some of those communications may be precious for you that you never want to lose them especially those with lovers and clients.
As all we know if you don't want to suffer data lost, you have to make a backup now and then.
But WhatsApp does not support to store your chat history on their servers which means they cannot retrieve any deleted messages for you. Then how to backup WhatsApp Messages? The solution will be iCloud and iTunes.
1. How to backup WhatsApp history
1) Backup WhatsApp message to iCloud
WhatsApp supports iCloud to backup chat history and media, in that way if you lose your iPhone or your iPhone is broken, your WhatsApp chat history is still reachable.
You can set WhatsApp to automatically backup your chats to your iCloud account or you can make a backup manually at the time when you think it is necessary to backup WhatsApp.
Just go to WhatsApp Settings > Chats > Chat Backup and tap on Backup Now Button It will take a while to complete the backup, depending on the backup size and the situation of internet connection. It is a rational option for you to enable the Auto Backup feature, so that you don't need to do it manually.
You need to be signed into iCloud and have iCloud Drive set to ON. To change your settings, go to iPhone Settings > iCloud.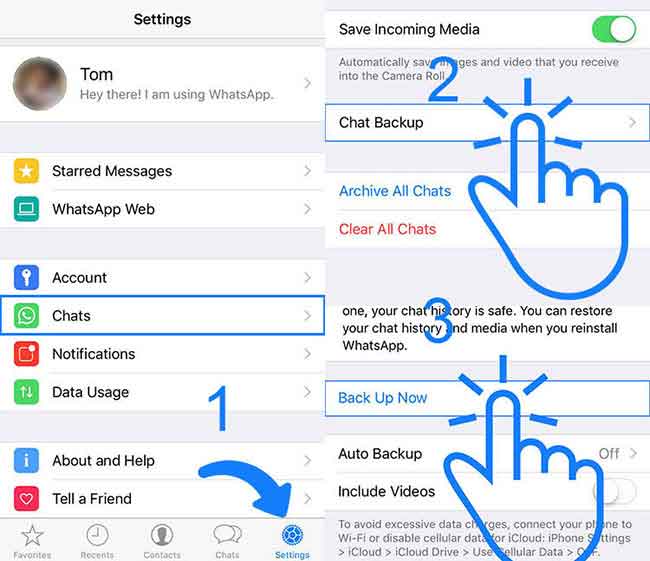 2) Backup WhatsApp with iTunes
An alternative to backup WhatsApp is iTunes. Since App data is included in an iTunes Backup, your previous WhatsApp messages are also stored in an iTunes Backup. To backup WhatsApp with iTunes is super easy.
What you have to do is connect your iPhone with your computer on which iTunes has been installed, Trust your device and click Back Up Now button.
2. How to retrieve deleted WhatsApp messages
1) Restore WhatsApp Message from iTunes or iCloud Backup
If you have iCloud or iTunes backup with your WhatsApp Data, it is quite easy for you to restore WhatsApp chats and media backup. While please note that restore your iCloud or iTunes backup will eliminate all your current data and take your iPhone back to the moment when you built the backup which you choose to restore iPhone from.
Most of us just want to recover WhatsApp Messages only. Fortunately our FoneLab for iOS – an iPhone Data Recovery Software will help you to do this.
Connect your iPhone with your computer with iTunes and FoneLab for iOS.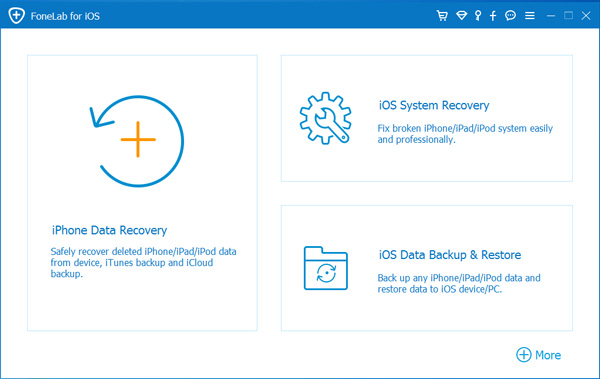 Launch FoneLab for iOS and select to iPhone Data Recovery > Recover from iTunes Backup Files(if you choose to Recover from iCloud Backup Files, please sign in with your Apple ID), and all your backup will be listed in a table. Choose the one that you want to recover WhatsApp Chats and click to start scanning.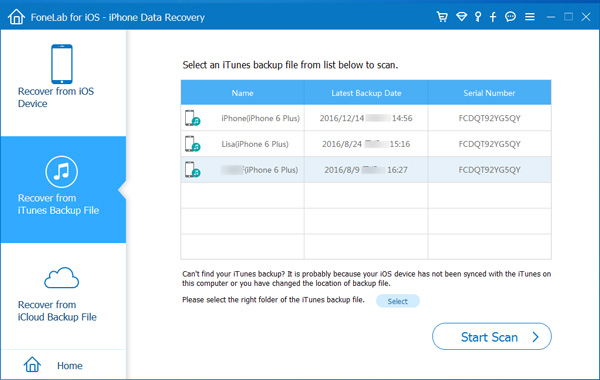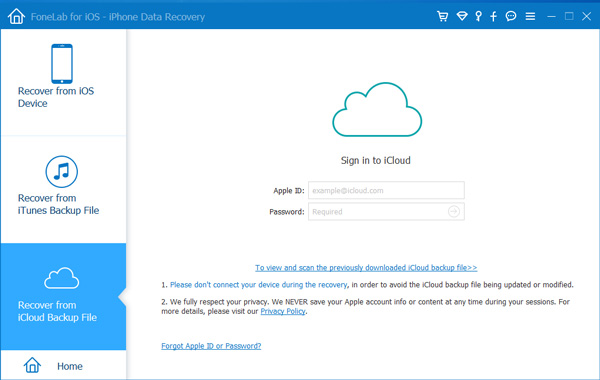 After the completion of scanning all your data will be grouped by type and listed in a table. Click WhatsApp on the right navigation, you can view all your WhatsApp Message that you have backed up.
Put a tick on those message that you want to recover and click Recover on the bottom right.
2) Recover WhatsApp Message from iPhone Directly
For those who uninstall WhatsApp or delete message by mistake and you haven't make a backup with iTunes, nether with iCloud. You can try to recover WhatsApp Message directly from device.
Launch FoneLab for iOS and Plug in your iPhone with computer.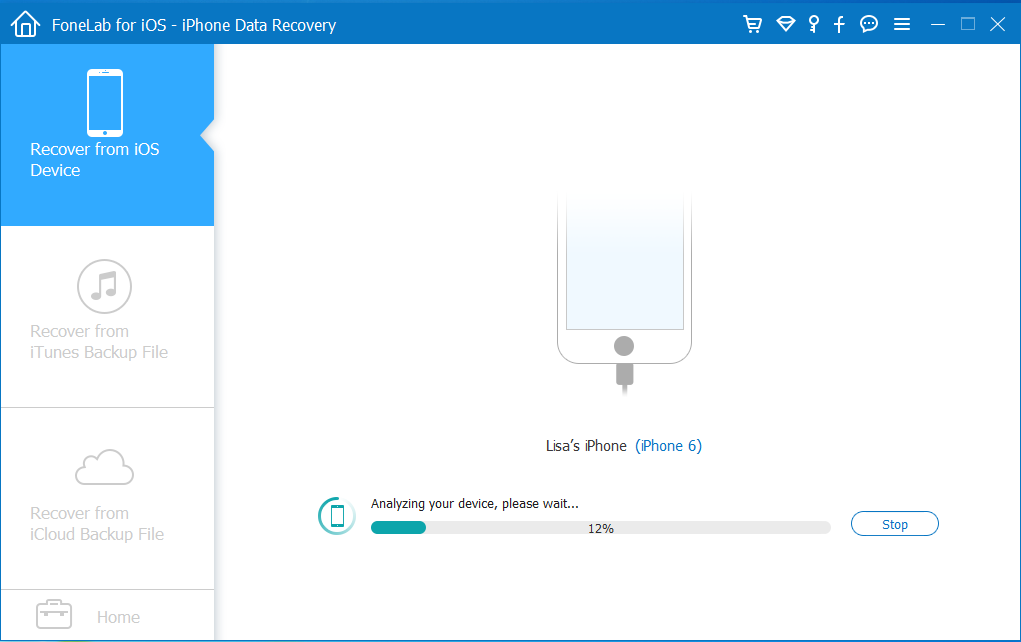 Click Start Scan to analyze device and scan data. It may take a while.
When the scanning is finished, go to WhatsApp and you will find your chats and media. Just select those you want recover.
Quite easy, right?
FoneLab iPhone Data Recovery also enables you to recover iPhone contacts, photos, videos and more with a few clicks.
Related Articles