How to Lock Notes on iPhone in The Quickest Way

Posted by
Lisa Ou
/ Jan 13, 2021 09:00
Notes app is one of the most popular apps for iPhone and iPad users. They always use it to note down something as they like, such as schedule, to-do list, password and more.
However, there is private information in it and they would like to lock them to prevent others viewing these notes.
Apple has added a feature that allows you to set a password to protect personal musings in the Notes app. So after iOS 9.3 was released, you can lock the note on your notes app to set up a note with the password or Touch ID. With an iPhone X, you can use Face ID.
The same password is used for every secured note, but you must manually select the notes that you wish to lock down. And you can remove the lock in anytime.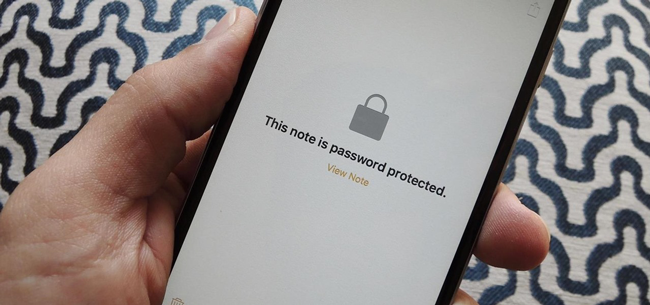 If you are using FoneLab for iOS to recover your notes with password, you will be asked to enter your encrypted notes' password and click OK to unlock.
So you can read below tutorials to do what you want to do.
1. How to Set A Secure Note on iPhone Notes App
Secure the notes is not a complicated case for iPhone users, password or Touch ID will be asked when someone wants to view the locked note in the iPhone Notes app. It protects your privacy from someone without your permission. Before completely securing a note, you will first need to add a lock.
Step 1Launch the Notes app on your device Home screen.
Step 2Choose the note which you want to lock and tap on it.
Step 3Tap the options icon in the top right corner.
Step 4Find Lock Note tab from the pop-up section.
Step 5Create a password and verify again if it is the first time you lock your notes. Otherwise, enter your existed password or Touch ID to lock it. You can turn on or turn off the Use Touch ID as you like.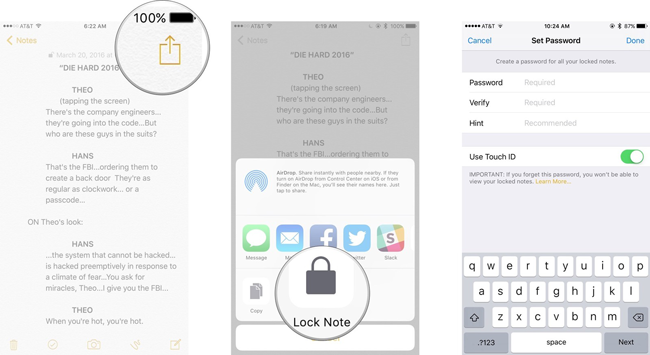 2. How to Lock All Notes At Once
This Notes app on iPhone allows you to lock down all notes that have applied to them right from the main list of notes.
Step 1Run the Notes app.
Step 2Go to the main notes list view.
Step 3Tap the Lock Now button at the bottom of the Notes app interface.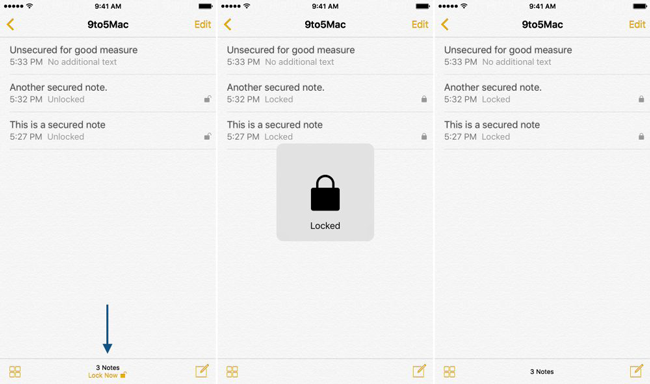 Unlocking a note unlocks all other notes in the Notes app. If you force close the Notes app, or Lock your device, password-protected notes will be locked automatically.
3. How to Change Notes Password for Locked Note
Maybe you are tired with the old password after a long time, or want to change a new one to secure your notes on iPhone, you can reset your password for your locked notes. Please follow below tutorial step by step.
Option 1. When you remember your old password
If you still have your old password, you can enter your old password and create a new one to change it easily.
Step 1Open the Settings app.
Step 2Scroll down to find the Notes app.
Step 3Tap Change Password.
Step 4Enter your old and new password to fill the form on the screen.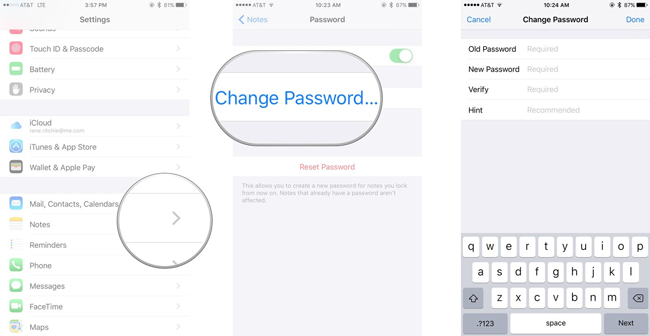 Option 2. When you forget your old password
What if you forget your Notes app password? You can follow below steps to reset your note password on iPhone settings.
Step 1Run the Settings.
Step 2Go to the Notes app.
Step 3Tap the Reset Password.
Step 4Enter your Apple ID password in the pop-up window.
Step 5Tap Reset Password again to confirm you are sure you want to reset your password.
Step 6Create the new password.
Step 7Tap Done in the top right corner.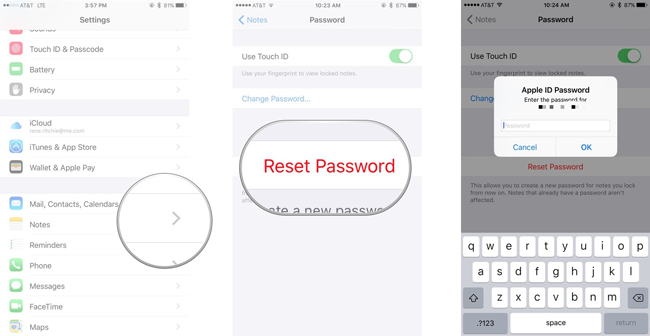 4. How to Remove iPhone Password Lock for Encrypted Notes
Sometimes you might want to remove the lock of your notes on iPhone, then you can check these notes easier. Below is the detailed steps to do it.
Step 1Enter the Notes app on your iPhone.
Step 2Choose the note you want to remove the lock.
Step 3Enter your password or Touch ID.
Step 4Tap the icon on the top right corner of the screen.
Step 5Tap Remove Lock.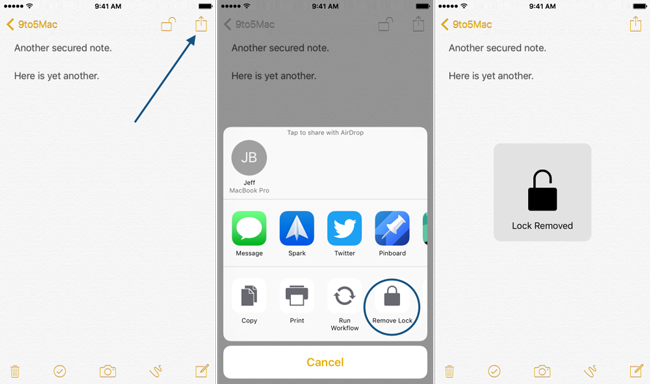 Securing notes in iOS 9.3 is a simple exercise on the surface, but it's not always entirely straightforward. Hope above-mentioned tutorial for all of the details can help you to set up, remove or change the password of the lock on iPhone notes.