Fix Abnormal iPhone Now
Recover your data from iPhone to computer easily.
Complete Guide to Fix iPhone Speaker Not Working You Should Know
My iPhone speaker is not working.
When your speaker not working on iPhone, the music might stop playing, no notification for the coming text message, or even cannot use the speaker of your iPhone. What should be the problem? How to fix the iPhone speaker not working? The article intends to show you 7 simple ways to fix this problem. Just read on the article and choose a desired one according to your situation.

Part 1: Why iPhone Speaker Not Working
Generally speaking, there are two kinds of causes involved with iPhone speaker not working issue.
Firstly, if the software is malfunctioning, your iPhone may not be sending the right signals to the speaker. As a result, the speaker does not work at all. The good news is that most software issues can be fixed.
When it comes to hardware issues, it is another story. Your iPhone speaker is one of the most vulnerable components on iPhone. Once it is damaged in any way, your iPhone speaker will not work entirely. In such a case, you have to repair it in the Apple Store.
Next, we will show you how to fix iPhone speaker.
Part 2: 10 Ways to Fix iPhone Speaker Not Working
If you are sure your speaker component is not damaged, follow the fixes to get rid of the problem that iPhone speaker is not working. Just learn more about the detailed process as below.
Way 1: Make Sure iPhone is Not Silent
The Silent button is on the top or side of iPhone. If you can see the orange color, it means your iPhone is put into the Silent mode. Move it to the other side and adjust the volume with the Volume Up and Volume Down buttons. Then your iPhone speaker should work normally. As for the latest iOS 13, you can find the Silent Mode On or Silent Mode Off alert on the screen.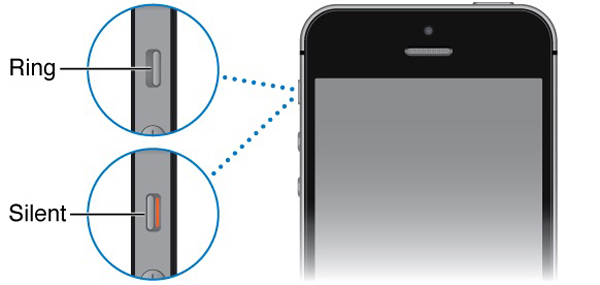 Way 2: Turn Off Do Not Disturb
As you know, Do Not Disturb mode mutes most of sounds and alterts. So, you should turn it off to enable iPhone speaker.
Way 3: Make sure that iPhone is not Playing Somewhere Else
If your iPhone has connected to Bluetooth or used Airplay to connect iPhone to other devices, this can happen. Thus, your microphone might be playing through other devices. Swipe your iPhone screen and check your Screen Mirroring and Bluetooth. You should disable neither of them.
Way 4: the iPhone not stuck in Headphone mode
If your iPhone speaker is not working after you use your headphones, your handset may get stuck in the headphone mode. How do you get out of the headphone mode of your iPhone? FoneLab iOS System Recovery is the desired tool to fix iPhone from DFU mode, recovery mode, Apple logo, headphone mode and more.
Fix software issues on iPhone including headphone mode and more.
Repair iPhone in Recovery mode or DFU mode.
Keep your data and settings on your iPhone in the original condition.
Compatible with all your iPhone running iOS 13/12/11 and earlier.
Step 1When you discover your iPhone speaker is not working, download and install iOS System Recovery to your computer. Launch it and your iPhone will be detected once you connect it to your computer with a USB cable.
Step 2Click the Start button on the interface to initiate the troubleshooting. Choose the Standard Mode or Advanced Mode based on the situation of your iPhone, and confirm the information on your device.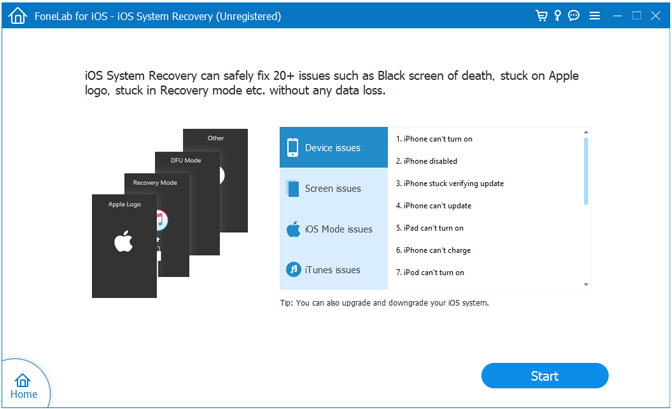 Step 3Then click Optimize in Standard Mode or Repair in Advanced Mode to download the corresponding firmware. After downloading, the software will fix the problem, such as stuck in the headphone mode.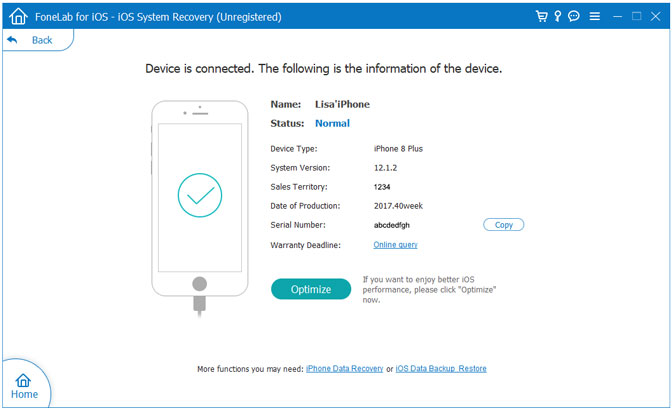 Way 5: Restart Your iPhone
In order to fix your iPhone speaker not working, restart your iPhone is another efficient method you can take into consideration. Just follow the method as below to fix the problem.
Step 1Go to Settings > General of your iPhone. Tap the Shut Down option to reboot your iPhone.
Step 2Slide the switch to the right side for the slide to power off and then your screen will turn black.
Step 3After that, you should restart your iPhone to fix the iPhone speaker not working accordingly.
Way 6: Update iOS System
The outdated system might have some known problems, including iPhone speaker stops working. You would better update your software in time to fix the problems automatically.
Step 1Head to Settings > General > Software Update to check the new version of iOS.
Step 2Tap the Download and Install button if an update is available. Then follow the onscreen instructions to get it.
Step 3When your iPhone restarts, enter your passcode to check whether the speaker of your iPhone is working.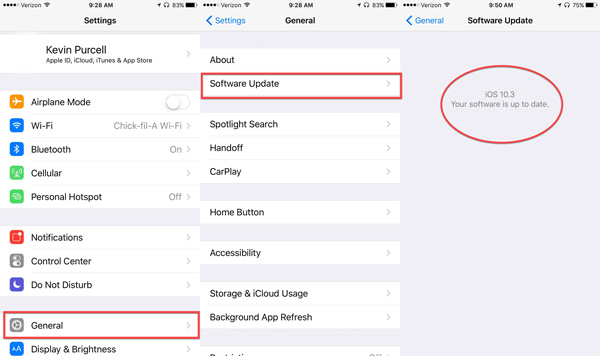 Way 7: Reset Your iPhone
Factory resetting your iPhone means to bring your iPhone back to the factory status, which is able to correct settings and fix the related problems for iPhone speaker not working.
Step 1Navigate to Settings > General > Reset.
Step 2Select the Erase All Content and Settings, enter your passcode, and tap the Erase iPhone option on the pop-up.
Step 3Set up your iPhone as a new device after your iPhone reboot.
Note: This way will delete your data and settings on your iPhone, so you'd better make a backup first.
Way 8: Restore iPhone with iTunes
If your iPhone speaker is not working due to handset freezes, in such case, you might not able to reset iPhone in Settings app. You can restore iPhone from iTunes backup as below.
Step 1Plug your iPhone to the computer with a USB cable and open iTunes on your computer.
Step 2Click the Device icon at upper left corner after your iPhone is recognized.
Step 3Go to the Summary tab from the left side, and click the Restore iPhone button. Click the Restore button to begin restoring the device.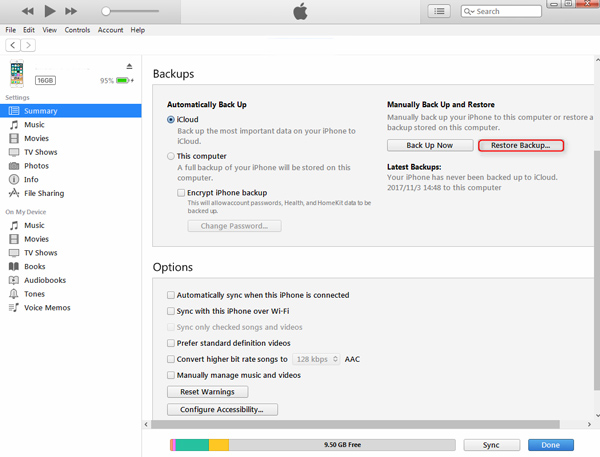 Way 9: Clean Your iPhone speaker
Even the smallest bits of dirt, dust or debris can be detrimental to iPhone. They can affect the volume and make your iPhone speaker not working. So, it is essential to keep all parts of your speaker clean by using a cotton swab to clean the speaker simply.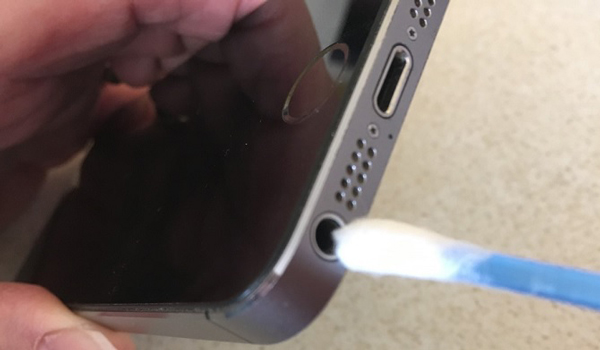 Way 10: Contact Apple Repair Service
Go to Settings > Sounds or Settings > Sounds & Haptics, then toggle Ringer and Alerts off and on a few times. If there nothing changes for your iPhone speaker, you should turn to Apple Store help. Apple provides repair service for users who are encountering hardware issues. You can visit their website and apply a repair service.
Conclusion
This guide shares several ways to fix iPhone gets stuck on searching and cannot connect to a network. When you encounter the same trouble, follow the guide to solve iPhone phone speaker not working. If you are looking for an efficient way to do it, FoneLab iOS System Recovery is the easiest method you can take into consideration.