Unlock iPhone Now
Unlock Apple ID, remove screen password, bypass screem time.
Top 5 iCloud Removers to Remove iCloud Account from Your iPhone

Updated by
Lisa Ou
/ June 15, 2021 16:30
To prevent data leaks in case of Apple devices lost and stolen, Apple developed iCloud Find My iPhone and Activation Lock. Thus, they made the iCloud removal pretty difficult. If your Apple device is stolen, you can simply erase the device on iCloud.com. Afterward, the device will be limited to the Activation Lock screen, which prevents anyone from reactivating the device without your permission.

However, the Activation Lock may also cause you problems. It is possible that you reset a newly-bought second-hand iPhone and get locked by iCloud because the device is still linked to the previous owner's Apple ID. Then you need to remove the iCloud with an iCloud removal tool. Just pick the most suitable iCloud remover for yourself from this post.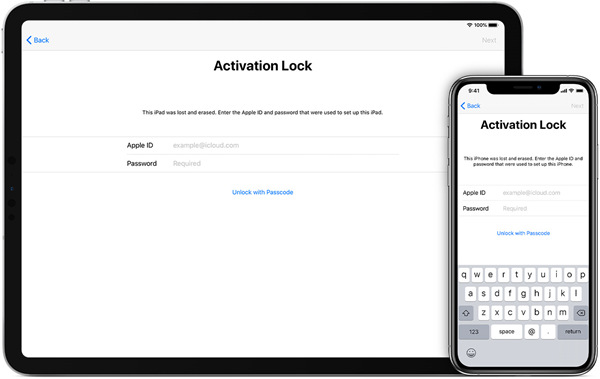 Part 1. The 5 Best iCloud Removers in 2023
FoneLab iOS Unlocker is doubtlessly the most reliable tool to remove iCloud from your iPhone. It is easily done in four straightforward steps. Moreover, it can also help you cope with lost Touch ID, Face ID, Screen Time restriction password, and Apple ID without any effort. No matter what device model or iOS version you use, even the latest iPhone 14/13/12 Pro Max in iOS 16, 15, FoneLab iOS Unlockercan handle the iCloud removal for you.
Key Features
Remove iCloud effortlessly in 3 easy steps
Straightforward process to remove iCloud without Apple ID or password
Works for all iPhones such as iPhone 14/13/12 Pro /12 mini/12, iPad Pro and more
Supports all iOS versions including the latest iOS 164.5
Easy-to-use and straightforward user interface
Pricing:
License for 3 devices/one year selling at US$39.20
License for 6 devices/Lifetime License selling at US$55.20
Pros:
Complete the iCloud removal at a fast speed
No need to jailbreak to remove iCloud
Peerless compatibility and supports both Windows and Mac
Bring iPhone back to life with the full features
Cons:
Relies on iTunes installed on your computer
NO.2 –Wondershare Dr. FoneiOS Toolkit
Dr.Fone, based on both Windows and Mac, is a comprehensive toolkit that can not only remove iCloud but also unlock the iOS screen and unlock Apple ID. Various useful functionalities, including system repair, phone, transfer, phone backup, data eraser, are integrated into Wondershare Dr.Fone iOS Toolkit. With it, you can deal with most problems you faced on an iPhone. However, to remove the iCloud Activation Lock with this tool, you have to jailbreak your iPhone beforehand.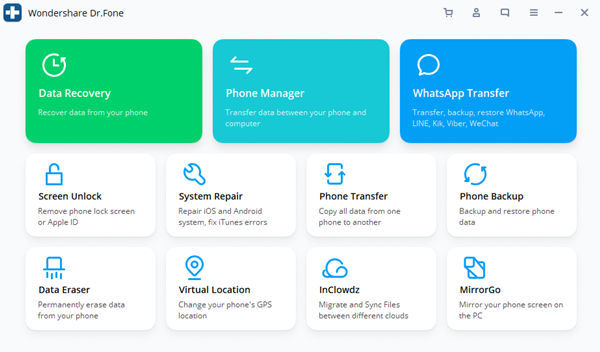 NO.3 - Tenorshare 4MeKeyiPhone Activation Unlocker
Tenorshare 4MeKey iPhone Activation Unlocker is a very good choice for you to remove iCloud from iPhone and bypass the Activation Lock without a password or Apple ID. It is compatible with iPhones from 5S to X. Apple devices published later than iPhone X are not supported yet. It also supports the latest iOS 14 for iPhone 6S, 6S Plus, SE1, iPad 5, iPad Mini 4, and iPad Pro 1.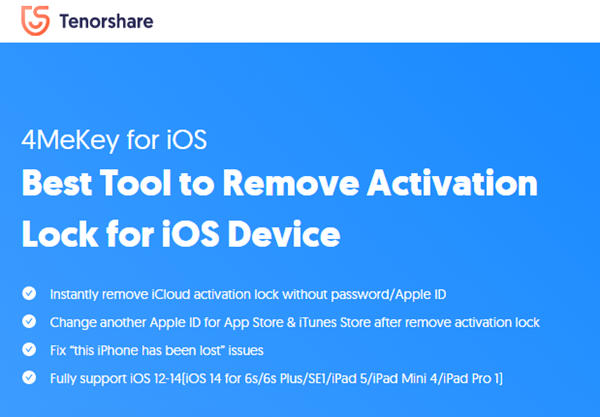 Note: After bypassing the iCloud Activation Lock with this tool, you will be unable to use the unlocked Apple device to make a phone call and cellular connections, while Wi-Fi and Apple ID in App store are still available.
NO.4 –UnlockBoot iCloud Unlock Service
This is not a program but an iCloud unlock service to unlock iPhone with IMEI. The process of using it to remove iCloud is extremely simple. Although you could not finish the setup of the locked iPhone, the IMEI number is still available just as the picture below shows. All you need to do is to provide the IMEI number.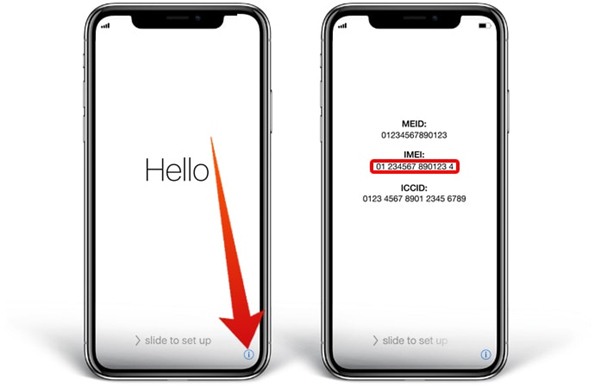 However, this service does not provide a free trial. You have to pay US$15 before you access the service. The advantage is that you don't need to go through the whole process – pay money and other people will do it for you. Just wait for the confirmation email patiently.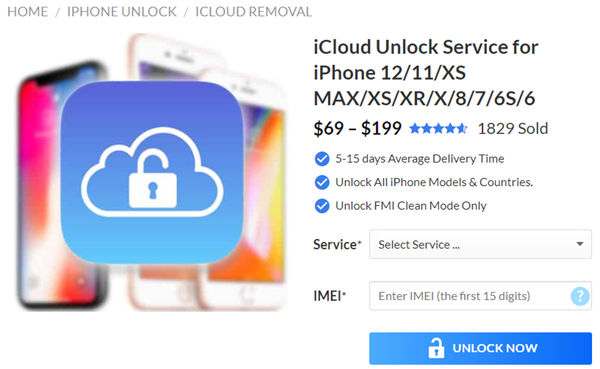 NO.5 –UltFone Activation Unlocker
UltFone Activation Unlocker is also an iCloud remover. It is very similar to Tenorshare 4MeKey iPhone Activation Unlocker. Everything is good in this tool, except that the iCloud removal process will jailbreak your Apple device and the phone call and cellular will be gone forever. Plus, UltFone Activation Unlocker can be installed on both Windows and Mac.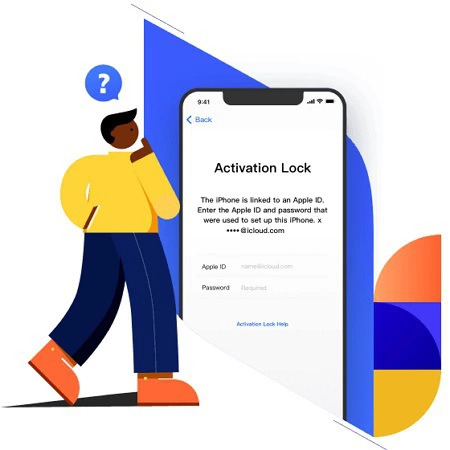 Part 2. How to Remove iCloud with an iCloud Remover
All the five iCloud removers we introduced above can help you remove iCloud from your iPhone. Here we will take the best iCloud remover tool, FoneLab iOS Unlocker, for example, to show you the complete process of iCloud removal.
Step 1Free download, install and launch FoneLab iOS Unlocker on your computer. When you see the main interface of the iCloud remover, choose the Remove Apple ID in the middle. (iCloud will be gone together with the Apple ID)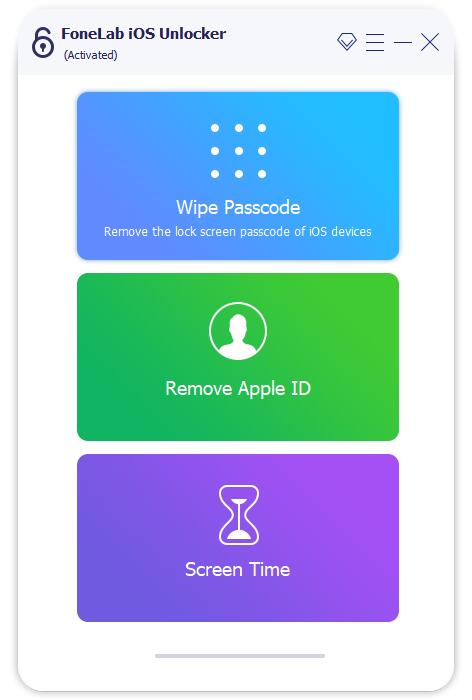 Step 2Next, connect your iPhone (or iPad and iPod Touch) to the computer via a lightning to USB cable. A moment later, the iCloud remover on your computer will show Device connected successfully. When a window pops up on your iPhone, you just tap the Trust button.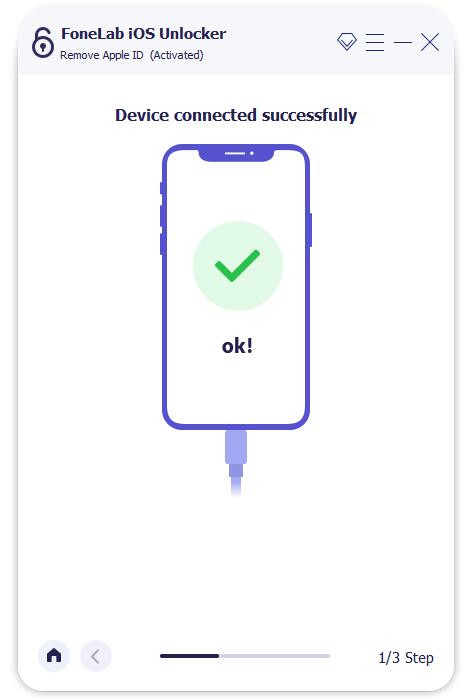 Step 3The program will then go to the Remove Apple ID page. Here you need to read the Warning and click the Start button.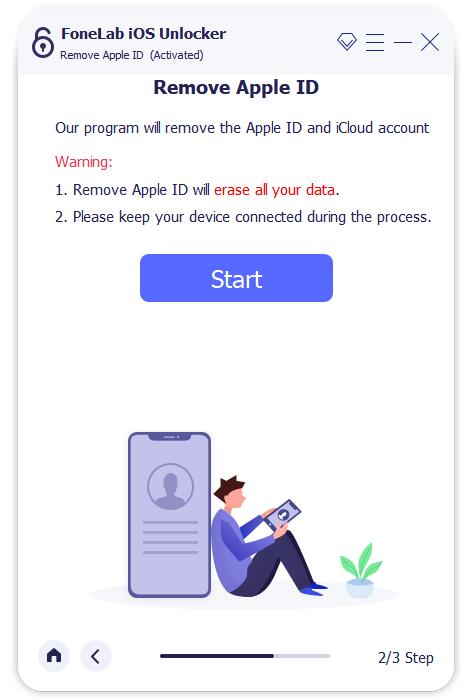 Step 4Then you need to reset all settings on your iPhone by going to Settings –General –Reset –Reset All Settings. If your iPhone still uses iOS 11 or earlier versions, you can instead go to Settings –iCloud –Find My iPhone. Note that your iPhone screen passcode is required here.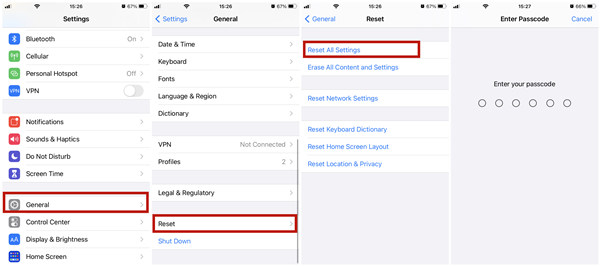 Then your iPhone will reboot. During it, you just wait patiently for the notification You have unlocked your device successfully! When you see it, you have managed to remove iCloud from your iPhone.
However, in some cases, your iPhone is locked on the Activate iPhone page and you cannot access the Settings. How can you remove iCloud to bypass the Activation Lock then?
How to Remove iCloud from an iPhonewith Activation Lock
In order to bring the iPhone back to life, you need to remove the iCloud activation lock with the Apple ID linked to this iPhone.
Step 1Go to iCloud.com and log in with the Apple ID. Then select the Find iPhoneoption.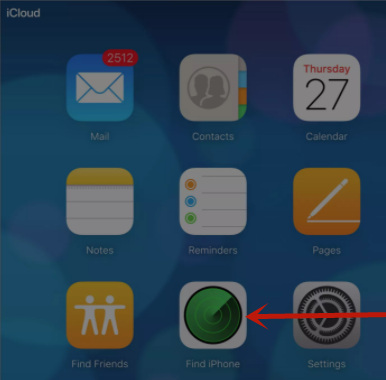 Step 2Click the All Devices button in the top middle of the webpage and select the locked device. Then click the Erase iPhone button and select Next until you really get the device erased.icloud-com-remove-iphone-from-account
Step 3Click the Remove from Account button to remove the iCloud from your iPhone.
When the iPhone is successfully removed from iCloud, you can restart it and begin the setup process.
Part 3. FAQs about iCloud Removal on iPhone
How to prevent the complexity of removing iCloud Activation Lock?
Before buying a second-hand iPhone, check the device carefully. Make sure you can access the Set up your iPhone screen which means the iPhone is totally ready for you to use. If you cannot access it, just ask the owner to erase the iPhone and log out the Apple ID.
When will iCloud Activation Lock occur?
The premise is that the Apple device turned on Find My. It could occur after the iPhone owner erases the iPhone from iCloud.com. When someone resets an iPhone without turning off Find My, the Activation Lock will also occur.
How to remove iCloud for Windows?
Press Win + R and enter control to run the Control Panel. Then click the Uninstall a program button in the window of the Control Panel. Now you can find iCloud and double click to uninstall it.

FoneLab iOS Unlocker
FoneLab Helps you unlock iPhone screen, Removes Apple ID or its password, Remove screen time or restriction passcode in seconds.
Helps you unlock iPhone screen.
Removes Apple ID or its password.
Remove screen time or restriction passcode in seconds.
Conclusion
This article talked about iCloud removers and how to remove iCloud from iPhone. When you have the iPhone screen passcode but forgot the Apple ID password, you can use FoneLab iOS Unlocker to remove the iCloud from your iPhone. Doing so will erase your iPhone. The thing gets more complicated if you are already trapped by the iCloud Activation Lock and don't know the Apple ID password. You have no choice but to jailbreak your iPhone to remove iCloud and thus bypass the Activation Lock. If you have any other questions about iCloud removal or iCloud remover tools, leave a comment below.