Fix Abnormal iPhone Now
Recover your data from iPhone to computer easily.
iPhone Stuck on Apple Logo - Best Solutions You Should Not Miss
Why is my iPhone XR stuck on the Apple logo? How to fix iPhone stuck on Apple logo?
It is reported that most iPhone users encountered similar issues, such as iPhone 7 stuck on Apple logo, iPhone 12 stuck on Apple logo, iPhone 11 stuck on black screen with Apple logo, etc.
It is not a rare situation for the iPhone after a long time of use for various reasons. It is not hard to solve it with the proper methods.

In this post, 4 proven ways will be introduced to fix iPhone stuck on Apple logo.
Part 1. Why iPhone is Stuck on Apple Logo
Before diving into how, you should know the main reasons. Different problems appear on iPhone and other mobile phones after a period. It is a common issue as they will be consumed no matter software or hardware parts. Below are the possible common reasons why your iPhone 11 Pro Max stuck on Apple logo or others.
1. There are too many cache files, cookies, temporary data, etc.
2. You don't have enough spare space on iPhone.
3. The iOS version is out to date.d
4. Some bugs on iPhone make it down.
5. Software issues caused this problem.
6. Incorrect operations.
Well, you can begin to figure out how to solve the problem like iPhone XS stuck on Apple logo now.
Part 2. How to Fix iPhone Stuck on Apple Logo
When iPhone stuck on Apple logo, you can search this topic on Google, and then view and try the results one by one to fix it to normal. Here are 5 proven solutions you should not miss.
Method 1. Fix iPhone Stuck on Apple Logo via Rebooting
Restarting mobile phones can solve 99% of problems in daily life without additional operations. You can try this method first before you choose others because it is effortless to do. Depending on different iPhone models, check the below instructions.
You can power it off through Settings > General > Shut Down, no matter which iPhone you are using.
Option 2. Restart iPhone through Combine Buttons
Most users would like to use combine buttons as they think it is more convenient than option 1. You should find the right buttons below steps.
iPhone XS Max stuck on Apple logo(All iPhone models without home button)
Holding both Power and one volume buttons together until you see the slider. Drag it to turn it off. After a while, press the Power button again to restart iPhone.
iPhone stuck on Apple logo like iPhone 7(All iPhone models with home button)
Press and hold the Power button and Home button at the same time. When you see the slider, drag it to power off it. Then press the Power button.
If you found that it is not working to make your iPhone out of the Apple logo, move to method 2.
Method 2. Fix iPhone Stuck on Apple Logo with FoneLab iOS System Recovery
We will introduce a powerful third-party tool for you. FoneLab iOS System Recovery is a professional but straightforward program to help you fix all abnormal issues on iOS devices, including iPhone, iPad and iPod Touch. When your iPhone is black screen, won't turn off, unknown issues, etc, you can always rely on it.
Thus, FoneLab iOS System Recovery can fix iPhone stuck on Apple logo on the computer. You can download it on either Windows or Mac computer, then follow the demonstration to finish it.
Step 1Download and install the program on the computer, then run it.
Step 2Choose iOS System Recovery, click the Start button on a new window.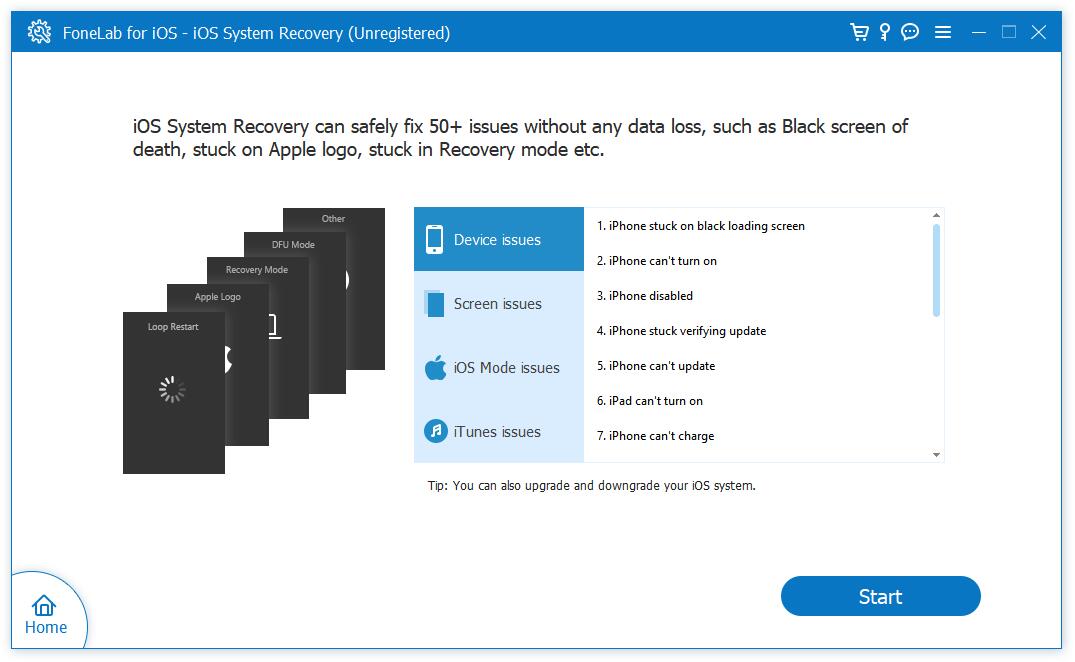 Step 3Choose Standard Mode or Advanced Mode accordingly. Mind that the rear one will remove your iPhone data. Click Confirm button.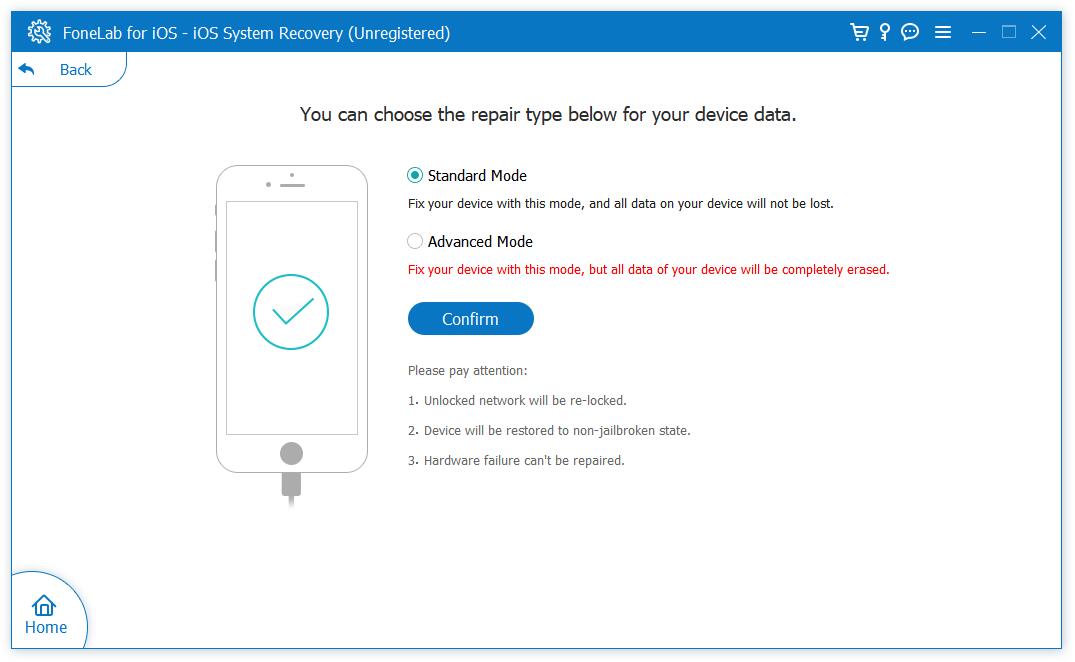 Step 4Follow the on-screen instructions to enter recovery mode.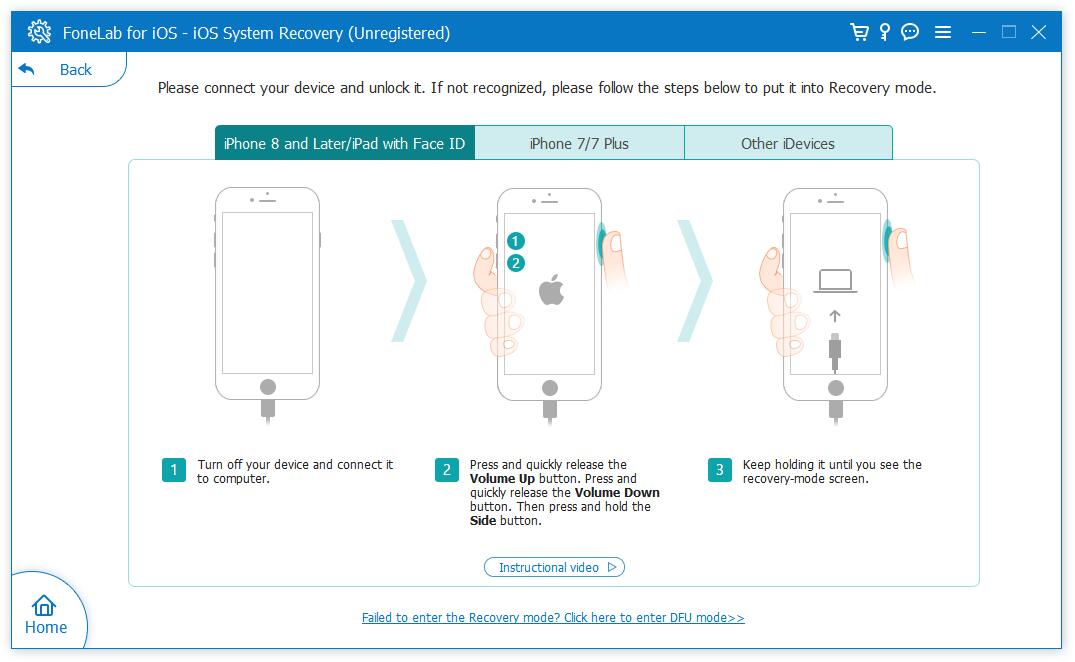 Step 5Check your device information from the list, and select one firmware and click Download. After that, click Next.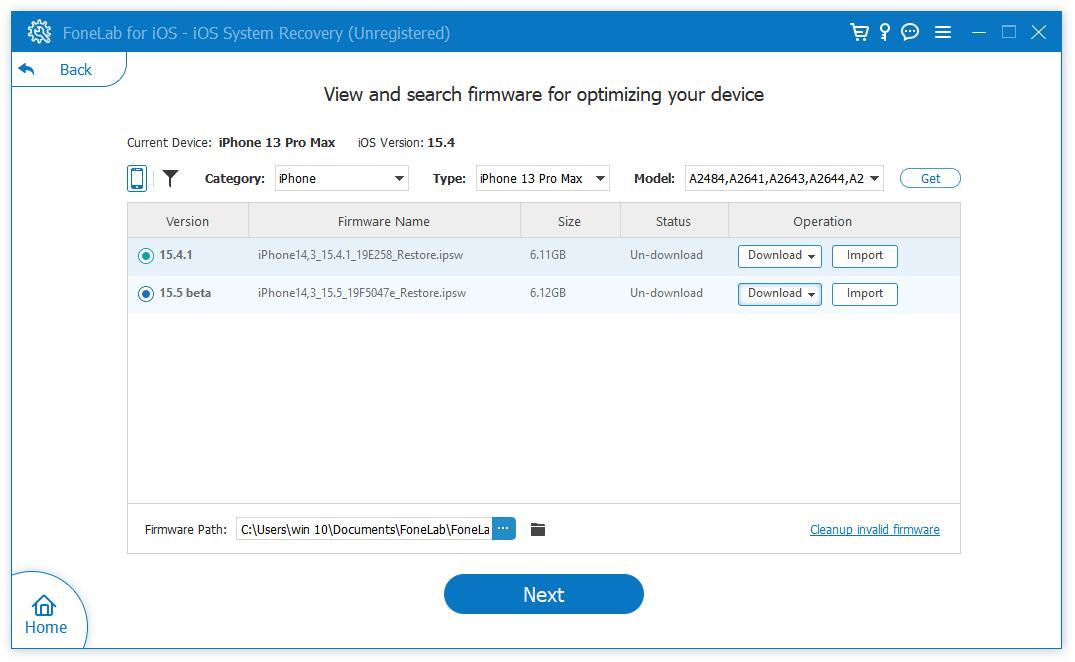 Step 6Please wait until it finishes.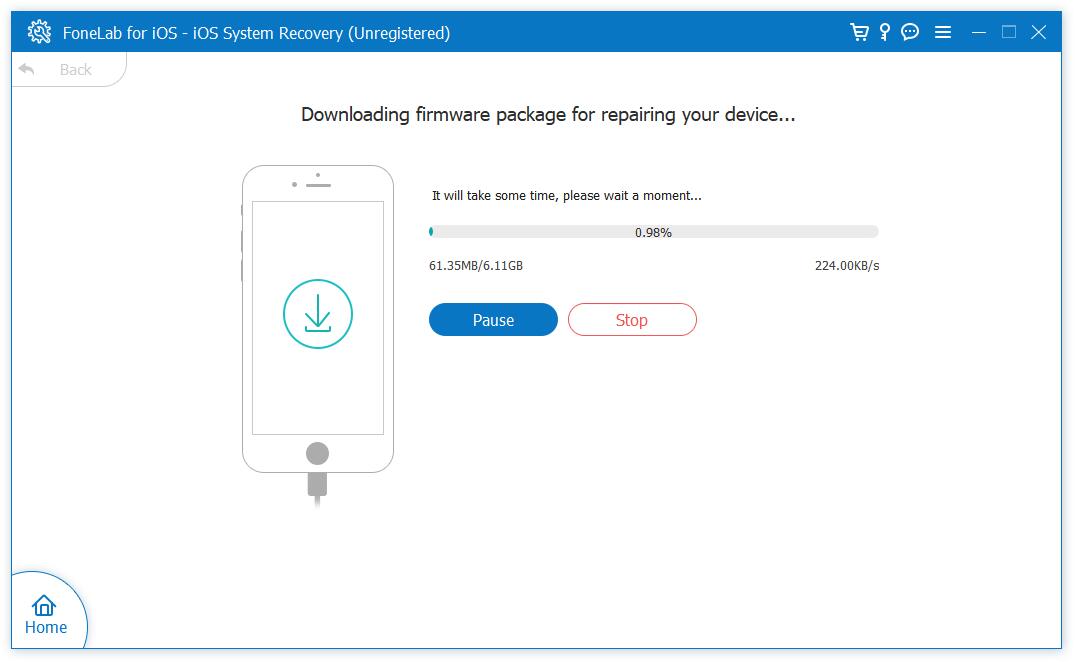 As you can see, you can fix issues like iPhone X stuck on Apple logo loop within 3 steps. It allows you to free download and have a try on computer now!
Aside from the methods above, you can also try to remove the useless parts to prevent the issues with iPhone.
Method 3. Fix iPhone Stuck on Apple Logo through Free Up iPhone Space
Free up iPhone space is a significant but easy problem as you can find many solutions to it, such as deleting photos as it is the most significant part of iPhone for most users, removing downloaded songs, clearing messages, clearing browser data, and more. You can access the related app, then follow the right ways to remove them.
Here we will recommend FoneEraser for iOS to you. It is a comprehensive tool to free up iPhone space and even erase all data. It is practical to help you get a brand-new iPhone, or remove selective data like junk files, apps, photos, etc. First, download and install the program, then connect iPhone to the computer via USB cable and launch it. Then, follow below is how to use it.
Mode 1. Free Up Space
This mode enables users to clear specific data without losing all data on iPhone. And you can easily remove unwanted files to save your storage.
Step 1Choose Free Up Space. Then you can see 4 options. Click Quick Scan.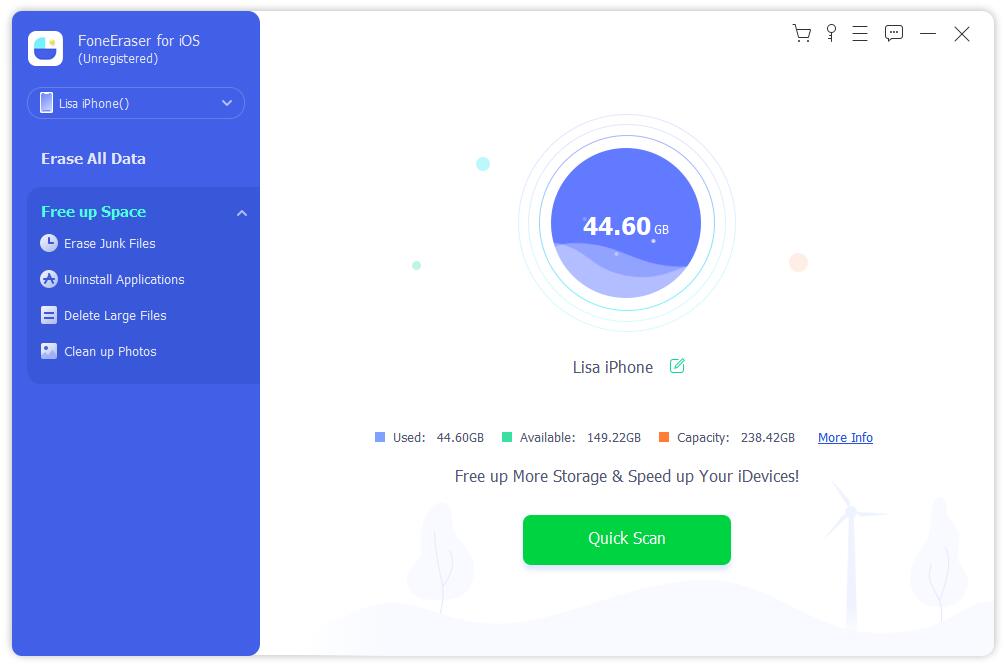 Step 2After that, junk files, applications, large files, and photo will be shown in the scanning results.
Step 3Simply click the green Erase button to free up iPhone space.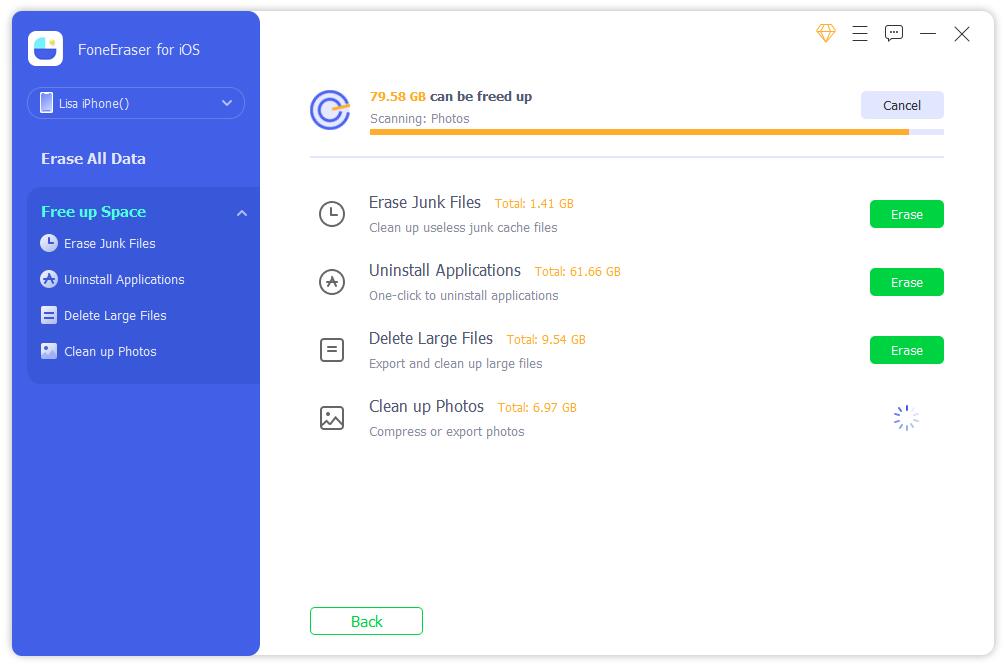 Of course, you can also click the 4 options one by one from the left panel to remove selective data if you need.
Mode 2. Erase All Data
This is another choice you can try to erase all data on your iPhone if you want a brand-new device or plan to give your iPhone to others.
Step 1Choose Erase All Data, choose security level and click Start button.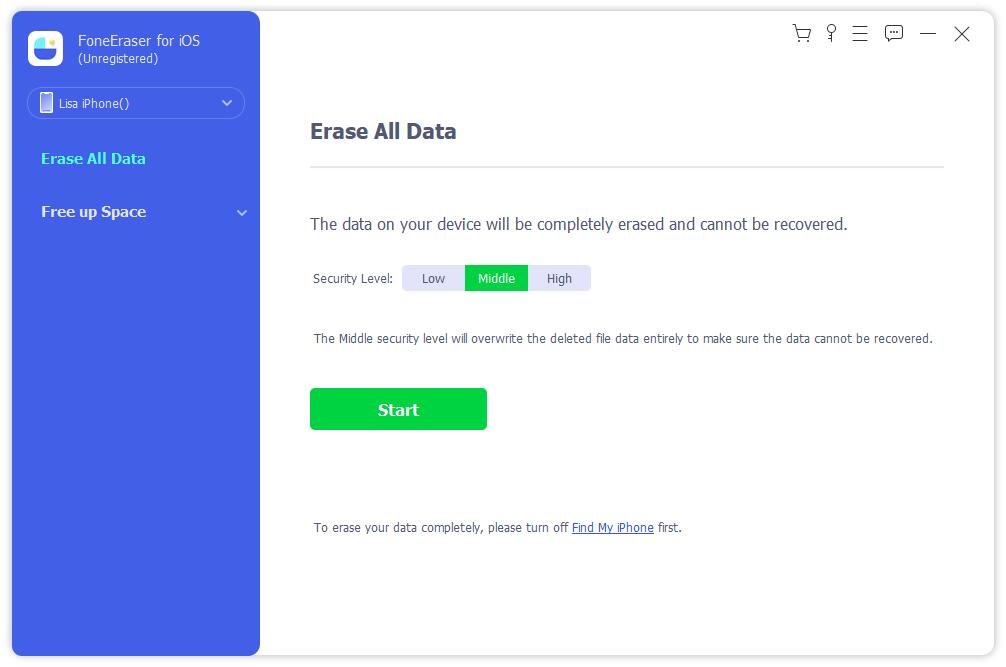 Step 2It will show you how to turn off Find My iPhone, and follow the steps to do it.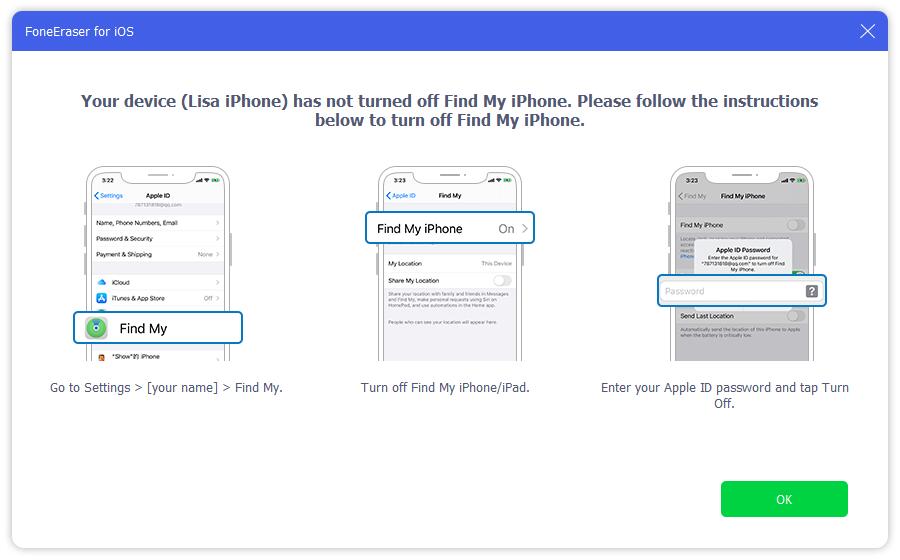 Step 3Enter 0000 in the box to confirm erasing.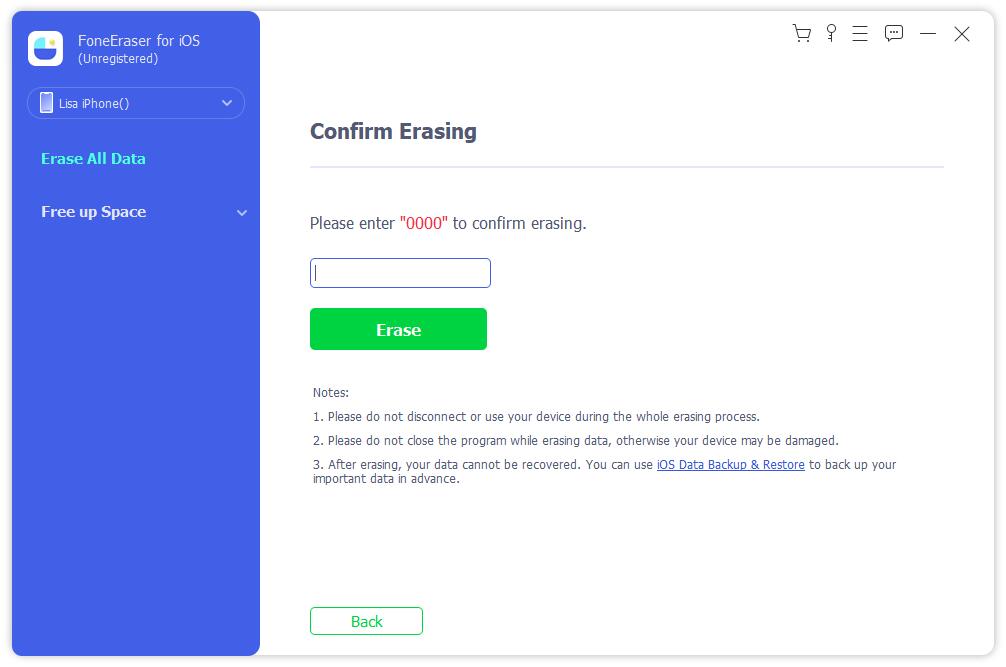 Method 4. Fix iPhone Stuck on Apple Logo by Uninstalling Unused Apps
Without FoneEraser for iOS, we can uninstall apps from iPhone with 2 different methods.
Option 1. Remove Apps from Settings App
Open the Settings app, tap General > iPhone Storage, scroll down to find the app you want to remove, and choose the Delete App button.
Option 2. Uninstall Apps from Home Page
Pressing the app icon on the home screen until it jiggles, tap the Remove App in the upper-right corner.
Method 5. Use iTunes/Finder to Fix iPhone Stuck on Apple Logo
Both iTunes and Finder can restore iPhone with simple clicks after connection. If you can connect iPhone to computer and iPhone can be detected, you can do that directly.
Option 1. Restore iPhone Directly
When iOS devices like iPhone 11 Pro stuck on Apple logo and it has connected to iTunes on the computer before, you can connect it again without permission. So, you can also restore iPhone with iTunes with the following steps.
Step 1Plug iPhone to computer and run iTunes or Finder.
Step 2Click device icon > Summary/General > Retore iPhone.
Someone would encounter a situation like that iPhone 12 won't turn on stuck on Apple logo. In this case, they might be unable to let iTunes or Finder detect their devices.
Option 2. Restore iPhone Under Recovery Mode
The final choice you can get rid of iPhone issues is to enter iPhone recovery mode, then restore iPhone to get a brand-new device completely. It also means your data will be erased after that, you have to backup iPhone to prevent data loss before you choose to do that.
Based on different iPhone models, there are some differences in entering recovery mode. Please check the tutorial below.
Step 1Run iTunes or Finder on the computer, then turn off iPhone, connect iPhone to computer and enter iPhone recovery mode as below.
iPhone 12 Pro stuck on Apple logo(For iPhone 8 and later/iPad with Face ID)
Press and release volume up button, then volume down button, holding power button until you see the recovery mode screen.

iPhone 7/7 Plus stuck on Apple logo
Pressing volume down button and power button simultaneously until the recovery mode screen appears.

iPhone 6S and earlier stuck on Apple logo
Keep pressing both power and home buttons together until you see the recovery-mode screen.

Step 2Click Restore button when the window pops up.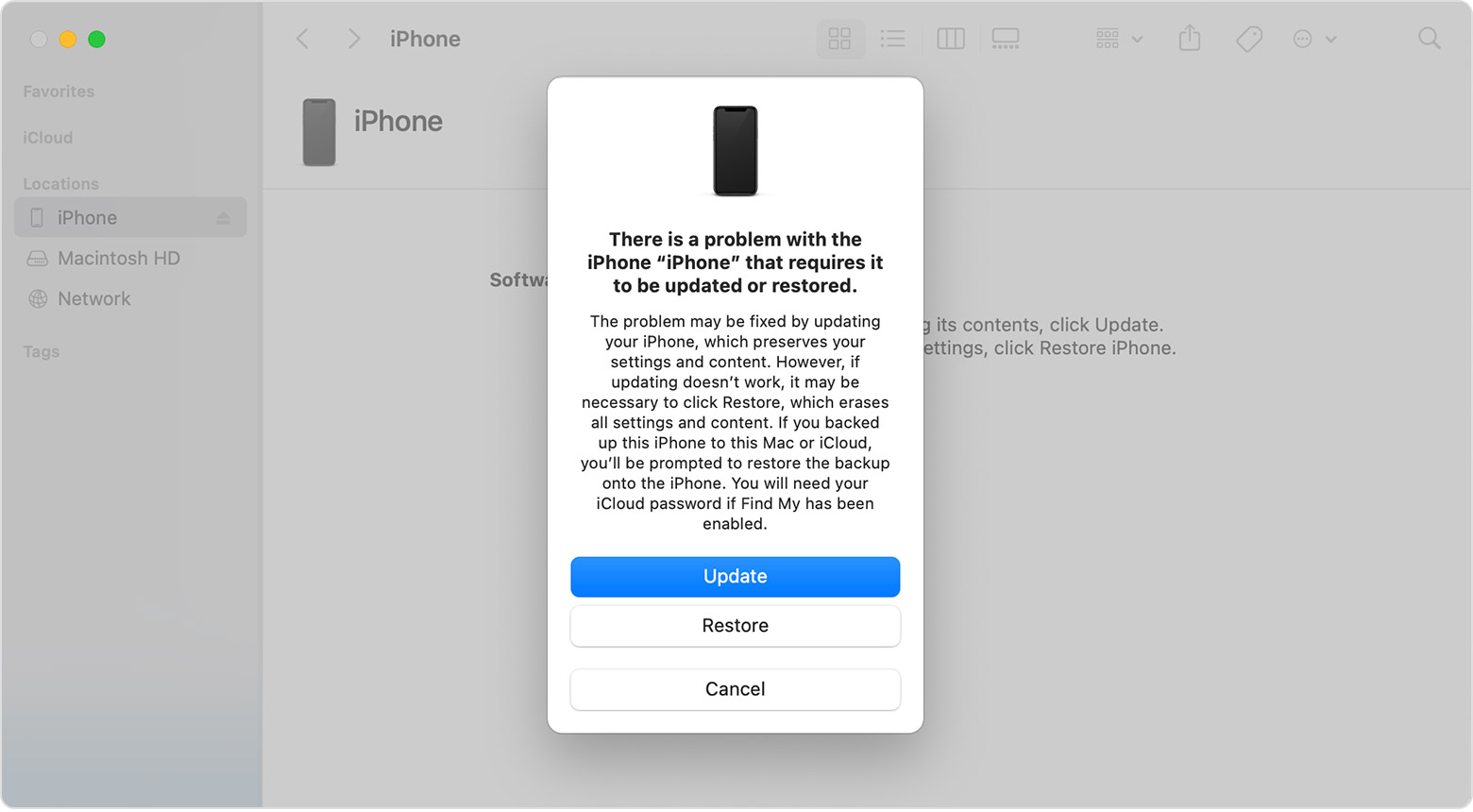 That's all about why and how to fix iPhone stuck on Apple logo. You can easily follow the detailed steps to solve these similar problems with the methods above. All choices are available, and FoneLab iOS System Recovery and FoneEraser for iOS are recommended because of their convenience and efficiency. Why not download and have a try now!