Transfer iOS Data Now
Transfer your data from iPhone to computer easily.
What is Download and Keep Originals Feature in iCloud Photo Library and How to Transfer Photos
One of the main benefits of iCloud is the iCloud photo library, all your photos and videos can be stored in the cloud instead of being bound to a specific device, so you can use them no matter which device you use. Any changes you make to a photo or video on one device will be taken to other devices.
Want to save your photos on iCloud and delete them from your iPhone? iCloud photos are not downloaded?
If you need to download or manage images, you will eventually turn to the iCloud Photo Gallery feature. Here are two options for optimizing your iPhone device and downloading and saving the original file.
However, many iOS users still don't know what "download and save the original file" is and how to use it.
This page lists some common issues to help you get the most out of this feature and iOS devices.

1. Meaning of Download and Keep Originals
iCloud provides a convenient way to better protect your iOS data by backing up photos on your iPhone, iPad or iPod. You can easily access the functionality in the iCloud photo library.
There are two options for download photos from iCloud provided here.
iCloud supports other Apple devices like iPod and iPad. That means you can also transfer music from iPad to Mac or from iPod to Mac.
Optimize Storage: iCloud photos will automatically manage the size of the library on the device. Your original photos and videos are stored in iCloud, and space-saving versions are stored on your device.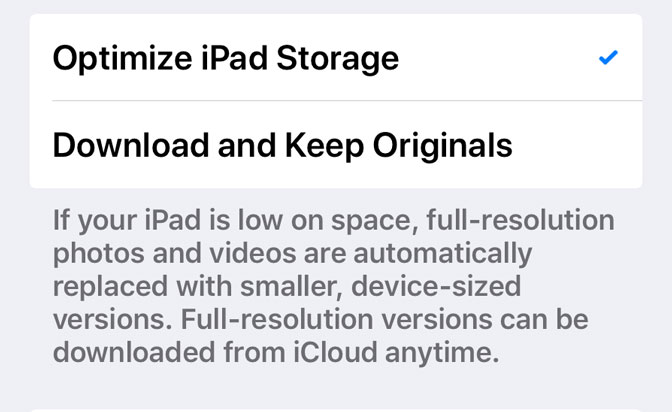 Download and Keep Original: iCloud photos will save the original, full-resolution photos and videos in iCloud and devices.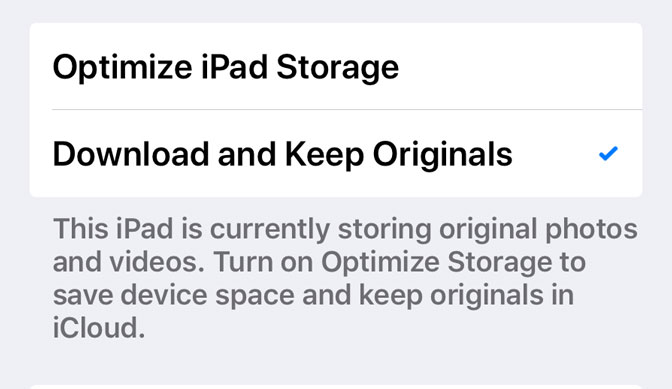 2. The Steps of Turn on Download and Keep Originals
Step 1Click the Setting app on your iOS device, then tap your iCloud account.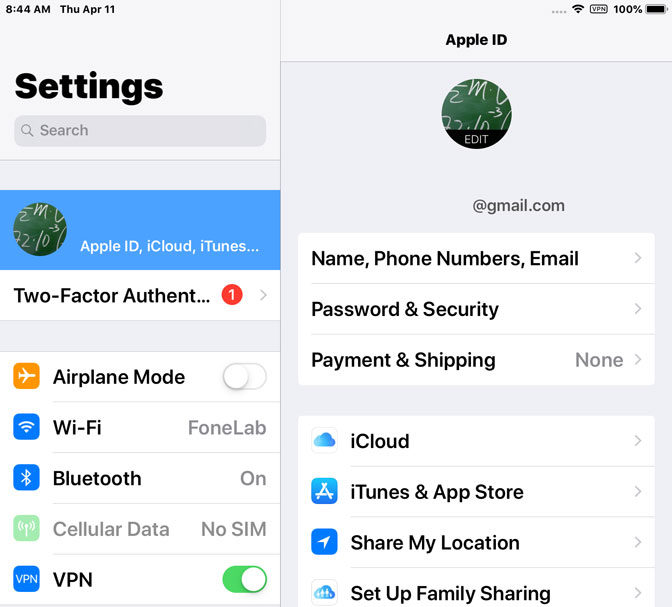 Step 2Tap Photos option and then turn on iCloud Photos.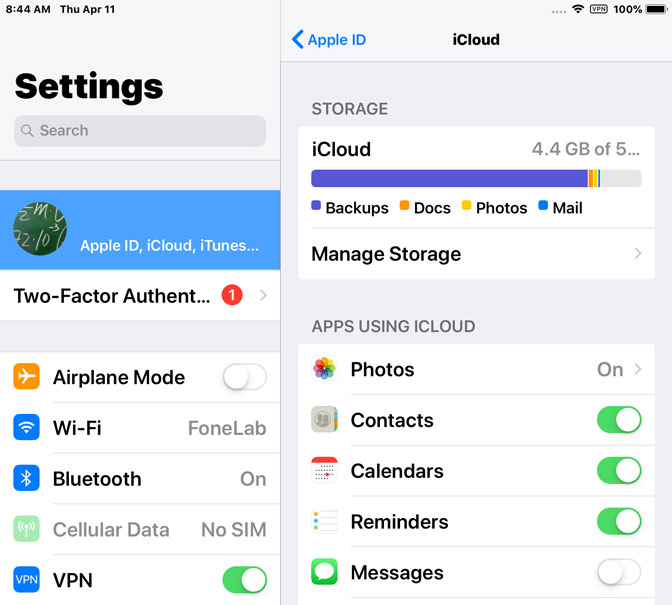 Step 3Select the option you want between Download and Keep Originals and Optimize Storage.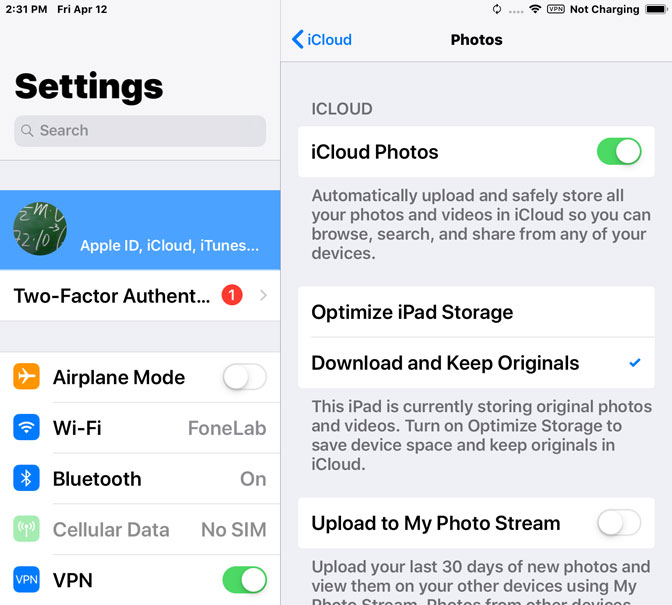 3. Operation of Transfer the Original-quality Photos to Mac/PC
Here we will command software to you If you want to transfer the original-quality photos to Mac/PC.
FoneTrans for iOS can be used as a picture transfer tool to help you freely transfer images between your iPhone and Mac or PC.
You can add images to your iPhone, get images from your iPhone, or export them to iTunes and your computer, or even transfer your iTunes library to your new computer. All of these operations can be done through the interface of FoneTrans for iOS. So if you want to transfer multiple files to your computer, this is definitely a good choice.
Step 1Download the FoneTrans for iOS. Once the program is installed, it will open automatically and then connect your iPhone to your computer. After the software recognizes your iPhone, you will see the window below.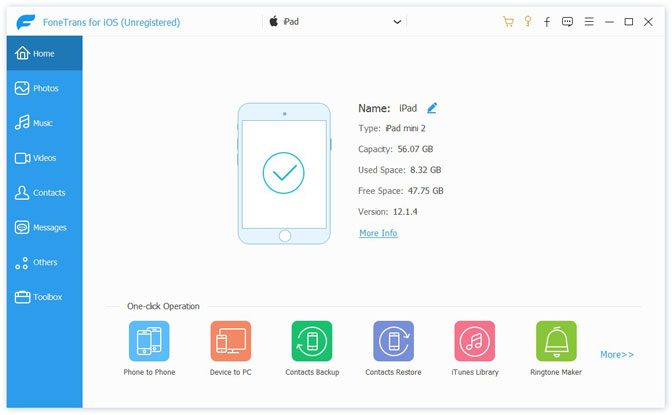 Step 2In the left panel of the interface, you will see all the content listed in a column, including Media, Playlists, Photos, Books, Contacts, SMS and etc. Click on the Photos and you will get all the photos stored on your iPhone. You can preview photos from different locations, including Camera Roll, Photo Library, Shared Albums and so on. Select the photo you want, then click Export to PC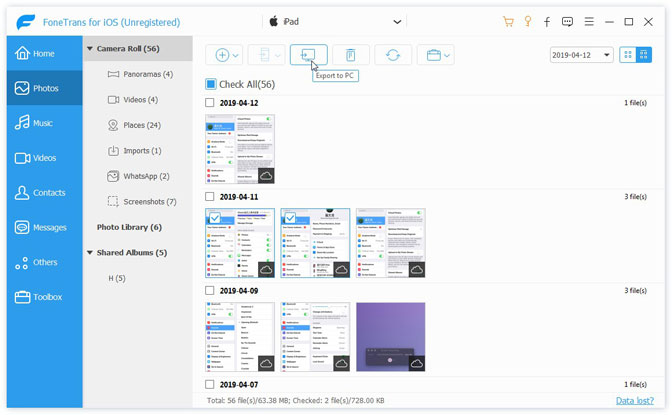 Step 3A window will pop up to let you select a folder to store the transferred photos. Then click Select Folder, the photos will be transferred to the computer.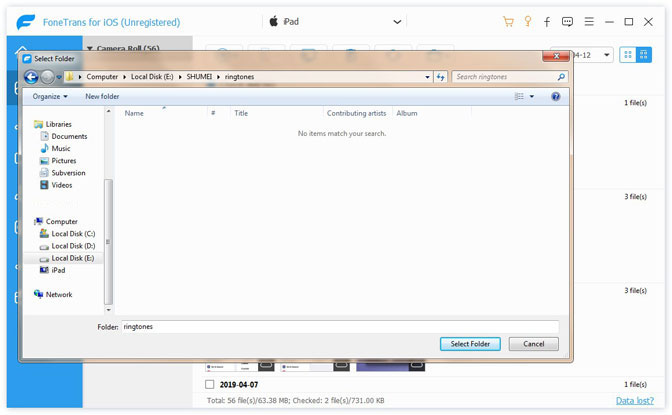 Conclusion
FoneTrans for iOS becomes more and more popular because of its easy-to-master, fast speed, simple connectivity with multiple devices and many more. All these features make the software more comprehensive compared to iTunes.
Why not get the program on your computer and have a better experience in managing your iOS data?