Recover Android Data Now
Recover the lost/deleted iPhone data including photos, contacts, videos, files, call log and more data from your SD card or device.
Detailed Guide for Kids Mode on Samsung with Useful Tips
You may have experienced losing files when children use your phone without your guidance. Because of a lack of knowledge and maturity, they tend to delete and change things on your Samsung phone, leading to unfortunate situations. May it be accidental deletion, password change, or other device alterations. And you can't even blame them because they're only kids who know nothing about the effects of their actions, especially if they're too young.

Due to this, Samsung developed the Samsung Kids Mode. In the later parts of this article, you will have an idea of what Kids Mode is all about. You will also learn how this feature works on Samsung and how to use it. In addition, this article will provide some tips to help you reach the program's full potential. After reading this post, you can finally avoid such unfortunate circumstances on your Samsung phone if you lost you data after that. Proceed to the first part to continue.
Part 1. What is Kids Mode on Samsung
Kids Mode is a Samsung app that lets kids enjoy roaming on a child-friendly device. This primarily aims to protect them from seeing inappropriate content that can affect them negatively. Aside from that, setting your device on Kids Mode can also protect the files and other data on your Samsung phone. With this feature turned on, your kids won't be able to delete anything on your device, as it is developed to let parents control their children's phone usage.
Some key features of Kids Mode on Samsung include My Phone, Camera, Gallery, and Browser. My Phone allows kids to call anyone on the contacts list, which the parents set. My Camera lets children take photos, and it has sticker features. My Gallery lets the kids preview the images and videos the parents permit. Lastly, My Browser allows children to access only the safe websites that their parents approve. Thus, you, the parent, handle everything about this feature.
Other features are also available if you use this mode on your phone. That said, you probably know now the importance and advantages of having the Kids Mode on your Samsung phone. If you wish to widen your knowledge about this, please start by proceeding below.
Part 2. How to Use Kids Mode on Samsung
Now that you obtained background information about this Kids Mode feature, here is your chance to learn how to use it on your Samsung devices. By following the steps provided, you can take advantage of this Samsung features to prevent your phone from being at risk again. May it be from data loss, device settings alteration, harmful content for kids, and more.
Below are the proper actions you can take to operate the mode correctly. Kindly comprehend the instructions carefully to use Samsung Galaxy Kids Mode properly:
Step 1You can find the Kids Mode on the Galaxy Store. From there, search for the app and install it on your Samsung phone. Ensure to allow all permissions for the mode to run smoothly on your device. After that, set it up to officially start running the tool.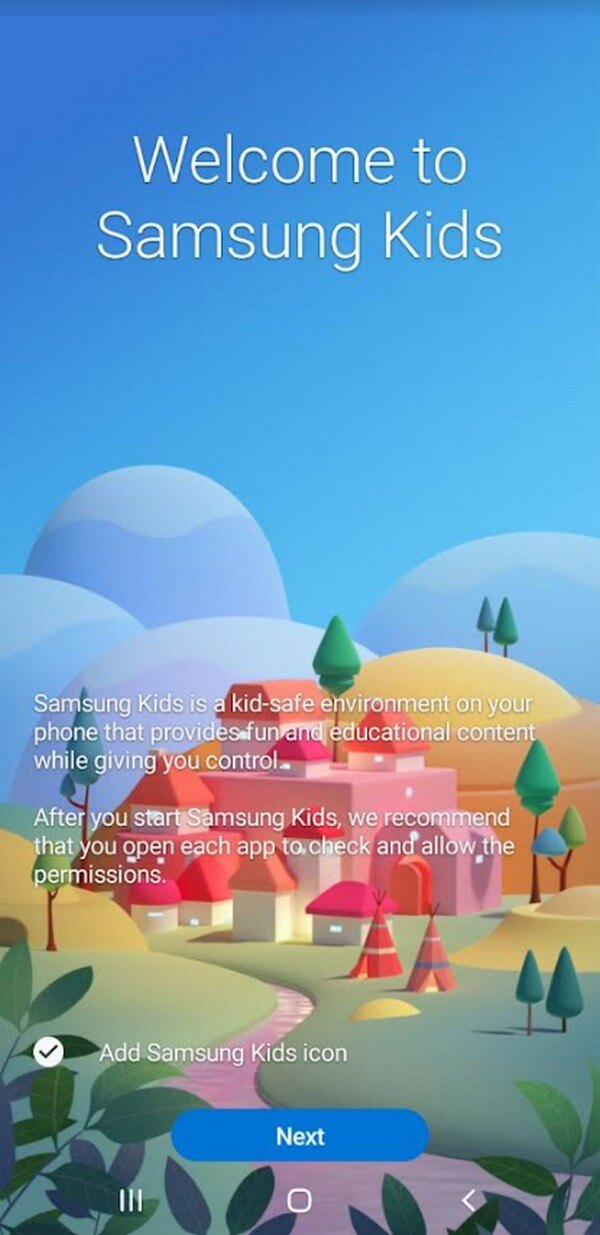 Step 2Next, set up your kid's profile by tapping the three-dots icon on the top-right and entering the Parental control section. Your device password will also be required to prevent kids from entering.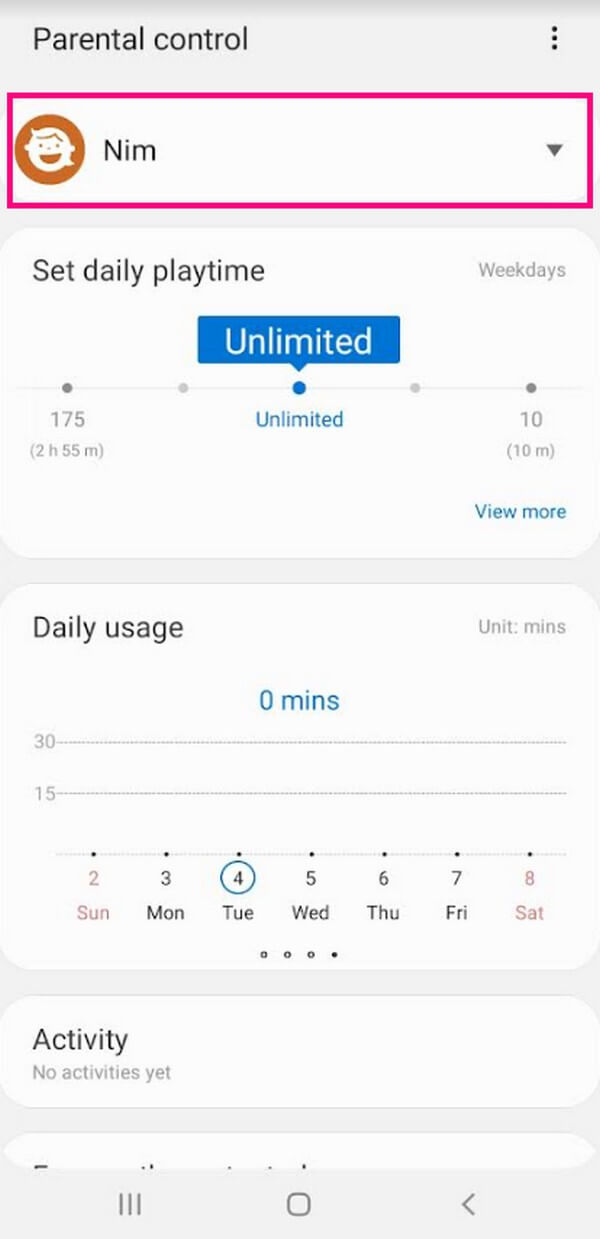 Step 3Scroll down and establish the features for your kids. You can set their daily playtime and monitor their device usage. And if you scroll down some more, you will see the options below the Allowed content. Tap each option to sort out the Apps, Contacts, Media, and Music you allow your kids to access.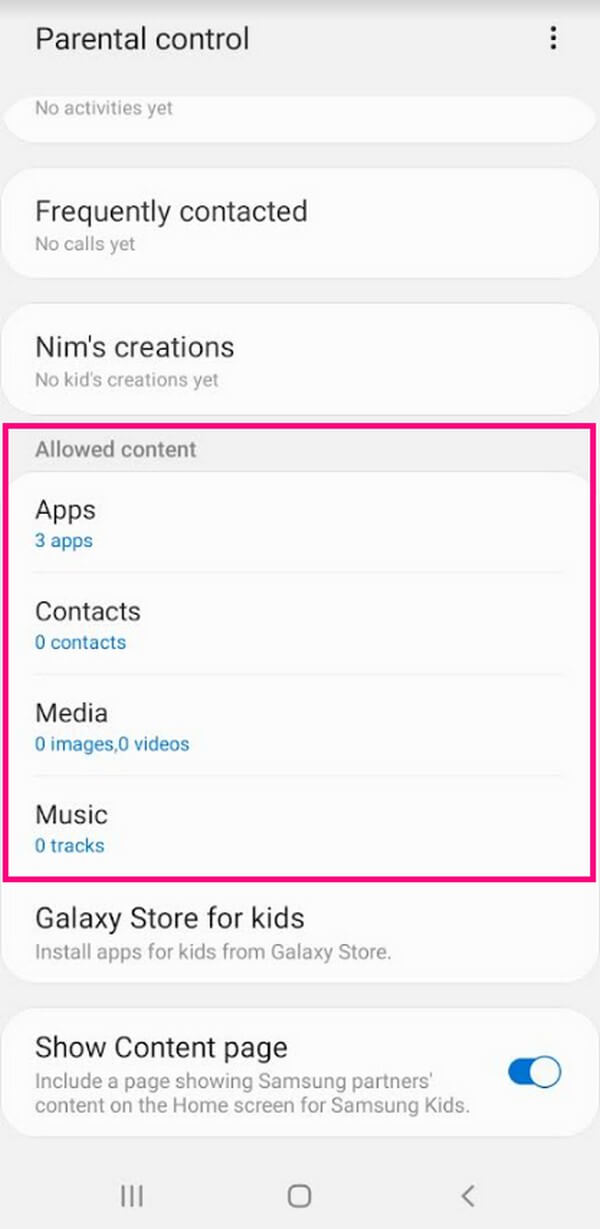 Step 4You can install some apps on the Kids Mode's home screen when everything is set. Then your child can finally enjoy using your Samsung phone on Kids Mode without accessing or causing any potential harm to the child and the device.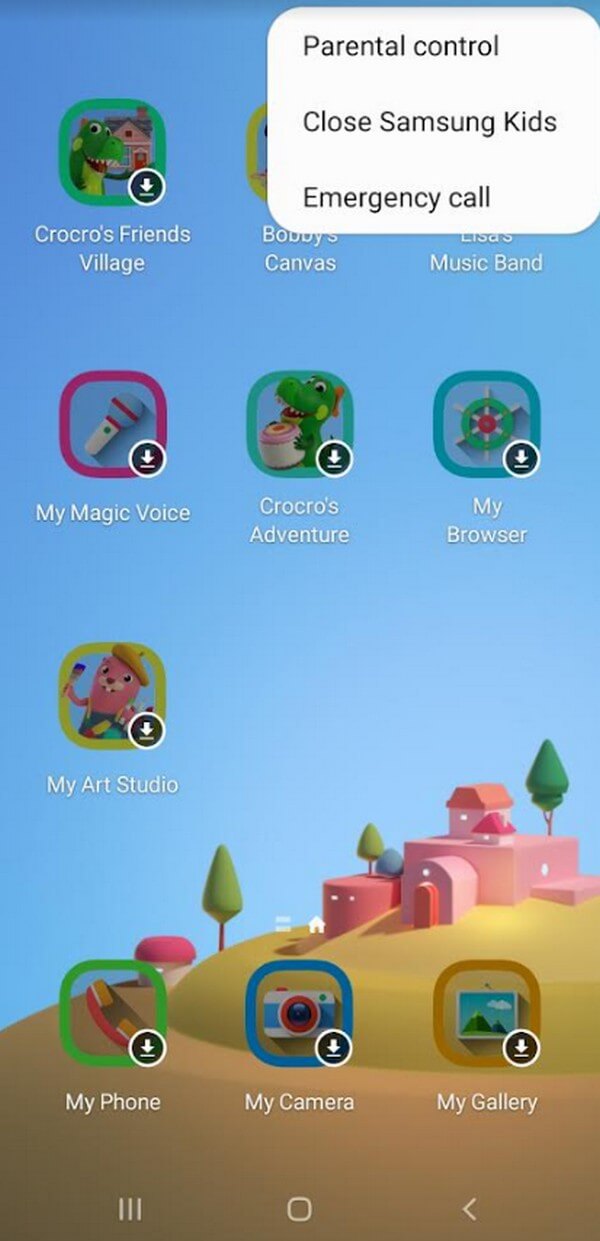 Note: Every time you exit the Kids Mode, your device PIN or password will automatically be required. Thus, the children won't be able to leave the Kids Mode screen without your help. Meanwhile, if your device is running or upgraded to Android P OS (9.0) and above, the Kids Mode can be updated to Samsung Kids.
Part 3. Tips about Recovering Data on Samsung
Before discovering the Kids Mode app on Samsung, you may have already lost data due to your children's mishandling use. But don't worry if you have, as we have prepared an effective tip to help you overcome this unfortunate circumstance. FoneLab Android Data Recovery is a third-party program that is specialized for recovering deleted or lost photos, videos, messages, contacts, music files, and other data types. Hence, this is the perfect program to rely on if you wish to bring your data back. Besides, it supports various Android phones, including Samsung, LG, HUAWEI, Motorola, HTC, Sony, Google, and more.
Be guided by the unchallenging steps below to recover your data that was lost before using the Kids Mode app for Samsung Galaxy Tab 4 with FoneLab Android Data Recovery:
Step 1Go inside the official FoneLab Android Data Recovery website. On the page's left area, see and click the Free Download tab. The installer file will then begin downloading, and once done, allow the permissions for the installation window to appear. Hit the Install button at the center, then run the recovery tool afterward.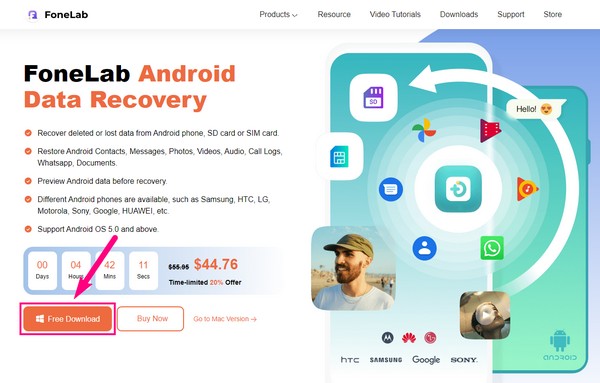 Step 2The main interface will exhibit the key features of the data recovery program. You may use the Broken Android Data Extraction, and Android Data Backup & Restore features some other time when needed. But for now, select the Android Data Recovery feature on the left.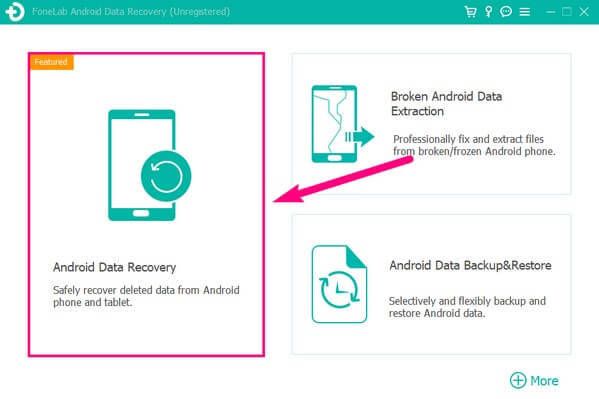 Step 3Next, connect your Samsung phone using a USB cord to the computer. Instructions for USB Debugging will be shown on the interface. Comply with them carefully for the connection to be a success. Then, mark the data types of the files your child accidentally deleted on the next interface before clicking Next.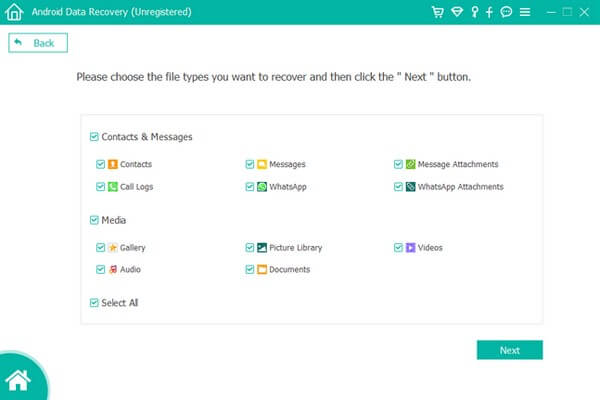 Step 4If permissions appear on your Samsung screen, tap Allow, Grant, or Authorize to let the program scan your device. After scanning, click the data types on the left column. Your lost files will then be revealed in the right area of the data recovery interface. Mark the checkbox of the ones you wish to recover. Once done, hit the Recover tab on the bottom right to restore your deleted files. The recovery process will take depending on the size and quantity of your data.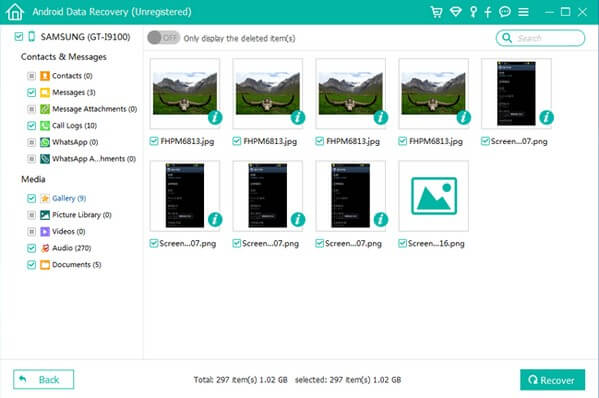 With this tip, you can again enjoy your deleted files on your Samsung phones or tablets. In addition, you no longer need to worry about your files because of the Kids Mode.
It is our pleasure to inform you about the use of the Kids Mode on Samsung and how it functions. We hope the tip we included has helped you overcome the problems you encountered when you haven't yet discovered this Samsung Mode. If you want more information about something on your device, search for it on the FoneLab Android Data Recovery site.