Recover Android Data Now
Recover the lost/deleted iPhone data including photos, contacts, videos, files, call log and more data from your SD card or device.
DATA RECOVERY FOR ANDROID: The Comprehensive Guide
You can use FoneLab Android Data Recovery to recover Android data.
At the early period,
people use the mobile phone to make phone call and send text messages only. According to the needs of users, the smartphone has been created for more entertainment and work, such as listening to music, watch a movie, send and receive emails, shopping, etc.
Android phone,
which with a big part of mobile phones users, is a convenient tool to store Android data and then you can always take the data whenever you want.

Unlike iPhone, Android phone enables you to transfer data without an obstacle, including videos, songs, photos, documents and more.
You might have encountered that some of you Android data disappeared for unknown reasons. There is a probability that the losing data are still stored on your device but invisible to users.
But,
There are no ensure way to get Android lost data back.
The best bet to keep data safe is backing up Android data regularly so that you can recover data from backup file easily.
While how can you do to recover Android data without backup?
There is some data recovery software to solve these data loss problems, you can choose one suitable android data recovery software to undelete Android data.
So,
Which Android mobile data recovery you should choose?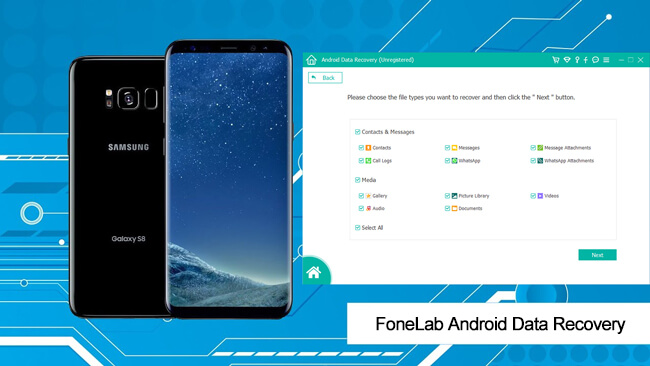 FoneLab Android Phone Recovery is highly recommended to you.
Why?
Below are the outstanding features of Fonelab:
This Android File Recovery supports different models, such as Samsung, HTC, LG, Sony, Huawei, Xiao MI, and more.
It can be a powerful Android data recovery tool to recover Android photos, videos, contacts, SMS, call logs, etc.
It has both Android data recovery software for PC and Mac versions.
You can recover Android data from both device and SD card selectively.
It allows you to preview data before recovering.
This Android Deleted Data Recovery won't modify the data on either device or SD card.
You might still have doubt that if it has a complicated operating process to restore Android deleted data.
Please keep in mind that,
You should stop using your Android phone after losing your data, otherwise, the losing data might be overwritten by new data.
Actually,
FoneLab is designed for the primary learner who wants to recover deleted file on Android. It won't require professional and complex knowledge for preparation of recovering.
What you need is your Android phone, a computer with network and a USB cable, and then follow below demonstration with clear instruction to recover deleted files on Android internal storage.
1. Recover Lost Android Data with FoneLab
Step 1Download & Install FoneLab
Go to FoneLab Official Website, select the windows or Mac versions through clicking Download for PC or Download for Mac.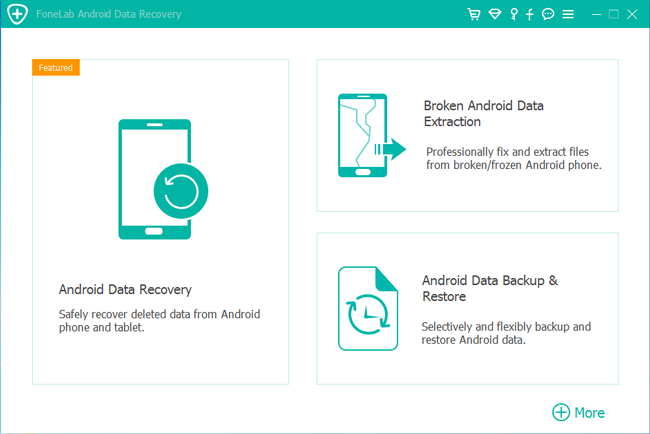 Step 2Run FoneLab on Computer
Launch FoneLab Android Data Recovery on your computer, choose Android Data Recovery and then connect your device to the computer with USB cable.
There are other two options including Broken Android Data Extraction and Android Data Backup & Restore to fix Android OS problems or backup & restore Android data.
Step 3Enable USB debugging
You can follow the on-screen or below instruction to enable USB debugging.
Android 2.0-2.3.x: Settings > Applications > Development > USB Debugging
Android 3.0-4.1.x: Settings > Developer Options > USB Debugging
Android 4.2.x-Android 5.0 Lollipop: Go to Settings > About phone or About tablet, tap Build Number a few times till you see You are now a developer!, and then back to Developer Options under Settings app, to tick the box next to USB debugging.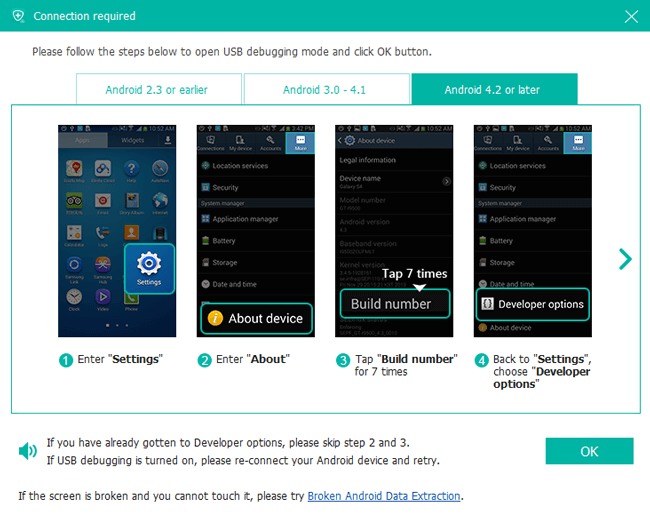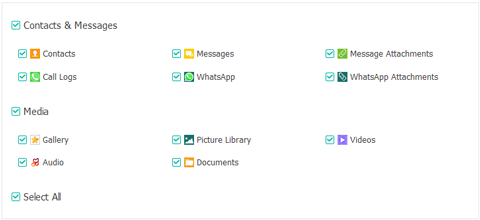 Step 4Choose Scanning File Type
Tick the boxes of the file types you want to recover, click the green Next button in the bottom right corner. If you want to recover all Android data on the device, you can check the box next to Select All.
Step 5Get Privilege
The program will need the privilege to read your device data so you should follow the on-screen instruction root your device.
The program will ask you to install the root app to your device and then tap Allow/Authorize/Grant on the pop-up window on your device once the app is installed successfully. Then it will begin to root and scan your data.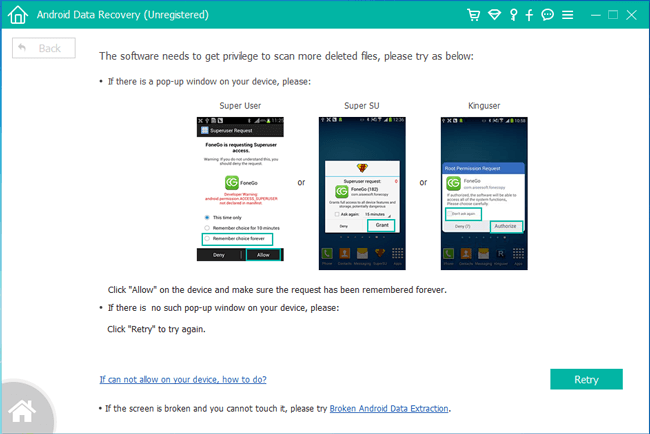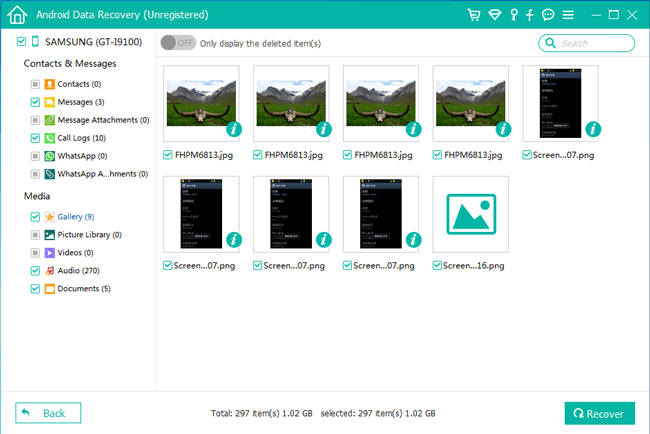 Step 6Select Recoverable Files
So, you can see all recoverable data after the scanning is done. Click the file type from the left column, and then tick the items you want to get back. Click Recover.
If you want to find the items you want effectively, you can turn on the button on the top of the window to display the deleted items only.
Step 7Choose Folder & Recover
You can get a pop-up window to show you the path that to save the recovered data and you can change the path as you like, click Recover again.

Why Choose FoneLab?
Because, it can:
Recover your deleted or lost files without midifying data current data.
Selectively retrieve and export messages, contacts, photos, videos, WhatsApp, etc.
Support Samsung, HTC, LG, Huawei, Sony, Xiao Mi, and more.
Allow you to preview contents before recovery.
Support OS 8.0 and earlier.
Well,
Is there any way to recover Android data?
Of course, you can!
You are allowed to retrieve Android data from backup file easily.
It is convenient that you can use an app, which is called App Backup & Restore, to backup, restore and transfer APK, contacts, SMS and call logs to the internal storage of the phone, external SD card or Google Drive for free.
And you can backup and restore Android data on your phone rather than a computer.
Below is how to backup and restore Android data with App Backup & Restore.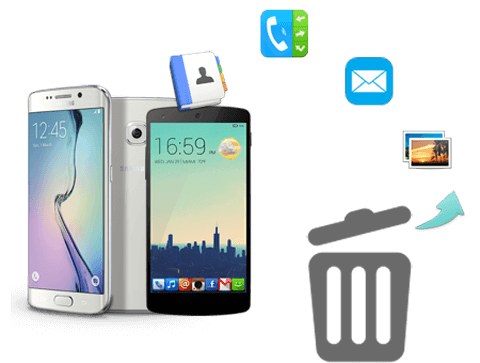 2. Backup & Restore Android with App Backup & Restore
Backup Android Data
Step 1Download and install App Backup & Restore from Google Play.
Step 2Open App Backup & Restore on your device, and then go to Menu icon > Settings > Google Drive Settings > Add account to log in or create a google account to backup your Android data.
Step 3Back to main interface, tap the Apps next to Menu icon to choose the data you want to backup, and then check the boxed next to the items you want to save.
Step 4Tap Backup on the bottom.
Step 5Tap Archived on the top, tick the items you want to save to Google Drive.
Step 6Tap the Share button on the upper from the three choices on the upper right corner, and then choose Upload.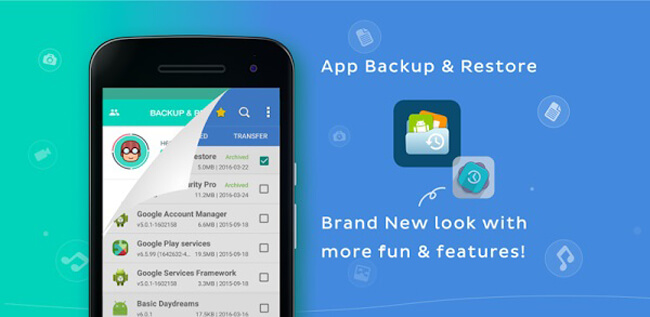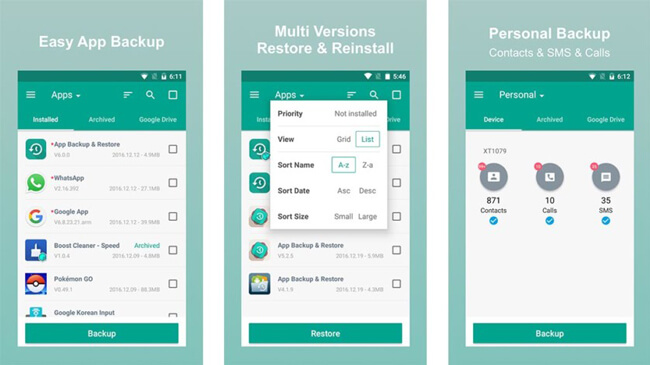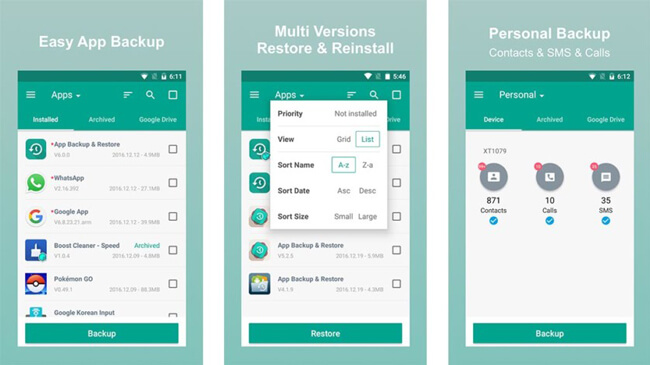 Restore Android Data
Step 1Open the app, and then go to Google Drive section.
Step 2Choose data you want to restore from Google Drive.
Step 3Tap Restore on the bottom.
This app using Google Drive to backup and restore data might remind you that you can backup Android data to Google Drive directly.
No matter you are iPhone or Android user, Google Drive backs up apps, call history, device settings, contacts, calendar, SMS, photos and videos for you. For Android, only Pixel phones support SMS, photos and videos only.
Before you backup Android data to Google Drive, you should connect your phone to a Wi-Fi network.
In addition, keep in mind that,
If you back up multiple times, only new photos will be backed up;
Albums you used to organize photos will not be backed up to Google Drive;
Previous contacts and calendars will be overwritten by new data.
And then, you can check below tutorial on how to backup and restore Android data with Google Drive.
3. Backup & Restore iPhone with Google Drive
Step 1Go to Settings > Backup & reset to log in your Google account and enable Back up my data and Automatic Restore.
Step 2Open the Google Drive that installed on your device.
Step 3Tap Menu icon in the upper left corner.
Step 4Choose Settings gear icon, and then tap Backup.
Step 5Tap START BACKUP blue button on the bottom right.
If you don't need to view the backed up data at all, you can finish above-mentioned first step to backup Android data only. It has the same backup feature with using Google Drive app.
While about how to recover Android data from Google account, it is really simple that the backed up data will be restored automatically after you reinstall the Google Drive or log in your Google account on Settings app directly.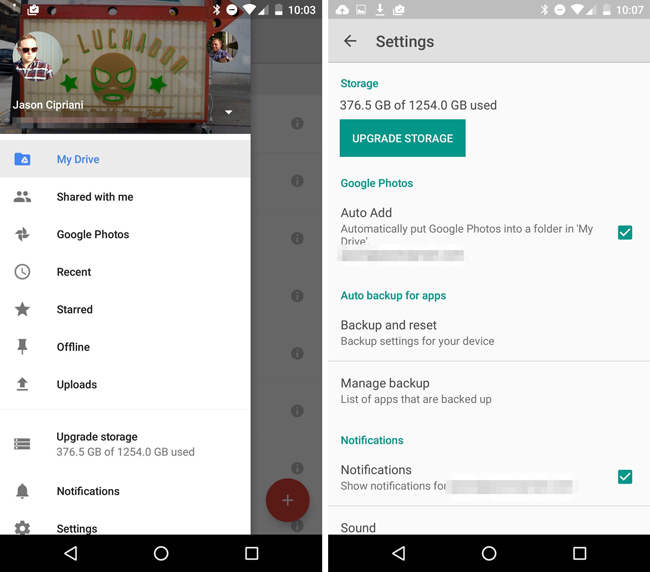 Well,
You might don't have the custom to use a Google Drive or other cloud service apps on your Android phone which with a small storage space as well as data disclosure, you can choose the common method to save Android data to computer with USB cable.
4. Restore Android Data from Computer via USB Cable
Step 1Plug your Android phone to computer and then tap Transfer file on your device home screen when it pops up.
Step 2Open the folder to find the data you want to save to your computer.
Step 3Drag and drop the Android data from device to the local folder where you want to save the mobile phone data.
Step 4Disconnect your phone from computer.
As you see,
Transfer Android data with USB cable cannot support all data you want to move between device and computer, so you should select a suitable method to recover data according to your needs.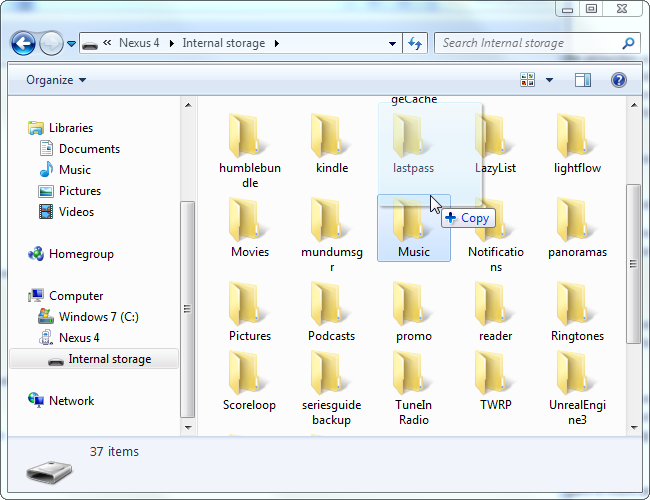 As a professional data recovery software for Android, Fonelab Android Data Recovery allows you to recover deleted file from Android phone, such as recover Android photos, restore Android contacts, etc.
What's more,
It has a tool which is called Broken Android Phone Data Extraction, to help you solve the Android OS problems and extract existing data from device easily and effectively.
Download and have a try now!