Efficient Ways on How to Get Pictures Off of A Broken Phone
I put my phone inside my back pocket and forgot it was there when I sat. It's now broken, and I don't think it can still be fixed due to the severe damage. However, I must recover some valuable photos before disposing of the phone. How to get pics off a broken phone?
Accidents happen once in a while, and it naturally causes various unfortunate situations. For instance, when you unintentionally sit on your phone, you won't only lose the device. You will also lose all the data stored in it. Or perhaps, the phone fell on a hard surface, which caused it to malfunction. If this kind of circumstance has happened to your device, you must find a solution to get your data immediately.
Fortunately, you can come across different strategies to recover the pictures from your broken phone. However, most of these might require a backup, or you must have synced beforehand, but don't worry. Whether or not you previously synced or backed up your data, this post will present efficient strategies to get your photos from your broken phone.

Part 1. How to Get Pictures Off A Broken Phone from Google Photos
Among the most trusted methods to return your photos from a broken phone is Google Photos. It is a photo storage service that allows you to share and sync or back up your device photos. Thus, if you wish to retrieve your media files with this service, you must have created a backup manually or synced the images automatically before your phone broke. If not, Google Photos won't have anything to store, more so, recover.
Go along with the uncomplicated directions below to determine how to get pictures off a phone with broken screen with Google Photos:
Step 1Launch Google Photos on another Android phone if it's already pre-installed. If not, install it first from the Play Store, or you can also access its site on the computer.
Step 2After that, sign in with the Google account you have used on your broken phone. You will see the photos stored in your broken phone's Google Photos app.
Step 3View the picture you want to recover on Android and tap the three-dot icon. Then hit Download to save them on your mobile phone. On the other hand, elect the pictures you will retrieve from the Google Photos interface on your iPhone. After that, hit the Share icon and choose Save to device from the options.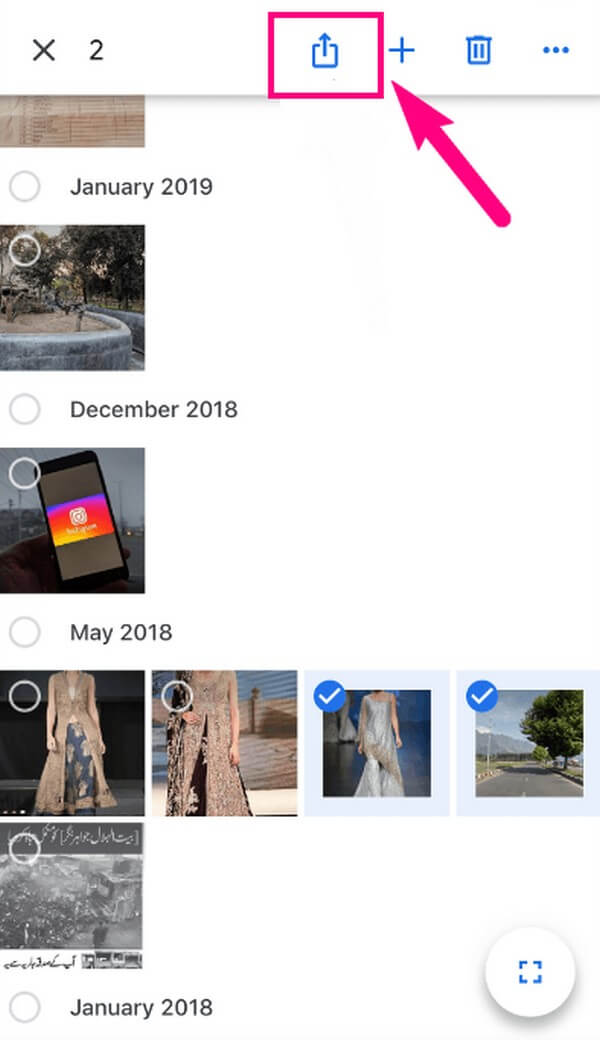 Part 2. How to Get Pictures Off A Broken Phone Professionally
It's understandable if you didn't save a backup or sync the photos, as damaging your phone is not something you can contemplate. But don't be troubled because professional programs are still accessible to help you. We have arranged the best 2 below.
Method 1. Try FoneLab Broken Android Data Extraction
FoneLab Broken Android Data Extraction is a functional tool that can quickly extract photos and other data from a broken Android device. It works on most Samsung Galaxy Notes, Samsung Galaxy Tab Pro, and Samsung Galaxy. And aside from your Android phone, this program can also extract photos from your SD card. You can trust it is 100% safe, and its user-friendly interface will help you navigate the recovery process effortlessly.
Read the straightforward instructions underneath as an example of how to get pictures off a broken phone with FoneLab Broken Android Data Extraction:
Step 1You can acquire the FoneLab Broken Android Data Extraction file by pressing Free Download on the website's left section. Once saved, start the installation procedure, which will last less than 1 minute. Then you can run the extracting tool on your computer.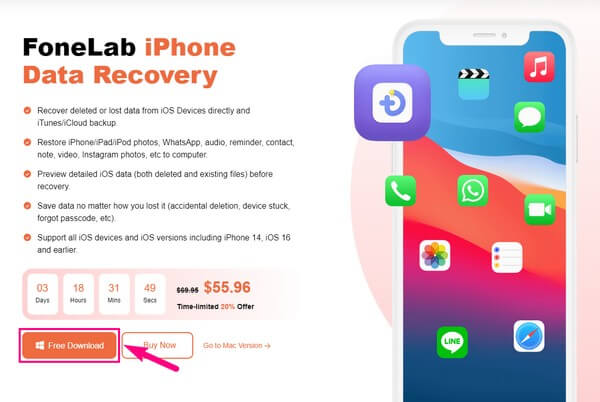 Step 2Select the Broken Android Data Extraction box on the upper right when the tool's features are displayed on the primary interface. You will then see two Start tabs on the next screen. Read the description of each option, then select the one that describes the situation of your Android device.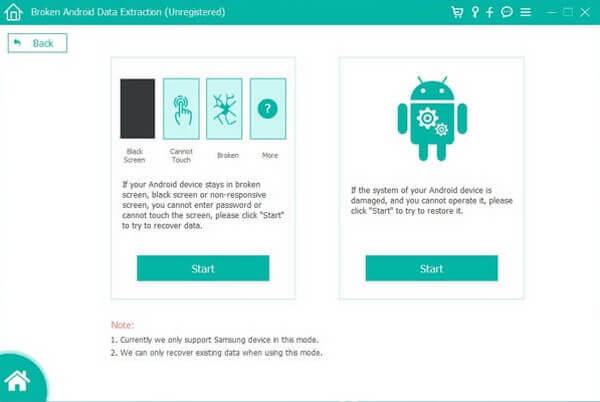 Step 3You must confirm if your device information is correct. To do that, click the Device Name and Model pulldown bars. Meanwhile, click No my device in the list if you don't see your Android phone on the pulldown menu. Afterward, hit Confirm to proceed.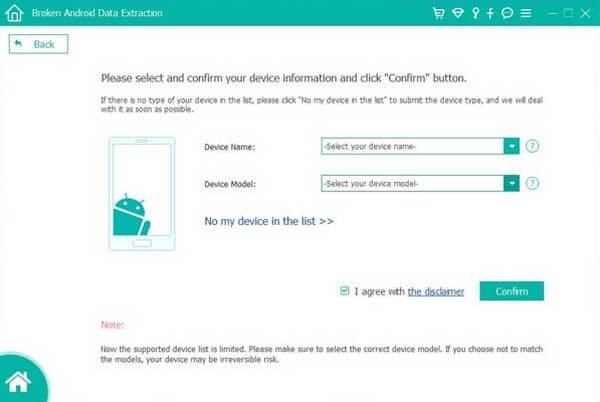 Step 4Enter the Download mode by abiding by the guidelines on the interface. Once the program downloads the matching recovery package for your device, your Android will start repairing. Then your device data will appear on the screen. From there, choose the pictures you hope to extract and hit Recover to return them to your computer.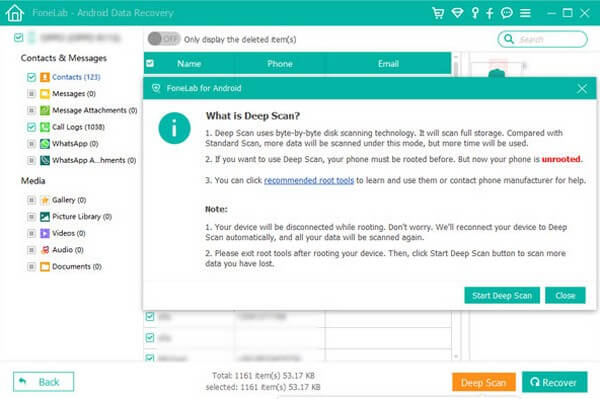 If your device is not an Android but iOS, please refer to the next technique to retrieve the photos from your iPhone.
Method 2. Use FoneLab iPhone Data Recovery
For iPhone users, you can utilize the FoneLab iPhone data recovery. This tool is an efficient recovery method for lost or deleted data on iPhones and other iOS devices. One advantage of this program is its capability to preview your iPhone photos before retrieving them. It is a huge help not to waste time selecting the images you can't see. With it, you will be sure what particular pictures to choose and recover them quickly. And other than photos, FoneLab iPhone Data Recovery can return your other data, such as audio, contacts, reminders, WhatsApp, notes, videos, Instagram photos, and more.
Act according to the simple guidelines below as an example of how to get pictures off a broken iPhone using FoneLab iPhone data recovery:
Step 1Install and launch the FoneLab iPhone Data Recovery on your computer with the Free Download button on its official page's lower left portion.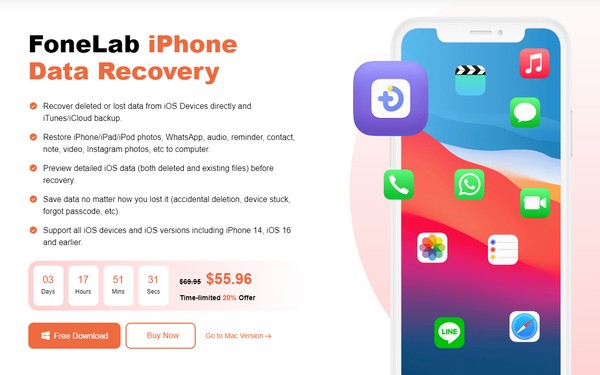 Step 2iPhone Data Recovery is among the primary functions on the tool's main interface. Click it for the safe recovery of your device data. You may also utilize the others later.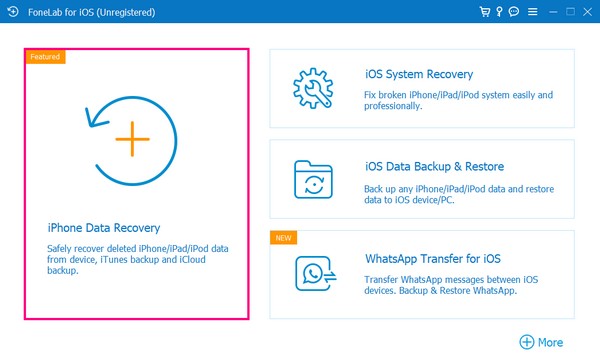 Step 3Attach your iPhone using a lightning cable to the computer, and allow the program to access your data. Later, hit the appearing Scan button for the tool to browse your data, including the photos.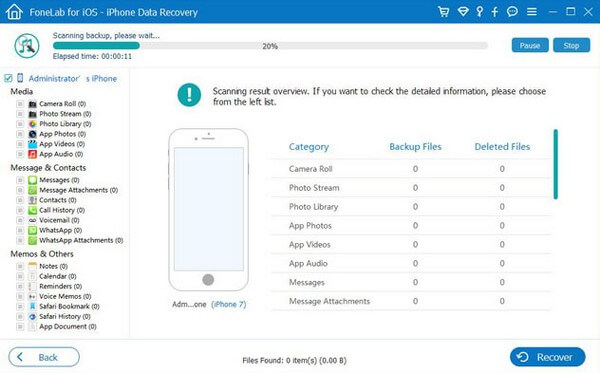 Step 4After scanning, access the various photos section on the program's interface. Then pick the ones you hope to return by checking them. Lastly, click Recover on the bottom right to restore your broken iPhone photos on the computer.
Part 3. FAQs about How to Get Pictures Off A Broken Phone
Thanks for taking the chance to use the recommended tools in this article. If you encounter more device problems, you can look forward to the solutions provided on the FoneLab website.