Fix Abnormal iPhone Now
Recover your data from iPhone to computer easily.
6 Simple Ways to Fix iPad Keeps Restarting
My iPad Air 2 keeps restarting randomly from now and then. Now it is running iOS 12.1.2, and today it just keeps restarting itself, how to fix the iPad keeps restarting issue? Any Help?
iPad keeps restarting is one of the major complains from a large number of iOS users. Is your iPad restarting over and over? The truly troubling thing is, your iPad just keeps restarting without any known reason. You can see many Apple customers ask for a solution on the internet about this problem, especially after the iOS 12.1.2/12 update.

Under most circumstance, iPad keeps restarting issue is caused by a software problem and is not easy to fix. Considering that, here in this post, we will show 6 effective ways that we have tested to help you solve the iPad restart loop problem.
Note: You can also fix iPhone keeps restarting with similar ways.
Part 1: 5 Regular Ways to Fix iPad Keeps Restarting
Why iPad keeps restarting randomly? The faulty flash memory seems to be the reason. When the iOS system turns back to get something from faulty memory, your iPad may adapt to an in-built safety net. In that case, Apple will make a safety switch and reboot iPad to prevent iOS device crashing or getting locked.
Way 1. Force Restart iPad
Force restarting iPad is a simple and good way to fix many issues. When your iPad keeps restarting, you can force restart it to check if the problem is gone.
Press and hold the Power button and Home button at the same time about 10-20 seconds until the Apple logo shows up on the screen. After that, you can wait and use your iPad normally to check if the iPad keeps restarting problem is solved.
Way 2. Update iPad iOS version
New iOS will always fix some main bugs in the old version. So, when you face the issue that iPad keeps restarting, you can try upgrading iOS to fix it.
Step 1Charge your iPad to ensure it has enough power for the iOS updating. Or you can choose to upgrade iOS while charging. Then unlock your iPad and go to Settings app.
Step 2Tap General and then choose Software Update to check if there is an available iOS updating. Update iOS to the latest version here.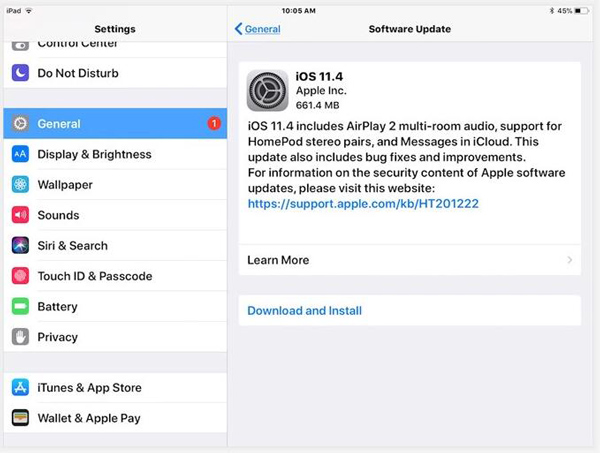 Way 3. Restore iPad in iTunes
Restoring iPad via iTunes may do you a great favor on the iPad keeps restarting on its own issue. Restoring will stop iPad restarting over and over.
Step 1Launch the latest iTunes on your computer and connect your iPad to it with a lighting cable.
Step 2Click the iPad (Device) icon when you get to the main interface.
Step 3Click the Restore option above the Backups part to restore your iPad with iTunes.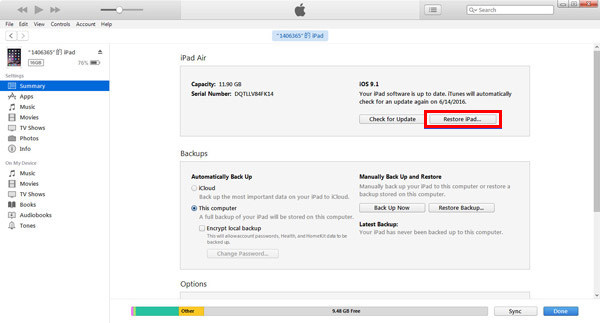 Learn how to reset iPad to factory default here if you have backed up iPad data before.
Way 4. Delete faulty apps and junk files
Sometimes, the iPad keeps restarting apple logo issue can be caused by some faulty apps or junk files. You can try removing these data or apps to fix your iPad keeps rebooting issue. Here we strongly recommend the powerful FoneEraser for iOS to help you get the job done.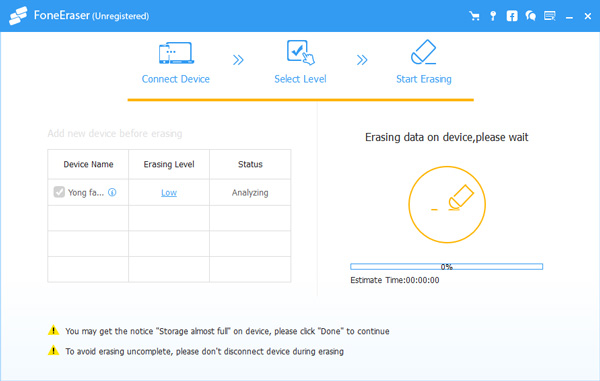 FoneEraser for iOS is able to clean a lot of junk and temp files like corrupted files, log, cache, cookies, and more. It enables you to quickly uninstall all faulty apps at a time. Moreover, it offers a simple way to bring your iPad to original brand-new settings and wording condition. You can free download it to erase the useless apps and files.
Way 5. Contact Apple or ask local Apple Store for help
Surely you can contact Apple support or find a local Apple Store to fix the iPad keeps restarting issue, especially when your iPad is still in warranty.
Part 2. Professional Way to Fix iPad Keeps Restarting
With the 5 regular methods above, you are more likely to fix your iPad keeps restarting itself. What if the problem is still there? What should you do?
Here we sincerely recommend the professional iOS System Recovery to help you fix various system-related issues including the iPad keeps restarting. It also has the capability to fix many other iOS problems like stuck in recovery mode, DFU mode or Apple logo, cannot slide to unlock, iPhone screen is black, red or blue, and more.
Step 1Double click the download button above and follow the instruction to quickly install and run this iOS System Recovery on your computer. Then connect your iPad to it via a USB cable. When you get to the main interface, choose the iOS System Recovery feature.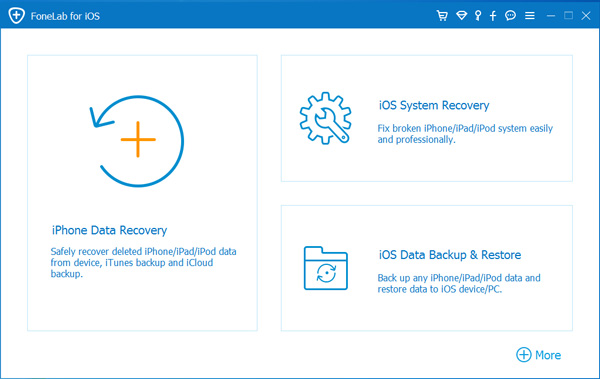 Step 2Click the Start button to get started and move to the next step.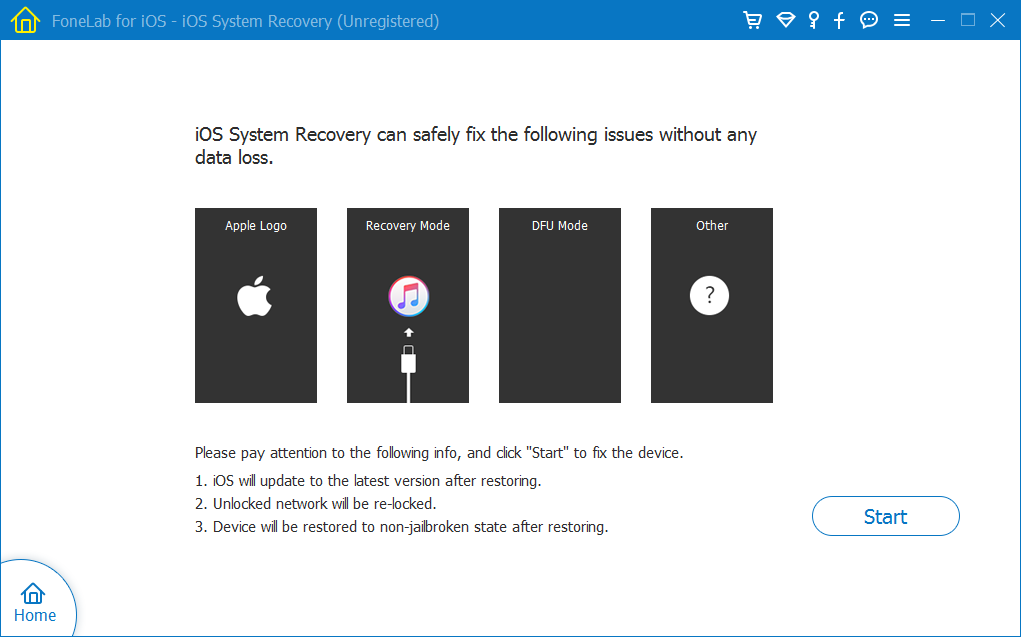 Step 3iOS System Recovery will automatically detect your iOS iPad and its system related problem. Here you need to confirm your iPad information. Then click Repair button to start fixing the iPad keeps restarting issue.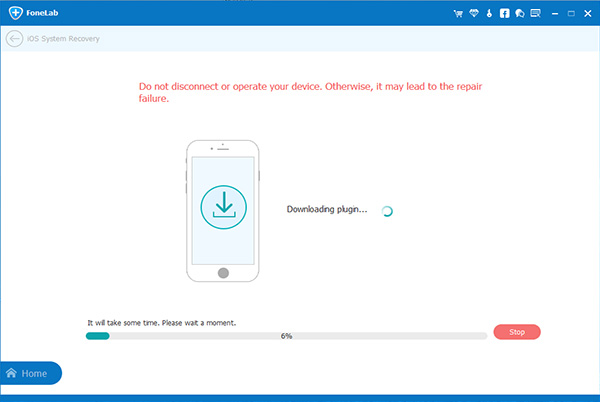 When the fixing process is finished, your iPad will reboot and back to normal condition.
Conclusion
After reading this page, you can handily deal with most iOS issues including the iPad keeps restarting problem. We tell you 6 effective solutions to fix your iPad. If you have any other methods or questions about this issue, share it in the comment.