Transfer Phone Data Now
Transfer Data From iPhone, Android, iOS, Computer to Anywhere without Any Loss.
3 Ways to Transfer Music Between Computer and Phone [Solved]
With the daily usage of your phone, you may often have the need to transfer music between computer and phone, especially add songs to your phone from PC or Mac. Also, there are other reasons you may want to transfer music from Android to Android/computer. For instance, you get a new phone and want to access all music collections from the old device.
Then how to transfer music between computer and phone?

This post shows 3 ways to help you transfer music files, whether from computer to phone, from phone to computer, or from phone to phone.
1. Best Way to Transfer Music Between Computer and Phone
First, we will show you the best way to transfer all types of songs between computers and phones. Here we strongly recommend a powerful music transfer tool - HyperTrans. It is professionally designed to transfer various files including music, contacts, messages, photos, videos and more. It can work as a great phone music transfer to help you transfer music between computer and phone. You can free download it and take the following guide to transfer your songs.
Step 1First, you need to free download this phone music transfer on your computer. Click the download button above and then follow the on-screen instruction to quickly install and run HyperTrans. Then connect your phone to it with a USB cable.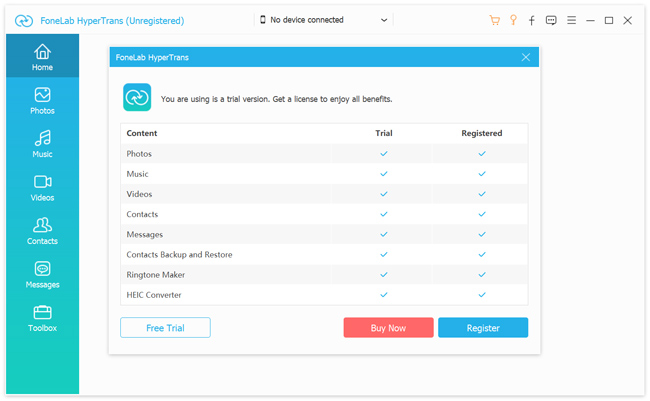 Step 2When you enter the interface, you can choose the Free Trial option for the first time. Then you need to open USB Debugging Mode on your Android phone by following the on-screen instructions. After that, HyperTrans will automatically recognize your phone.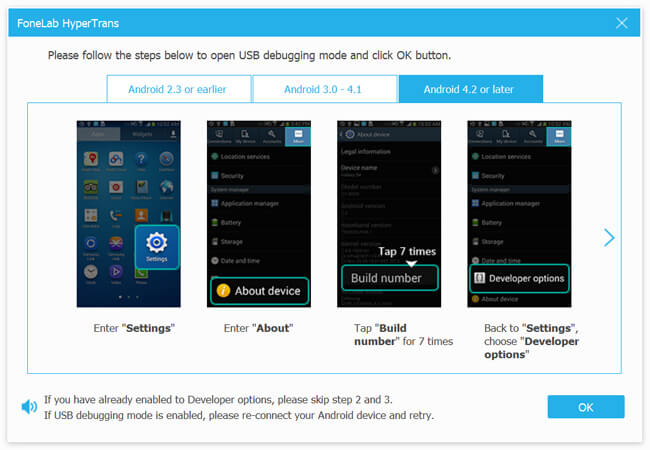 Step 3Now you are at the main interface of this phone music transfer tool. It shows some key information about your Android phone. All frequently-used data types are listed on the left panel like Music, Photos, Videos, Contacts, Messages and more.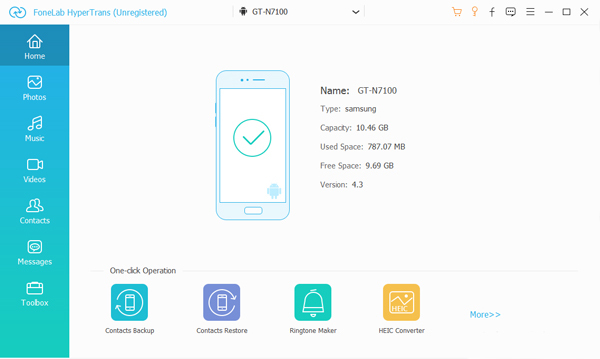 Step 4Click music in the left panel and you can check the detailed information of all audio files on your phone. Here you can select all songs you want to transfer to computer and then click on the Computer icon. By doing so, you can easily transfer music from phone to computer and backup Android music. If you want to add songs to phone, just click the + icon.
This all-featured phone music transfer provides a convenient and easy way to transfer music between computer and phone. In addition, it is compatible with iOS devices like iPhone, iPad and iPod. You can use it to transfer iPhone data. Just free download it and give a try.
2. How to Transfer Music Between Computer and Phone with USB Cable
With the method above, you can handily transfer all types of Android data including music files between computer and phone with ease. In fact, there is also a primary and more like a regular method to transfer songs between computers and Android phones. As long as you find the location of your music, you can easily add computer music to phone, or copy songs from the phone to the computer.
Step 1You need to connect your Android phone to the computer with a USB cable. For the first connection, you may need to tap Trust this computer button on your phone screen. Your phone will be detected as a removable USB drive.
Step 2On your phone, you need to drag down the Notifications panel from the top of your phone's screen and tap the Media device (MTP) option. During this step, you need to set the USB debugging. Tap OK when the Allow USB Debugging pops out.
Step 3You need to wait for a few seconds to ensure the drive is installed to your computer successfully. Then you can open the Portable Devices and look for the specific file folder which carries your songs. This file folder is commonly named as Music. You can also search for songs in the Media folder.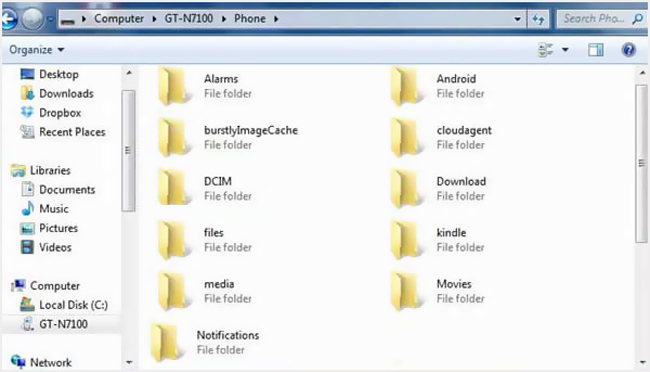 Step 4After you enter the Music folder, you can select the songs you want to transfer to your computer. Or you can add various audio files from the computer to this phone.
3. How to Transfer Music from Android to Android Phone
What if you switch to a new Android phone and want to transfer songs from Android to Android phone? Actually, it's quite simple to share music between 2 Android devices. You can rely on the Bluetooth to copy songs from Android to Android. Nowadays, Bluetooth is still a popular transfer solution to deal with all kinds of files. Here you can check the tutorial below to transfer your phone audio files.
Step 1Enable the Bluetooth feature on both Android phones and pair the Bluetooth devices. You can set specific settings in the Settings app. Here you need to locate the two phones and make sure they are connected successfully. You need to pair them for exchanging music.
Step 2After two Android phones are paired, you can open the File Manager or Music folder to locate the music files you want to transfer. Then choose Share and use Bluetooth way to transfer songs from Android to Android phone.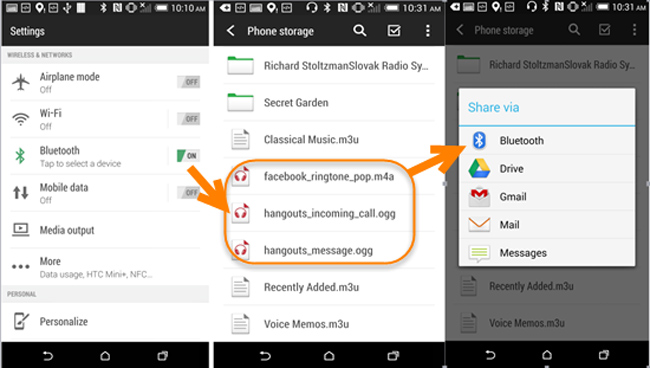 After reading this article, you can get 3 effective ways to transfer music between computer and phone. We will recommend the powerful HyperTrans again to ensure you get the best data transfer experience. Just free download it and have a try!