Transfer Phone Data Now
Transfer Data From iPhone, Android, iOS, Computer to Anywhere without Any Loss.
How to Sync Samsung Phone to Tablet – 4 Means are Available
You can share files from one iOS device to another with AirDrop, iTunes or iCloud. But how to sync files on Samsung phone to tablet?
The following article illustrates 4 ways of syncing Samsung phone to tablet.

1. Manage and Sync Data on Samsung Phone to Tablet
FoneLab HyperTrans is an ultimate file tool to sync and manage a large amount of data among iOS devices, computers and Android devices without any data loss, which also helps to backup and manages files.
With Fonelab HyperTrans, you can
Transfer files from Samsung phone to tablet, iPhone, Windows and Mac.
Move contacts, photos, videos, music files, and more other file formats.
Add, delete, edit, download the files and even make a ringtone file.
Move data with one-click.
Manange Your Files Now!
And you can sync your Samsung phone data to the tablet by following the procedure below:
Step 1Connect your Samsung phone and your tablet to the computer with the original USB cables. Once the HyperTrans has detected the devices, the model number of your Samsung devices will be shown on the top of the interface of the program.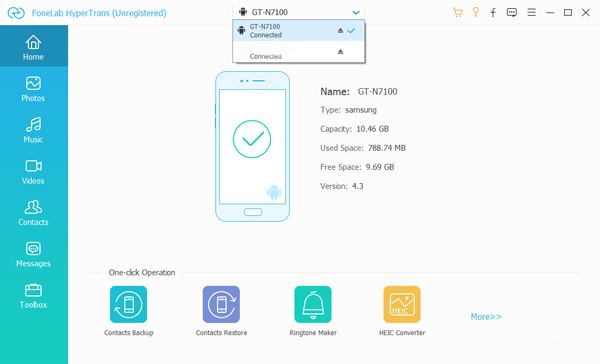 Step 2Choose the file you want to sync, which listed on the menu on the left side. Before transferring, the target files can be previewed.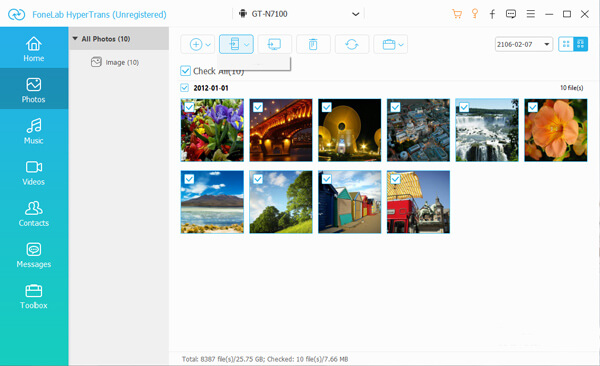 Step 3Then click the Export to Device. (Same procedure for syncing tablet to Samsung phone)
Step 4You can preview the process and the number of synced files. When the whole process is done, you can click Close button to check the transferred files.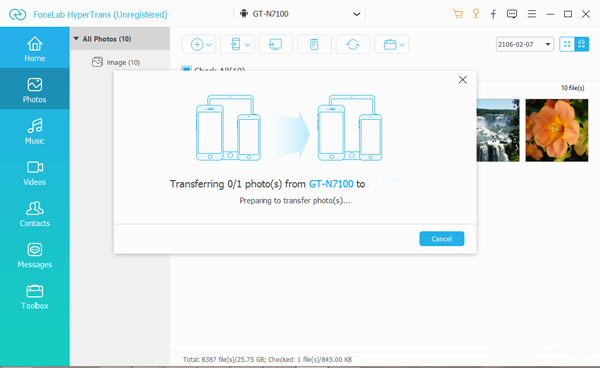 2. Sync Samsung phone to tablet via Google Account
You can sync files between Android devices via Google account with ease. Let's learn more details about how to sync a Samsung phone and a Tablet via Google account.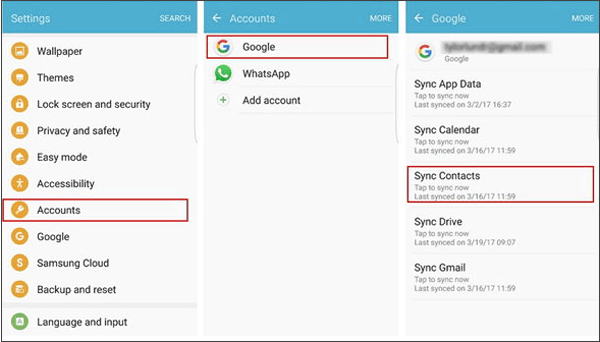 Step 1Tap Settings icon on your Samsung phone, select the Cloud and account and locate Accounts . Then you will get the account information. (If you haven't got a Google account yet, you can click Add account and choose Google. Tap New to create a new account.)
Step 2 Login the Google account on both the Samsung phone and the tablet, then choose the content that you want to sync.
Step 3 Click Sync now to transfer files.
3. Sync Samsung Phone to Tablet with Samsung SideSync
Using Samsung SideSync is a new and useful method to sync Samsung phone with tablet. It enables you to access and control your Samsung phone on your tablet via a Wi-Fi connection. But you need to make sure that the devices share the same network.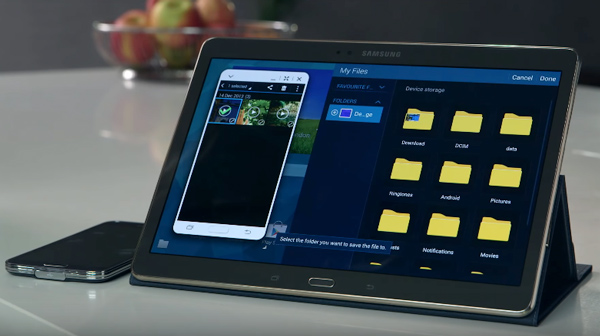 Step 1 Install and launch the Samsung SideSync on both Samsung devices. Then choose the model number of your Samsung phone listed on the program interface on the tablet.
Step 2 Once you have connected the two devices, the Samsung phone will be locked. Then you can manage and control the Samsung phone with your Samsung Galaxy Tab S.
Step 3 Locate the photos, videos and document files you want to sync, and drag them to the tablet. ( Besides the multiple file-formats of Samsung device, the messages or even call logs can be synced as well .)
4. Sync Samsung Phone to Tablet through Smart Switch
Smart Switch is an alternative tool to sync data if the Samsung SideSync is not supported by your phone and tablet. But the two devices should be kept at a distance within 50cm!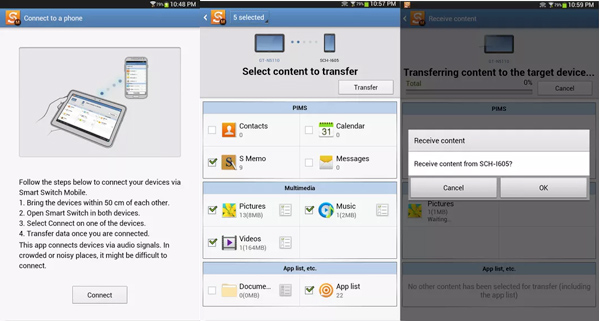 Step 1 Download and install the application. After that, launch the app on both Samsung devices.
Step 2 Open the Smart Switch on both devices. Select Connect either on your Samsung phone or on your tablet. And a list of data types will be displayed for transferring.
Step 3 Select the files you want to transfer.
Step 4 Click OK on the other device to receive the files, and tap Done after the transfer is finished.
By the way, it also can be a nice option for people who want to know how to transfer text messages from Android to Android.
Conclusion
While there are several ways of syncing files, FoneLab HyperTrans is the perfect choice for all kinds of file transfer and management without losing any data. What's more, it can convert and edit files as well. More queries about the topic, you can leave your comments right down the article.