How to Use Samsung Cloud – This Is the Complete Tutorial for Beginners
Samsung Cloud is a built-in cloud storage service for all Samsung users. Many people use Samsung Cloud as the free Samsung backup and restore service. There is 15GB free cloud storage you can get. You can backup not only the downloaded files, but also some third-party apps.
What's more, you can activate the photo syncing feature to sync Samsung photos and videos under Wi-Fi connection. Even though you have to factory reset your phone, you can get back your data from the previous Samsung Cloud backup file.
To start with, make sure you are running Android 7.0 (Nougat) and later versions.

Part 1: Tutorial to Use Samsung Cloud
Here is a brief introduction of what you want to know about Samsung Cloud drive. Well, you can regard the following paragraphs as the Samsung Cloud review and tutorial too. Let's see how to access Samsung Cloud on your Samsung Galaxy.
What You Can Backup and Restore with Samsung Cloud
Supported Samsung devices: Samsung Galaxy S5, S6, S6 Edge, S6 Edge Plus, S7, S7 Edge, S8 Plus, Note 4, Note 5, Note 7, Note 8.
Supported Samsung data types: Calendar, Contacts (saved in Device and SIM card), Call logs, Clock settings, Home screen layout, Apps, Device settings, Messages, Music, Voice Recordings, Documents.
How to Use Samsung Cloud
How to Access Samsung Cloud
Open the Settings app.
Choose Cloud and accounts from the list.
Then tap Account followed by Add account to add your Samsung account.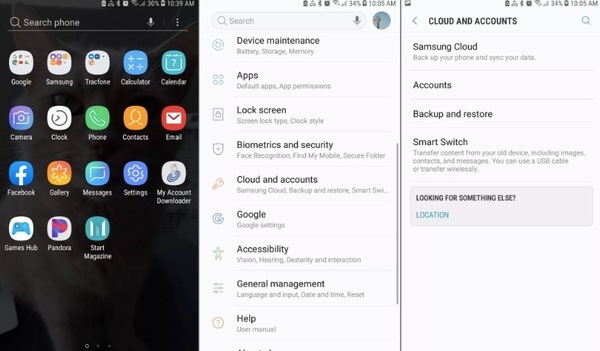 Note: For older Samsung models, you can tap Samsung Cloud and Add account instead.
How to Backup and Restore Data with Samsung Cloud
Choose Cloud and accounts from the Settings app.
Tap Backup and restore.
Tap Back up data > choose the data type > Back Up to use Samsung Cloud to backup data.
Tap Restore data > select the data type > Restore to restore Samsung by using Samsung Cloud.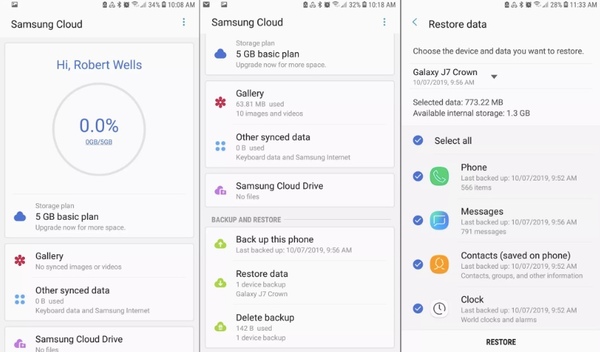 How to Manage Sync and Auto Backup Settings
Open the Settings app. Tap Samsung Cloud from Cloud and accounts.
Tap the three-dot More icon on the top right corner. Select Settings followed by Sync and auto backup settings.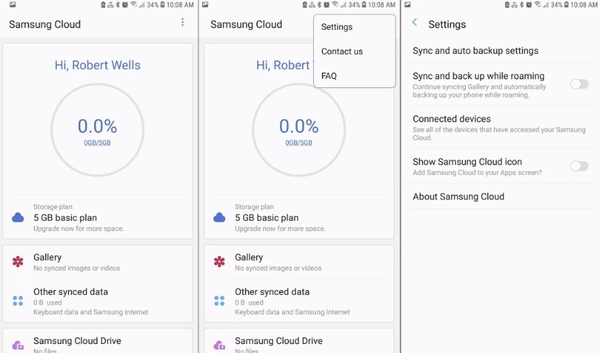 In the Sync section, mark before the data type you want to keep synchronized. Then tap Sync Now to sync Samsung cloud with photos, contacts and more.
Switch to the Auto Backup section. Trigger on the data you want to automatically backup to Samsung Cloud when you're connected to Wi-Fi.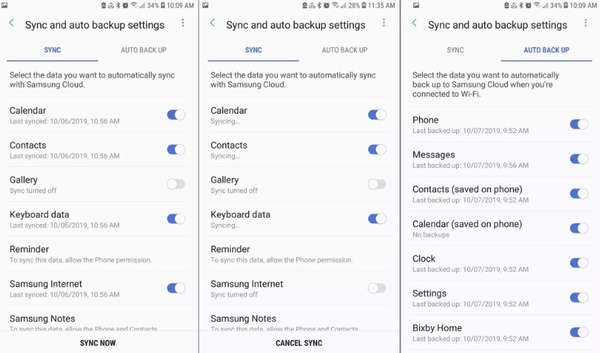 How to Access Samsung Cloud on the Web
Visit https://support.samsungcloud.com/#/login and sign in to your Samsung account. Later, you can check files from all of your Galaxy devices.
What to Do When Samsung Cloud Storage Is Full
You may be notified that Samsung Cloud can't backup data because there is not enough space. Well, if your Samsung backup files are over 15GB, you need to pay for the additional storage. During this time, you can disable Samsung sync and auto backup features to save space. Deleting large videos and old pictures are also helpful. Actually, you can transfer and manage Samsung data with a third-party file transfer app to get a better experience.
Part 2. Samsung Cloud Alternative
You can use Samsung Cloud backup and restore features to keep your files safe. However, Samsung Cloud is not perfect. You cannot backup and restore data saved in SD cards. Not all Samsung phones support Samsung Cloud. For instance, you cannot use Samsung Cloud on Galaxy devices from Verizon. Things will be worse if you use Samsung Galaxy 6 Series, Galaxy J3/J7, Galaxy Note 4 Series and earlier models.
During this time, you can run FoneLab HyperTrans to transfer and manage data from Samsung to any phone or computer with ease.
Transfer data from Samsung to any Android, iOS, Windows or Mac.
Backup and restore photos, videos, contacts, messages, music, documents and more between device and computer.
Use Contact manager to add, delete, change contact name, address, number, emails and more.
Support Android 8.0 and earlier devices, including Samsung Galaxy S10, HTX, HUAWEI, etc.
Thus, when you switch from your old Samsung to a new phone, you can move data to any Android or iPhone easily and quickly. All your Samsung data and settings will not be changed. There is no need to worry about the Samsung Cloud storage limit, not supported data types, Wi-Fi speed and anything else.
That's all for how to use Samsung Cloud and some related tips. You can backup and store any data stored in Samsung internal and external storage here.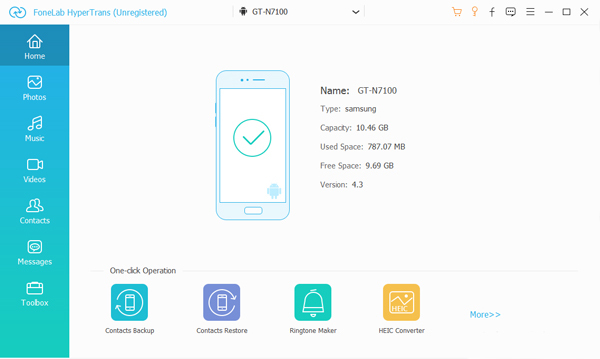 Related Articles:

Leave your comment and join our discussion