How to Reset Samsung Keyboard and Get It Back to Normal Safely
You can reset Samsung keyboard to the default settings to fix small glitches and errors. It is annoying that Samsung keyboard keeps stopping or responding slowly. There must be something wrong with Samsung keyboard while you have no idea why it is. During this time, you can reset Samsung keyboard settings to get rid of the annoying issues.
If you want to remove predictive text suggestions according to your previous typing history, you need to do something else expect resetting keyboard on Samsung only. Whatever, you can get the Samsung keyboard back to normal here.

1. How to Reset Samsung Keyboard
You can change the Samsung keyboard settings to refresh the freezing keyboard. All your saved words, phrases and preferences are safe. Your personalized data still exist on your Samsung phone. So feel free to reset keyboard on Samsung phone or tablet.
Activate Samsung keyboard first. For instance, you can open a new message to get Samsung keyboard activated.
Tap the gear Settings icon to get Samsung keyboard settings.
Choose Keyboard size and layout from the list.
Manage with Number keys, Alternative characters and Keyboard size.
Tap Reset to reset keyboard settings on Samsung.
Tap Done to get Samsung keyboard back to normal. 
2. What Else You Can Do to Fix Samsung Keyboard Keeps Stopping
The Unfortunately the Samsung keyboard has stopped working error is annoying. Samsung keyboard stops working or responding is quite troublesome. You cannot draft emails, send messages, take notes, set reminders, or use the search engine. The major functions of your Samsung phone are useless. Resetting Samsung keyboard is helpful. You can also take the measures below to fix Samsung keyboard issues.   
Clear Samsung Keyboard Cache
Open the Settings app. Choose Apps followed by Application Manager.
Switch to All apps. Choose Show systems apps from the three-dot More drop-down list on the top right corner.
Tap Samsung Keyboard to get its Application Info section.
Choose Storage. Tap Clear Data and Clear Cache to reset Samsung keyboard history.
Note: You can also clear cache and data files for Dictionary app to fix Samsung keyboard missing or stopping errors.
Force Restart Samsung Keyboard
Choose Apps from the Settings app.
Tap Application Manager.
Select All to access not only the downloaded apps, but also the built-in apps in Samsung.
Choose Samsung keyboard.
Tap Force stop to force quit the Samsung keyboard app.
Enable Samsung keyboard several minutes later. Check if the keyboard can work normally on Samsung. 
Erase Personalized Predictions
Run the Settings app on Samsung.
Tap General Management > Language and input > Virtual keyboard > Samsung keyboard > Reset Settings.
You can tap Reset keyboard settings to reset Samsung keyboard. During this time, you need to tap Clear Personalized data or Erase personalized predictions to reset Samsung keyboard suggestions.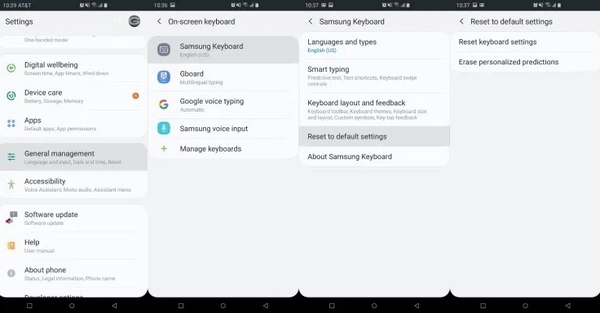 Restart Samsung and Install the Latest Software Update
You can long-press the Power button on your Samsung phone or tablet. Choose Restart/Reboot to restart Samsung and fix keyboard stop working.
The latest update can fix some bugs and errors you are troubled automatically. Thus, go ahead to the Settings app. Choose About Device followed by Software Update/ System Update. Check and install the latest system update.   
Use a Third-party Keyboard App on Samsung
If Samsung keyboard keeps stopping for a long time, you can replace the built-in keyboard app with Google Keyboard and other third-party keyboard apps. You can open Google Play Store to have a check.
3. Backup Your Samsung in One Click
Performing a factory reset on Samsung is the final and powerful method. You can erase all personal settings and files permanently. Well, if you do not want to lose everything, you can run FoneLab Android Backup & Restore to backup and restore Samsung in one click. All Samsung devices running Android 2.3 and later are supported.
Flexibly backup and restore Samsung data to your computer.
Preview any file in the Samsung backup in detail.
The supported data types include contacts, messages, call logs, gallery, videos, audios, documents and more.
Cause no data loss or overwritten issues.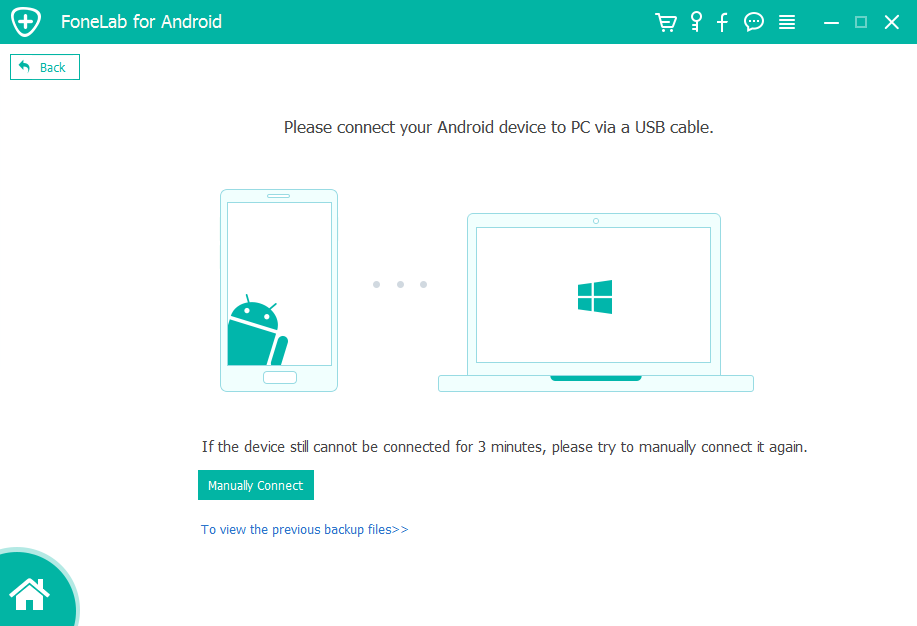 You can reset Samsung keyboard settings and other preferences to get the keyboard back to normal. The Samsung keyboard app crashing or keep stopping errors can be caused by many reasons, like virus attack, system error and more. Thus, you had better backup Samsung data regularly in case of data loss.
Related Articles:

Leave your comment and join our discussion