Mirror iPhone to Laptop Using Outstanding Techniques
I'm practicing doing a presentation about a mobile phone application with my friends. However, my iPhone is too small for them to see. Thus, I plan to mirror my iPhone screen to my laptop to present on a bigger screen. Please guide me on how to cast iPhone to a laptop.
In our times today, you can do so many things on a mobile device, like an iPhone. Even though laptops have several functions, you can still do some stuff on an iPhone you can't do on a laptop. An example of this is apps that are specialized for mobile devices. However, if you want to demonstrate this type of content to a group of people, it won't be easy because of the small screen. If you wish, you can mirror your iPhone screen to a laptop so it will be easier to show your device activities to the people around you.

That said, we have placed together the most reliable approaches to mirror your iPhone screen to your laptop. After browsing this post, you can view all your device activities more clearly on a laptop. In addition, they will be available to watch your videos and other media files when you're done presenting. It doesn't only help your professional life, but you can also use them during your leisure time. Please carry on reading the following techniques to start the mirroring process from your iPhone to the laptop.
Part 1. How to Mirror iPhone to Laptop with Screen Mirroring Feature
For starters, Apple devices have a built-in screen mirroring feature called Airplay. Hence, you can only use it on Apple products like an iPhone, iPad, MacBook, and more. If you want to mirror your iPhone screen to your MacBook, you only need to enable the feature on both devices and operate some instructions, which will be discussed later.
Be guided by the user-friendly directions underneath to cast iPhone to laptop with the Apple screen mirroring feature, AirPlay:
Step 1Click the Apple icon on your MacBook's top-left, then hit System Preferences from the drop-down menu. After that, find and select the Sharing icon to proceed.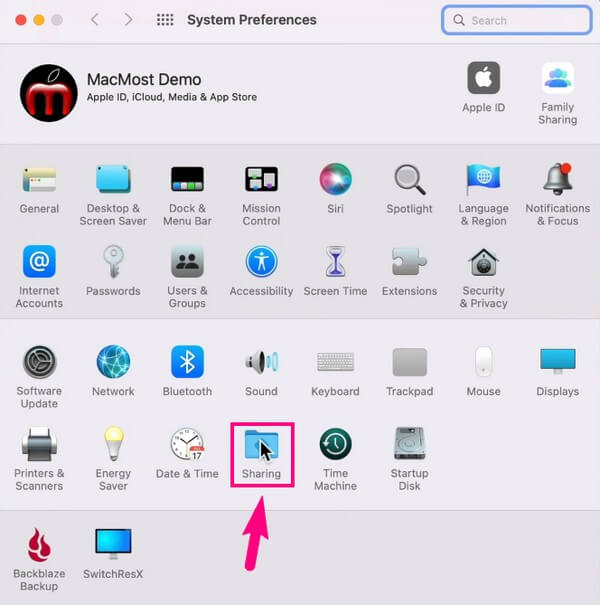 Step 2You will view a list of services on the following screen's left portion. Ensure Screen Sharing and AirPlay Receiver are activated. On the AirPlay Receiver section, choose the Allow AirPlay for: option you prefer. You may also require a password if you want.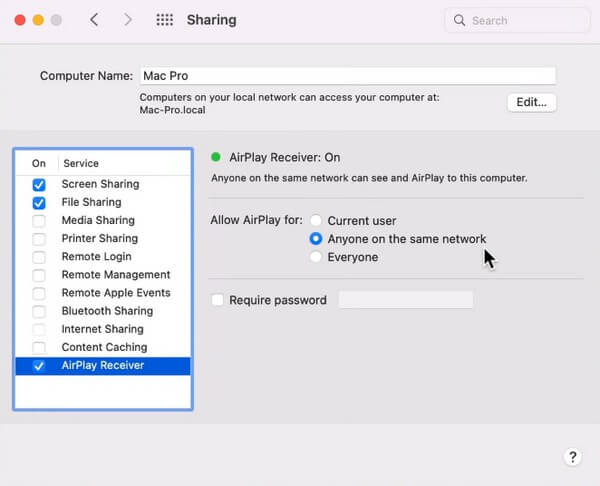 Step 3Afterward, open your iPhone's Control Center and tap the Screen Mirroring icon. Your MacBook will then appear on the menu list. Click it, then accept the AirPlay notification on the MacBook to mirror your iPhone to its screen.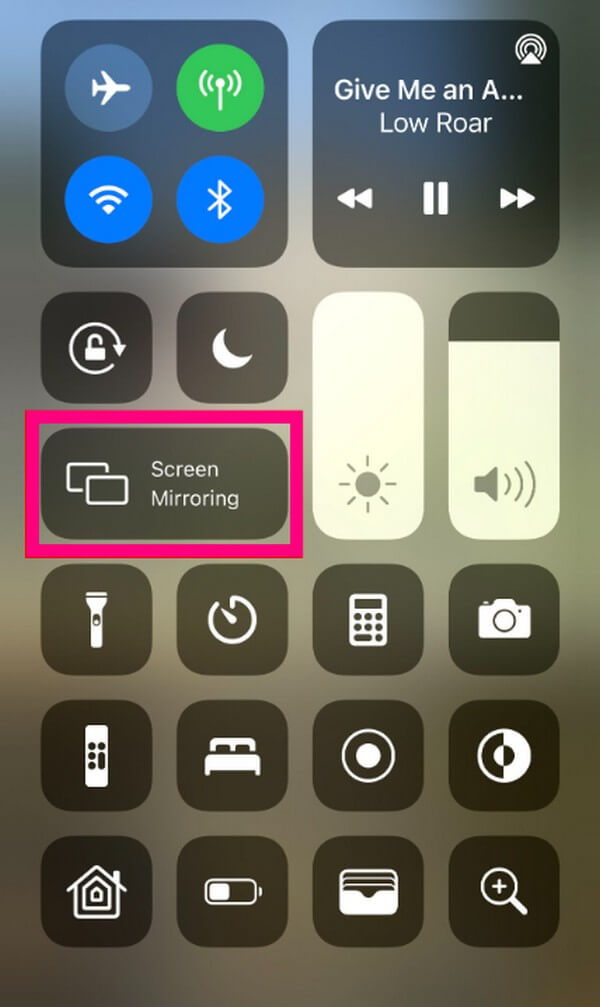 Part 2. How to Mirror iPhone to Laptop with FoneLab Phone Mirror
FoneLab Phone Mirror is a fantastic tool with a straightforward interface that lets you mirror your iPhone screen to the laptop. With this, viewing your device interface on a bigger screen in high quality will be easy. It is also available for Android phones, so installing it is a considerable advantage for multiple devices. The program supports various ways to make the connecting process more accessible, whether you prefer attaching your devices via Wi-Fi or a USB cable. On top of that, FoneLab Phone Mirror provides a bonus recording feature if you wish to document the activities on your iPhone screen. It also allows screenshots and more, so watch out for its other incredible functions.
Look at the effortless instructions below to screen mirror iPhone to laptop with FoneLab Phone Mirror:
Step 1Browse the FoneLab Phone Mirror official site to glimpse its Free Download button. You must click it to save and open the installer file, then allow the screen mirroring program to make changes to your device. After that, click Install when the program window launches. A preview of its features will be shown during the config installation. When the process is finished, the program can run on your laptop.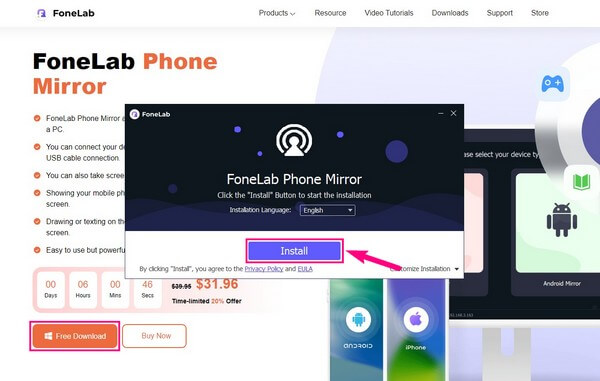 Step 2When you view the tool's primary interface, you must choose your iPhone's device type, which is iOS. Hence, click the iOS Mirror box on the left. You will then be given choices on how to link your iPhone to the laptop. You can choose either through a USB or a Wi-Fi connection. If you choose Wi-Fi, ensure your iPhone and laptop are connected to the same WLAN. Then abide by the instructions given on the tool's interface.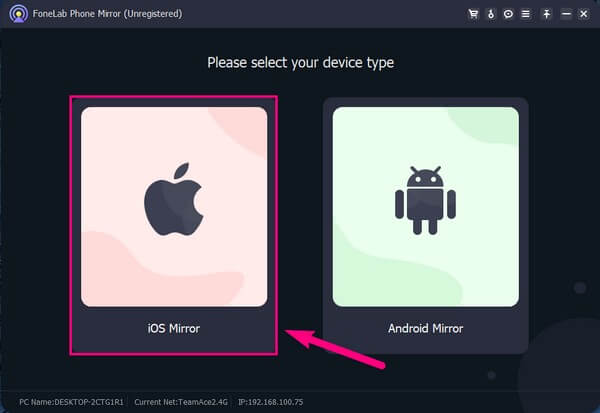 Step 3Get into the Control Center on your iPhone and tap the Screen Mirroring tile. Once the drop-down list displays, select the FoneLab Phone Mirror option. It will only take seconds until the connection is successful. Your iPhone's screen will then automatically appear on the program's interface, mirroring its content.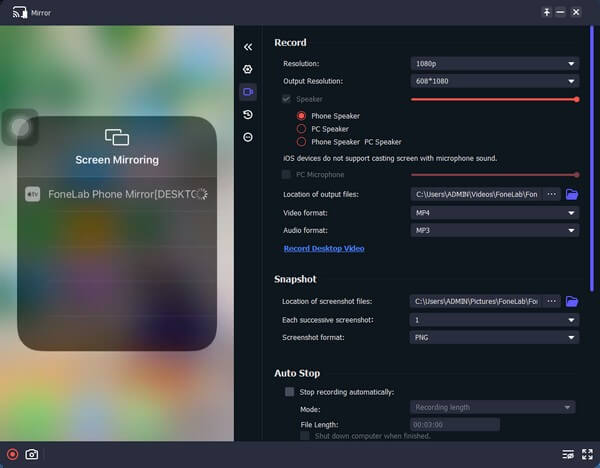 Step 4Other options for screen mirroring will display on the right. If you desire to record the screen, you can adjust the recording options by clicking the camera icon between the iPhone screen and the settings display. Then hit the record or screenshot buttons at the bottom to capture the screen.
Part 3. How to Mirror iPhone to Laptop through Online Tools
If you prefer using an online tool, Wondershare Online Screen Mirror is the decent screen mirroring program you may stumble upon. This online tool allows wireless screen mirroring to any web browser on your laptop. And unlike other online programs, Wondershare Online Screen Mirror doesn't require a registration or fee. You can use it freely by linking your devices via a QR code.
Take to heart the trouble-free steps underneath to cast from iPhone to laptop through the online tool Wondershare Online Screen Mirror:
Step 1Go directly to the Wondershare Online Screen Mirror site and hit the Try It Free tab on the page's left portion. Then install Dr.Fone Link on your iPhone.
Step 2Use the iPhone app to scan the QR code on the online tool's interface. After connecting, Click Start Mirroring to cast your iPhone screen on your laptop's browser.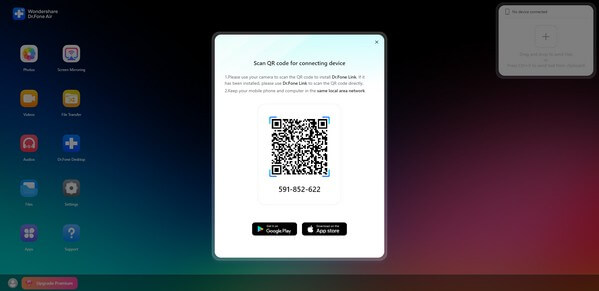 However, this program's drawback you must note is its unproductiveness without the Internet. Your Wi-Fi or cellular network must be stable to enjoy a smooth screen mirroring process. Or else, you might experience an interruption, which could cause unfortunate situations, especially during an important presentation.
Part 4. FAQs about How to Mirror iPhone to Laptop
Thanks for acknowledging the recommended methods in this article to help you with screen mirroring. Let us see your thoughts and suggestions in the comments below.