How to Export Contacts from Outlook to iPhone [2 Proven Solutions]
"Recently I got my first iPhone (iPhone 6). I also have an iPad. I am still working with a Microsoft laptop and because of my work I have been using Microsoft software including Word, Excel, Power point and Outlook. So I want to import Outlook contacts to iPhone which are of great value. How can I import my Outlook contacts into my iPhone 6? Many thanks for any advice."
If you are a Microsft Outlook user and also own an iPhone at the same time, you must have ever had the need to import contacts from your Outlook to your iPhone.
Actually, contacts from Microsoft Outlook can be easily transferred onto an iPhone by syncing the device to the computer via iTunes. But if you are afraid of erasing the current iPhone contacts already there, you should get to know this outstanding iOS data management software, FoneTrans for iOS, which enables you to export Outlook contacts directly to an iPhone without converting them to a CSV or VCF file first. It can also help you do the other way around, export iPhone contacts to Outlook, Gmail etc.

In this article, I will tell you how to export Outlook contacts to your iPhone via iTunes and FoneTrans for iOS.
Read this to learn about how to extract music from iPhone.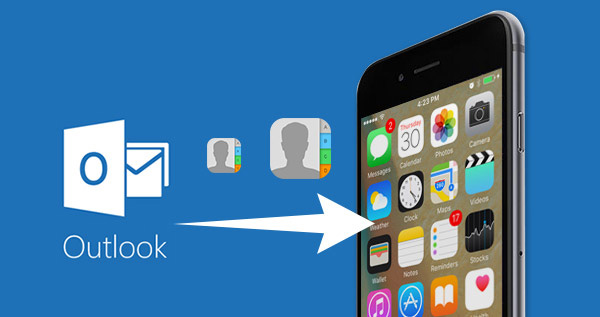 1. How to Export Contacts from Outlook to iPhone Via iTunes
iTunes is not only a music player or a one-stop shop for paid downloads such as music, movies, books, and others, but also acts as an over-all manager for your iOS devices. Follow below instructions to sync your Outlook contacts with your iPhone.
Connect your phone to your computer and launch iTunes. Please make sure that you are running the latest version of iTunes.
Now click your iPhone icon on the upper-left corner and look for your iPhone's name under it.
Click on the Info tab on the left side bar and then mark the checkbox beside Sync Contacts with. Choose Outlook on the drop down menu next to Sync Contacts with. At this point, you can choose All contacts or Selected groups to sync to. Click Apply in the end.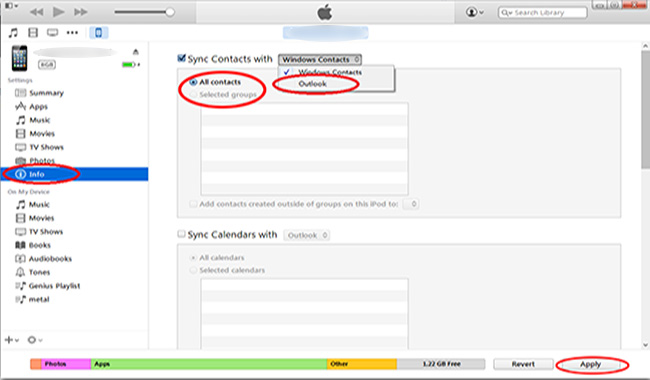 2. How to directly Import Contacts to iPhone from Outlook with FoneTrans
FoneTrans for iOS empowers you to transfer your Outlook contacts more straightforwardly to your iPhone and without risking any data loss. You can free download the trail version of it and give it a shot.
Choose the right link above, then download and install the software on your computer. When it is finished, it will automatically open and you should connect your iPhone to the computer as requested.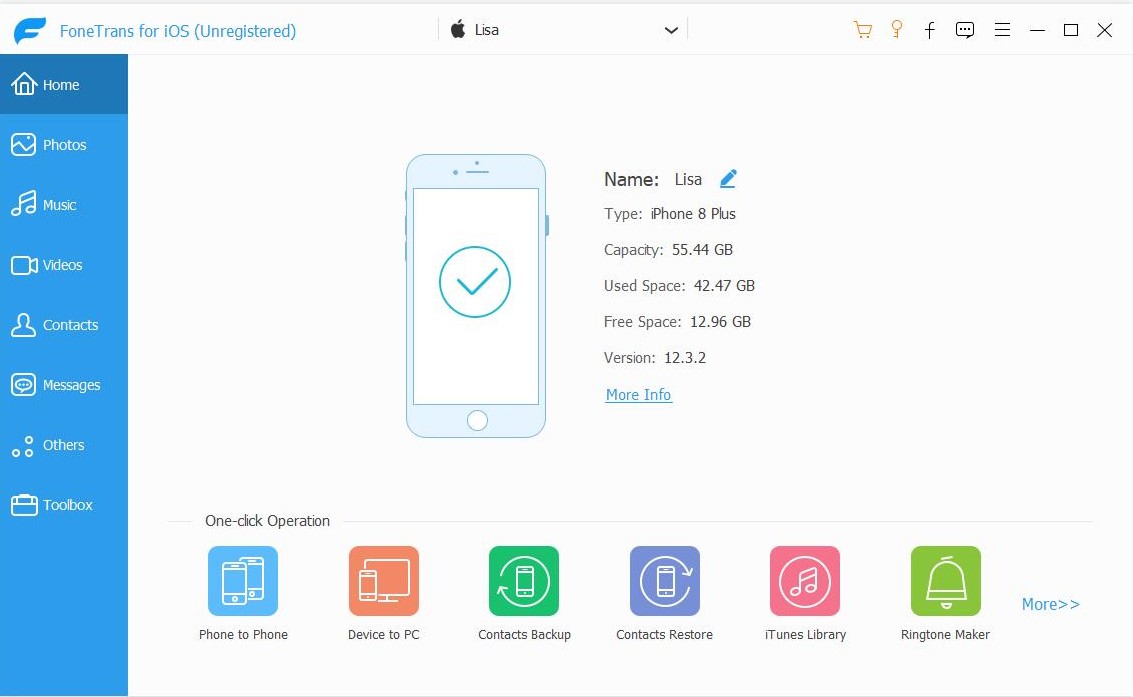 You will see contents likePhotos, Music, Videos, Contacts, Others, and Toolbox are listing in the left column of the interface. Click Contacts then, and all contacts on your phone will be displayed. Find Import/Export option on the top bar and select Import Contacts. You will have several import options: From Outlook, From Windows Address Book, From CSV File and From vCard File. Select From Outlook so that you can transfer your contacts from Outlook to your iPhone instantly.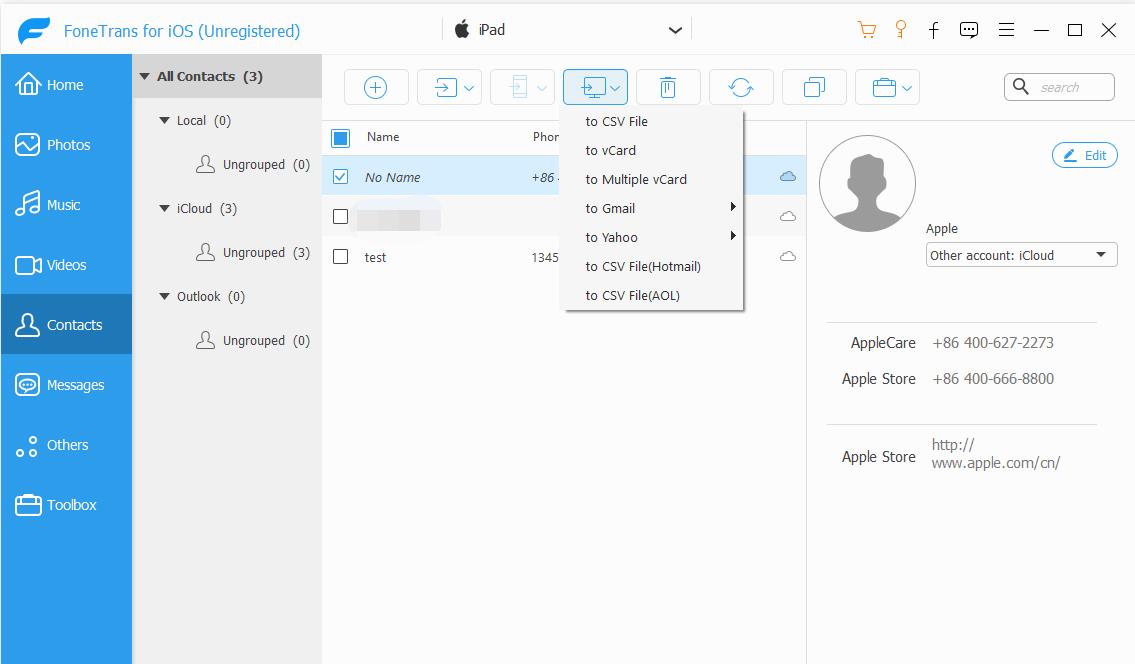 Simply click Import to start the transfer process. Once it is done, you can see the contacts are on your phone.
Other than importing contacts to iPhone, FoneTrans for iOS can help you transfer many other files like photos, music, videos, movies, TV shows, messages, and PDF files, and so on.
Related Articles