How to Transfer Music from iPod to iPod
"- I am an iPod lover, when I purchased a new iPod, how could I transfer my love songs in my old iPod to new iPod?
- My birthday present is a new iPod from my brother. He has stored so many great songs in his iPod. How could I transfer the songs to my iPod? By the way, I am really a computer fool. Please give me some EASY solution, so I could avoid being troubled by any complex instruction.
- I want to copy songs in my iPod to other iOS devices such as iPod and iPad. How could I make it?"
We have always met with different situations in life when we need to import music from iPod to iPod or from iPod to other iOS devices. We may firstly think about iTunes to help us do the transfer job. But the fact is that it is unable to move music from iPod to iPod directly with iTunes. At the moment, we need a professional iOS transfer tool- FoneTrans for iOS to help us complete the task. It enables you to transfer music directly from one iPod to another directly - just as easy as move music from one folder to another on your computer.
So how to move music from iPod to iPod with FoneTrans for iOS?
Free download FoneTrans for iOS.
Install the FoneTrans for iOS and run it on your computer.
Connect iPods to computer before transferring music from old iPod to the new one.
Use USB cables to connect both iPods to computer. So you can transfer the music directly from iPod to iPod. Wait moments for the software to recognize the devices.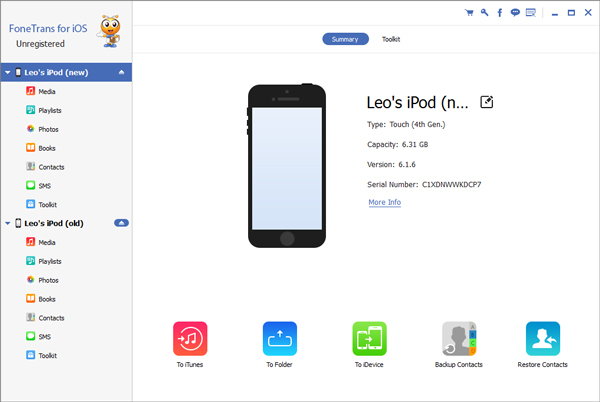 Choose the music to transfer.
On the left side of the window, go to iPod which stores the music and find the "Music" section. You would see all the music displayed on the right side. Highlight the songs to transfer from iPod to iPod on your computer. If you are going to select all songs, just tick the box on the top of music list.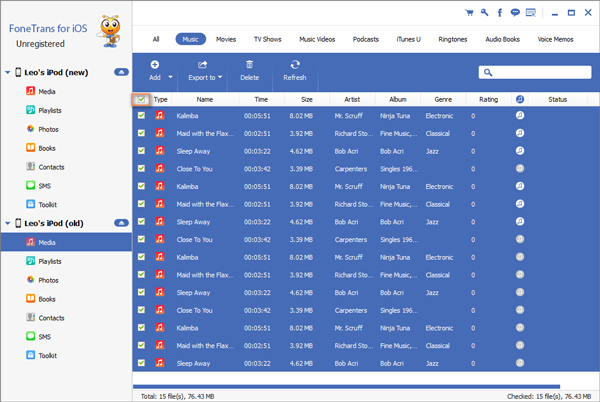 Export the music from the former iPod to your new one.
Find "Export to" button on the top navigation menu. Press the small triangle icon next to it. Then it appears a list, choose "Export to iPod" . Press OK to confirm selection to transfer songs from iPod to iPod.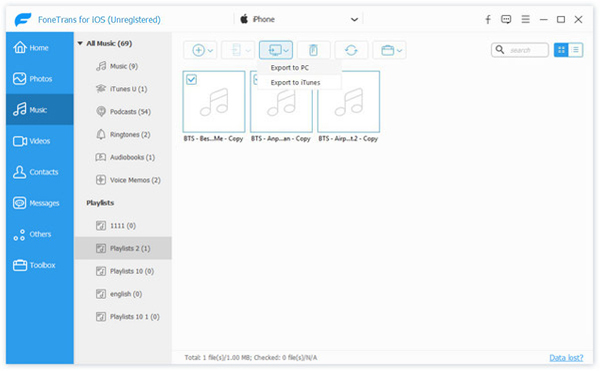 You will find when the two iPods are recognised by the software, the transfer operation is just as easy as moving files from one folder to another on your computer. You could make batch transfer with this powerful iOS transfer tool. Just have a click to select all, so you don't need to worry whether you are going to transfer 20 songs or 200 songs. You can also move songs from your iPod to iPad or other iOS devices, the process is quite similar. Just follow the steps and have all your music transferred.
Related Articles