How to Transfer Music between iPod and Computer
Since the release of its first generation product in 2001, iPod has become a dominated digital music player in the US with about 90% market for all MP3 music players. In mid-2015, the six generation was announced by Apple with better screen quality and faster speed. Here we are trying to deal with some basic problem s about iPod: transferring music between computer and iPod.
1. Transfer music from computer to iPod via iTunes
Connect your iPod to computer. If you have songs in WMA format, you may need to transfer your WMA to AAC in order to make it available in iPod.
Have your iTunes installed. Find the icon on left top corner, press it and go to "Add File to Library ". Add the music files in your computer. Check out the music icon in left top corner to see whether the music has been added to the iTunes.
Go to "Settings", click "Music". Press "Sync Music" to select whether to sync entire music library or selected playlists, artists, alums and genres.
Press "Sync" to copy your music in music library to your iPod device. In the meantime, the songs in your iPod will be deleted.
Using iTunes to transfer songs from computer to iPod is very common. However, there are drawbacks that you may have your original songs in your iPod deleted. Sometimes, this is really a big inconvenience.
2. Transfer music from iPod to computer via FoneTrans for iOS
There are chances when we need to transfer music in iPod to computer. For example, many of us place our songs in both computer and iPod. This year's collection could be a big fortune. Every song could be a really precious memory. There are times when we occasionally find an old song in our collections and have a listen. It is as if talking with an old friend. All the feelings when we listen to it would emerge. However, there is possibility that some system corruption occurs, your music in the computer are just gone. What is worse, all the purchased music in your computer is lost.
What left for you is a single iPod device, which could only get music from computer via iTunes. Due to some copyright issues, iTunes does not support transferring from iPod to computer. At such times, you need software to enable you to break down the walls and freely transfer your music from iPod to computer. However, FoneTrans for iOS can migrate music between iPod and computer easily with several clicks.
FoneTrans for iOS can do the following things,
It enables you to transfer video between computer and iPod/iPhone/iPad freely.
It makes the transferring process very simple and easy . If the music or video cannot be played in your iPod/ iPhone/iPad, the software will convert your music for you automatically.
Now download FoneTrans for iOS and follow the steps to export music from iPod to computer.
Connect your iPod to the computer.
Have the FoneTrans for iOS installed. Wait minutes for the software to recognize your device.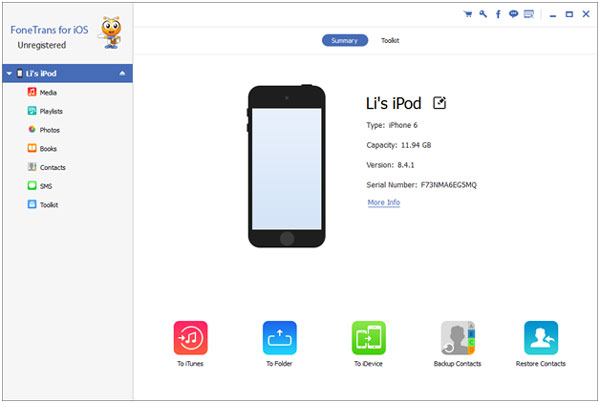 Go to the left side, you will find a list of different items in your iPod. Then you can just select the media tab to find all your media. FoneTrans then sort media into music, movies, TV shows, podcasts, iTunes U, ringtones, audio books and voice memos. You can then just select music to find your music to transfer.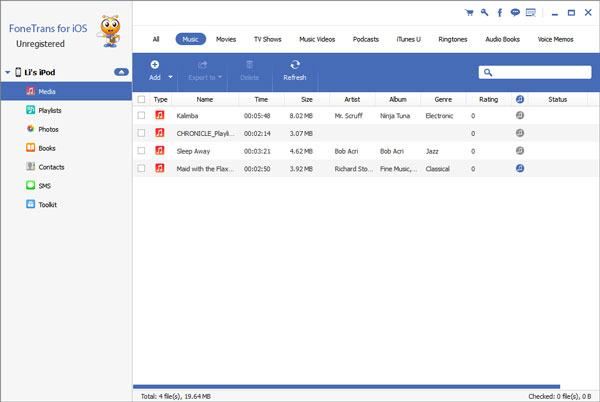 The music, as you can see, is sorted well, so you can see all the details about the music in an intuitive way. Then select the songs in your iPod or just add them all, and you can then simply press "Export to" button to export the music to PC or iTunes library. Select a place for the music in your PC. Then you can just press OK to transfer your music from your iPod to PC.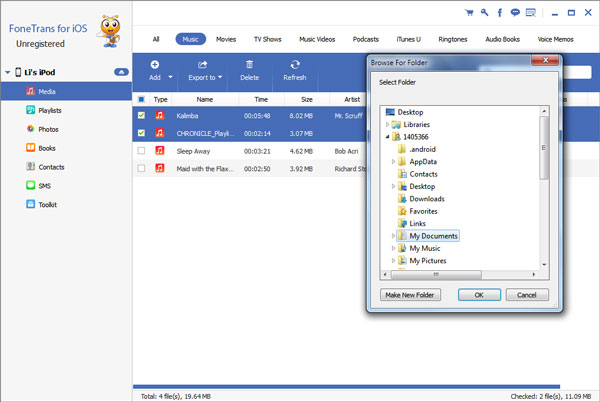 Bonus tip:
With this simple but powerful software, you can also transfer your music from computer to iPod without iTunes. You can make it with ease, just several clicks. Press "Add" button to choose a file and it will move from computer to your iPod. Yet it is better in that it could automatically convert music or video, which is not compatible with iPod to proper format.
Related Articles