Transfer iOS Data Now
Transfer your data from iPhone to computer easily.
How to Transfer Photos from Camera to iPad
While iPad or iPhone has its own impressive built in camera, it is not surprised to use a professional digital camera to shoot photos for higher quality enjoyment nowadays. So you may want to share those beautiful photos taken by the digital camera with your handy iPad. In this post, you will learn several methods to solve the problem about how to transfer photos from a digital camera to your iPad or iPhone.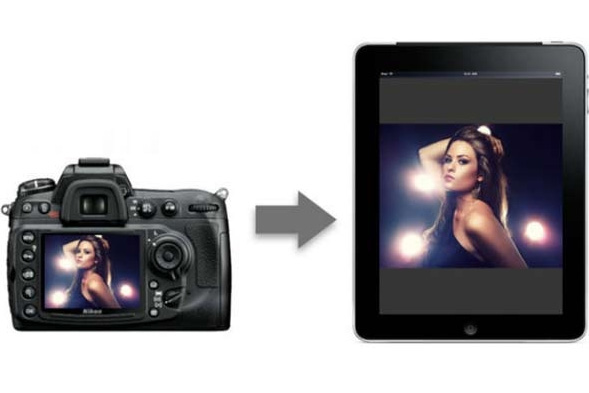 Method 1: Transfer Photos to iPad from Camera with iPad Photos Transfer
I would like to introduce this iPad photos transfer to the Apple device users which is called FoneTrans for iOS. This program enables you to directly copy pictures from camera to iPad which is running from iOS 6 to iOS 9. Besides, it can also help you add PDF to iPad, transfer other files like contacts, messages, media files, books, etc between iOS device and PC/Mac. If you want to transfer photos from iPhone to iPad, this software is capable of that too. Check below step by step guide to learn how to do it.
Step 1First of all, download and install the software with the above right link on your PC. When the installation is complete, it will automatically open. Connect your iPad with the computer via a USB cable, then you will get: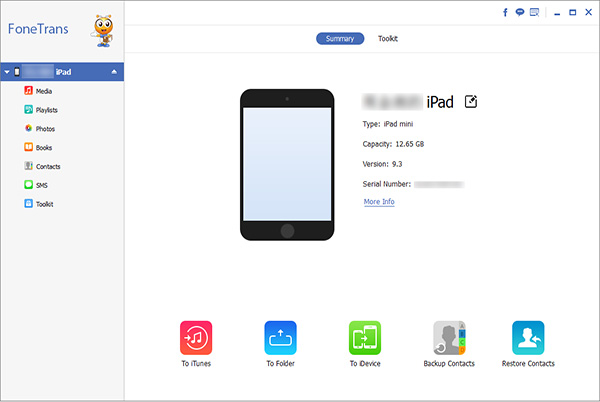 Step 2You will see contents like Media, Playlists, Photos, Books, Contacts and SMS are displaying in a column on the left-hand side. Click Photos from the list. Then you will see many albums existing on your iPad, such as Camera Roll, Photo Library, Videos, etc. You can add a new album to save your camera photos if you like by right-click the Photos tab. Click Add Item in the middle or the Add icon on the top and then select the photos from your camera, you will find all the photos added in a new album on the Photos app on your iPad once finished.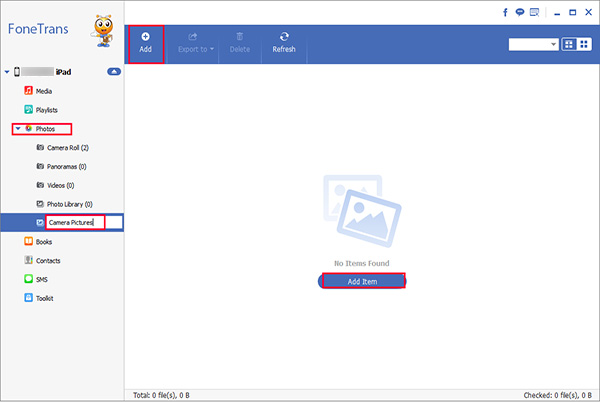 Method 2: Import Photos to iPad with Lightning to USB Camera Adapter
Lightning to USB camera adapter makes it extremely simple to transfer photos form your digital camera to your iPad or iPhone because no computer is needed among the transfer/import process. All you need is a adapter which is available in any Apple retail store.
Step 1Turn on both the camera and your iPad, take the USB cable from your camera and plug it in, then take the other end of the cable and have your camera connected with the adapter.
Step 2On your iPad, open the Photos app. You will see a new option appearing at the bottom of the screen called Import. Tap it, you will see all the pictures from your camera that are available to import.

Step 3Choose the images you want to import by tapping on them, then tap the Import button in the top corner of the screen. After those images are transferred from camera to iPad, you will receive a message that asking you whether to delete or keep the imported photos from the attached camera. Select whichever you need.
Method 3: How to Transfer Photos to iPad via iTunes
If you want to stick to iTunes, check below steps:
Step 1Connect your iPad to your computer with a USB cable and open iTunes if it doesn't open automatically.
Step 2Click on the iPad's icon in the top bar, then click the Photos tab on the left.
Step 3Check the Sync Photos box, and then select Copy photos from so that you can browse your desired folder.
Step 4Select to sync All folders or Selected folders and then click Sync in the bottom right corner.