Transfer iOS Data Now
Transfer your data from iPhone to computer easily.
How to Transfer Contacts from One iPhone to Another
I have got a new iPhone SE. The first thing I need to do is transfer all my old contacts to my new iPhone, but how to export iPhone contacts from my old iPhone's memory and transfer them to the new one? How do I transfer contacts from one iphone to another? Please help, thanks a lot!
When upgrading your old iPhone to a new one, one of the most important things that comes to your mind is how to transfer contacts to new iPhone easily and quickly. Transferring iPhone contacts to new iPhone with iCloud or iTunes is not a big deal. If you don't use iCloud or iTunes, don't worry as you have another option to make it. Use a third-party software instead. Now I will show you how to transfer contacts from iPhone to another in these three ways.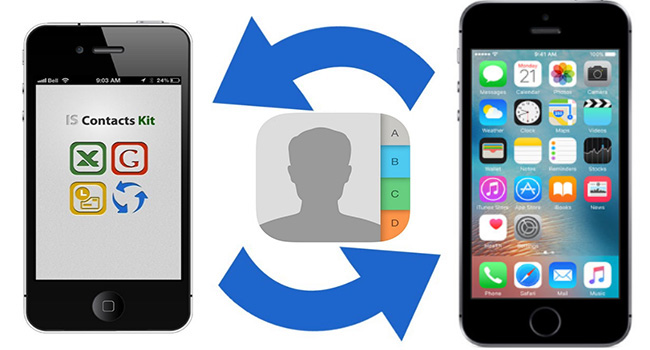 Keep moving if you want to know how do you transfer contacts from one iPhone to another.
1. How to Transfer Contacts from iPhone to iPhone Using iCloud
Step 1On your old iPhone, make sure that you are signed in your iCloud account and connected to a Wi-Fi network. If your name and Apple ID are displayed at the top of the page after you go to Settings – iCloud, then you are logged in.
Step 2Switch Contacts on and then go to Backup – Back Up Now.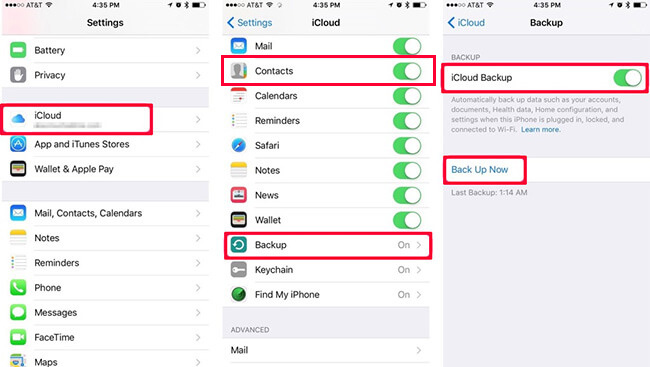 Step 3Once the backup process is finished, set up your new iPhone with the latest iCloud backup you just created. After the restore has done, the new phone will restart and should be ready to use.
As a result, all files from the last iCloud backup will be packed to your new iPhone. If you don't like that, you can also only sync contacts across iPhone.
Step 1Set up your new iPhone as a new iPhone during the initial setup. And make sure you are logged into the same Apple account on both iPhones and connected to Wi-Fi.
Step 2On the old phone, go to Settings – iCloud – Turn on Contacts and everything else off.
Step 3Do the same steps on your new iPhone. This will enable your new iPhone to start downloading the saved contacts that you uploaded to iCloud. Never disconnect the wireless network during the process. Then wait and check if your contacts are appearing by opening the Contacts app on your new phone.
2. How to Transfer Contacts to New iPhone via iTunes
Step 1Open iTunes on your computer, make sure that it is running the latest version. Then connect your old iPhone to the computer via USB.
Step 2Click on the icon of your phone on iTunes. Navigate to Summary and check the circle next to This computer. Click Back Up Now. This will create a backup of your old iPhone.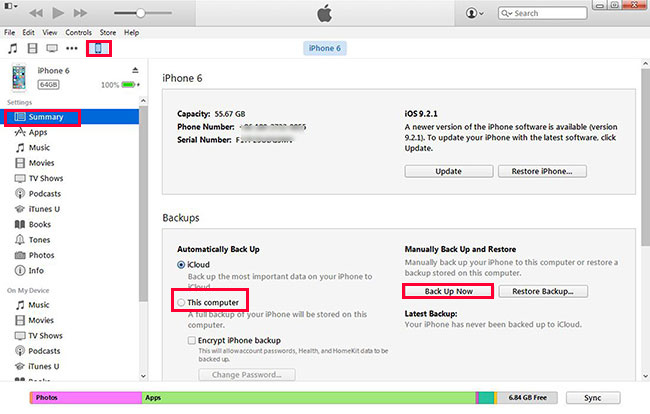 Step 3Now you can start setting up your new iPhone. Make sure to log in with the same Apple ID that you used on your old iPhone. Select Restore from iTunes Backup and you will asked to connect your new iPhone to your computer in order to load the backup files from iTunes. Once it's done, you will have all contacts on your new iPhone.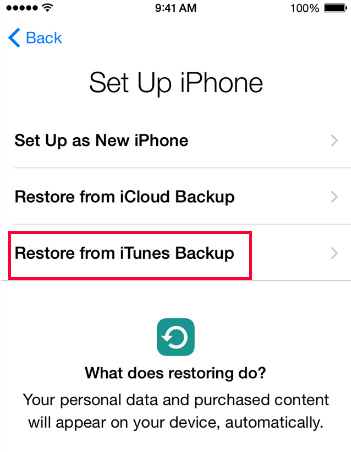 3. How to Transfer Contacts with FoneTrans
What makes FoneTrans for iOS is different from above methods is you can do a selective transfer with this tool. Let's take a look at it.
Step 1First of all, download and install the software on your PC. When the installation is complete, it will automatically open.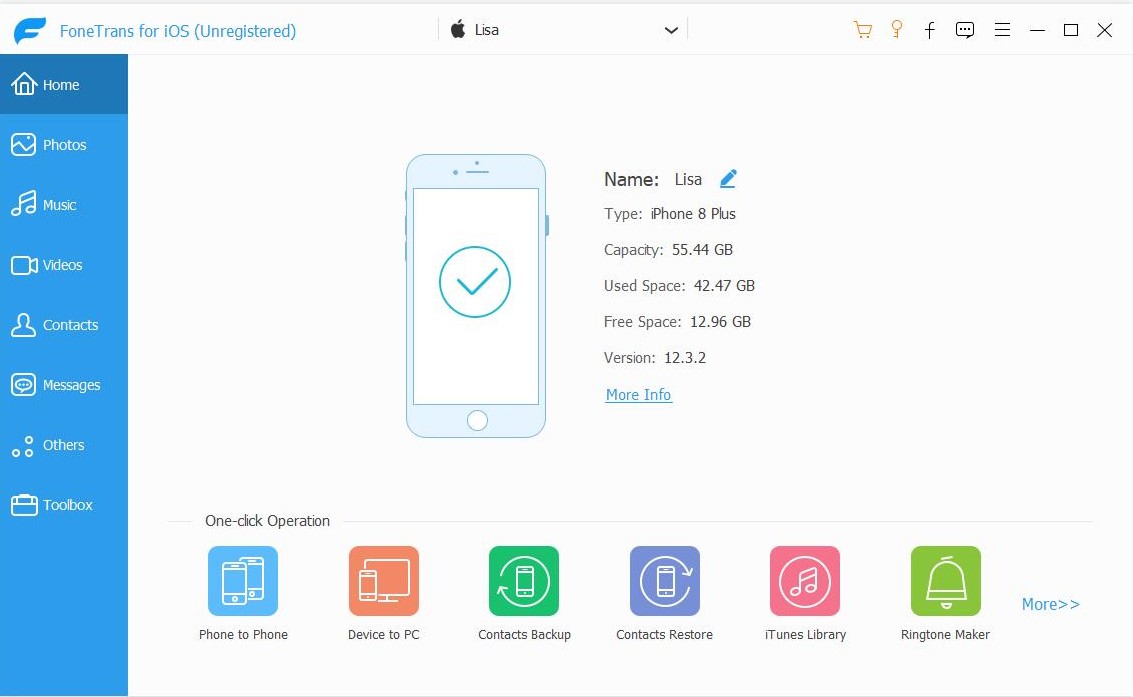 Step 2Plug your two devices into the computer with USB. You will see your two devices are appearing on the left-hand side at the same time and the contents like Media, Playlists, Photos, Books, SMS are displayed under the device. Select Contacts under your old phone and click Import/Export on the top-right.
Select Export All Contacts or Export Selected Contacts, you will find your new phone is provided in the drop-down list. Choose it to export the contacts to.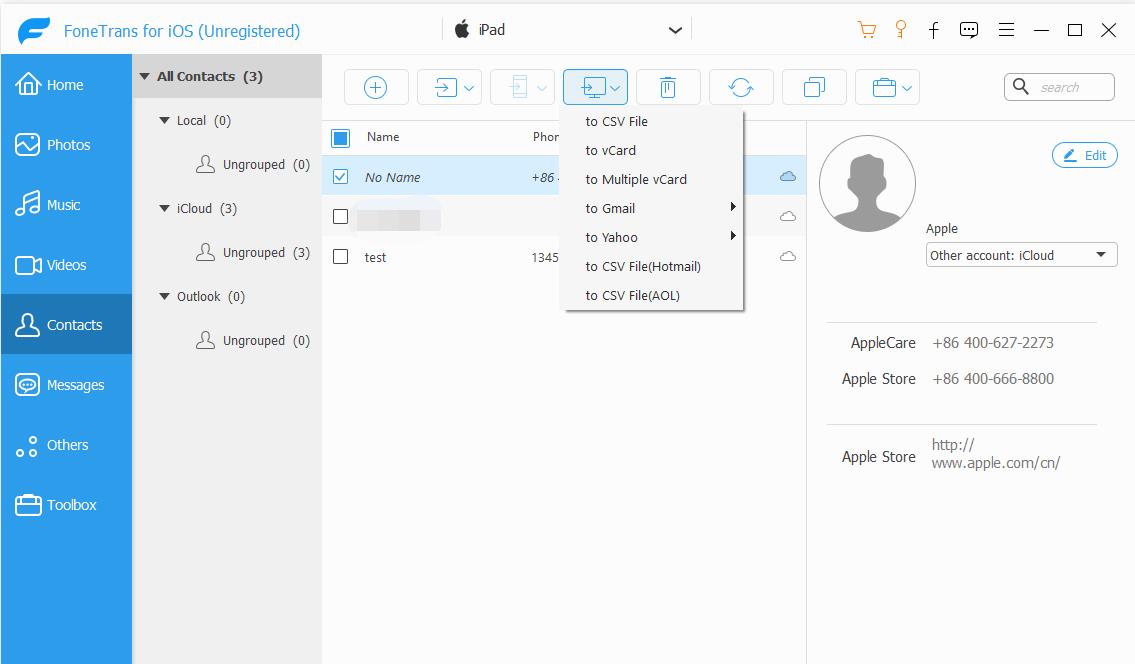 Moreover, if you want to know how to transfer pictures from computer to iPhone or transfer video from computer to iPhone, you can also try it on computer.
FoneTrans for iOS can do much more than this, it is also able to export contacts from iPhone to Gmail, Outlook; sync iPhone to new computer; transfer photos, music, movies, books, ringtones, messages, etc among iOS devices, iTunes and computer.
With this tool, you can use it to transfer contacts to new iPhone now!