Transfer iOS Data Now
Transfer your data from iPhone to computer easily.
How to Sync Outlook Contacts to iPhone
Hi, every one. I want to sync contacts from Microsoft Outlook 2007 to my iPhone, how to do this? please help, thanks!
Microsoft Outlook really helps users put their daily life in perfect order, espcially when it comes to contact, calendar and email management. If you are a huge fan of Outlook and own an iPhone at the same time, you should know both the ways to sync Outlook contacts with iPhone and sync iPhone contacts with Outlook. There are several ways to complete this. I will tell you how to sync contacts from Outlook to iPhone in three ways in the rest of this article.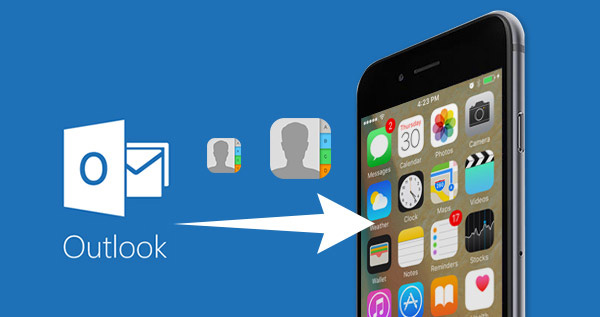 Way 1: Sync Outlook Contacts using iTunes
You can use iTunes to help you do this. Follow these steps:
Step 1Open iTunes and make sure you are running the latest version to avoid any iTunes errors that may occur during the process. And then connect your iPhone to your computer with USB cable.
Step 2Go to your iPhone entry after iTunes recognized it. Click on the Infor tab on the upper portion of the tabs.
Step 3Check the box next to Sync Contacts With and select Outlook in the drop-down menu. You are able to sync all your contacts or sync only selected groups. After that, click Apply to begin the syncing process.
Step 4Please note that you need to check Allow Access for when Outlook notifies that iTunes is attemptiing to access its data and click Yes.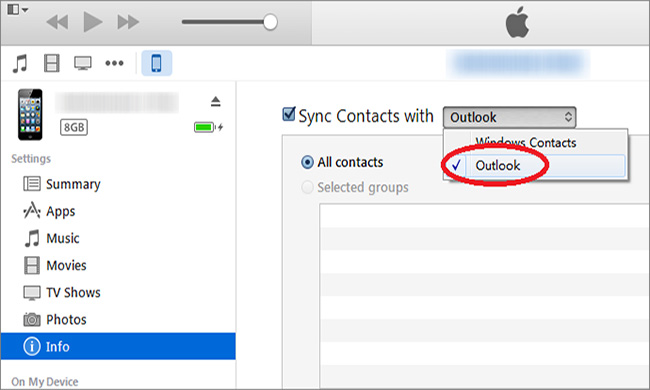 Way 2: Sync Contacts via iCloud Control Panel
Another way to sync contacts is using iCloud Control Panel, which can be downloaded on your computer. Here are the steps to do it for Windows users.
Step 1Download and install iCloud Control Panel on your computer.
Step 2Open it and sign into your iCloud account.
Step 3Tick Contacts, Calendars, & Tasks with Outlook on the iCloud Control Panel window and click the Apply button. Wait a moment.
Step 4Once it is finished, contacts, calendars and tasks on your Outlook will be accessible in iCloud. Then sync them to your iPhone by tapping Settings – iCloud – Sign in your iCloud account – Turn on Contacts, and Calendars.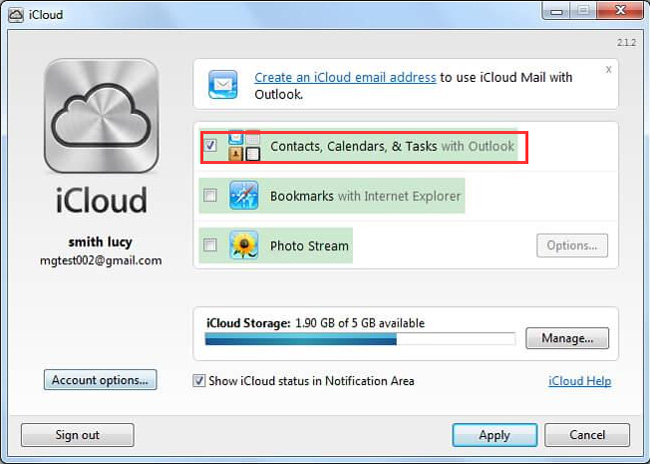 Way 3: Import Outlook Contacts to iPhone with FoneTrans
The best way to import contacts to iPhone from Outlook is to use a third-party tool. FoneTrans for iOS is an all-in-one iOS data management software which can help you manage contacts, photos, messages, videos, PDF files, etc between device and computer/iTunes/external hard drive, and transfer contacts between Outlook/Gmail/Yahoo and iOS device. Let's now have a look at this software.
Step 1Choose the right link above, then download and install the software on your computer. When the installation is finished , it will automatically open. Connect your iPhone with the computer you will get: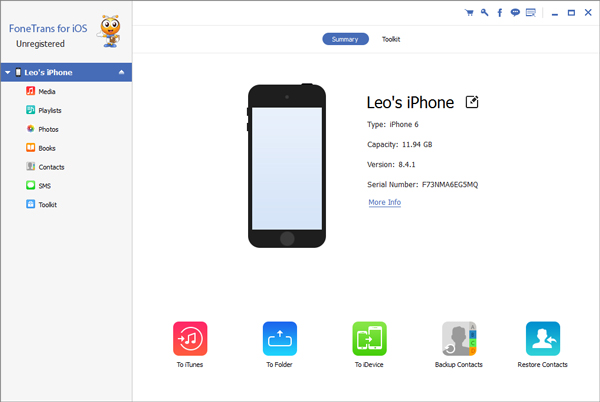 Step 2You will see contents like Media, Playlists, Photos, Books, Contacts and SMS are displaying on the left column of the interface. Click Contacts from the list. You are allowed to add, delete, edit, backup and restore your contacts through the interface. Click Import/Export, and select Import Contacts. You can choose to import contacts from Outlook, Gmail and etc.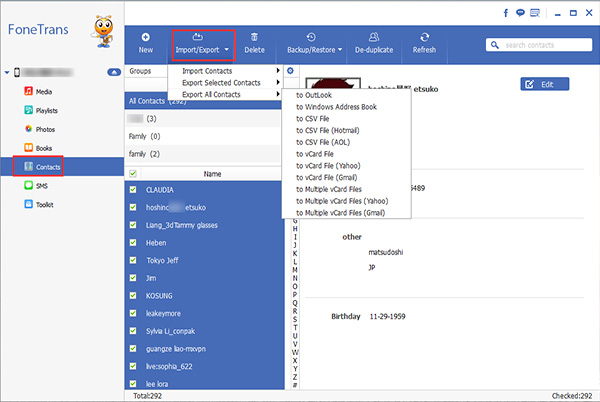 If you want to sync iPhone contacts to Outlook, this software can also help you. you just need to choose Export Selected Contacts or Export All Contacts instead in step 2. Very easy to use that you just need several clicks. It really save you some time and keep you away from troubles.