Recover Android Data Now
Recover the lost/deleted iPhone data including photos, contacts, videos, files, call log and more data from your SD card or device.
How to Enable Android USB Debugging Mode

Posted by
Boey Wong
/ Feb 07, 2021 09:00
In my Settings app on my Samsung Galaxy S6 phone there isn't any Android developer options. How to enable USB debugging mode on my phone? Please help, thanks a lot!
If you have ever tried to tinker with your Android Smartphone, you've probably met with USB debugging, or when you tried to search solutions for trouble shooting of your Android phone on the internet, you may have heard the term USB debugging now and then. What's more common is with USB debugging mode, you can connect Android Smartphone to computer in order to transfer files between phone and PC or back up data from device to computers. Actually, USB debugging is not a high-tech feature as you think though, you can enable it in less than a minute.
1. What is USB Debugging
USB debugging mode is a feature to facilitate a connection between an Android device and a computer with Android software development kit which is designed to aid in the development of Android apps at the first stage. But this mode expands to much more functions than that afterwards. USB debugging grants you a high level of access to your Android device. Enable USB debugging mode always be the first required operation to be done whenever you want to root your Android phone, install a custom ROM, back up your device or even code an new Android app. Generally speaking, the USB debugging mode gives you much more freedom of control over your Android device.
Note: For the sake of security, it's best to leave the USB debugging mode disabled all the time unless you really need it to be enabled. For example, if you connect your Android phone to a USB port in a public location, the port can access to your phone data via the enabled USB debugging mode or install malware onto your device.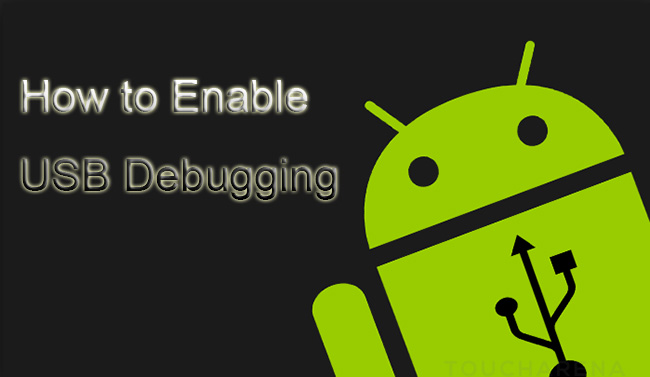 2. How to Turn on USB Debugging
Now the tutorial will be divided into four parts in order to show you the ways to enable USB debugging which vary from different Android versions.
How to Enable USB Debugging on Android 5.0 Lollipop
Step 1For all previous versions of Android, Developer options is visible by default while the newer versions are hidden like Android 5.0 Lollipop, 4.2 and later. So you have to make it visible by doing some finger exercise first. Step 1: On your Android phone, go to Settings – About phone – Build number and tap it 7 times until you see the note "You are now a developer". Now the Developer options remains visible on your Android phone all the time.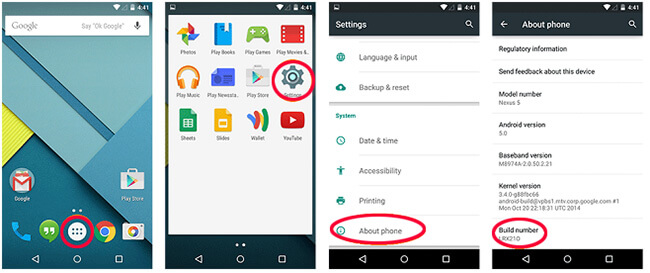 Step 2Return to previous option, and then tap Develop options. Check the box next to USB debugging. Press OK to allow USB debugging.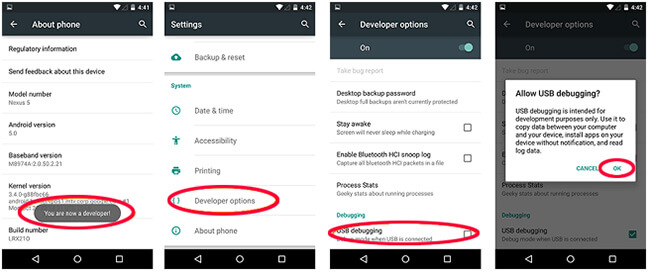 How to Enable USB Debugging on Android 4.2 or Higher
To enable USB debugging mode of newer Android operating system like Android 4.2 or higher is similar with Android 5.0 Lollipop, just the Settings app is not hidden compared to Android 5.0 Lollipop.
Step 1Navigate to Settings – About phone – Build number, then tap it 7 times until you see the note "You are now a developer".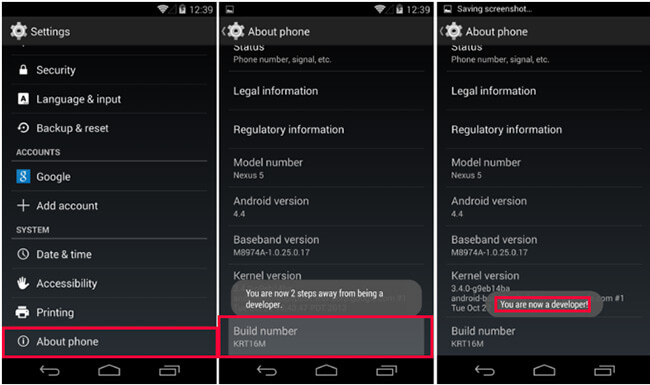 Step 2Go back to Develop options. Then tick USB debugging and click OK to allow it.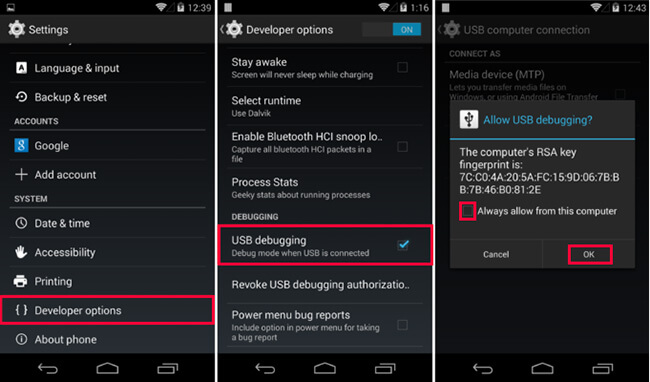 How to Enable USB Debugging on Android 3.0 to 4.1
If your phone is operating Android 3.0 – 4.1, then enter Settings – Developer options – USB debugging.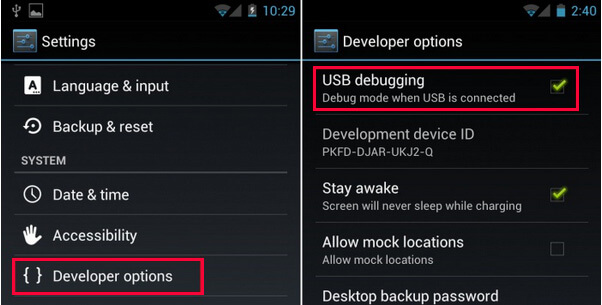 How to Enable USB Debugging on Android 2.3 or Earlier
For Android 2.3 or earlier version, tap Settings – Applications – Development – USB debugging.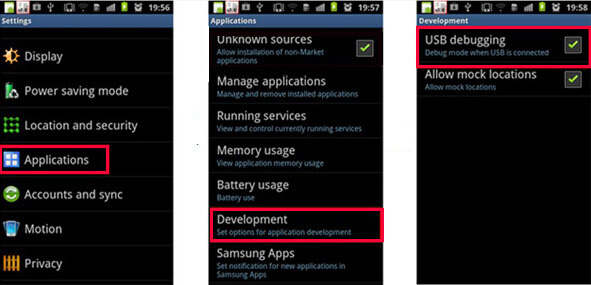 It's supper easy to enable USB debugging mode, isn't it? But it's a very useful feature though. Again, please remember to disable the feature after you finish doing your thing.

Fix your Android disabled problems and recover data from phone.
Extract Contacts, Messages, WhatsApp, Photos, etc. from broken android device or memory card.
Android phone and SD card data are available.