Recover Android Data Now
Recover the lost/deleted iPhone data including photos, contacts, videos, files, call log and more data from your SD card or device.
Professional Methods to Recover Deleted Videos on Samsung
My niece was here last weekend and played with my Samsung phone for hours. When I checked my gallery afterward, many videos were already lost. She probably accidentally deleted them, and I don't know what to do. Can someone enlighten me on how to recover deleted videos on Samsung? I really need them back. Thanks a lot!
Accidental deletion is a common problem for people with mobile devices. Whether you are an iOS or Android phone user, you probably have experienced this at least once. And it's more frustrating when your valuable files, like personal videos, are the ones that become at risk, more so because the videos you take on your phone are the only ones in the world. When you face this situation, you surely want to try everything you can to bring them back.

Fortunately, many developers today have created different tools and methods for data recovery. But since it will take too long to try each of them, we decided to gather the most notable and efficient ones in this article. With step-by-step directions, bring yourself below to discover the techniques that can help you recover your video files on your Samsung phone.
Part 1. How to Recover Deleted Videos on Samsung from Trash
Samsung phones have a built-in feature called Trash on their gallery. This feature lets you view and restore the deleted photos and videos you recently erased from your device. Hence, when you delete video files from a Samsung phone, they automatically transfer to that folder and will stay there for a reasonable amount of time.
Pay attention to the hassle-free instructions below to recover deleted videos on Samsung from Trash:
Step 1Launch the Gallery app on your Samsung, and tap the three-bar icon on the screen's lower left. When the options appear, choose the Trash icon to see your deleted files.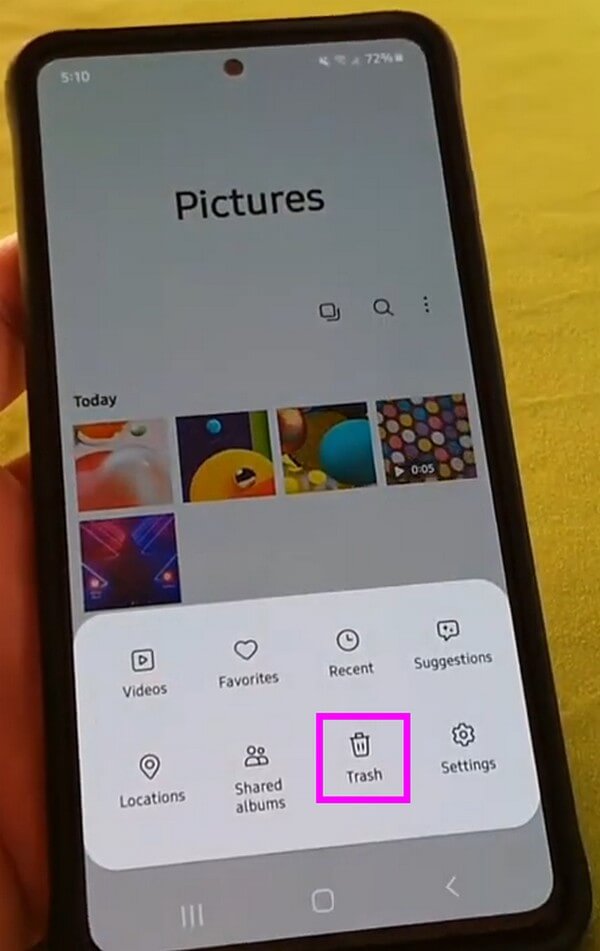 Step 2Locate the video you wish to recover, then tap it to view. Tap the recover icon on the screen's bottom-left to return the recently deleted video to your phone's gallery.
But note that if the Trash is not turned on, the files you delete will be saved to nowhere. Thus, they will be permanently deleted from your iPhone, and you won't see anything in your Samsung gallery's Trash folder.
Part 2. How to Recover Deleted Videos on Samsung with FoneLab Android Data Recovery
If your Samsung phone's default method for recovery, Trash, was not turned on and didn't save your deleted data, try a professional tool like FoneLab Android Data Recovery. This program is an excellent recovery tool with several advantages for Android users. Aside from various file types, it can recover several video formats on your Samsung phone and other Android devices. In addition, FoneLab Android Data Recovery allows you to preview some of your files, so you can make sure you are selecting the correct items before recovery.
Take the straightforward underneath below as an example of how to recover deleted videos on Samsung with FoneLab Android Data Recovery:
Step 1Lead yourself to the FoneLab Android Data Recovery website to view and click its Free Download tab on the page's lower-left section. Expect the installer file to be downloaded in less than a minute, and then you may install the recovery program on your computer. Wait for the installation bar to complete before starting and running the tool.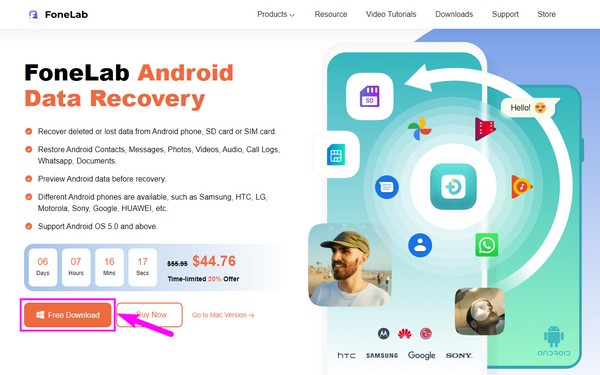 Step 2The program's key features are on the left of the FoneLab Android Data Recovery interface. The Broken Android Data Extraction and Android Data Backup & Restore are on the right, but you must pick the Android Data Recovery feature on the left. This feature lets you recover data from your Android phone or tablet safely.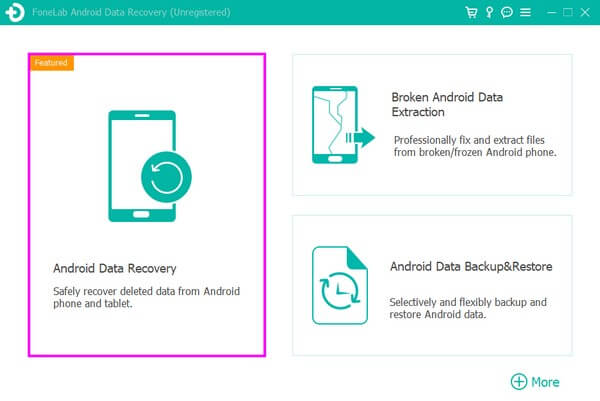 Step 3Using a USB cord, connect its end to your Samsung phone's charging port. Meanwhile, link the other end to one of your computer's ports. You must enable USB debugging in your Settings for the program to connect to your phone. On-screen directions will be shown to assist you. When done, hit the OK tab on the tool's interface.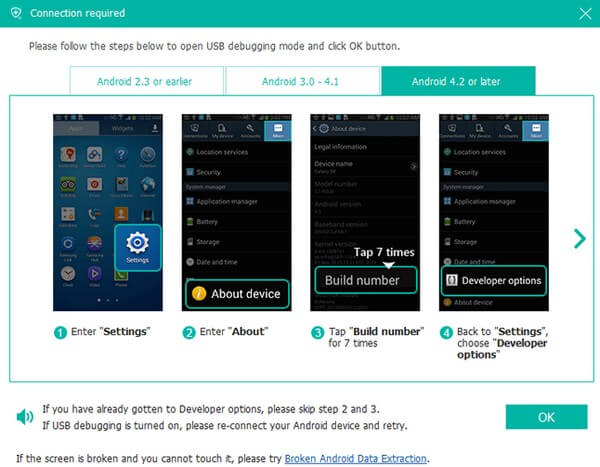 Step 4The following screen will reveal the data types you may restore from the device. Under the Media section, mark the Videos checkbox, then click Next to proceed. You must then grant the program the privilege of scanning your Samsung phone. Let the assistant app install on your device by hitting Grant/Allow/Authorize when a prompt appears.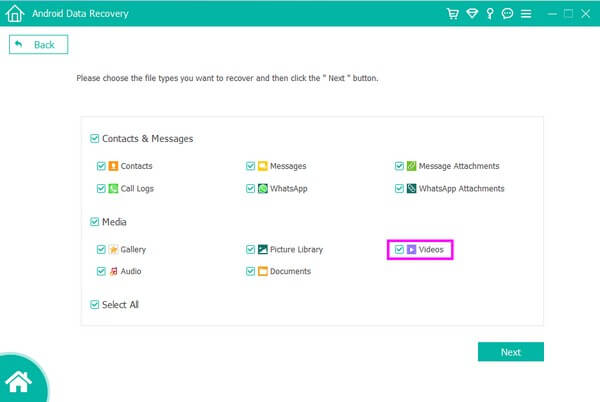 Step 5Choose the items you wish to restore once your Samsung phone's videos display. Afterward, click Recover on the bottom-left. The program will then restore the videos on your phone to computer.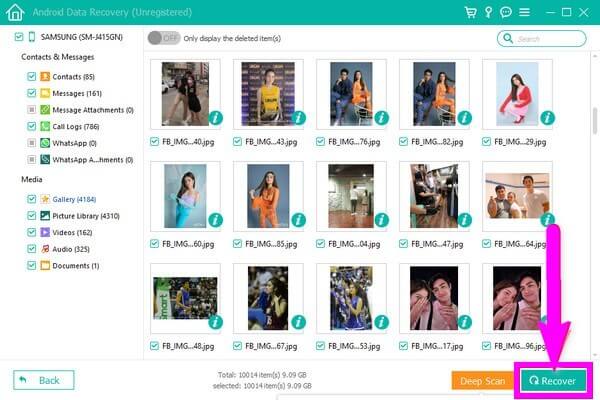 Part 3. How to Recover Deleted Videos on Samsung from Samsung Cloud
Samsung Cloud is a Samsung storage service that can help you recover your deleted videos if you have backups. With the cloud's syncing feature, you can back up your data with this storage service.
Be guided by the uncomplicated directions below to recover deleted videos on Samsung from Samsung Cloud:
Step 1Open your Samsung phone and go directly to your Settings app. After that, use the search bar and type Accounts and backup. Then select the tab when it shows up.
Step 2Under the Samsung Cloud section, tap Restore data and choose your device backup on the upper section of the screen.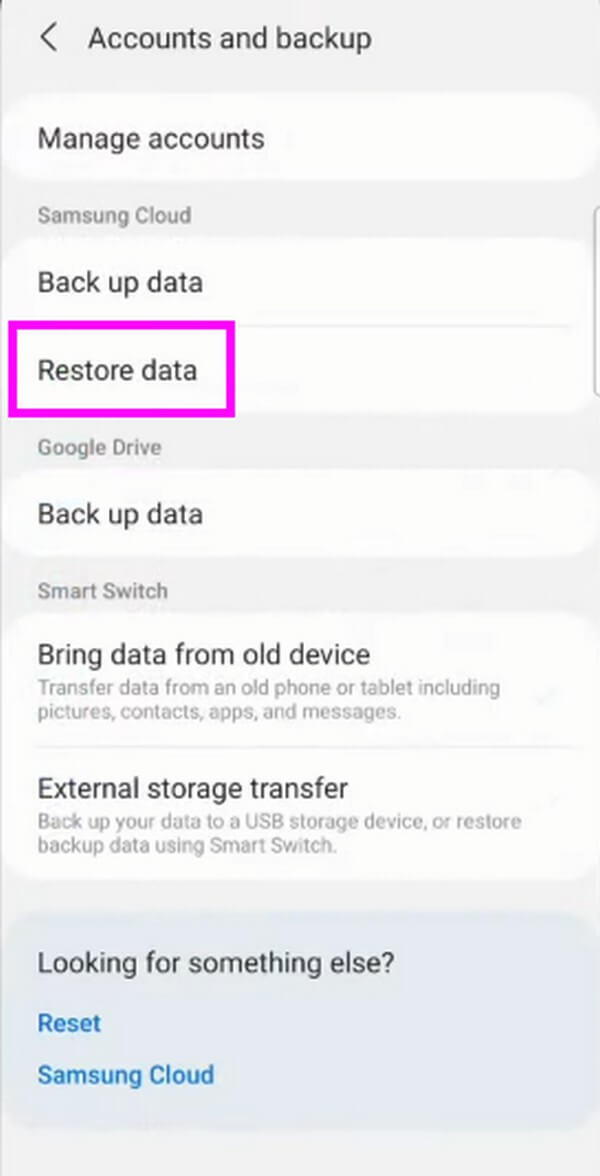 Step 3Next, select the data types you desire to recover. Once chosen, hit the Restore tab at the lowest portion of the screen to regain the videos on your Samsung phone.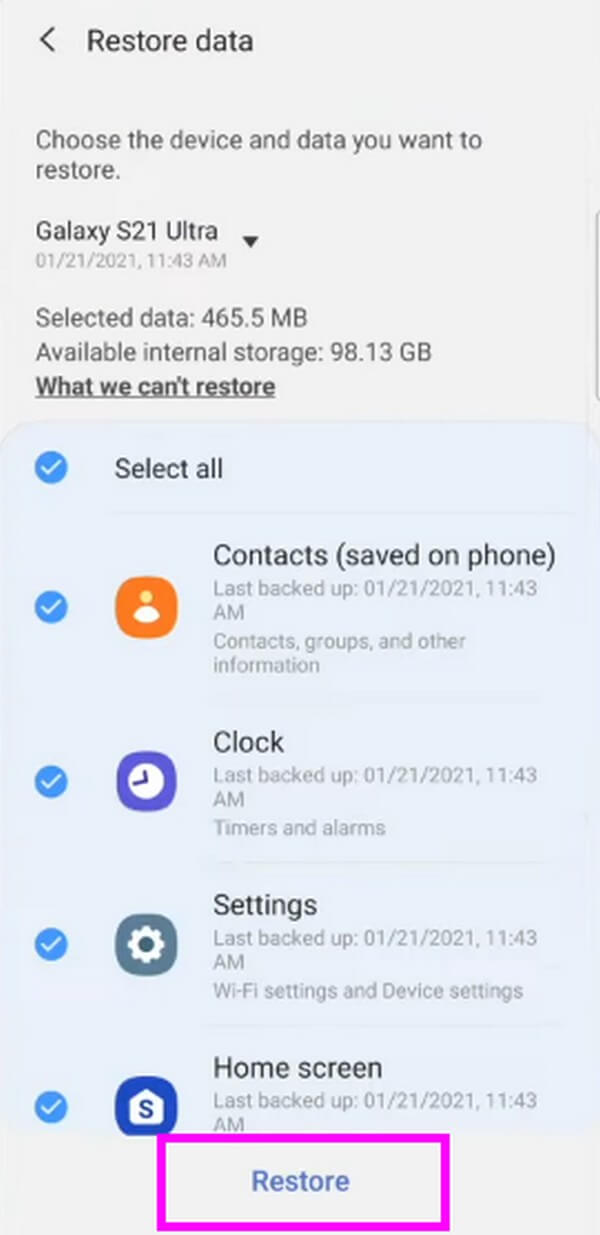 However, if you didn't sync or back up your videos beforehand, you won't be able to recover anything. If this is the case, kindly proceed to the other ways in this article to help you restore files even without backup.
Part 4. FAQs about Recovering Deleted Videos on Samsung
Thank you for sticking around to finish the article. Hopefully, the straightforward instructions have helped you understand and operate the recovery process successfully.