How to Print Out iPhone Messages
I need to print old text messages from my iPhone for a court case, the conversation is extremely long. I wonder how to print from iPhone? I know there is one way though is by taking screen shots of the messages and conversations then upload them to my computer and print them off. However, I think it is too tedious to do like this. Please anyone has a better idea to print out text messages more quickly and keep the messages more neatly? Thanks a lot!
Whether for legal use like the above user to present evidence in a court case, or simply for archiving purposes, for personal communications as well as for official purposes, the best way to preserve important messages is to take a print of iPhone text messages. But the messages app on iPhone doesn't support Air Print, which means that you can't use Air Printer to print text out directly from iPhone. The convenient way to print text messages from iPhone is to take a screen shot of the SMS and then use any iOS compatible printer to take the print. But due to the absence of this kind of printer the best way to accomplish the task is to install an amazing SMS transfer software, FoneTrans for iOS. This software lets you transfer or copy text messages from iPhone to your computer as a CSV, HTML, or CSV file and then you can print it out in a snap. I will explain how to use FoneTrans for Ios to do this. Let's begin.
Key Features for FoneTrans
1. Backup or export your iPhone contacts into a vCard, CSV file on your computer, Outlook, or Windows Address Book.
2. Save iPhone messages as a HTML, TXT or CSV file.
3. Import contacts to iPHone from vCard file, CSV file, Outlook and Windows Address Book.
4. Add, deleted, edit and group iPhone contacts.
5. Transfer photos, videos, music, SMS, contacts, playlist, movies, and more between iDevice and computer or among iDevices.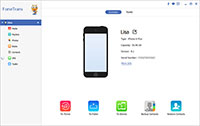 The transfer iPhone to computer tool can transfer all the iPhone music to your computer, whether you are using Windows or Mac. You can manage it easily.
How to Get Music from iPhone to Computer
Step 1: Download and install FoneTran with above right link and connect your iPhone to your computer using a USB cable. And the software will automatically open right after the installation is complete. Then you will see the window as below.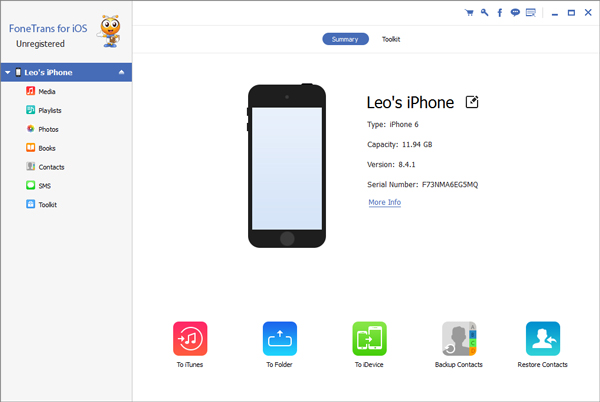 Step 2: On the left pane of the interface, you will see all the contents listed in a column. Click SMS and then you can preview all text messages on your iPhone. Select those you want to print out and click Export to – choose the wanted format (CSV, HTML and TXT file) so as to transfer them to computer. Your SMS will be soon saved to your computer in the position of your choice.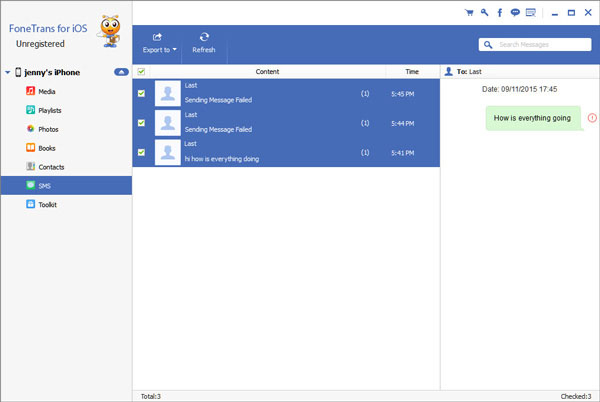 Step 3: Now find the file you just saved and open it on your computer. You can directly print it out if your computer is already connected to a printer. Otherwise, you should send this message file to a computer which connects to a printer. Press Ctrl + P on the keyboard can start the printing.
By using FoneTrans for iOS, you can backup or copy your iPhone SMS to computer. You can also make use of this software as an iTunes alternative to transfer music from iPhone to computer.