How to Add Music from iTunes to iPhone
"iTunes will not copy my iTunes music to my iPhone 6. I have plenty of space on the phone for the music and I have Sync Music checked in iTunes, but when I sync with my iPhone, it never actually copies the music over. I tried to restart both my phone and my computer, but nothing works. Please anyone help me that how to transfer music from iTunes to iPhone? Thanks a lot!"
For iOS device users, iTunes is one of the most useful application to transfer music from iTunes to their device. However, it is not uncommon that some of them may have ever encountered a situation that the songs they want to transfer from are in a different iTunes Library while Apple only allows users to sync an iOS device with a single iTunes Library at a time. So they are afraid that the existing data on their iPhone will be erased and taken place by the new iTunes Library. Or maybe some of them even met a situation that iTunes won't recognize iPhone when plug the device into a computer. How to solve this sort of embarrassment? Luckily, here is a professional music transfer tool to change this situation which is called FoneTrans for iOS. This software lets you transfer songs from iTunes to iPhone without erasing anything as long as you know the iTunes backup location. Let's learn more about FoneTrans.

1. Key Features of FoneTrans
It can not only help you add music to iPhone from iTunes, but also help you transfer music from iPhone to computer.
You are allowed to add, delete or export music via the interface of the software.
You are able to transfer music from iPhone to iPhone, and among any iOS devices.
Other file types like photos, contacts, podcasts, ringtones, messages and more are transferable with the help of the software.
Backup or export your iPhone's contacts onto your computer, Outlook or Gmail.
Save messages as a HTML, TXT or CSV files so that you can print out text messages for your need.
2. How to Get Music from iTunes to iPhone
Well, now let's start the step by step guide on how to transfer iTunes music to iPhone using FoneTrans.
First of all, download and install the software with the above right link on your PC. When the installation is complete, it will automatically open. Connect your iPhone with the computer via a USB cable, then you will get: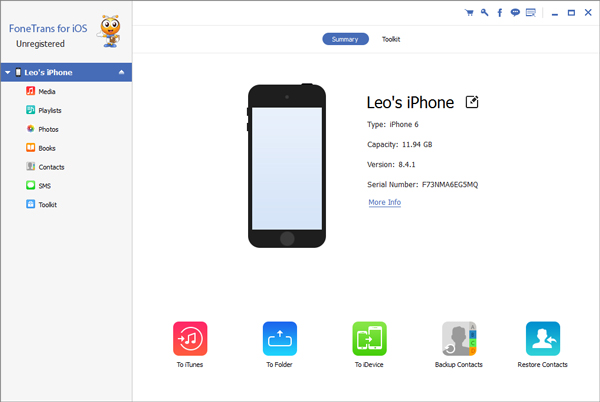 You will see contents like Media, Playlists, Photos, Books, Contacts and SMS are displaying in a column on the left-hand side. Click Media from the list. Then you will see Music, Movies, TV shows, iTunes U, Audio books, Ringtones, etc on the top. Click Music so that you are able to add songs from iTunes to your iPhone. Click the triangle below Add to select Add File or Add Folder. Then choose those songs from iTunes backup file folder and click Open to transfer music to iPhone.

It's done! Music has been transferred to your iPhone by now. You can check these songs on your phone and enjoy listening to them. Additionally, FoneTrans for iOS works fine both on Mac and Windows.
Related Articles