Transfer iOS Data Now
Transfer your data from iPhone to computer easily.
How to Transfer Purchased Items from iPhone to iTunes
I own an iPhone 6 and use it to enjoy music for long time. So there are purchased items on the iPhone that I want to transfer to iTunes. I would not have to ask this simple question if the iTunes support pages were not updated. But now I don't know how to transfer purchased items to iTunes Library on a newer version of iTunes. please can anyone tell me how to do it? Thanks!
iTunes is an awesome application for downloading and purchasing items, such as songs, movies, podcasts, audio books, and so on which brings much fun to users daily life. Users can download and purchase contents directly from iTunes Store on their Apple devices. But these contents may not be transferred automatically to the iTunes Library on your computer. To keep the purchased items safe, you probably want to back them up to iTunes. Regarding this, I would like to offer two ways to transfer purchases from iPhone to iTunes for the purpose of backing up. Now let's begin.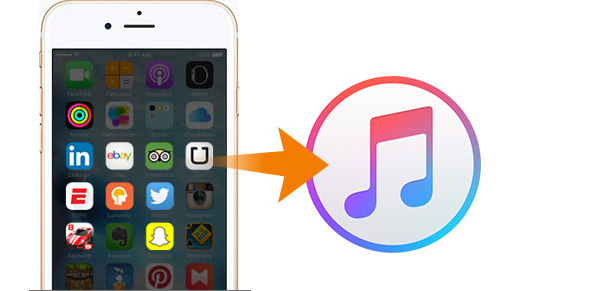 Way 1: How to Transfer Purchases from iPhone to iTunes
Transferring purchases from iPhone to iTunes is quite simple. You can use iTunes to transfer them on your comptuer. This method works only for contents purchased from the iTunes Store. Any other items that you import from CD or receive from other sources can't be transferred from your device to the iTunes Library. If you have items from other resources, please move to next method.
Step 1Connect your iPhone to the computer and open iTunes if it doesn't open automatically. Make sure that your iTunes is running th latest version and you are logged into your account.
Step 2You will see your iPhone's icon appearing in the upper-left corner of iTunes after iTunes recognizes your device.
Step 3From the memu bar at the top of your computer screen or at the top of the iTunes window, select File – Devices – Transfer Purchases from "device's name".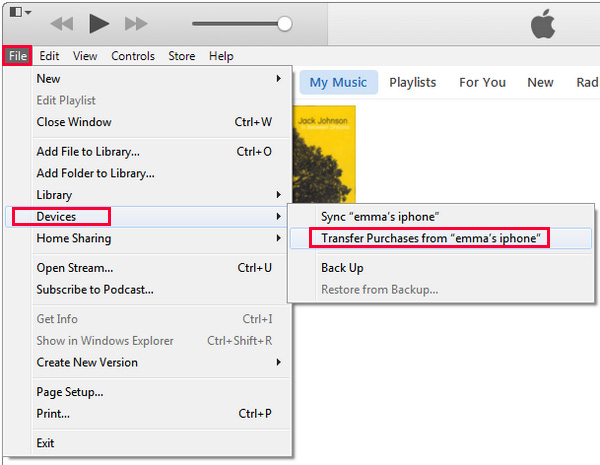 Way 2: How to Transfer Purchases to iTunes via FoneLab
Using FoneTrans for iOS, you can not only transfer items that you purchased from iTunes Store, but also the non-purchased contents such as music, books, movies, ringones etc.
Step 1First of all, download and install the software on your PC. When the installation is complete, it will automatically open. Connect your iPhone with the computer via a USB cable, then you will get: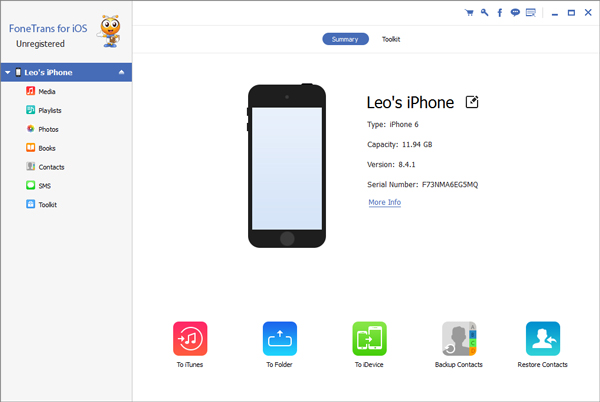 Step 2You will see contents like Media, Playlists, Photos, Books, Contacts and SMS displayed on the left column of the interface. Click Media from the list and choose Music on the top tool bar. Then you are allowed to transfer all music no matter they are purchased or not purchased from your iPhone to the iTunes Library by clicking Export to – Export to iTunes Library.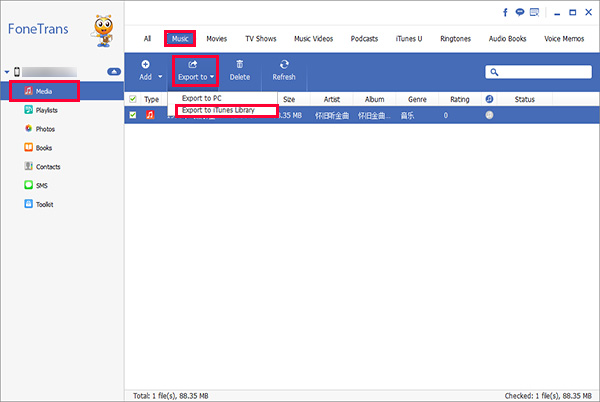 Furthermore, FoneTrans for iOS can do the other way round too, transferring music from computer to iPhone with just a few clicks. Besides, other data like photos, books, contacts, iTunes U, podcasts are also transferable by the software. It's really worth to have this program for its full compatibility and excellent features.