Transfer iOS Data Now
Transfer your data from iPhone to computer easily.
How to Sync Music from Computer to iPhone

Posted by
Boey Wong
/ March 23, 2021 09:00
I get an iPhone 6s from my sister and I want to transfer music to iPhone from my PC, but I don't know where I should go. How to get music from computer to iPhone? Please help me out, thanks a lot!
It has been a while Apple released iPhone 6 and iPhone 6 Plus. If your are one the iPhone users who use the device for music enjoyment on the road, then you probably need to know how to transfer music from computer to iPhone. Maybe you will say, this can be done on iTunes. Yes, you are right.
That's undoubtedly the most well known way for iOS users. However, do you know that if you just simply sync your iPhone with your iTunes Library, your existing songs on the phone will be erased.
Fortunately, there is a way to transfer songs from computer to iPhone without losing any data. FoneTrans for iOS is an all-in-one iOS data management tool which supports users to transfer music between iOS device and computer or among iOS devices. I will offer you a step by step guide about how to transfer music from computer to iPhone with iTunes and without iTunes in the rest of the article.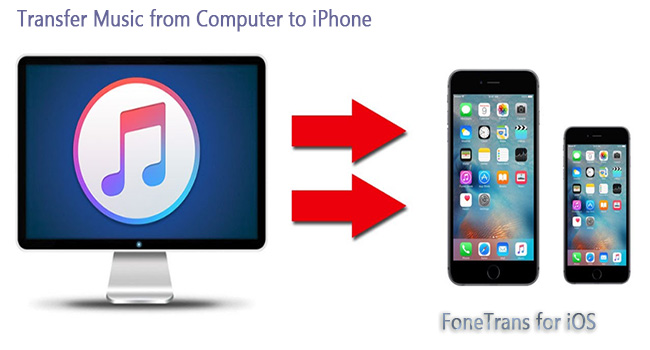 Method 1: How to Transfer Songs from Computer to iPhone via iTunes
Likely for most of iPhone users, it is not a tough issue to transfer music from computer to iPhone. They may all know how to make use of iTunes to do so. Here are the steps:
Step 1First of all, you have to have iTunes installed on your PC and make sure it is running the latest version.
Step 2Connect your iPhone to the computer and open iTunes you just installed.
Step 3 When your iPhone is connected, you will find the iPhone icon on the upper-left side. Click over it, then you are in the Summary tab of iTunes. Check the box beside Manually manage music and video in the Options section.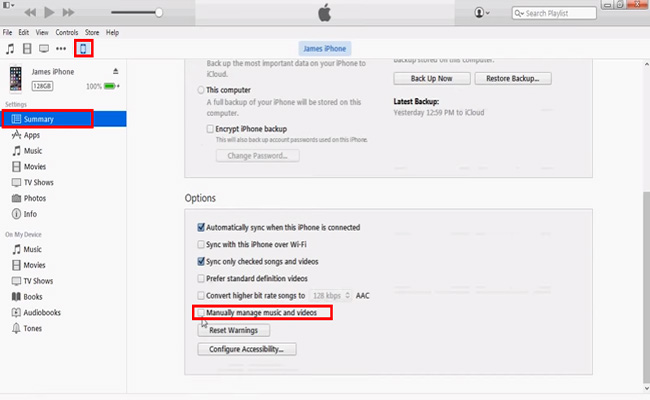 Step 4Then go to your device (On My Device tab) and navigate to the Music tab. Browse the songs you want to move from your computer to iPhone. Now you are able to drag and drop the selected songs to iTunes.
Of course, you can also put the music into your iTunes Library first and then sync to your iPhone afterwards if you don't care about the deletion.
Method 2: How to Put Music from Computer to iPhone with FoneTrans

FoneTrans for iOS
With FoneTrans for iOS, you will enjoy freedom to transfer your data from iPhone to computer. You can not only transfer iPhone text messages to computer, but also photos, videos and contacts can be moved to PC easily.
Transfer photos, videos, contacts, WhatsApp, and more data with ease.
Preview data before transferring.
iPhone, iPad and iPod touch are available.
Step 1 Choose the right link above, then download install the software on your computer. When the installation is finished , it will automatically open and you should connect your iPad to the computer at this point. After your device is detected, you will see the below interface.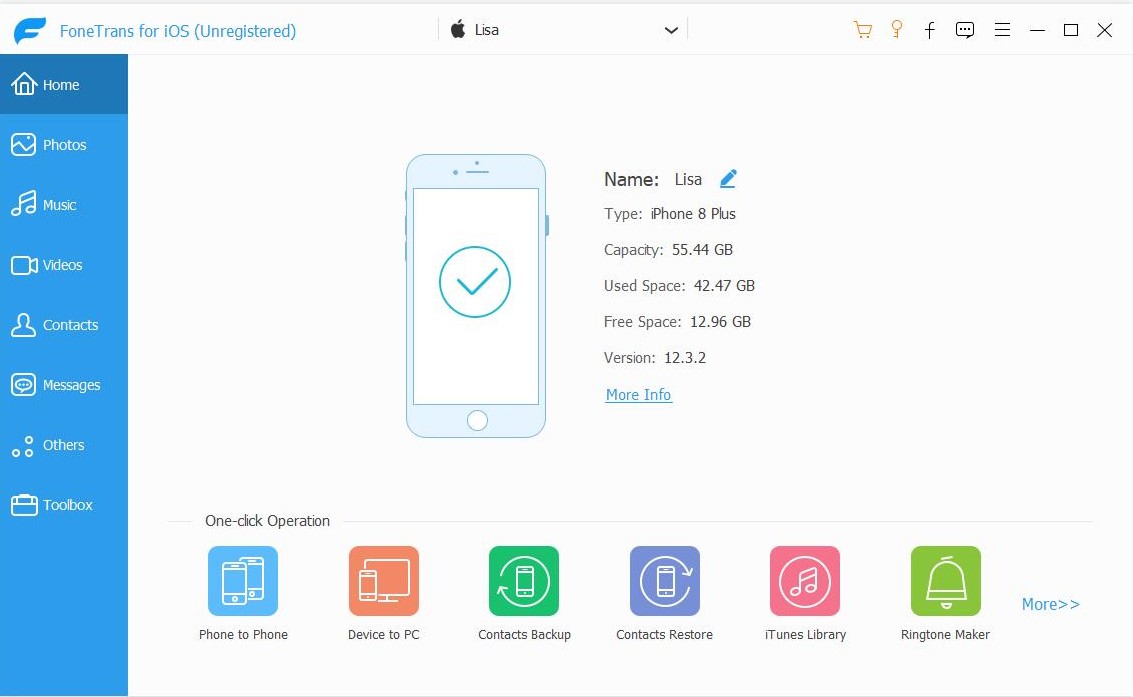 Step 2 You will see contents like Photos, Music, Videos, Contacts, Others, and Toolbox are listed in the left column of the interface. Click Media and find Music on the top tool bar. You have the options for Add, Export to, or Delete songs through the interface.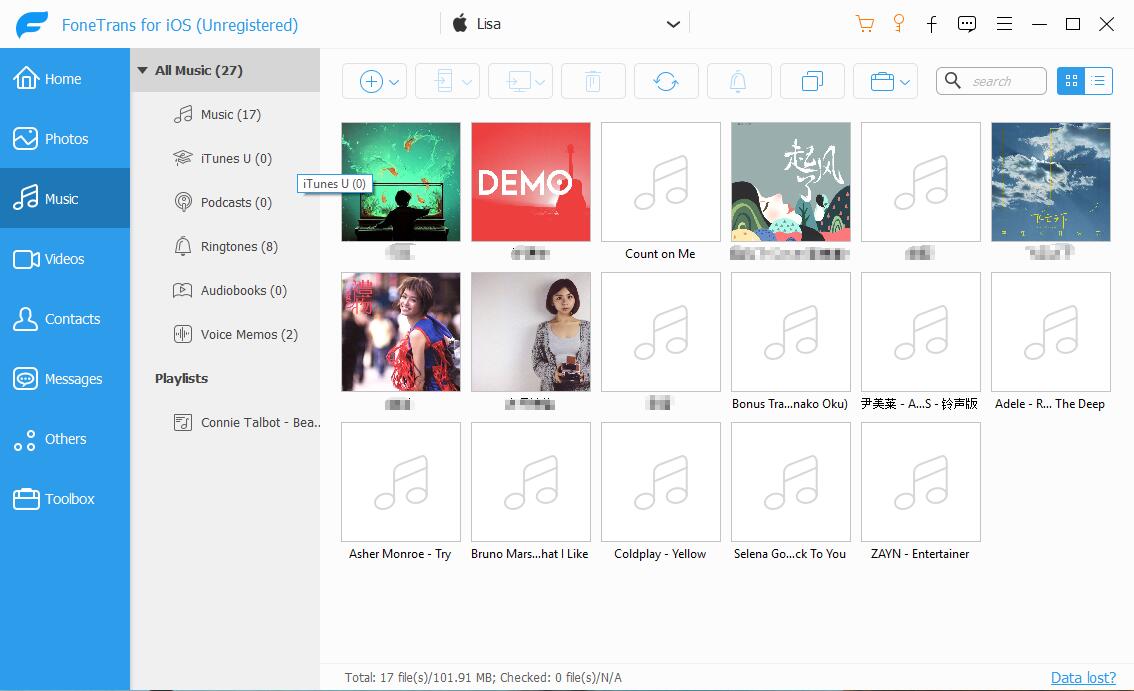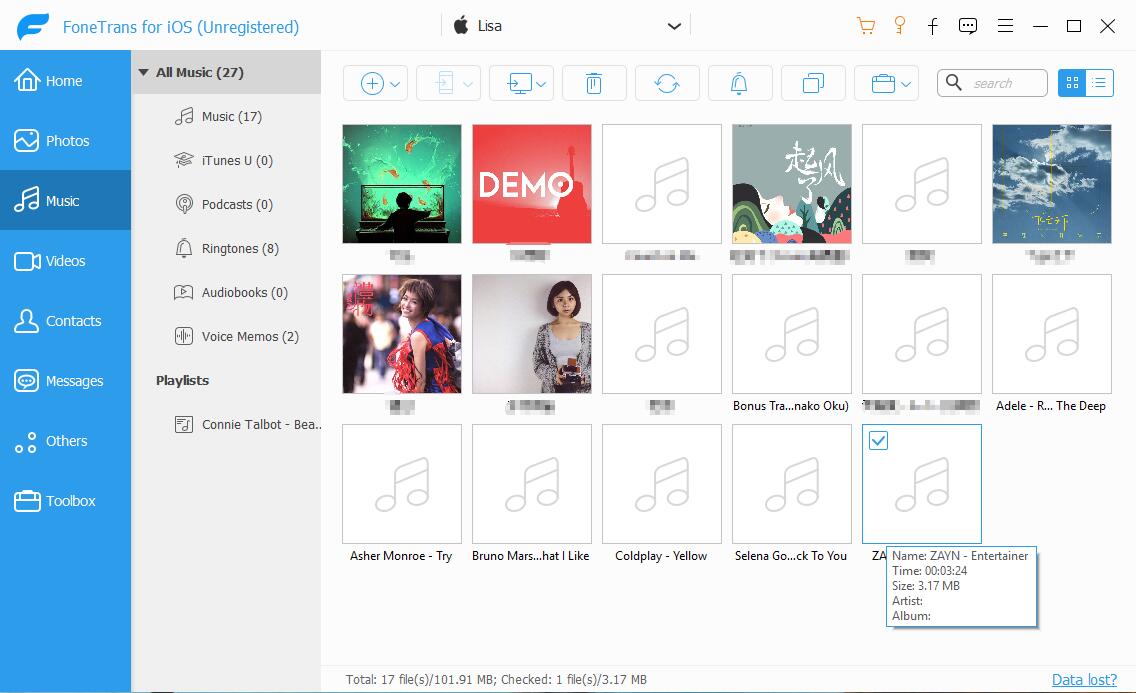 This is the whole process, easy and prompt, isn't it? Besides, if you have the need to transfer photos from iPhone to PC, this software can help you do this too. Videos, iTunes U, ringtones, movies, books, playlists, contacts, SMS and so on are available to control as well.