Transfer Phone Data Now
Transfer Data From iPhone, Android, iOS, Computer to Anywhere without Any Loss.
What is Samsung Link Sharing and How to Use it

Updated by
Szeki
/ Dec 29, 2020 09:00
I found out a feature called Link Sharing while playing around with the new S8 I just bought and I was just wondering if anybody knows about the feature and how to use it.
Samsung Co has introduced the Link Sharing app for smartphones, which is a file-sharing app that can conveniently share large video clips or massive quantities of photos (at their original sizes) to others. It is all about uploading the files to the cloud and downloading them through a code.

1. How to Use Link Sharing App to Transfer Files
Key Features of Link Sharing App
Large size files transfer with Samsung Cloud.
Maximum 2GB can be transferred at once, with individual file size limit being 1GB.
Supports all file types (except Apk types).
Various file transferring options.
Send contacts, Create a link, Share with Code.
Note: The app is only compatible with Android OS 6.0 and newer.
Here's how to do it:
For sending device:
Step 1Tap on App then go to My Files for example. (Gallery or other file browsers are compatible with this app as well).
Step 2Navigate to the destination folder where the file you wish to share is stored.
Tap and hold on the file you wish to share. You may select more than one file if you wish to do so.
Step 3Select Link Sharing and tap on Create code.

Step 4Long tapping on the code and copy and send it to the receiving device.
Note: The code generated by this app will expire in 10 minutes.
For receiving device:
Step 1GCopy the code sent from the sending device.
Step 2Open the Link Sharing then enter the code and tap on the search icon on your keyboard to view the downloadable content.
Step 3Tap on Download.
You can find your downloaded file in the Downloads folder in the Internal Storage of your device.
2. Transfer Files with FoneLab HyperTrans
The Link Sharing is convenient though, it limits the file sizes and the file types transferred and only compatible with Android. That means you are not allowed to send files to an iOS device via the Link Sharing app.
If you're looking for the best tool for transferring files, look no further than FoneLab HyperTrans.
FoneLab HyperTrans allows a fast and simple transfer of personal media (photos/videos/music) as well as contacts, call logs, and text messages from one device to another one. More importantly, it is compatible with both Android and iOS devices. Simply run HyperTrans on a computer and plug both phones to it. It will easily and intuitively transfer all your personal data.
Key Features of HyperTrans:
Transfer all kinds of files from Android, including contacts, messages, photos, music, videos, call logs, etc. without limitations.
Edit and manage mobile data before file transferring.
Move files from Android to iOS, Android to Android, iOS to Android or iOS to iOS.
Work with Android 8.0 and earlier versions.
Support Windows 10/8.1/8/7/XP and Mac OS X 10.7 or above.
Support any popular mobile phones, like Samsung Galaxy S10, HTC, iPad, iPhone XS/XS Max/XR/X/8 Plus/8/SE/7, etc.
Fully compatible with major providers, such as Verizon, AT & T, Sprint, T-Mobile and more.
How to Move Files via HyperTrans
Step 1Free download and install the program on the computer.
Step 2Launch the program and plug the sending phone and the receiving phone into the computer via USB cables.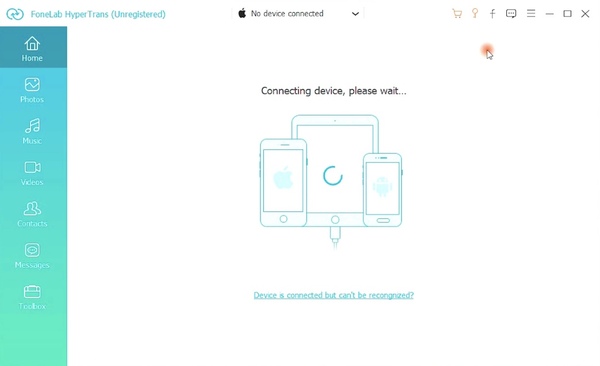 Step 3Tap Trust on both mobile phones to enable USB debugging.
Note: You may need to install the USB driver for connections.
Step 4Select the sending phone as the import device from the drop-down list on the mid-top of the main interface.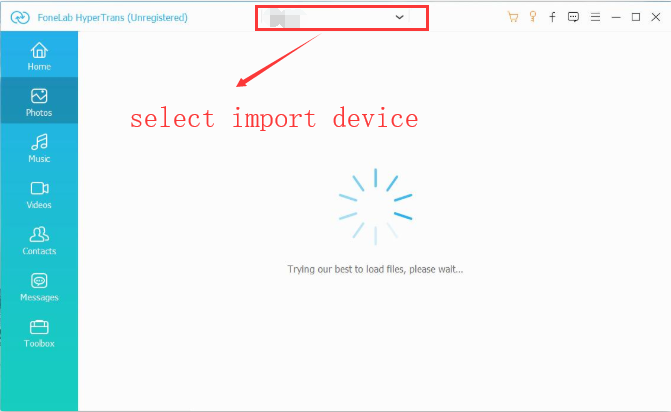 Step 5 Choose the folder the file you want to transfer is stored from the left side panel.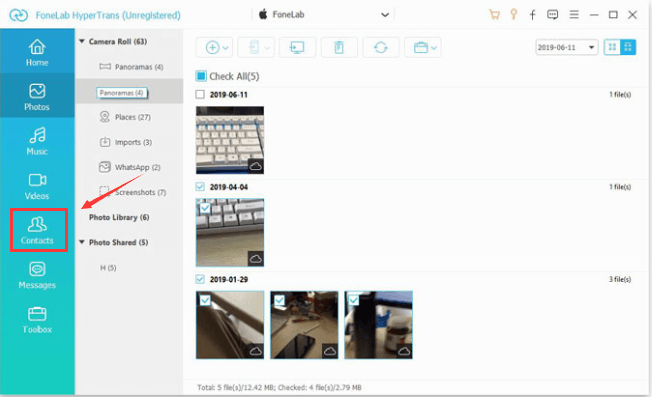 Then the program will start to scan the sending phone.
Step 6Preview the content to certify by double-clicking on, for example, the photos.
Step 7Click Export and choose the receiving device.

FoneLab HyperTrans
Transfer Data From iPhone, Android, iOS, Computer to Anywhere without Any Loss.
Move Files between iPhone, iPad, iPod touch and Android.
Import Files from iOS to iOS or from Android to Android.
Move Files from iPhone/iPad/iPod/Android to Computer.
Save Files from Computer to iPhone/iPad/iPod/Android.