How to Retrieve Text Messages from Broken Android Phone (2021 Update)

Posted by
Boey Wong
/ Jan 26, 2021 09:00
I hope this is the right place to ask for help. I need to recover text messages from a damaged Android phone so that I am able to present it as evidence and file a small claims suit against someone. The phone screen is broken. Can text messages be retrieved from the broken phone by a program? Thanks for the help!
Nowadays, almost all people will carry their phones everywhere. They play games, chat with friends, or do other stuff with their smartphones.

So it is unavoidable that they can drop the phone from their hands breaking the screen and making it unusable.
Besides,
Phones can also get damaged for different reasons as below:
Water damaged, virus attacks, upgrade failure, system crash or other reasons. Few of us know how to deal with a broken Android phone, especially when the stored data is facing the risk of loss.
Here I am glad to inform all of you that there is a good way to keep your data safe. And you can also use FoneLab Android Data Recovery to recover Android contact, call logs, and more.
1. How to Recover Text Messages from Broken Android Phone with FoneLab
An incredible Android SMS recovery called FoneLab Broken Android Phone Data Extraction makes it possible to recover SMS from the broken Android device. And it also will be a great answer to how to unlock android phone after too many pattern attempts.
1. Features of Broken Android Phone Data Extraction
1) With the help of this software, data like photos, videos, audio, messages and attachments, documents, etc. are recoverable from a broken Android device.
2) The program supports almost all Samsung modes, such as Samsung Galaxy S4/S5/S6, Samsung Galaxy Note 3/4/5 and Samsung Galaxy Tab.
What's more,
3) You are allowed to preview the found files before recovery.
Here is a simple tutorial on how to recover data from broken Android phone. You can get the free trial version of this software to have a try.
2. How to Recover Text Messages from Broken Samsung

Fix your Android disabled problems and recover data from phone.
Extract Contacts, Messages, WhatsApp, Photos, etc. from broken android device or memory card.
Android phone and SD card data are available.
Step 1Download and install the program on your computer with above link. Then the program will automatically launch when it is finished. Choose Broken Android Phone Data Extraction on the interface.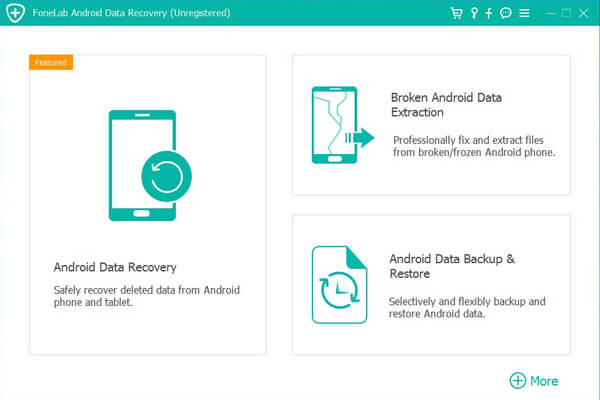 Step 2Connect your Android device to the computer with a USB cable. Click Start in the box according to your needs.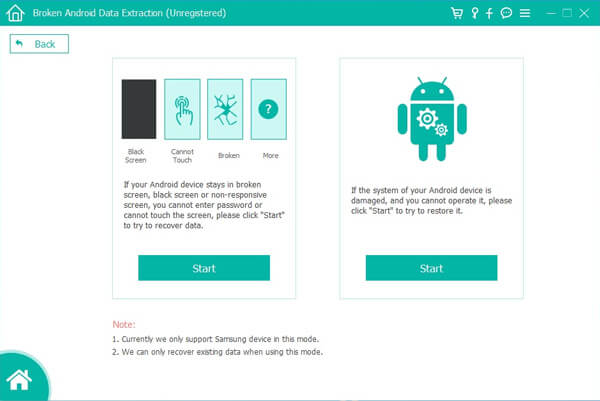 Step 3Make sure that you choose the correct information of your Samsung Galaxy phone including the device name and device model. Then click Confirm to move on.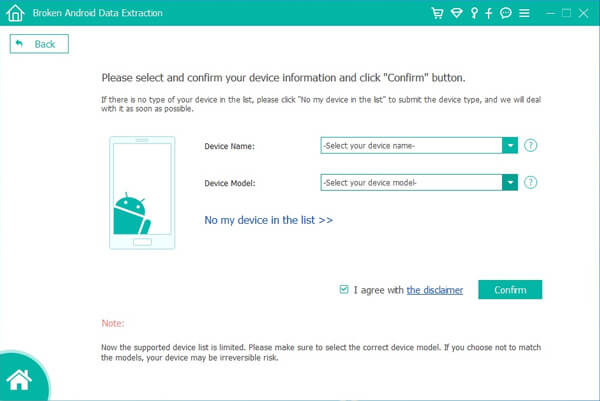 Step 4This step will lead your Samsung phone to enter Download mode. Follow the on-screen instruction to enter: power off the phone – press and hold the Volume Down + Home + Power button together – press the Volume Up button, and then click on the Start button.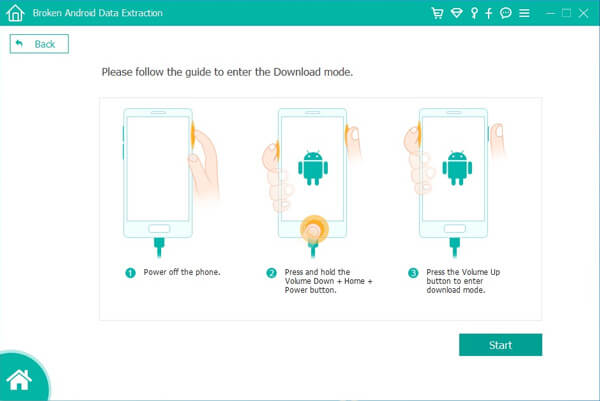 Step 5The program will scan data from your phone. After it is finished, choose Messages and Message Attachments on the left column and click Next.
Step 6Preview and tick the items you want to recover and click Recover to restore messages and save them on your computer.
You can watch below video to learn more details.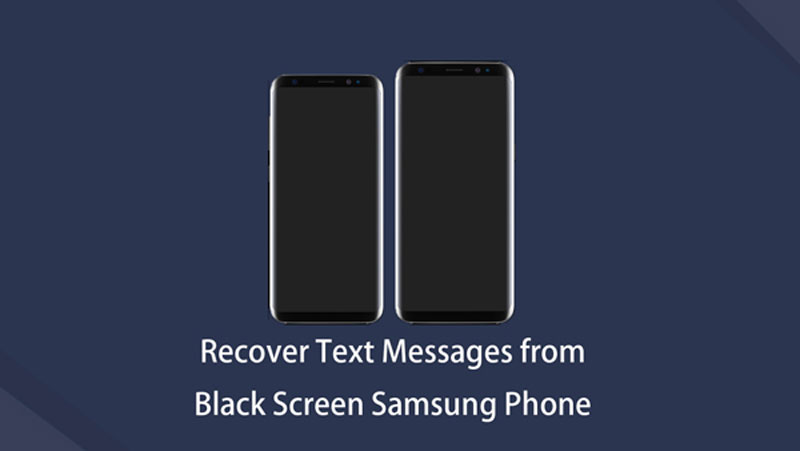 That's all about how to recover data from broken phone with FoneLab.
2. Tips for Android Issues
There is no 100% ensure way to get your lost data back without backup files. To make a backup file of mobile phone regularly is a good custom to prevent lost data permanently.
There are some tips for users about what to do when they encounter Android issues.
How? Keep reading...
1. Water Damaged:
Stop using your Android phone and try it with a blower.
2. Keep Restarting, Black screen, Cracked Screen:
Press and hold the Home + Power Up + Volume Up buttons > Use the Volume button to enter Recovery mode, and then choose wipe data/factory reset and then Yes. Please keep in mind that this method will wipe the data on your phone. You can also choose reboot system now if you don't want to remove your phone data.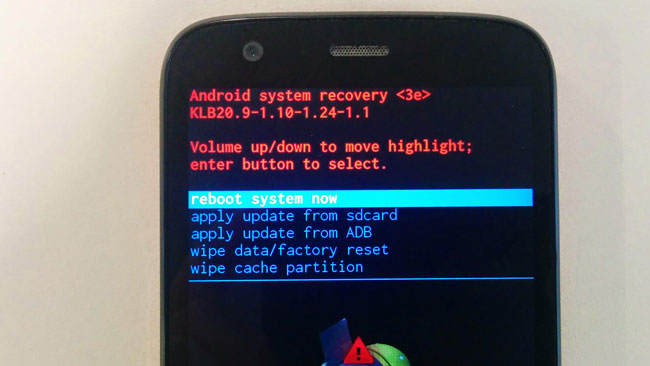 3. Use FoneLab to Extract Data from Broken Samsung
If you don't want to fix disabled Android problems on Samsung, you can try FoneLab to extract data under the abnormal Android situations. It is useful for users who have a disabled Samsung and want to fix the errors.

Fix your Android disabled problems and recover data from phone.
Extract Contacts, Messages, WhatsApp, Photos, etc. from broken android device or memory card.
Android phone and SD card data are available.
You can easily download and install the program, and then follow the instruction to select the right information for your phone and then save your phone on computer.
4. Others:
Send the phones to repair stores if you have no choice.
Please note that above-mentioned ways can also solve the problem of how to recover data from water damaged android phone and how to unfreeze galaxy s6.
Last but not least,
Kindly remind you it is so important to make regular backups of your critical Android data to prevent more loss occurring.