A Complete Guide to Reboot Samsung Phone in Different Situations
Like all the other mobile devices and electronics, there are some situations when you need to reboot your Samsung phone due to lots of issues, such as a frozen screen and more. Every year, Samsung launches several smartphone and tablet models, from budget to high-end. However, they are not perfect digital devices.
When something wrong happens, rebooting is the basic troubleshooting. In this article, you can learn how to reboot Samsung devices in various situations so that you can resolve and fix the issues quickly and easily.

Part 1: How to Soft Reboot Samsung
Soft reboot is the easiest way to restart your Samsung S8/S7/S6/S5/S4 and other models. It does not require any extra software or hardware, but it is only available when your phone is working well and accessible.
Step 1Keep pressing the Power button on your phone until you see the power-off screen.
Step 2Touch the Power off button to shut down your phone.
Step 3Wait for your screen to turn to black, and then press the Power button to turn your phone back on.
Note: If you can find the Restart or Reboot option on the power-off screen, tap it to restart Samsung phone directly.
Part 2. How to Force Reboot Samsung
Unlike soft reboot, force reboot is able to resolve various software issues on your Samsung, so it is a kind of troubleshooting. When your Galaxy phone is freezing, crashing or gets stuck on Samsung logo, you can force reboot Samsung to make your phone working again.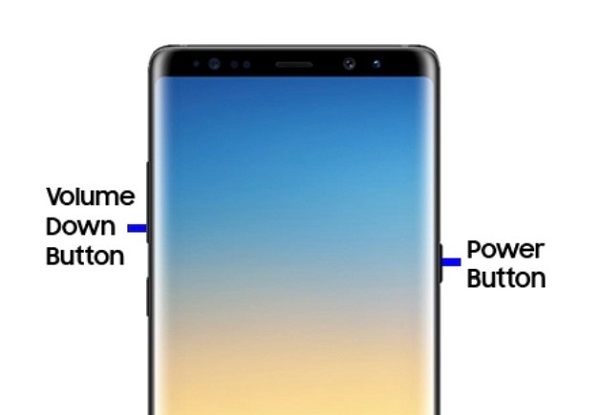 Step 1Make sure that your phone has at least a 5% battery; otherwise, you'd better charge it for a while.
Step 2Hold down the Volume Down and Power buttons at the same time for about 7 seconds.
Step 3Then your Samsung phone will reboot and show the Samsung logo on your screen.
Part 3. How to Fix Samsung Failed to Reboot
Due to virus, malicious app, failure software updates, root and more, your Samsung phone may fail to reboot. If you have tried force restart and your phone still cannot reboot, you should perform the solutions below to fix this problem.
Method 1: Reboot Samsung Phone in Safe Mode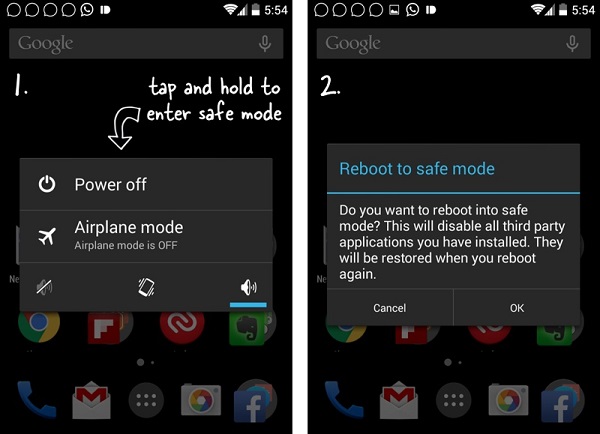 You can restart your Samsung phone in Safe Mode if you cannot enter the home screen. It only loads basic system software, so you can uninstall malicious apps.
Step 1Press the Power button to boot your Samsung phone. When the start-up begins to display, release the Power button and hold the Volume Down button immediately.
Step 2Continue to hold the Volume Down button until your phone finishes restarting. Then you will see Safe mode in the bottom left corner.
Step 3Now, you can uninstall the unwanted or malicious apps in the Settings app. Then reboot your Samsung phone into the normal mode.
Method 2: Restart Samsung Phone in Recovery Mode
If you cannot boot into Safe Mode, try Recovery Mode instead. It allows you to do troubleshooting by restoring factory settings and wiping partition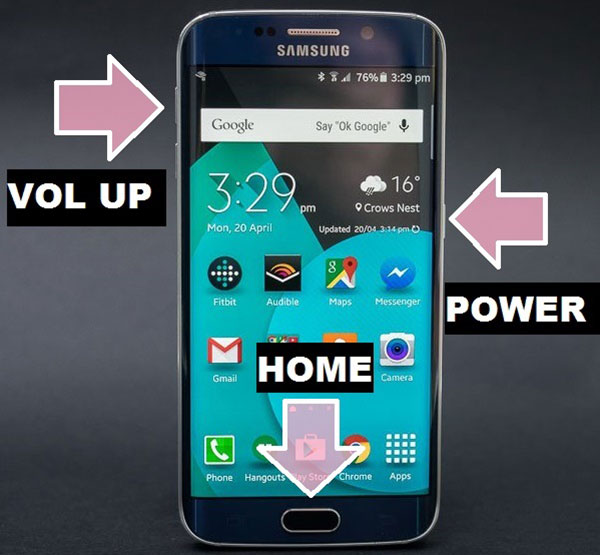 Step 1Hold down Power + Volume Up + Home buttons simultaneously. For Samsung S8 and later, the button combination is Power + Volume Up + Bixby.
Step 2When you see the Recovery mode screen, let the buttons.
Step 3Use the Volume Up and Down buttons to highlight the wipe cache partition option, and press Power button to execute it.
Step 4If your Samsung phone still cannot restart, choose the wipe data/factory reset option in Recovery Mode. That will bring your phone to the factory status.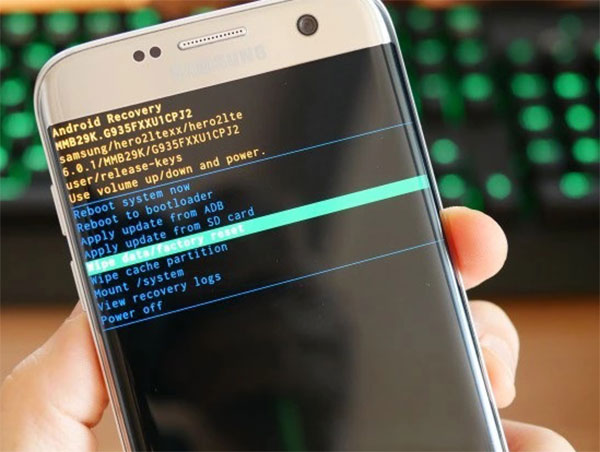 Note: Bear in mind that factory reset will remove all personal settings and data from your Samsung phone.
Part 4. Extract Data from Samsung When It Is in Reboot Loop
Even you cannot restart your Samsung phone, you can recover your files. That is why we recommend FoneLab Broken Android Data Extraction. It cannot only repair your Samsung phone, but also recover important files.
Recover data from Samsung phone when it is a reboot loop.
Repair software issues lead to your phone failure on restarting.
Support almost all data types including photos, videos, SMS, etc.
Available to Samsung S8/S7/S6/S5/S4, Galaxy tablets and more.
No damage existing data on your phone or tablet.
In short, it is the easiest solution to fix Samsung fail to reboot and get back your data.
How to Repair and Extract Data from Samsung
Step 1Get the Samsung phone recovery tool
Once you download and install the software on your computer, launch it and choose Broken Android Phone Data Extraction. Connect your Samsung phone to the computer with a USB cable, and it will be detected by the software.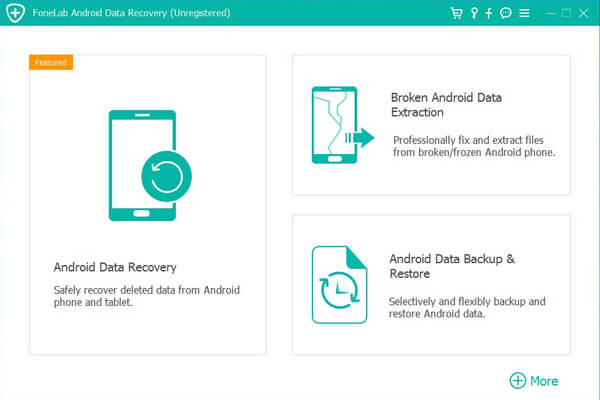 Step 2Repair software issues
Click the Start button on the left side, and choose your phone name and model on the Info window. Hit the Confirm button to move on.
Next, follow the onscreen instructions to put your device into the Download Mode and start repairing the software issues that make your phone stuck in a boot loop.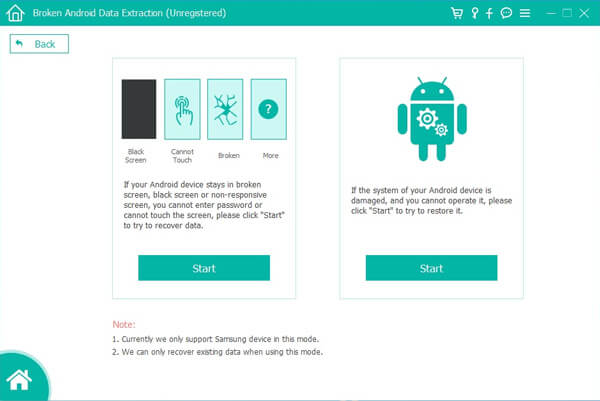 Step 3Recover data from Samsung
When repairing is done, you will be presented to the recovery interface. Here you can view all data on your phone organizing by types. Check the files you want to get back and click the Recover button at the bottom right side. When prompted, select a specific folder to save the files and start extracting data from Samsung phone.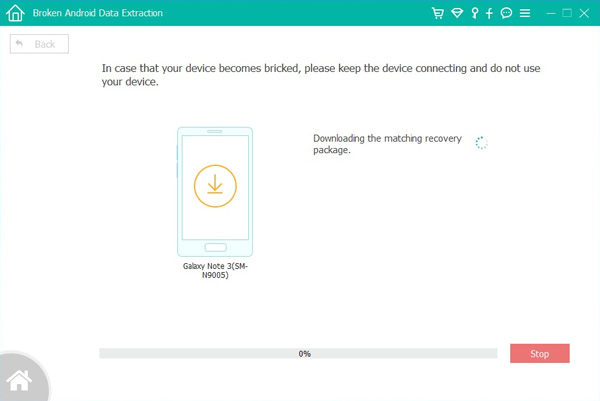 Conclusion
This article discussed how to reboot a Samsung phone or tablet in various situations. Firstly, soft reboot is the simplest way to restart your phone. The only prerequisite is that you can access your phone. If you cannot, you should try force restart. Sometimes, your phone fails to reboot due to software issues.
FoneLab Broken Android Data Extraction can help you get rid of the trouble. It has the capacity to fix software issues as well as recover files from your phone simply. If you have other questions related to reboot Samsung phone or unfreeze a Samsung, please leave a message below this article.