Recover Android Data Now
Recover the lost/deleted iPhone data including photos, contacts, videos, files, call log and more data from your SD card or device.
How to Print Text Messages from Samsung Smart Phones in 2 Minutes
Hi, I need help please. My funny boyfriend keeps the habit of sending me a funny story everyday. It really makes me laugh a lot for that. But the stories seam to take up too much space, it forces me to delete some of them in order to send and receive new Samsung text messages. I want to keep them all for future reading somehow. Is there a way to print text messages from Samsung phones? Anybody tell me how can I print text messages out? Thank you so much!
Printing text messages out from the smart phone has become a common desire for most mobile phone users. Because there are many circumstances makes you want to save the texts or even print messages out as a permanent memories. For example, unforgettable messages sent by lovers, family and close friends or critical business conversions with important clients, etc.
No matter what situations you are, you can follow the method in this post to achieve your goal by printing out text messages from Samsung phone or any other Android-base smart phones.
Please be aware that the text messages are saved in the internal flash card and SIM card where can't be accessed to just with a simple USB cable connecting your phone and computer.
In other words, you are not able to transfer text messages from Android phone to computer directly, don't even talk about printing them out unless you use an app to help you export and save your text messages to computer at first.
1. How to Print out Text Messages from Samsung Phone with FoneLab
FoneLab Android Data Recovery can help you export and save the text messages as a HTML file on your computer and then you can directly print them out without any adjustment afterwards.
It's a trustworthy and safe program which can also help you recover data from Samsung Galaxy series, Samsung Note, HTC, LG, Sony, Motorola, Huawei and more if you encounter data lose.
As you can see from below download links, both Windows and Mac versions are available. You can install the right version on your computer to get start.
I will take the Windows version as an example. If you are a Mac user, you can try to do it by yourself according to the similar steps.
Step 1Launch the program and connect your Samsung smart phone with the computer.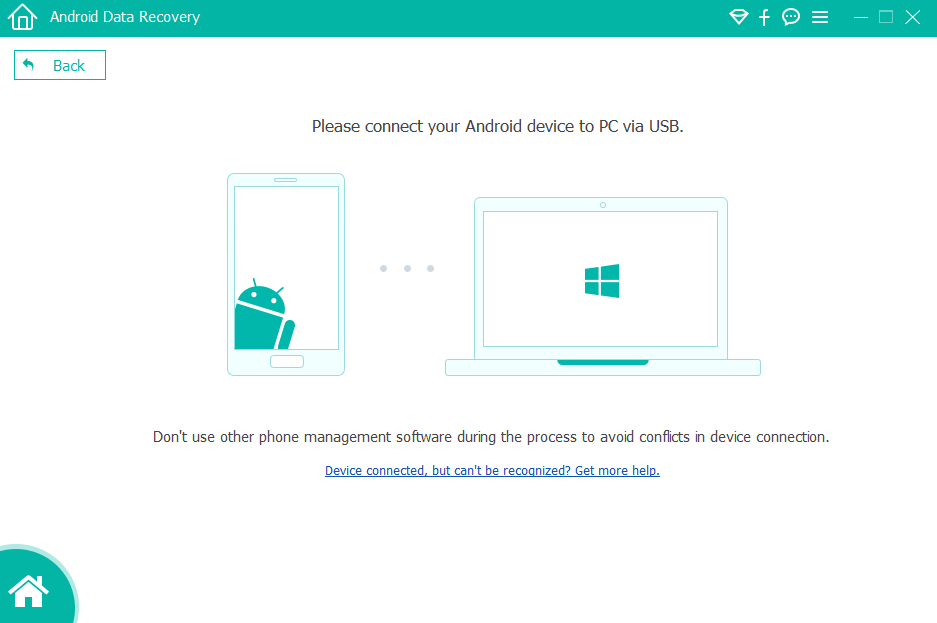 Step 2Allow the software to detect your phone. Make sure the USB debugging mode is opened on your phone and allow USB debugging when the prompt shows up so that the software can detect your device.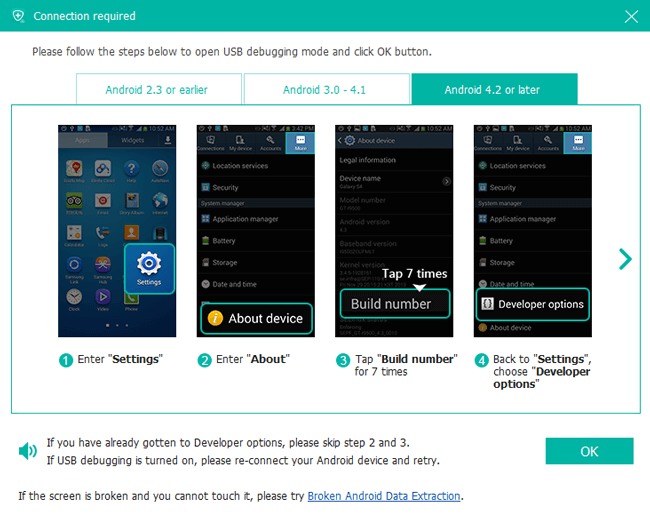 Step 3Once your device is detected, you will get various file types to choose to scan. Select Messages and Messages Attachments for scanning only in order to save some time for you.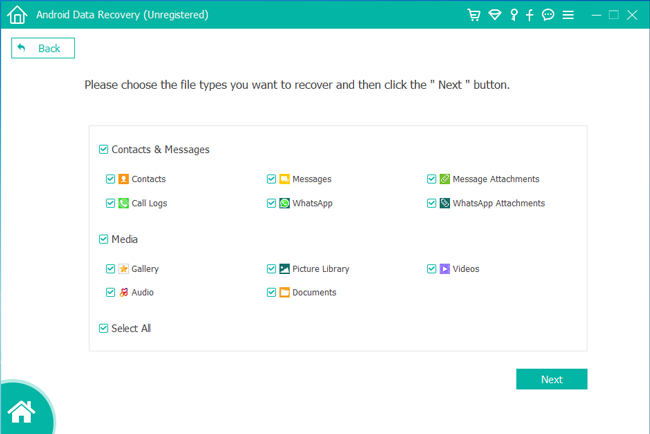 Step 4The program has to be authorized to scan data from your phone. Tap Allow/Grant/Authorize on the phone screen when the request pops up. If you don't see this request, click Retry then the software will install an safe app on your phone so as to get privilege.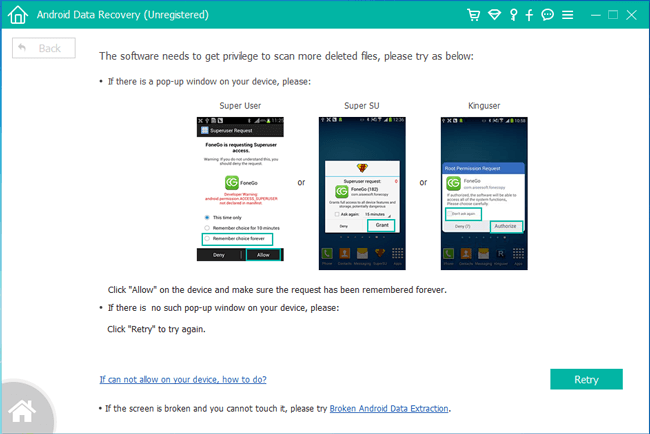 Step 5It will take some time for the scanning process. Patiently wait to be complete, then the scanning result will display by groups in the left column. Click Messages to expand the content and view the messages in details. You can view the name, date and the texts from that contact. Choose those you want to export to computer and print out. Click Recover to save them as a HTML file on the computer.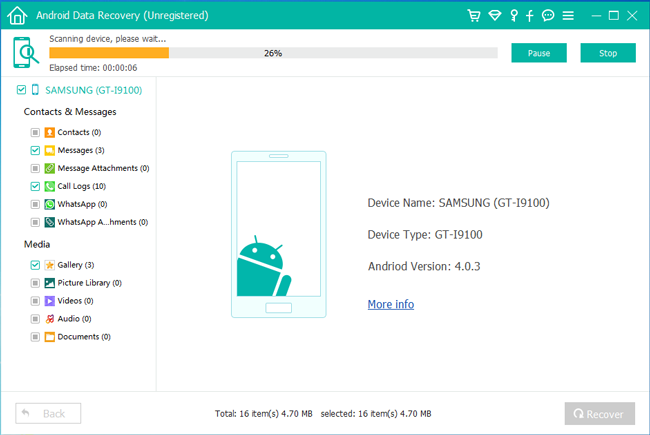 The text messages are now sitting on your computer and waiting for printing anytime.
2. How to Print Text Messages from Samsung Phone Using Email
To print text messages via Email, you need to manually copy, paste and send each message via Email. This will take you muech time if you have multiple messages, but it still helps. 
Step 1Open the message you want to print and copy the content.
Step 2Go to the Email app, and open a new Compose Message window.
Step 3Paste the message you copied from the Message app. And send it to an email address of your own.
Step 4On your computer, open your Email inbox, and copy the message.
Step 5Paste it to a Word document, then click File and select Print.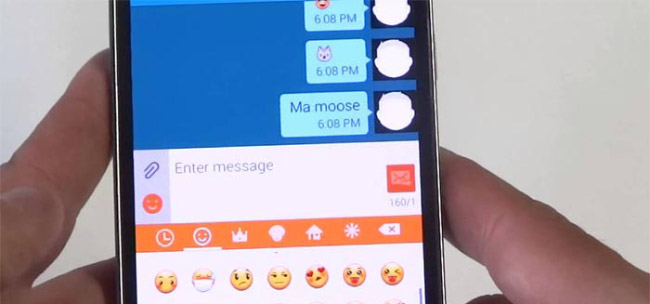 3. How to Print Text Messages from Samsung by Taking Screenshot
Taking screenshot of the messages is also a way worth a try. It also takes a lot of time, but it's a little faster than using email.
Step 1Get the screen of the messages you want to print.
Step 2Simultaneously press the Power button and the Home button.
Step 3Connect your Samsung phone to computer via USB cable.
Step 4Move the images to your computer.
Step 5Right click on the image and select Print.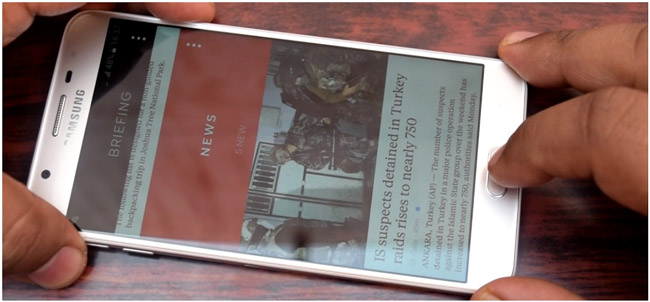 All in All,
Of the three methods, I prefer the first one, which is faster and more convenient. Moreover, in addition to text messages, Android Data Recovery can export any other files like contact from your Samsung smart phone and save them as CSV, VCF or HTML file on your computer for backing up or printing purpose as you like.