Top 10 Game APK APP on Android in 2016
10. FIFA 16 APK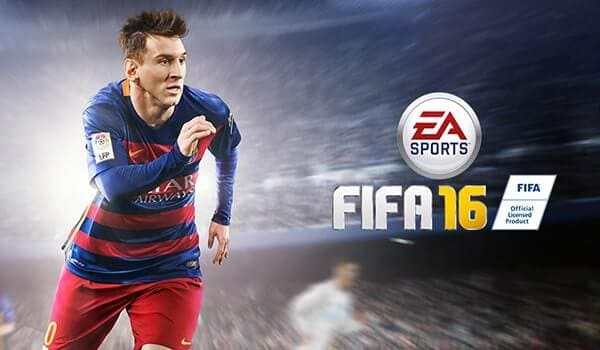 This is a highly detailed game of superior quality. So make sure you have at least 1.48GB of free space on your Android device. FIFA 16 is a football simulation game that contains 78 stadiums, including 50 real world venues. Build your own dream team in FIFA Ultimate Team and compete to win. This game innovates across the entire pitch to deliver a balanced, authentic and exciting football experience that lets you play your own way.
Pros & Cons
Pros:
Real world stadiums in the game.
Delivering a lifelike and authentic football experience.
Cons:
The game takes too much storage space.
Not suitable for all Android device.
Download FIFI-16 APK
9. Fruit Ninja Free APK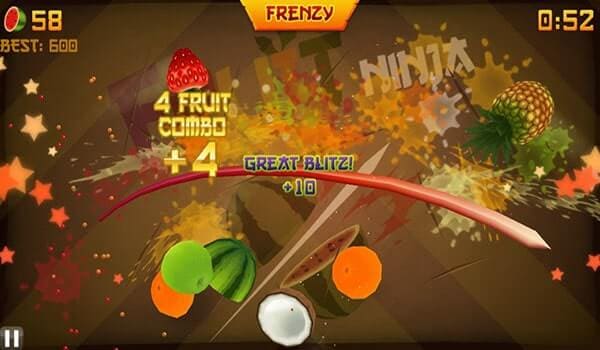 Fruit Ninja is a video game that the player slice fruit with a blade controlled over the touch screen. When the fruits are dropped onto the screen, you must slice all coming fruit by swiping your finger across the screen to create a slicing motion, attempting to slice the fruit in half. If you are able to slice multiple fruits with one swipe, you will award extra points. The game ends if 3 fruits are missing and bombs are sliced. What's more exciting, the Zen mode allows players to gain high scores without bombs appearing now and then.
Pros & Cons
Pros:
Every easy and enjoyable to play.
It's so attractive which causes desire to play it again and again.
Cons:
The game contains optional in-app purchases.
Download Fruit Ninja Free APK
8. Minecraft – Pocket Edition APK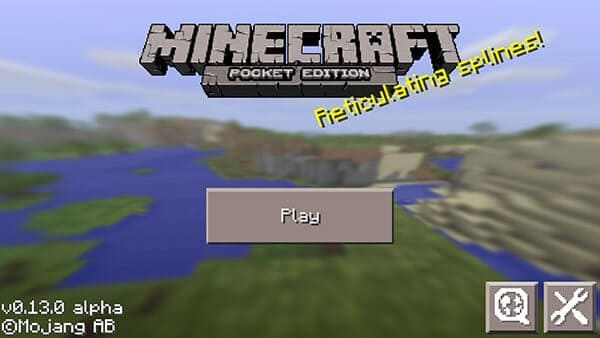 Minecraft – Pocket Edition is a game that all about building ridiculous architectural wonders by finding the right raw resources in the world and crafting them into handy tools and building materials. What's more exciting, the Pocket Edition continues to receive enormous free updates, which makes this mobile version of Minecraft closer and closer to feature parity with the main PC build of the game. In this game, you can choose Survival mode or Creative mode, single player or multiplayer for playing. Now get this apk on your Android phone and create a team of adventures and see how long you can survive in the infinite world.
Pros & Cons
Pros:
No music in this game, but sounds of every move is very accurate.
You can create whatever you can imagine.
Share with others.
Cons:
It is hard to setup a server for multiplayer in the Pocket Edition of Minecraft.
Download Minecraft-Pocket Edition APK
7. Color Switch APK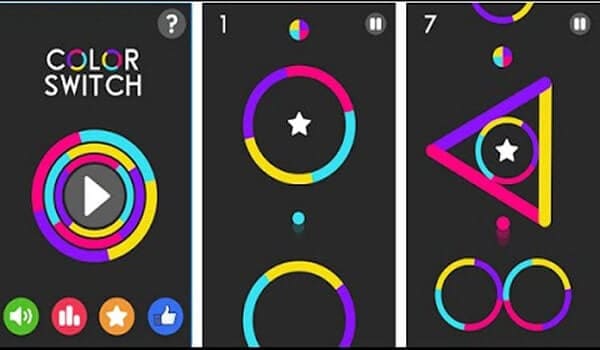 The brand new Color Switch game will test your reaction speed and guts during an endless array of rainbow-colored obstacles. The rule of this game is quite simple, tap the ball carefully through each obstacle and your ball will switch color with some power ups. You must follow the color pattern on each obstacle to across it. Be caution not to pass through the color pattern on each obstacle to cross it. Or you will have to start again.
Pros & Cons
Pros:
Very addictive game.
More levels are added and the difficulty of the levels is generally accepted by players.
Cons:
The game contains optional in-app purchases.
Download Color Switch APK
6. NBA Live Mobile APK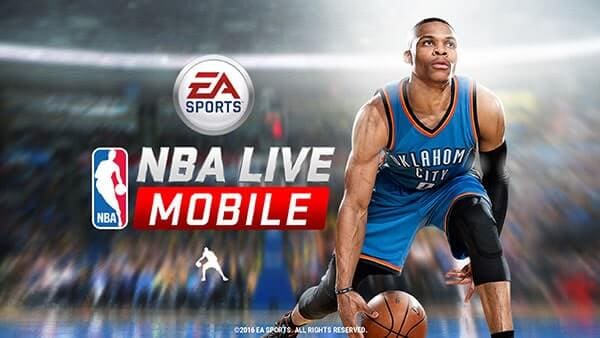 This is a live basketball game for Android mobiles that attracts all basketball lovers. It is the most awaiting game this year and its excellent features supported by the epic 3D graphics make this game even popular. Connect to real NBA all-year-round with fast paced, daily live events and in-season action.
This game has been authorized by 30 NBA teams, so players can pick their favorite players to build their teams. Win NBA scores with your dream team members in the exciting matches and lead your team to the final!
Pros & Cons
Pros:
This game has better graphics than other online basketball games.
Brings real NBA events and next generation hardwood action straight to your fingertips.
Cons:
Contain in-game adds.
Playground music of the game is too boring, need to be updated.
Download NBA Live Mobile APK
5. Need for Speed™ No Limits APK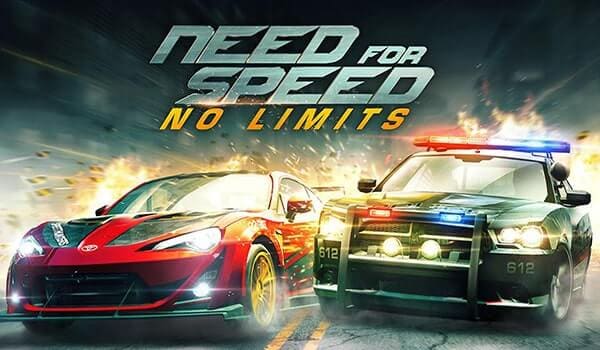 Race for dominance on the Blackridge streets and leave rivals in the dust when you accelerate over jumps, around debris, into traffic, against walls, and through high-speed Nitro Zones. Need for Speed™ No Limits is a video game that can help you achieve racing dream. Build your dream ride with an amazing range of cars and customizations. Roll into underground car culture and reach the top!
Pros & Cons
Pros:
Enjoy the trill of the speed this game brings you.
Make your racing dream become true on an Android device.
Cons:
The game is a bit slow and crashes or freezes for more than 2 races.
Download Need for Speed No Limits APK
4. Hungry Shark Evolution APK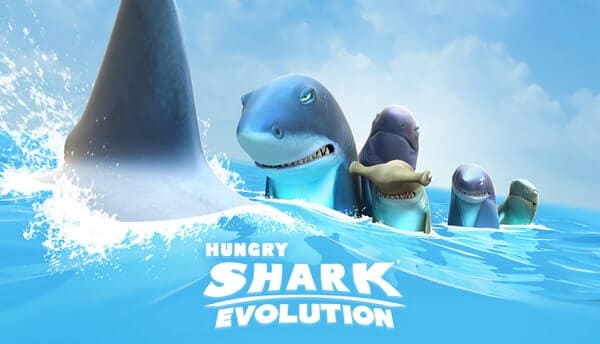 If you want to experience life as a shark in the ultimate test of survival, Hungry Shark Evolution is the best game for you to explore. It is a super funny new game in the style of action adventure game for Android users in which you control a shark roaming the coast and driving humans and other sea creatures into a panic as you unleash your hungry fury. Begin your bloody campaign being a baby shark able to bite a small fish or turtles until become a large-tonnage gigantic shark able to bite a ship through or terrify every creatures.
Pros & Cons
Pros:
3D graphics makes the visual more real.
It is an entertaining action game.
Many different sharks for gamer to collect and evolve.
Cons:
Landscape mode is needed.
Download Hungry Shark Evolution APK
3. Clash of Clans APK
Clash of Clans is a well animated addictive strategy game where your target is to build your village, train troops and send them into different missions to prove their courage by destroying enemy camps. Raise your own army and battle with millions of other players online. Sounds really exciting and attractive. Let's download this apk on your Android phone and have fun in this game.
This game is completely free to play, but must be at least 13 years of age to play or download Clash of Clans.
Pros & Cons
Pros:
You can build your own army and village, performing amazing attacks on your enemies.
It's an exciting game.
Cons:
The game crashes all the time when fighting in multiplayer.
Download Clash of Clans APK
2. Traffic Rider APK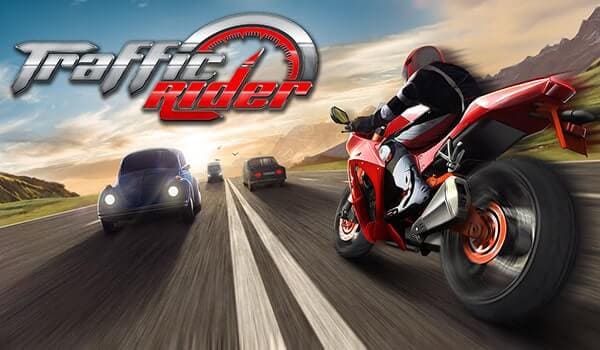 Traffic Rider is developed by traffic racer creator. In this game, you are behind the wheels of a motorbike in a much more detailed gaming experience, but also retaining the old school fun and simplicity. You will be invited to race with first person camera view feature and play on the road with traffic cars, so you will feel in a real race. Ride at high speed and pass cars as close as possible to get more points.
Ride your bike in the endless highway roads overtaking the traffic, upgrade and buy new bikes with special features to beat the missions in career mode.
Pros & Cons
Pros:
First person camera view.
Good graphics.
Easy to handle this game.
Cons:
No explanation on how to do tricks.
Too many adds.
Download Traffic Rider APK
1.Piano Tiles 2 (Don't Tap the White Tile 2) APK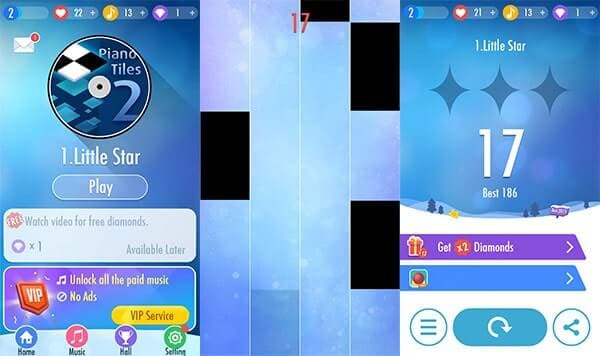 The world popular game, Piano Tiles has conquered the hearts of most players. Piano Tiles 2 is the upgraded version. New pop songs are added, with multi-instrumental accompaniment feature, more fun in the music and fantastic experience for gamers. New game play, first-class sound quality and the challenge mode give your fingers a fast-paced thrill with the satisfaction of piano playing. This game is very easy to play, just tap on the black tiles and avoid the white ones while listening to music. Hurry now, compete with your friends and speed up your fingers!
Pros & Cons
Pros:
It is an exciting game.
Beautiful songs and nice interface enhance the attraction of this game.
Cons:
It is annoying that too many adds popping up at the first of the game.
Download Piano Tiles 2 APK