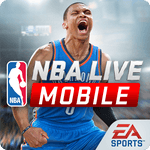 Screenshot
Overview of NBA Live Mobile
NBA LIVE Mobile apk is a NBA games for Android mobile that fascinates basketball lovers. This game is the most awaiting games this year as it is released by one of the best game developers, EA Sports and its excellent features supported by the epic 3D graphics make this game even hotter. Connect to the NBA all-year-round with fast-paced, daily live events based on real NBA teams, players, and in-season action. In this game, you are able to control basketball players on the court such as do accurate passes, cunning feints, and amazing tricks to score the ball into the basket. Buy promising basketball players from the auction house and become the owner of your favorite NBA team. Win NBA scores with your dream team members VS many rival teams in the exciting matches. Lead your team to victory in the championship to earn rewards and battle it out on the hardwood all the way to the NBA Finals.
Stay fresh in daily live events. This apk connects you to the real NBA every day and all year long.
Assemble your team. Form a team and collect your favorite NBA members. Acquire real NBA players from the past and present by opening packs, or by working the auction house. Upgrade your roster your own way, then take your team to the court to compete against friends.
Find edges to dominate. Play through fast-paced NBA seasons to build your powerhouse franchise. Unlock special skills for your team players, dominate friends, and level up your franchise to the next stage.
Gmail apk supports multiple accounts including both Gmail and non-Gmail addresses like Outlook.com, Yahoo Mail or any other IMAP and POP email.
This apk requires a constant internet connection and acceptance of EA's Privacy and Cookie Policy, TOS and EULA.
Test & Review
I have been expecting a NBA game like this. NBA Live Mobile is an extremely fun game, a lot of special features, very addictive. Since I download this apk on my phone, I can't stop playing this game. Especially the authentic 5-on-5 action, it's really exciting when I execute a special moves with the correct timing and scenarios. The 3D visuals of the game brings me a lot of surprise and very enjoyable when playing game. Only one thing I would like to complain about is that the packs cost way to much. But overall I love it!
Pros:
NBA Live Mobile has better graphics than other online basketball games.
It brings real NBA events and next generation hardwood action straight to your fingertips.
Authentic 3D game play, make you feel like playing basketball in the real world.
Cons:
No update for the dull background music of the game at all which can be too boring when playing the game.
Contains in-game advertising.