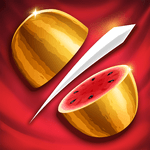 Screenshot
Overview of Fruit Ninja Free
If you are looking for a fun game of skill to kill some time, Fruit Ninja is an excellent choice. The Fruit Ninja Free version does not have zen mode compared to the paid version, it only has two modes of play namely Arcade and Classic. All you need to know to get started with the addictive Fruit Ninja action is slice fruit, don't slice bombs. Slice for a high score, use power ups and special bananas to maximum effect, and go crazy on the multi-slice Pomegranate. The object is simply to slice up as much fruit as you can. If you miss three piece of thrown up fruits, you lose a life. Or if you touch one of the rogue bombs that come flying up, you lose a life too.
Simple game play: slice fruit and do not slice bombs.
Swipes your finger across the screen to create a slicing motion to cut the fruits in half.
Use additional fingers to make multiple slices simultaneously to get extra scores.
Upon reaching scores that are multiples of one hundred, then you will gain an extra life.
Bombs will appears on the screen occasionally.
In classic and Arcade mode, special pomegranates are occasionally thrown on screen, slice them multiple times to get extra points.
Test & Review
This is one of my favorite games ever! The look and feel of Fruit Ninja is excellent! The feeling of slicing fruit is so satisfying that keeps me coming back for more and more in an effort to beat my high score. It's fun to chop watermelons, coconuts, lemons, limes, bananas, cherries, blueberries, pomegranates and strawberries in half. Great time killer! Simplicity is best when it comes to games and here is one that you can play with the kids. I love this game!
Pros:
Awesome sound effects.
Great graphics.
Extremely funny to play.
Two game modes are available in the free version of Fruit Ninja.
Cons:
The Fruit Ninja Free comes with advertising.
Repetitive.
The game contains optional in-app purchases.