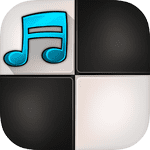 Piano Tiles 2 (Don't Tap the White Tile 2) APK
Latest Version: 1.2.0.976
Publish Date: May 19, 2016
Download APK

(20.5MB)
Screenshot
Overview of Piano Tiles 2 (Don't Tap the White Tile 2)
If you enjoy challenging, addictive and fun games then a well-known game Piano Tiles is your best choice which has conquered the hearts of most players. Piano Tiles 2 is the sequel to Piano Tiles (Don't tap the White Tile), but new game play, first-class sound quality and the challenge mode give your fingers a fast-paced thrill with the elegance of piano playing. At the beginning of this game, whether you win or lose is uneven and uncertain as the game seems to be quite easy. Tap the black tiles sequentially to the music and don't touch anywhere else, otherwise any wrong move can end the game at any second. This is the core rule of this addictive game. Simple rule, isn't it? But the difficulty lays in the fact that the piano keys are moving at a very high speed. I am sure you will have great fun in playing this game as it's a perfect brain teaser and finger skills training for everyone. Give it a try, watch your step, and see how well you will beat your friends best score.
Login feature to enable synchronization of game data and competition with friends.
Brand new game play let you enjoy the thrill of the game more exciting.
Challenge mode is added, so you can compete with players around the world and try to become the best.
New colors for background, multicolor instead of black and white. It looks more fantasy.
Great new music, new high quality sounds, let you feel satisfied with being a professional pianist.
You can also share your piano performance with your family, friends and your loved ones.
The game will remember your past earned points or scores and every time you succeed and compare the competitive scores earned in the game.
Test & Review
I play Piano Tiles 2 every day. I really enjoy the intense rhythm, beautiful graphics and smooth control feelings. I feel my throat is jumping out of my mouth when the tiles are moving faster and faster. It's so easy to play, every time I play this game, I just need to choose one of the songs and tap Start, then begin to explore the thrill and satisfaction that the game gives me. I love Piano Tiles 2!
Pros:
Super easy game rule, everyone ranging from beginners through intermediate and expert level; kids and adults can play this game in a short time.
Beautiful songs and nice interface enhance the attraction of this game.
Fast-paced thrill of fingers let you feel extremely exciting.
Cons:
Two much adds pop up at the beginning of the game. Quite annoying.