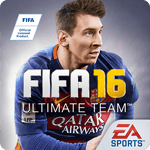 Screenshot
Overview of FIFA 16
FIFA 16 is a remarkably detailed game of superior quality. So it requires some free space to run properly, make sure that there is a vacant space of at least 1.4GB on your Android device. FIFA 16 innovates across the entire pitch to deliver a balanced, authentic, and exciting football experience that lets you play your way, and compete at a higher level.
Create your dream team made out of world's best players. Participant in different championships and become the coach of the world's best football team in this game for Android. You can select whatever uniform you like. Exchange unwanted players for valuable prizes. Control the actions of your team on the field. Pass the ball from one player to another. Outwit the defenders of the opposing team. Football game lovers would love this most realistic set of football features game.
It is an online game.
More than 10000 football players.
Over 500 teams.
FIFA 16 brings new features: Confidence in Defending, Control in Midfield, and gives you the tools to create more Moments of Magic than ever before.
All new engine.
Build and manage your ultimate team.
Real world football, realistic physics.
Player exchange.
Great control, good graphics.
Play as women's National Teams.
Share with fans, and share with friends.
Test & Review
I am a football game lover, I love FIFA 16 most than others. It is about how to create and build a solid team. There are over 10000 players from over 500 licensed teams I can find in FIFA 16. In the game, I can select the use of virtual buttons or gestures to control the ball. I can also select one of a whole new amount of realistic player celebration for my own. There is also Dynamic accomplished feature which makes current live-event football matches. Good to play this game!
Pros:
Great graphics with highly detailed.
It's a good game for football lovers.
Real world stadiums in the game.
Delivering a lifelike and authentic football experience.
Cons:
This game taking up to much storage space.
The game is a bit slow and crashes or freezes for more than 2 races.