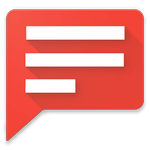 Screenshot
Overview of YAATA SMS
The stock text messaging app that comes with Android device is fairly capable, but there are many third party messaging apps that bring even more features. YAATA SMS is one of the best alternative stock messaging apps. The app allows you customize and personalize the app to make it fit you perfectly. It comes with full list of settings and options for your SMS and MMS, settings for notification and customization for individual contacts, and tons of theme options! YAATA SMS is highly user friendly even to the basic beginner user and fulfils all our texting needs. Now grab this app from the link above.
You are able to personalize and customize your app to a large level.
Super responsiveness.
Send SMS and MMS with complete multimedia support including but not limited to pictures, videos, audio, GIFs, VCards.
Customization for individual contacts.
A lot of theme options
.
Super fast operating speed.
Send delay option included.
You can convert SMS to MMS.
Advanced settings and notifications.
Group chats.
Filter options. (search conversation by MMS, send, received, dates, text and other ways.)
Alternating backgrounds.
Test & Review
I've been looking for a good app like this and really impressed by YAATA SMS so far. A must have app for those who love to customize, for example, me. Plenty of custom choices if you take time to find and set them. Even if you don't like the settings, you can easily tweak the interface back. Full feature set, like delay send, timed send, blacklist, add to contacts, and many more. Those features are very useful for me. I can find almost everything I want in YAATA SMS. I strongly recommend Android users to get this messaging app, you will find it amazing as I do.
Pros:
No dumb, pointless thing cluttering up the app.
Highly customizable.
Insanely full featured messenger app. It has everything you want in a messaging app.
Completely ads free.
Cons:
Some colors and icons look horrible, it takes time to configure the app to make it look right.
Doesn't support dual SIM devices.