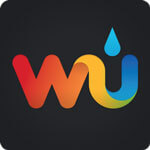 Screenshot
Overview of WeatherUnderground
The Weather Underground powered by unique community of weather enthusiasts reporting live data from weather stations in their own backyards, this crowd-sourced data generates forecasts targeted to your precise location. You can get global rain or snow start and stop time. And it allows you to check the weather condition including Temperature, Precipitation, Wind Direction and others hourly, daily. No matter that you need current location weather condition or healthy tiles, Weather Underground covers what you need. You can get weather information by listening to National Weather Service Radio, it is real-time and reliable.
Storm & tropical tracks are back on the map.
Webcams are back in a new tile.
Check current conditions from your local weather station include Temperature, Feels Like, Wind Speed & Direction, Humidity, Dew Point, Visibility, Monitor Air Quality, UV Risk, & Local Flu Outbreaks.
You can check global rain or snow start or stop time and 10-day forecasts.
Interactive Map showing all the personal weather stations in your neighborhood with animated Radar, Satellite, and much more data.
Track your favorite Locations and Recent Searches easily.
Light or Dark mode for options.
Switch between Forecast on Demand & NWS Forecast.
National Weather Service Radio are serving for you.
There are customizable widgets.
Push notifications of extreme weather and current temperature and conditions.
Purchase ad free subscriptions for $1.99 per year.
Test & Review
When the temps are dropping, the thunder is rumbling, or the wind is coming up, Weather underground is my first click. It doesn't take up much space, it has a remove advertisements option allows you remove the advertisements for $1.99 per year. And the conditions and forecasts are pretty accurate. I can also listen to National Weather Service Radio for current weather information, it is so good.
Pros:
You can check detailed information of current condition of your location.
Interactive Map shows your personal weather station with animated Radar, Satellite and other data.
Select light or dark mode as you like.
The size of widgets is adjustable.
Send you notifications of dangerous weather and current conditions.
Cons:
There are big size advertisements.