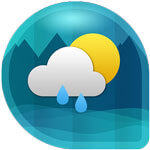 Weather & Clock Widget Android APK
Latest Version: 5.9.10
Publish Date: September 25, 16
Download APK

(10.2MB)
Screenshot
Overview of Weather & Clock Widget Android
Using Weather and Clock Widget Android, you can search all cities in the world by country and city or zip code to check the weather conditions to better plan your nice days. It enables you to set your internet source to WiFi only. It is more than a weather and clock like its name said, it allows you to add calendar events along with weather widget.
To disable internet access from operators while you are in roaming.
Set your preferred Temperature unit, Celsius or Fahrenheit.
Weather map with ability to add any city to your city list.
Customize sound and vibration or to disable it for your notification alerts.
It enables you to check current weather condition, hourly weather forecast and 10-day weather forecast.
You can check Humidity, Pressure, Visibility, Precipitation, UV-Index, Dew Point, Wind Speed and Direction, and Sunrise and Sunset Times.
You can set or disable notification bar.
Shares weather and location information with friends.
Home screen widgets are adjustable, 5x3, 5x2, 5x1 for large screen only and 4x3, 4x2, 4x1 and 2x1 for all screens.
Test & Review
It always been pretty accurate and I like that it shows things like the UV index, humidity and "feels like" temperatures. I Love that it's right on my start screen to see without having to open the app.
Pros:
You can select multiple event calendar to display on the widget, including birthday calendar and holiday calendar.
All widgets are fully customizable and configurable.
Chart graphs for hourly weather forecast and daily weather forecast.
Localized to most of the world languages.
Widgets display current time, date, and battery information in addition to weather information
Widgets to display calendar events along with weather forecast.
Moon phase for current and next 5 days.
Option to display weather forecast or moon phase on the widgets.
Light and Dark themes with different icon sets and you can set custom background for dark theme.
Cons:
You have to install and update google play firstly.