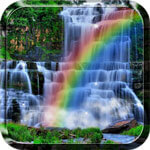 Waterfall Live Wallpapers APK
Latest Version: 20.0
Publish Date: October 12, 2016
Download APK

(11.4MB)
Screenshot
Overview of Waterfall Live Wallpapers
It is a live waterfall wallpaper application for your device which enables you to change background according to which one you prefer to set today. Its stunning design and effect makes you feel like that you are standing in front of the waterfall such as the Niagara Falls, Angel Falls or Victoria Falls. You will never bore with it but wallpaper will leave you breathless every time you look at it. Change the wallpapers with different options helps you to change fresh mode for life with simple tap.
It is easy to use.
Simple user interface.
More options can be unlocked within 24 hours.
Vivid live waterfall wallpapers for your devices.
Bring you wonderful waterfall in the world.
There are different options and you can pick the one you like.
Helps you to feel the power of tumbling water.
Test & Review
This is an interesting wallpaper application with waterfall live pictures. It enables you to experience the power of waterfall indoor without going out. You feel like that you are standing next to the real waterfall and feel the wonderful stumbling water. There are different options, so you can choose the one you like and set it as your wallpaper directly. More live pictures can be prepared within 24 hours, then you can have more choices for your devices.
Pros:
It has different options of live waterfall pictures for you to choose from.
Enables you to unlock more wallpapers within 24 hours.
You can change wallpaper with simple operation.
Make you feel that you are standing in front of the real waterfall.
The design of waterfall is stunning.
Cons: